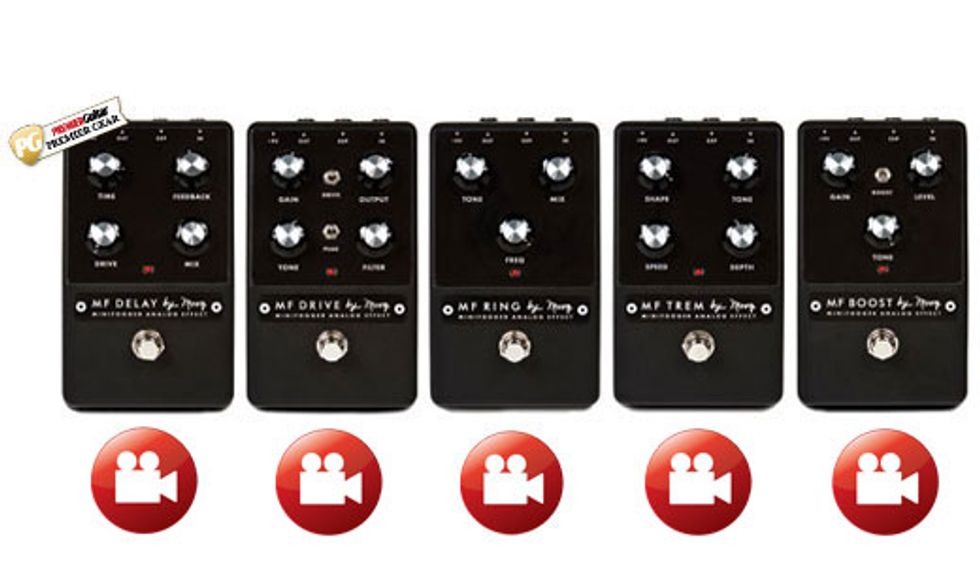 Moog Music's original Moogerfooger pedals are the coffee table books of stompboxes. They delight the senses. They're superbly crafted. But they're big, heavy, and expensive. I own and treasure several, but they don't typically populate pedalboards or go to gigs.
Enter the Minifoogers: five smaller-format effects at prices ranging from $149 to $219. And in addition to covering delay and modulation effects you'd probably expect from Moog, the series includes boost and drive pedals—Moog's first gain stompboxes. The results are cool and unique.
When Downsizing is Good
There are legitimate reasons why Moogerfoogers are large and expensive. They include multitudinous knobs and switches, not to mention extensive control options—you can connect several expression pedals and adjust most parameters in real time. With relatively complex features, Moogerfoogers can feel better suited to a clean mixing desk than a scuzzy club stage.
The Minifoogers strip things down. The 5.7" x 3.25" x 2.25" enclosures are only slightly larger than most common stompboxes, and their top-mounted connectors let you pack them in tightly on a board. Gone are the Moogerfoogers' signature wooden side panels and many of the control options—each Minifooger has just one expression pedal jack. (Expression pedals not included.) There are fewer knobs and switches as well.
Unlike Moogerfoogers, Minifoogers can run on batteries as well as standard 9-volt power. The enclosures feel solid. The interior layouts are nice and clean, with board-mounted jacks and pots, SMD components, and tidily routed ribbon connector. The Minifoogers' uniform styling probably won't turn heads. But if your pedalboard looks like a drunken clown barfed on it, you may welcome some basic-black sobriety.
Let's listen in alphabetical order (by clicking the next page) or choose your own adventure:
Minifooger Boost
Minifooger Delay
Minifooger Drive
Minifooger Ring Modulator
Minifooger Trem