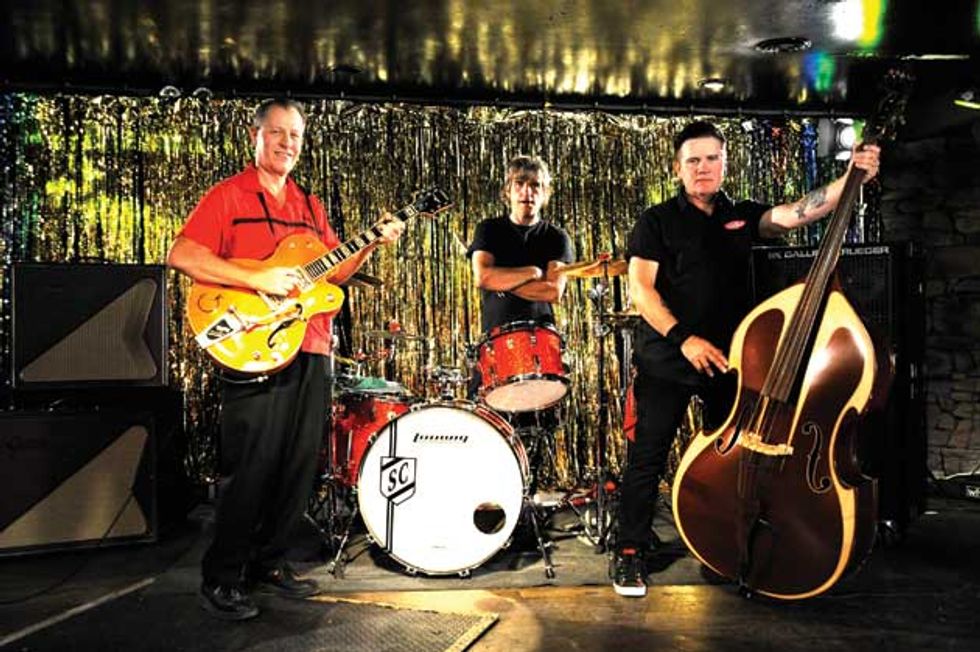 Reverend Horton Heat has started to space his album releases out a little more. "It was almost pissing off our fans," he says with a laugh. "We used to release a new album like every two years, but when we'd play the new songs live, it would be a train wreck." Photo by Gene Ambo
With a music video featuring Bettie Page-esque pin-up girls salaciously caressing hot dogs and bananas and lyrics referencing the fine art of "choking the chicken," Reverend Horton Heat's "Let Me Teach You How to Eat" is meant to arouse more than just epicures. The song's origins were innocent—but in the sinister mind of the Reverend, aka Jim Heath, things got twisted.
"The guy [Russell David Hobbs] who actually gave me the name Reverend Horton Heat is a Bohemian-esque guru who had a bar called the Prophet Bar," says Heath. "He got on this macrobiotic eating kick. One day he asked, 'What did you eat today?' I said, 'I went to the Gold Rush and had whatever.' He said, 'Jim, let me teach you how to eat,' and started taking about all these crazy new age foods. I thought to myself, 'If I didn't know how to eat already, I'd be dead.' But I turned that into a song about sex."
Unlike the Reverend's last album, the country-tinged Laughin' & Cryin' with the Reverend Horton Heat, his new release, Rev, is the sort of high-octane romp that fans have turned out in droves for since the day almost 30 years ago when Hobbs booked a gig for Heath, who was working as a tech setting up PAs and loading gear for bands like Hüsker Dü and the Replacements.
"I said, 'I'm not going to do this,'" recalls Heath. "But little did I know he'd already put out flyers and listed it in the paper. There were actually 30 or 40 people at the first gig I ever played, and after the first set they came up and said, 'Wow, Reverend, that was really great.' I was so astonished and ecstatic that my songs had reached people that I would have gone with anything. I was desperate at that point. I was living in a warehouse with rats and roaches. So I ran with the whole Reverend thing."
And run he did, forging an illustrious career spanning 11 studio albums and movie soundtracks like Ace Ventura: When Nature Calls and The Flintstones in Viva Rock Vegas, as well as video games like Guitar Hero 2 and Tony Hawk's Pro Skater 3. Ostensibly a rockabilly musician, Heath has defied labels from day one, and has shared the bill with acts ranging from the Sex Pistols to Marilyn Manson to Nine Inch Nails.
Playing live is what keeps Heath revved up. "A recording is just one little place in time," he says. "But music is about a streaming thing—it's not a painting on the wall. Once you play these riffs, they're gone forever. Having a crowd to breathe off of is what makes music happen. If I play a solo and the crowd goes crazy, all of a sudden I'm inspired, and I'll really start kicking ass."
Rev seems to bring back the more aggressive side of your musical persona.
We like to play fast, high-energy rock 'n' roll shows, so Rev is us getting back to that. The album prior to this really leaned to country, so I had in my mind that this one would get back to uptempo and aggressive rockabilly songs—a little edgier. I'd always wanted to do a country album, and that was fun. But frankly, it didn't really get us much. The new country crowd isn't really into the old traditional country that I like.
When you toured in support of the country album, how was the reaction?
It went over well. Here's the thing: Every album we've done has a country song. Even one of our crazier albums, Liquor in the Front,had one called "Liquor, Beer, and Wine" that's still one of our most requested songs. For a band that's been around as long as we have, it can be tough when we play live, because our fans are paying good money for tickets and they want to hear the songs that they love and remember from our past albums. When we come out with a new album, we have to be very careful about not blowing in too many of the new songs, though it would be fun if we could just go out there and play the whole new album.
"I see so many guitar players getting their sound from a stompbox, but it's so much better to get it from the amp. There's no way a stompbox will ever get close to valve/tube distortion."

Are you the band's main writer?
I write the songs, then I take them to the guys and we work up arrangements. Sometimes I get the guys involved in the writing. Jimbo [Wallace, bassist] and I co-wrote one of the songs on the album, but with the exception of that, it was all me.
Like many of your songs, "Scenery Going By" has some nice, pungent dissonance. Where does this harmonic fluency come from?
Thanks, man. I appreciate that. I tried to study. I worked with music theory books I'd pick up here and there and I took some courses, but not a lot. No matter what anybody says, a background in music theory is always going to help you. You can still noodle around as if you didn't ever study music theory. But knowing music theory, you know why it works. I think I've managed to hit upon a few chord patterns and shapes that I don't think I've ever heard anybody do before.
Although your show has a fun vibe, you often play intricate runs. How do you manage to pull that off while doing your stage antics?
I've been doing this for so long that it becomes second nature. I have to be careful though. There's a Chet Atkins song off our last album called, "Oh By Jingo!" that is really difficult, especially since I play with hybrid style using a flatpick. Chet Atkins didn't do that—he used a thumbpick and played with his first and second fingers. If I'm playing it live onstage and start hamming it up, all of a sudden there are a lot of clunkers. [Laughs.]
You've reached a new audience with the placement of "Psychobilly Freakout" on Guitar Hero 2. But is it true that you take offense at the psychobilly label?
Well, I don't consider us to be psychobilly. In the late '70s bands like the Meteors, Guana Batz, and Demented Are Go fused rockabilly with punk rock. Around 1988 I wrote the song "Psychobilly Freakout," so before long I was labeled as psychobilly. We do psychobilly festivals and a lot of shows with psychobilly bands, and I'm grateful that that crowd accepts us.
Always the showman, the Reverend Horton Heat plays this live rendition of "The Devil's Chasing Me" with his left hand over the fretboard, starting at 2:30. Yowza!