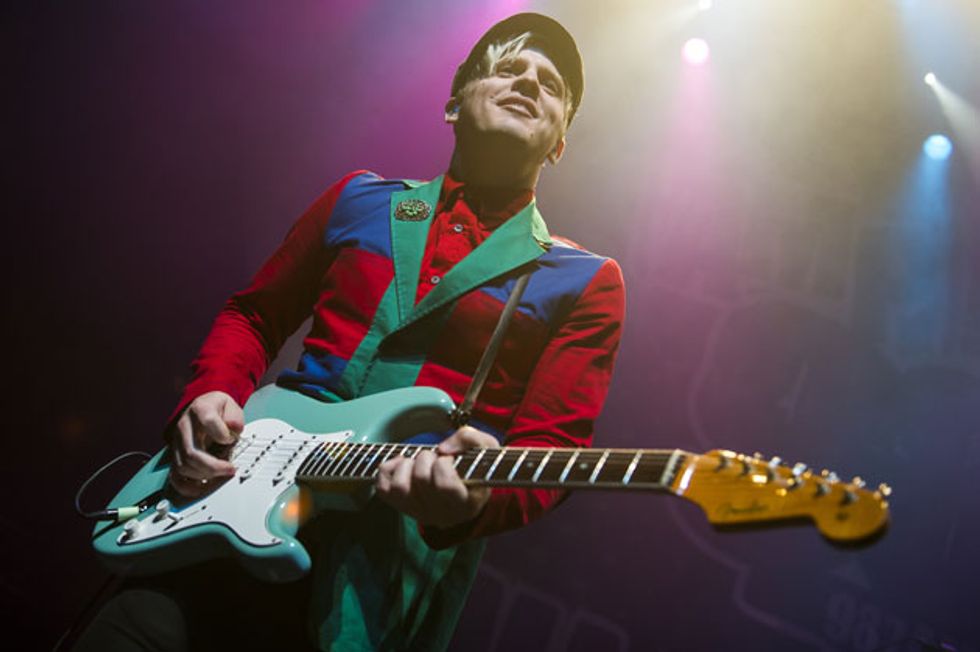 Photo by Chris Schwegler AtlasIcons
Neon Trees, the modern pop band that is musically and sartorially indebted to new wave, might rely heavily on synthesizers to achieve its dance-approved approach. But on its latest album, Pop Psychology (Island Records), the very first sounds—the transient rasp of an instrument cable, followed by the ringing open D and G strings—give a hint of both the importance and the subtlety of the guitar on the record.
Throughout the album, Chris Allen doesn't play standard-issue rock guitar but something more thoughtful. His collection of riffs and timbres, plus the occasional oddball atonal move, feel spontaneous and orchestrated, and pair nicely with that of his bandmate Branden Campbell, who's style is equally informed by such great session bassists as Donald "Duck" Dunn and by Campbell's contemporary counterparts like John Stirratt of Wilco.
The roots of Neon Trees—whose name was inspired by the signage of In-N-Out Burger, the fast-food joint headquartered in Southern California—go back to Allen's childhood days. He and Tyler Glenn, the group's singer and keyboardist, were neighbors in Murrieta, California. When Allen took off to college in Utah, Glenn followed him, and there they eventually teamed up with bassist Campbell and drummer Elaine Bradley, independently releasing a debut EP, Becoming Different People, in 2006.
Before Neon Trees, Campbell was involved with, among many other bands, a ska group with the drummer Ronnie Vannucci, Jr., who would go on to join The Killers. After witnessing an early live show of Neon Trees, Vannucci was suitably impressed by his former bandmate's new outfit, and as a result Neon Trees got its big break in opening for The Killers on its 2008 tour. This led to the Trees scoring a record deal with Mercury Records, which released Habits (2010) and Picture Show (2012), respectively spawning the hit singles "Animal" and "Everybody Talks."
As was revealed a few years ago in our PG Rig Rundown, Allen and Campbell might be described as major gear heads, aficionados of equipment both new and vintage, so we were excited to check in with them on their most recent rigs and hear about the thought processes behind Pop Psychology.
Tell us about your gear.
Chris Allen: My main guitar is an Eric Johnson Strat, and then I have a Telemaster that I had a Master Builder at Fender—Jason Smith, I used to play with him in high school—make for me. It's got a Jazzmaster body and neck pickup but a Telecaster bridge and bridge pickup and selector switch. The neck profile is the same as on the Eric Johnson model guitar, and it has this 12-string-like headstock. I also had him build me a guitar based on a '48 Esquire prototype with one TV Jones pickup and the whole thing painted a uniform color, Ford Grabber blue, so that it looks like a big hunk of plastic. Then I have a Jazzmaster and a bunch of guitars I only use in the studio. And I really like old Silvertones, which have such unique voices. I'm always picking them up on eBay or when we're out on tour, at local shops. My favorite is the black-and-white hollowbody Silvertone, the 1446 that everybody calls the Chris Isaak model.
Lightly overdriven guitar with a little reverb is not that big of a deal, people don't scrutinize the tone live and feel ripped off that it doesn't sound exactly like the record. But if they do notice, sometimes people even like the live sounds better! —Chris Allen

Live I use a Laney Lionheart, the L20H with a matching 2x12 cab, as well as a Roland JC-120. I also use those amps in the studio, plus a Divided by 13 JJN 50/100, a Silvertone Twin Twelve, and a Fender Hot Rod Deluxe. The main pedal on my board is an Ibanez Tube Screamer, a handwired TS808. I held off on that one for the longest time because of the price tag, but then I realized that I had no problem spending $350 on a delay pedal, so why not spend that much on overdrive, being as it's such a big part of my sound? I also use a Keeley 4-knob compressor and a Boss RV-3 Digital Reverb/Delay. The RV-3 has been discontinued, so I went searching on eBay and got a few of them, since they'll probably only get harder to find in the future. In the studio I like to use a JangleBox and the Eventide TimeFactor, but with so many knobs on the TimeFactor, it can be a bit intimidating to use live.
Branden Campbell: My main bass is made by Mike Lull, who teamed up with [Pearl Jam's] Jeff Ament to make a signature model oversize bass with a neck and body that are 20 percent larger than standard. Mine has a custom satin finish, in Kerry green. I've got a Fano hollowbody bass that I love, as well as Fender Pino Palladino and Adam Clayton signature basses. Then there's the 1975 Gibson Ripper and the Rickenbacker 4003, both which I tune down to D, and a 1966 Guild Starfire. Bass players don't usually switch up that much, but, travelling between different climates, and using different tunings, I need at least a few basses on the road. Some basses lend themselves more to D standard [low to high: D–G–C–F], and nothing seems to respond quite as well to the lower tension as the Ripper.
For amps I use an Aguilar DB 751, and I've also got an Aguilar Tone Hammer preamp pedal. That's my holy grail—I take it everywhere I go. We once had a gig in the Philippines where I had no choice but to play through a questionable old amp that had gotten all rusty due to the climate there. Even though that wasn't optimal, I knew that with the Hammer in the front end, everything would be fine and the 10,000 people waiting to hear us would not be disappointed.
Most of my D-standard songs use a chorus pedal, the EBS UniChorus, which is my nod to Peter Hook from New Order and Joy Division. The EBS Billy Sheehan Drive pedal with a built-in compressor is really solid, too. I'm a sucker for drive and also use the SolidGoldFX Beta bass overdrive, the Z.Vex Wooly Mammoth, and the Electro-Harmonix Bass Big Muff Pi. I'm really stoked on the new DigiTech Bass Whammy pedal, and have been using the Electro-Harmonix Micro Synth. I also added the Moog Sub Phatty analog synthesizer keyboard. Running that thing through the bass Big Muff is just insane!
YouTube It
Neon Trees performs its first hit, "Animal," live in a stripped-down setting.