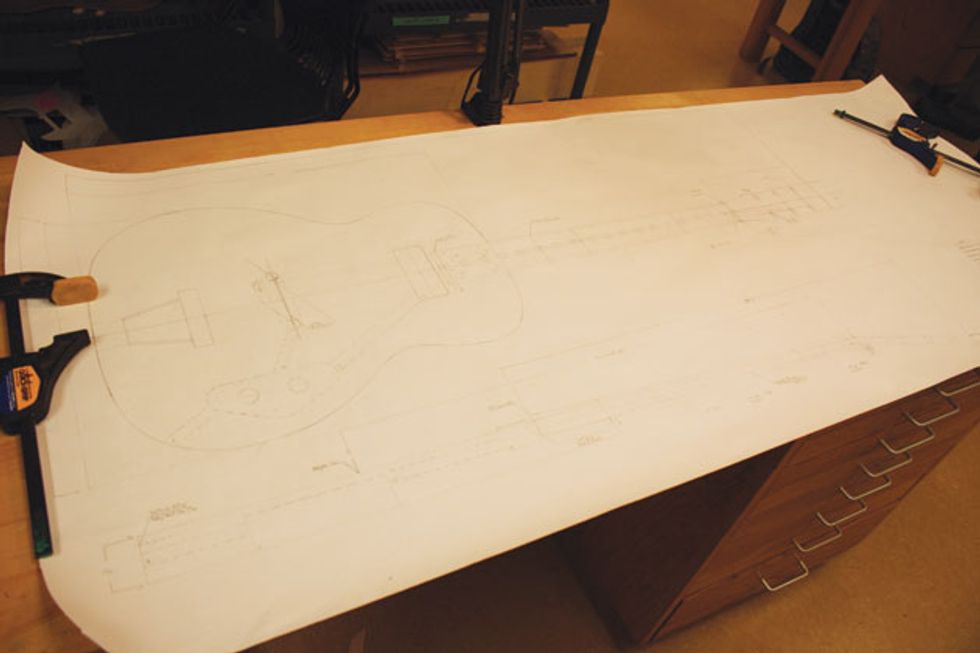 Each student drew up blueprints for their instruments. This one is for Samek's electric guitar.
In the summer of 2011, Colin Samek faced a grim problem while riding with his band to the next tour date: His guitar's output jack plate had been ripped out during a violent show the night before, and now the jack was hanging loose. Time and money were tight, so he needed a creative fix.
Samek found a plastic soda bottle cap on the van floor. He heated a screwdriver tip with a lighter, punched a hole through the cap, and bored around the edges until the hole was wide enough for the jack. He fused the hole's edges to the jack's threads by heating them with the lighter, and then secured the makeshift plastic plate to the jack hole with a little super glue. The repair wasn't pretty, but it survived the tour. MacGyver would have been proud.
All first-year students are required to design and build a traditional steel-string acoustic guitar by the end of the year.

Little did Colin know that in a few years he would be skillfully designing and building his own guitars.
Time for a Change
After two years working janitorial and attendant jobs, Samek enrolled in the Guitar Repair and Building program at Minnesota State College-Southeastern Technical in Red Wing, Minnesota. The renowned program, often referred to simply as "Red Wing," has trained some of the world's most skilled luthiers. Since the mid-'70s, graduates of both the one- and two-year programs have gone on to work for Fender, Paul Reed Smith, Collings, Benedetto, and other companies—or started their own.
"I had no idea that you could even go to school for such a thing," says Samek, who had no previous lutherie experience beyond simple repairs and setups. "But a day came when I realized I needed to do something with my life." He laughs. "Hey, if I'm still going to be mowing lawns, I'd like to have my own to mow."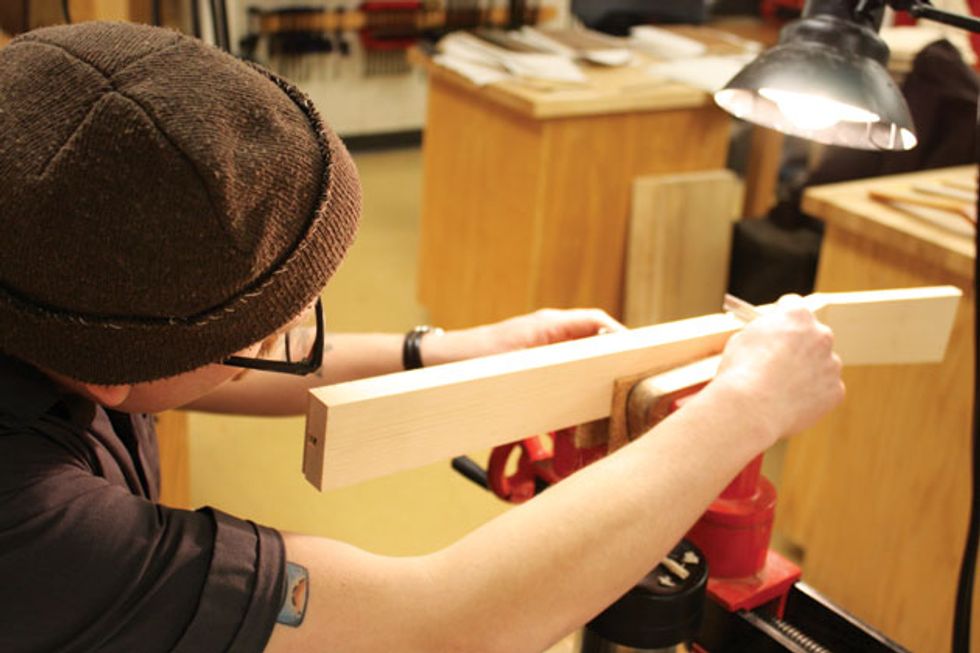 The students learn to measure and carve custom necks by hand. Samek based his profile on that of his old Aria acoustic.
Samek wasn't the first student to enroll without prior training. Both Luther Zielsdorf and Daniel Thompson of Collings Guitars enrolled in Red Wing with little more than a love of all things guitar. "When I found out about the school," recalls Zielsdorf, who completed the one-year program in 2004, "I wasn't aware that there was an option to learn beyond an apprenticeship with a master luthier. I learned a lot very quickly about materials, techniques, you name it—and loved every minute of it."
Thompson completed the one-year program in 2011. His prior experience was limited to working from a kit, plus the basic wiring repair he'd taught himself. "They have very high standards for everything there," he says. "Whether it's maintaining your tools or buffing a finish until it's absolutely spotless, you gain a good eye for noticing imperfections. When I joined Collings, I'd already developed a high standard for quality at Red Wing."
Instructors David Vincent, Brian Boedigheimer, Steve Rossow, and Mark Hayes provide students with a complete lutherie education in only four semesters. Many luthiers have trained under Vincent since he joined the program in 1984. Boedigheimer graduated from the program in 1994, and returned to teach after several years of repairing and building his own instruments, as well as working for Benedict Guitars.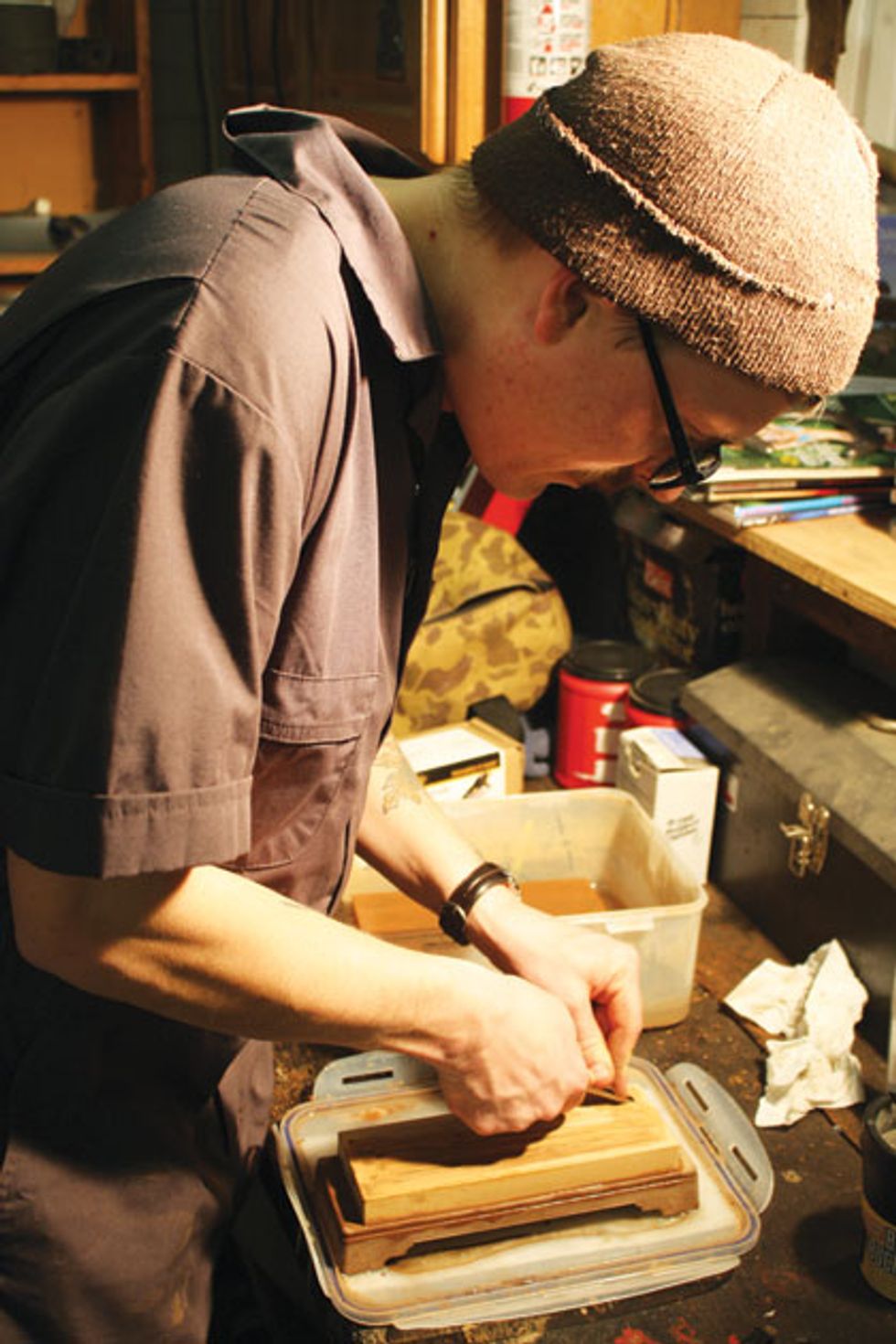 Proper tool maintenance is crucial. Samek often sharpened his chisel the night before class.
The Right Stuff
All first-year students are required to design and build a traditional steel-string acoustic guitar by the end of the year. They're also offered the option of building a bolt-on electric guitar, as Samek chose to do. Second-year students have the choice of designing and building a mandolin or an archtop guitar, plus the opportunity to use Red Wing's facilities to build an additional acoustic guitar, electric guitar, or mandolin. Entering students receive a list of needed tools and supplies, along with course syllabi listing reference books from experts like Dan Erlewine and Les Schatten.
Classrooms are customized to accommodate Red Wing's unique process: The first-year classroom is laid out with large desks that students use for most of their daily work and smaller projects. There are also several larger drafting desks for projects requiring extra space. An illuminated counter serves as a demo area for lacquer mixing, wiring, and soldering techniques. The dozens of electric guitars of varying styles hanging on the wall are used for setup and repair training. An adjacent room contains a walk-in spray booth and drying area for practicing painting and finishing techniques.