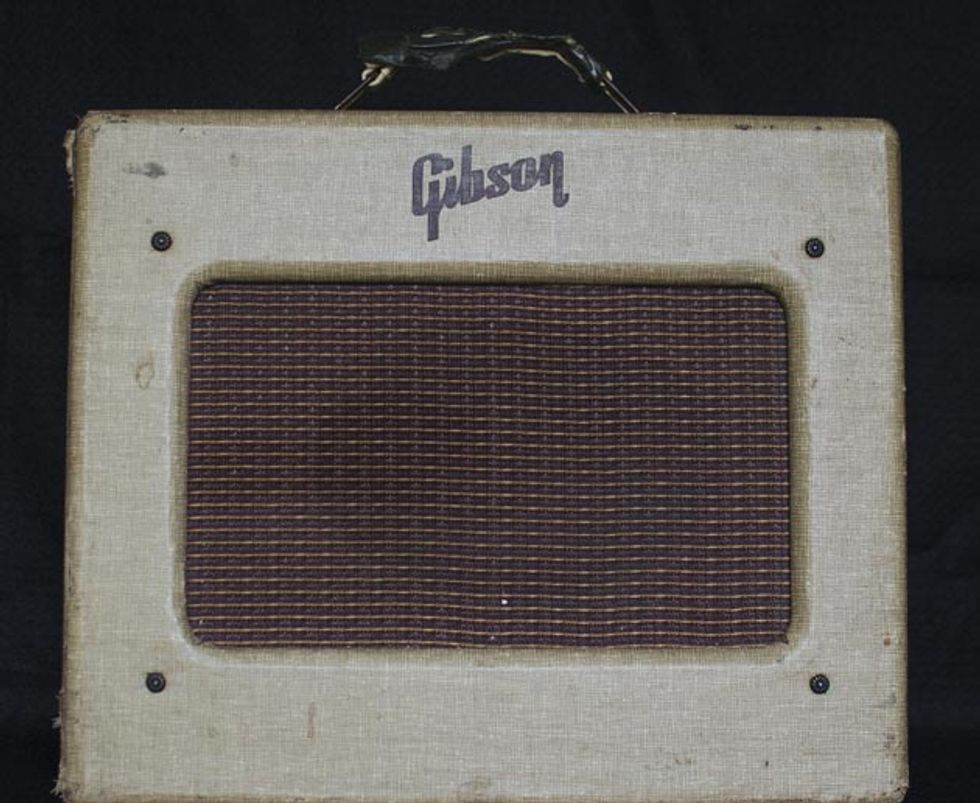 Photo by Ariel M. Goldenthal
This is a tale, not of two cities, but of two companies and of two amplifiers that, if it weren't for their logos, might have been twins. Just about everybody who's ever picked up a Strat or Tele is familiar with the tweed Fender Champ—the little practice amp that could, the one famous for being the amp that Clapton used to record "Layla."
The tweed Champ is great for practicing at home, for recording in the studio, or for gigging when played through one of the high-quality PAs found in so many clubs, and it has that vintage-tweed cool factor. For the working musician, however, one problem presents itself. These amps are collectible, and collectability means higher prices. I had been coveting one of these little amps, but the $1,200 price tag was a bit daunting. When I was in Danny's Guitar Shop in Narberth, Pennsylvania, and spotted a road-worn Gibson amp that looked a lot like a tweed Champ but was tagged with a more manageable price, I couldn't resist. It turned out to be so great that I became curious: Why aren't these amps better known? And why aren't more people buying and using them?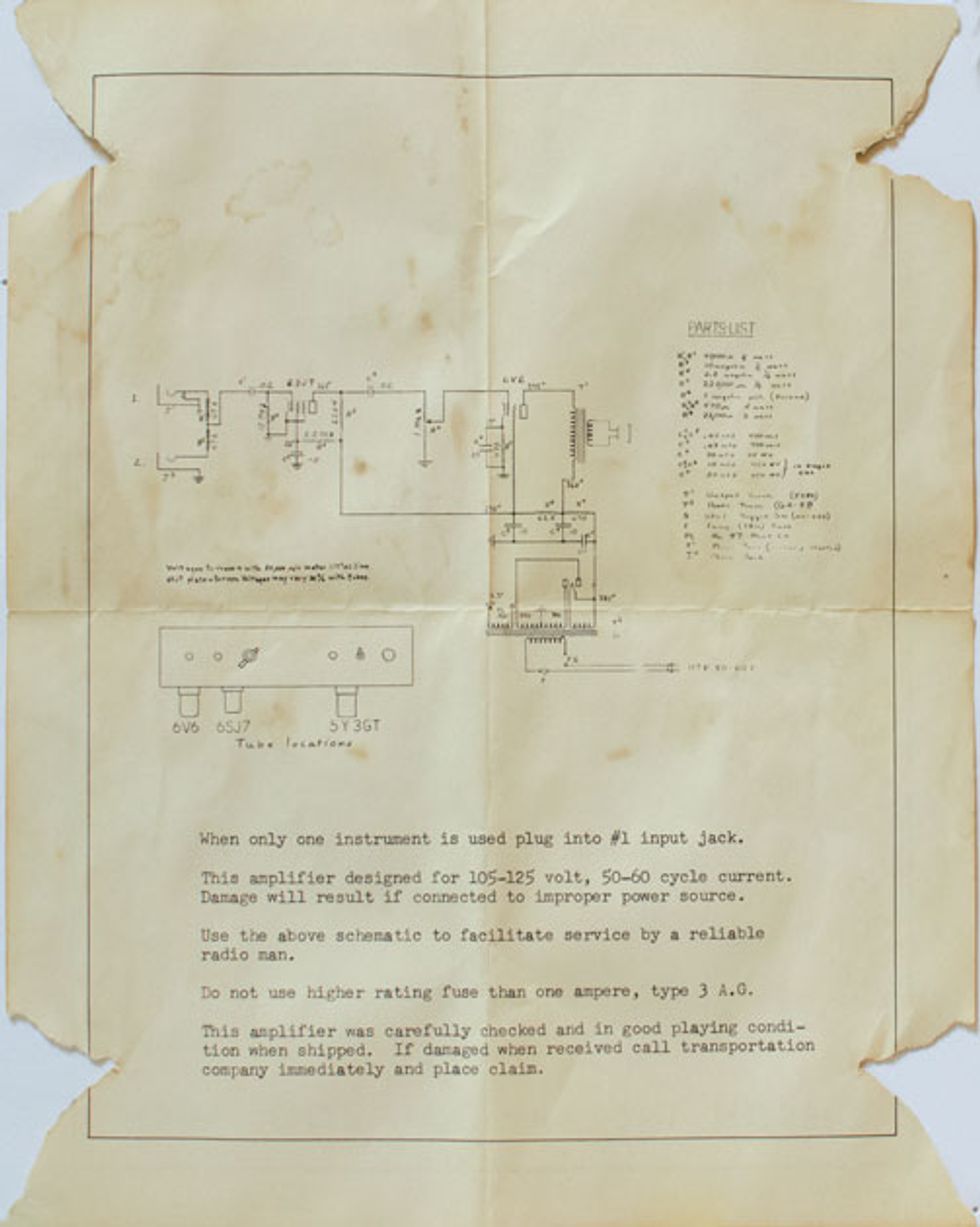 The original schematic to this 1956 Gibson GA-5 Les Paul Junior amp shows virtually the same circuit as a tweed Fender Champ FC-1.
Nate Westgor of Willie's American Guitars in Saint Paul, Minnesota, knows as much as anybody about vintage gear, and although the store's website says, "Cool used guitars is just about all we do," they also do quite a bit with cool used amps. Nate believes the answer to my question about why the Les Paul Junior amp isn't better known is as much about history and perception as it is about tubes and circuit design. Actually, it may be more about history and perception than it is about tubes and circuits.
"When Fender was concentrating on making roadworthy amps for touring country musicians," says Westgor, "Gibson's ethos was 'distortion-free tone.' Fender was listening to traveling musicians, Gibson was listening to nobody. Gibson even thought of the 1952 Les Paul solidbody guitar as a passing fad. The first ones didn't even have serial numbers."
I asked Stephen Johnson, the best guitar tech I know of in the Philadelphia area, to direct me to the tube amp guy he trusts to work on his gear. His answer: Jim Walton—the tech guy's tech guy. "Gibson never understood," says Walton, "why someone would buy a beautiful Gibson guitar and then plug it into a Fender amp, and that prejudice has lasted a long time at Gibson. From a repairman's perspective, there were eras, especially the late '50s through 1964, when Gibson amps were great. That was their golden era."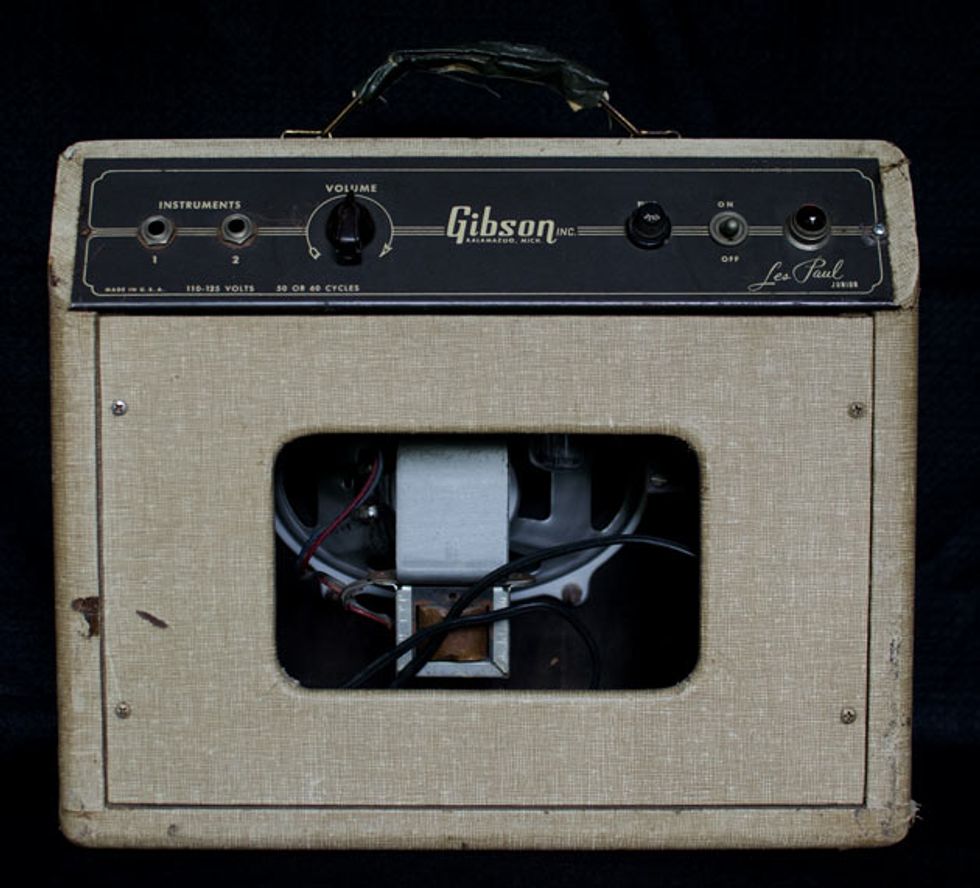 Photo by Ariel M. Goldenthal
Leo Fender's background was in radio repair, and he was quite naturally excited about and involved with electronics from the start. Gibson was focusing on building archtop guitars, largely for big band and jazz musicians.
"Fender was building solidbody guitars and rugged amps," Westgor explains, "originally for touring country musicians, and later for rock 'n' rollers, but Gibson was slow to put the necessary time into designing and building amps. Gibson's other problem, from a marketing perspective, was that they kept changing their amps. Some were great but others weren't great at all. The Fender Champ has always been around, so if you fast-forward 30 years or so, you can always tell your brother-in-law to buy a Champ and know it will be great. But buying advice about a Gibson is much more complicated—you have to specify the year or model, or sometimes both. Gibson's history is not rock solid. Fender always made a Deluxe, and they always made a Champ, and you can buy any older Champ or Deluxe and know that it will be great. With Gibson, you have to qualify your advice. Fender took command of the amp market right off the bat, so older Fender amps are prized, but older Gibson amps are not. It's analogous to the way that nobody looks for an older Fender acoustic."