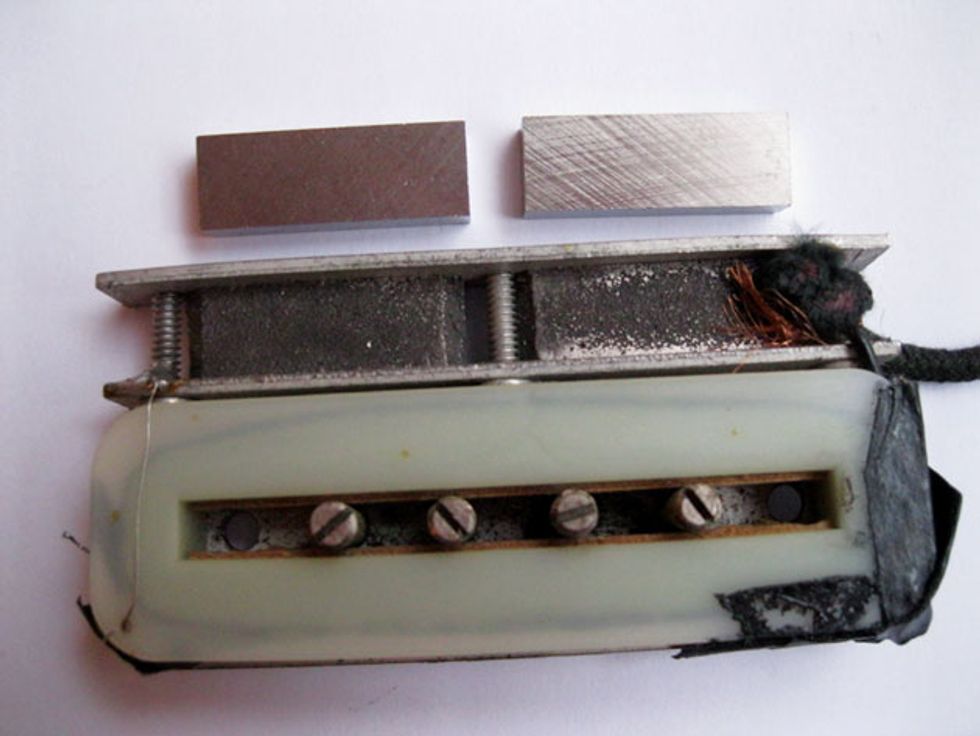 Photo courtesy of Ken Calvet.
Supro Vista-Tone
After recording the 1958 instrumental classic "Rumble," Link Wray got a new guitar. Out went Rumble's Les Paul, which had become too heavy for Wray due to health issues, and in came the Supro Duo-Tone that would appear on many of his recordings for the Swan label. Few guitarists would consider a '60s Supro to be an upgrade from a '50s Les Paul. But not everyone appreciates the Supro's unique sound.
Chicago's Valco company made guitars and amplifiers under a variety of names. (They made amps for Gretsch and Harmony, among others.) Their best-known guitar brands were Airline and Supro—affordable axes for players on a budget who still wanted to rock.
In early versions the Vista-Tone's bobbins were cardboard, though Valco eventually switched to plastic.

Supro's standard pickup was dubbed the Vista-Tone. It appears to be a humbucking pickup, but it's just an illusion—it's a single-coil dressed as a dual-coil. The Vista-Tone's internal configuration resembles that of the single-coil Gretsch Hilo'Tron, with magnets to one side of a single coil, separated from it by a steel "keeper." Its six pole pieces are height-adjustable screws. According to inventor Ralph Keller's 1952 patent, "An object of this invention is to provide a pickup device which establishes a magnetic field extending for a substantial distance along each string, with the magnetic lines of force lying substantially parallel to the strings for the major portion of said distance." The wide magnetic field spans the width of the housing, interacting with approximately two inches of the strings' length.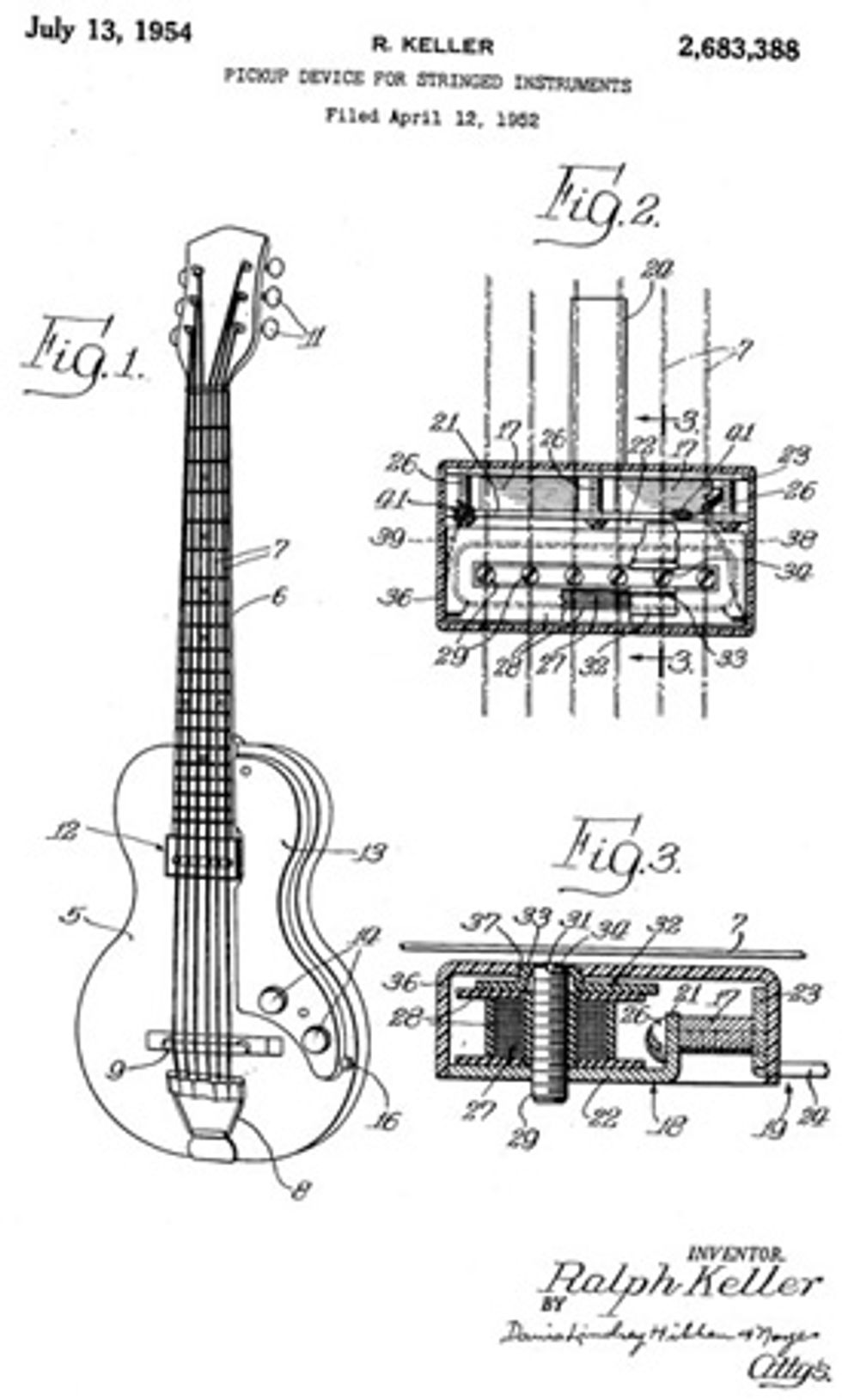 A second objective was to keep it cheap. In early versions the Vista-Tone's bobbins were cardboard, though Valco eventually switched to plastic.
These pickups have devoted followers. Luthier Paul Rhoney tried to convince Ken Calvet of Roadhouse Pickups to study Vista-Tones. "Paul kept bugging me," recalls Calvet. "I didn't have an original, but Paul found one for sale." Calvet was soon hooked. He reverse-engineered the design and launched a reproduction run within a few months.
Engineers have a good day when parts from one product can be repurposed for another. At Valco that meant borrowing parts from the already inexpensive Vista-Tone for an even less expensive pickup. That new pickup, a humbucker-size housing with a single attachment screw at its center, appeared in Supro's Kingston guitar. This "Kingston" pickup (Roadhouse's moniker, since Valco seems not to have given it an official name) moves the side-mounted magnets of the Vista-Tone to the center of the coil. There are no pole pieces, and there's less metal. The pickup's sound is closer to that of a Fender single-coil, and the design looks way cool.
But the Vista-Tone remains the star of the family. When pressed, Calvet describes the tone as a cross between a Strat and a P-90, though he says it breaks up differently when pushed: "There's more fuzz around the edges, though they sound good clean too."
Dan Auerbach of the Black Keys often plays a Vista-Tone-loaded Supro, as does Jack White.
Roadhouse has an array of Vista-Tone clips on their site (http://www.roadhousepickups.com/clips/).