John Mayer
Guitars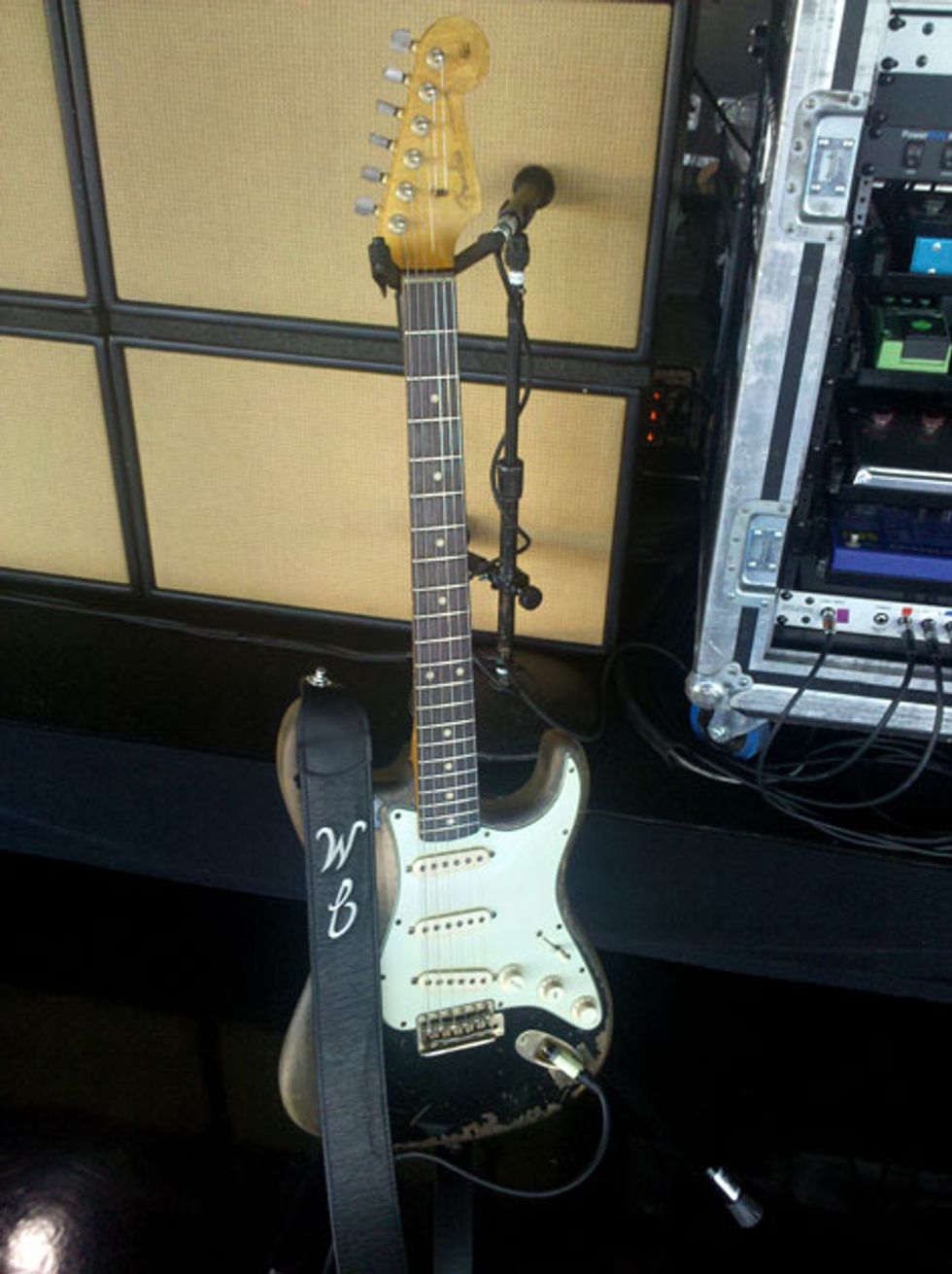 Mayer is a big fan of switching axes—over a dozen guitars are used per show—Mayer has a drool-worthy collection of 6-strings, including a relic'd Fender Custom Shop of his '63 Stratocaster BLACK1 that he uses on "Gravity," a 1997 Fender Custom Shop Monterey Strat that he plays during "Waiting on the World to Change," a Fender Custom Shop "Heartbreak Warfare" Strat the he rocks during the namesake song, a cherry Gibson ES-335 he pulls out for a cover of Bill Withers' "Ain't No Sunshine," and a signature Martim OMJM model he strums for "My Stupid Mouth."
Other guitars that Mayer keeps on hand include a relic'd white Fender Custom Shop La Cabronita, a sunburst Fender Strat, a gold Gibson Super 400 archtop, a red Gibson SG, a blonde Fender Custom Shop '52 Reissue Telecaster, a sunburst Fender John Mayer Signature, a PRS Hollowbody, a Rick Turner Model 1, a Fender Custom Shop Chris Fleming Masterbuilt Strat/Tele hybrid, a Novax Expression, a Les Paul Jr, a Les Paul Standard, and two Ernie Ball Music Man models—a 25th Anniversary and a Reflex.
Amps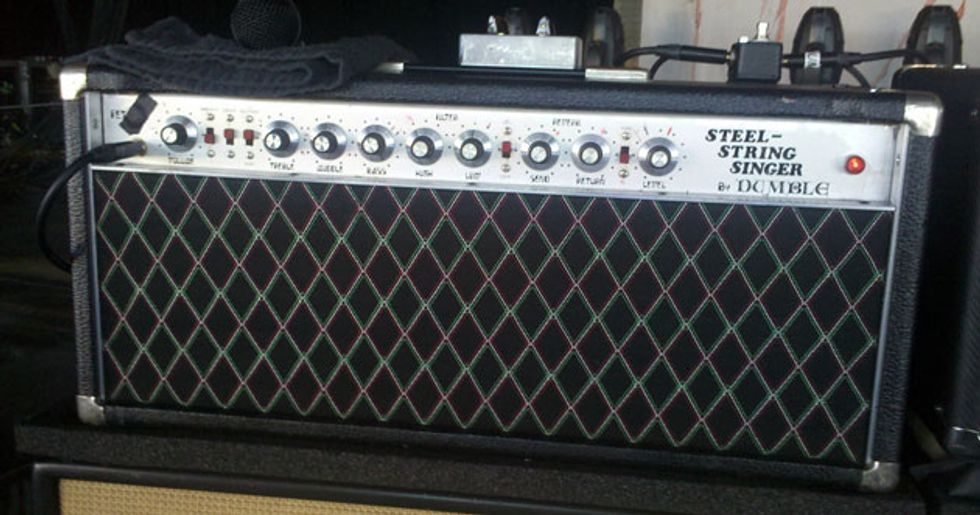 In comparison to his plethora of guitars, Mayer keeps his amp choice and setup pretty simple with three heads. He currently uses a Dumble Steel String Singer.
A Two-Rock John Mayer Signature model.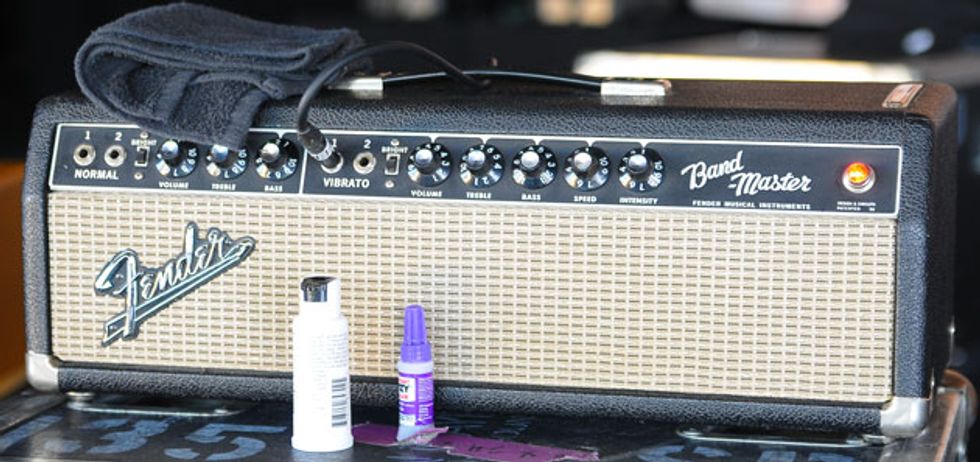 And a Fender Band-Master.
"Each of John's amplifiers sound great at a particular EQ setting and volume," says René Martinez, Mayer's guitar tech. "When you put all three of them together, they will obviously give you more volume because of the increased power, but each amp brings a completely different tone to the table, so when they're projected out of the speaker cabs you get three sweet-spot tones rather than just the one." All three amps go through four open-back Alessandro 2x12 cabs loaded with various Celestion speakers.
Effects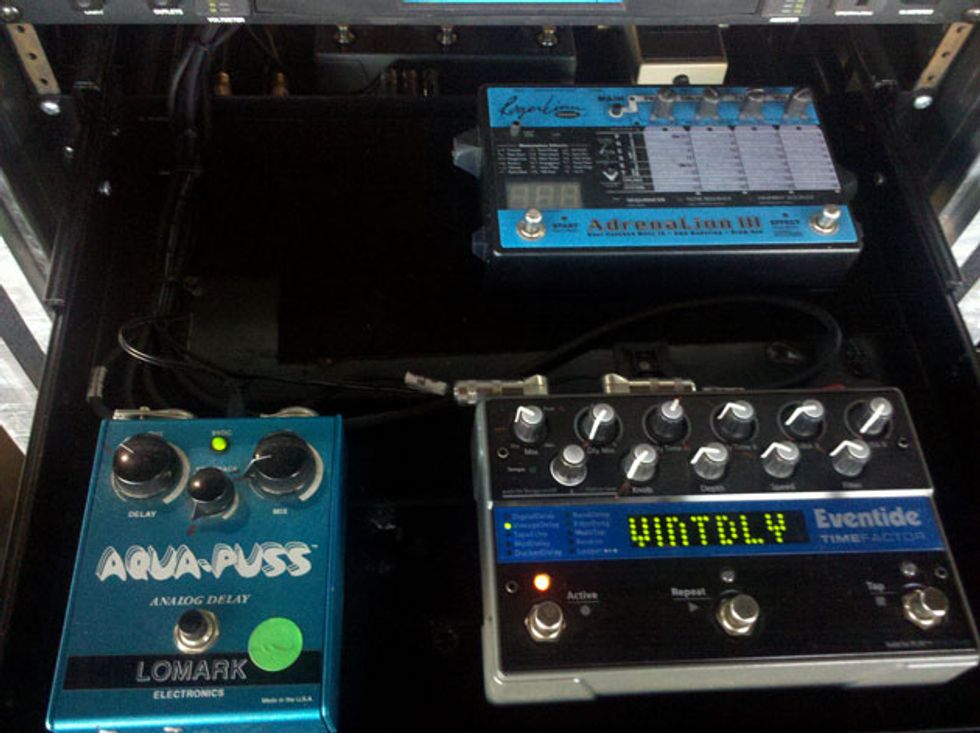 Most of Mayer's effects are housed within a custom-built rack and swicthing system setup by CAE mastermind Bob Bradshaw. One drawer holds a Way Huge Aqua-Puss, Eventide Time Factor, and a Roger Linn Design AdrenaLinn III.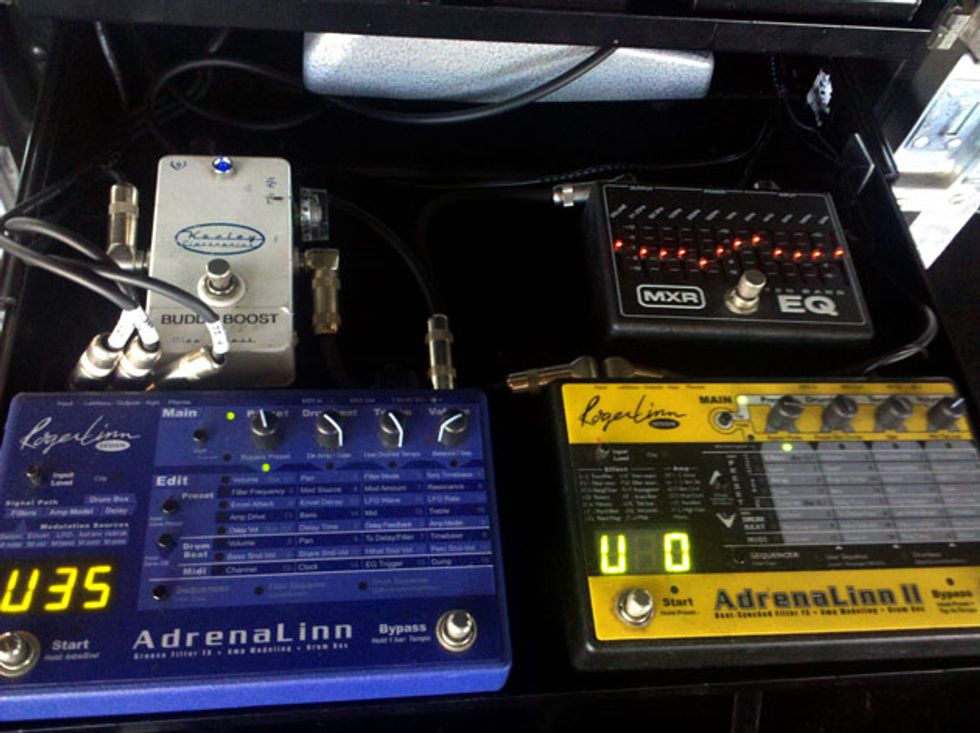 The second drawer is home to a Keeley Electronics Katana Clean Boost, a MXR M-108 10-Band EQ, a Roger Linn Design AdrenaLinn II, and a Roger Linn Design AdrenaLinn.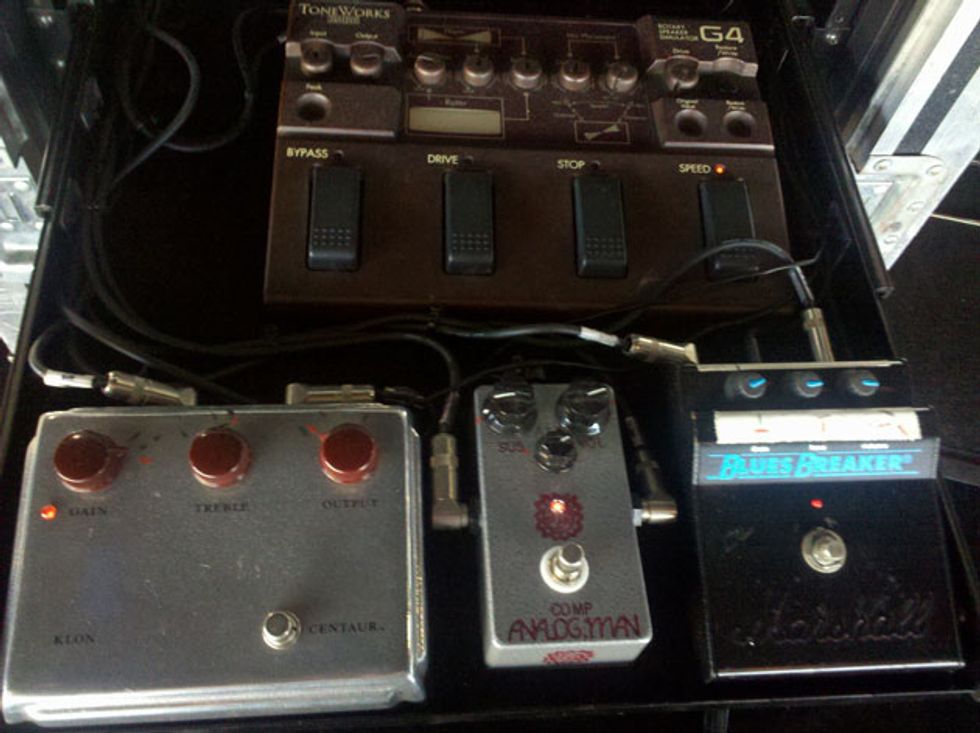 The third drawer is where Mayer keeps his Korg Toneworks G4 Rotary Speaker Simulator, a Klon Centaur Overdrive, a small Analog Man Comprossor, and an original Marshall Bluesbreaker pedal.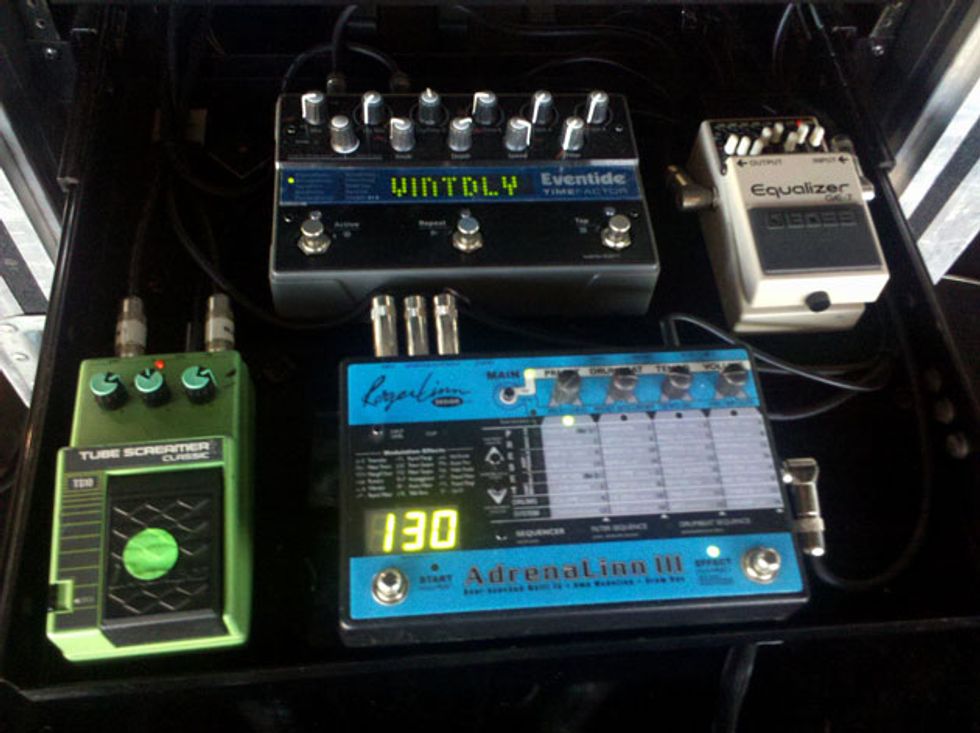 His final drawer holds an Ibanez TS-10 Tube Screamer Classic, another Eventide Time Factor, a second Roger Linn Design AdrenaLinn III, and a Boss GE-7 Equalizer.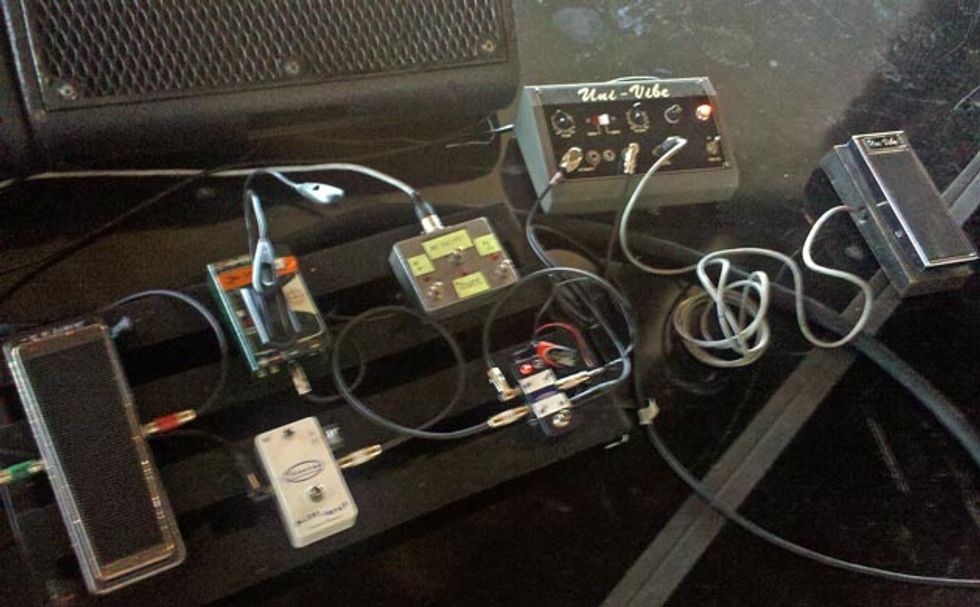 The pedals on the floor include two Boss TU-2 tuners, a Teese Real McCoy RMC8 Guitar Eqwahlyzer, a Uni-Vibe with accompanying expression pedal, another Keeley Electronics Katana Clean Boost, and a MXR/Custom Audio Electronics Boost/Line Driver.