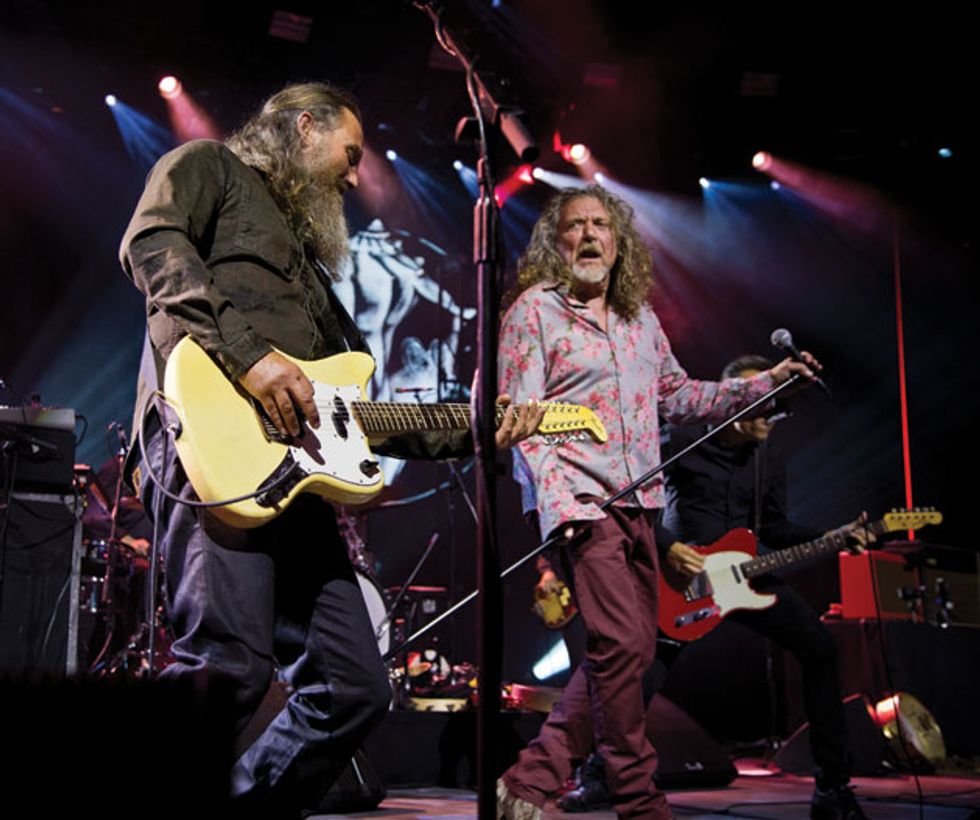 Sensational Space Shifter Liam "Skin" Tyson plays his recent find, a Fender XII, while onstage with Robert Plant at the iTunes Festival in London on September 8, 2014.
Robert Plant and a few of his mates are huddled in one corner of the ground-floor café at the ultra-hip Wythe Hotel on Brooklyn's Williamsburg waterfront, crafting a setlist for the second of two sold-out nights at the Brooklyn Academy of Music's Gilman Opera House. Late morning sunlight bathes the front of the room, while early '80s Genesis cranks over the speakers above the bar. The stylish clientele seems almost oblivious, or maybe just respectful, of the rock royalty in the midst, but no matter—Plant seems perfectly content to bask in the anonymity. It's a fine-tuned, 180-degree turn from last night, when a packed house showered him with ecstatic cheers, celebrating the front end of what he gets a kick out of calling his "26th U.S. tour." Of course, that number includes 11 tours with Led Zeppelin between 1968 and 1977.
It's testament not only to Plant's resiliency—at 66, he still keeps up a daunting pace that would floor most youngbloods—but also to his lasting appeal as an iconic singer with plenty left to say, and plenty of ways to say it. His latest album, lullaby…and the Ceaseless Roar (Nonesuch), is his first stab at original material since 2005's Mighty ReArranger; it's also the first to reunite most of the band previously known as Strange Sensation, now recast as the Sensational Space Shifters. Plant describes their collective sound as "country & eastern," and lullaby… embraces all that and more, including North African desert blues, the Mississippi Delta, Massive Attack-style electronics, American roots music (which he explored with Alison Krauss on 2007's Grammy-winning Raising Sand, as well as 2010's Band of Joy), and the distinctly Celtic mysticism that has inspired Plant since the days of his youth, and peppered so many classic Zep albums—Led Zeppelin III and Houses of the Holy in particular.
Flanking him at the center of the sonic maelstrom are the Space Shifters: Justin Adams (guitars, Malian 3-stringed tehardant, and more), Liam "Skin" Tyson (guitars, banjo, and banjitar), Juldeh Camara (on the 1-string bowed riti), John Baggott (keyboards), Billy Fuller (bass), and Dave Smith (drums). With their contrasting but complementary styles, the two guitar slingers define a richly layered, hard-driving sound. Adams is a punk rocker and Clash fan at heart, and an avid acolyte of Tuareg takamba music from the Sahara, while Tyson leans more psychedelic, with a gift for fingerpicked pastoral folk and influences as far flung as Bert Weedon, Johnny Marr, Zep, Pink Floyd, The Jam, and The Church.
"I'll bring some of my guitar ideas into the studio, but I let somebody who's a bit more fluent do the proper job, you know." —Robert Plant

"You could say that I'm the short-haired guitarist and Skin's the long-haired one," Adams quips, smiling as he stirs a fresh espresso. "That pretty much nails it, you know?" As a veteran of Strange Sensation going back to Plant's Dreamland LP, Adams came up in the '80s and '90s with Jah Wobble's Invaders of the Heart, and has made his mark as a producer with Tuareg blues rockers Tinariwen and his own band Juju, with Juldeh Camara. These days his main axe is his prized '52 Les Paul goldtop, which leaps out of the beautifully textural "Pocketful of Golden"—Plant's exalted take on life and Zep (with the familiar opening line "And if the sun refused to shine…"). The song conjures a mixture of depth, longing, and mystery that could easily place it next to "Over the Hills and Far Away" or "The Rain Song" from Houses of the Holy.
"We're seven musicians who like to play," Adams explains, "so this album could have really turned into a big jam-out, but everything is really about serving the song. That's one thing that Robert, as a producer, was very strong on. And I think we've all got the maturity not to impose our egos. We have unbelievable musicians in this band, so I'm just proud to play my part in it. If that means coming in on the bridge to play three notes, or just a couple of sustained chords during the verse, then I'm well into that. We're trying to take you on a very particular atmospheric journey."
For Tyson, the rock vibes come much more naturally, but with his keen attention to keeping his ears open. As a member of the '90s Brit rock juggernaut Cast, he cut his teeth on power chords and amps that go to 11. When he joined Strange Sensation in 2003, he brought a well-honed sense of adventure and experimentation to the band's sound that still informs many of the songs on lullaby…, from the trippy slide intro and Page-like riffs that crash the middle of "Embrace Another Fall" (played on his choice '70 Telecaster) to the sparkly Gibson Robot Les Paul that defines the celebratory mood of "Somebody There."
"We've just got a really good understanding of sonic space and different styles," Tyson says, a steady gleam in his eye and his Liverpudlian roots instantly recognizable in his voice. "It's not a straight-ahead record, this one—it's more of an experience. One minute it's real down and Crazy Horse, and then the next minute, it's another country away from that, you know? That's where the journey comes into it. And playing it live now, it's changing already. It's growing into something else. That's inevitable, because the songs were only made in January, so now they're starting to turn into their own beings. Let them be free!"