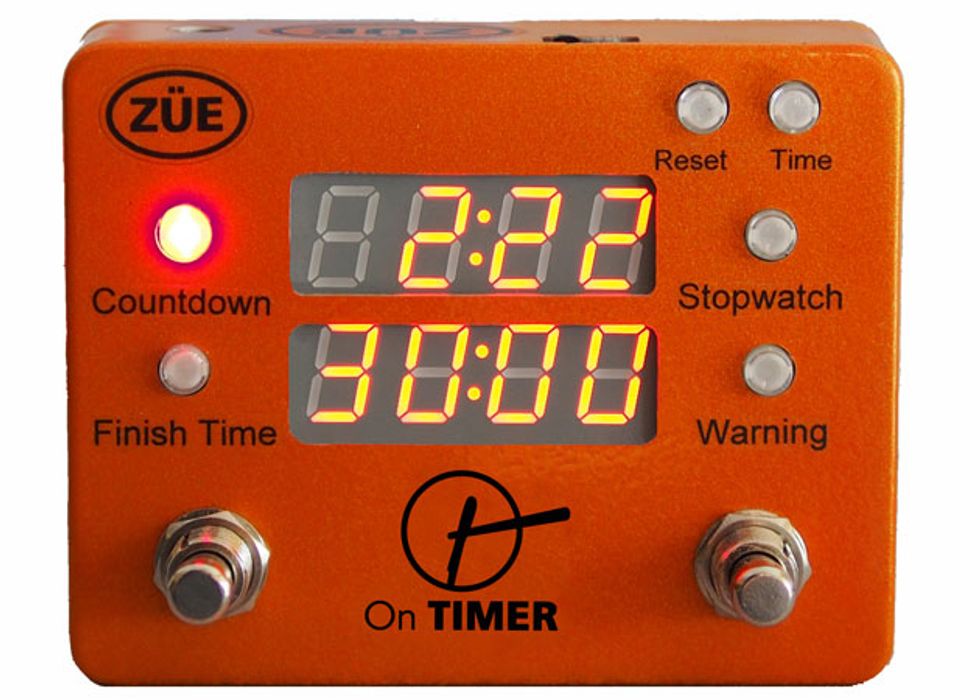 Chicago, IL (December 10, 2014) -- ZÜE Engineering offers the next generation in pedalboard clocks that incorporates the latest technology and a wide variety of features. This state-of-the-art pedal is designed to help musicians manage time while performing. The On Timer is a dual display clock/ Timer pedal that shows musicians both the current time and one of several programmable count-up or count-down timers.
Every musician needs the On Timer pedal to manage their performance, be it singers, bass players, guitar players or keyboardists. The On Timer is housed in a beautiful diecast powder coated aluminum enclosure, with a pair of LED clock displays that can be seen clearly during a daytime or dark stage event. While the top LED time display always shows the current time, the bottom LED time display can run a countdown Timer, stopwatch, or dynamic countdown timer based off a firm end time. This unique pedal is controlled by a pair of soft-touch footswitches that allow musician's control of the pedal with their feet.
"We are very excited to introduce the On Timer pedal. A lot of time and effort has gone into the creation of this pedal. We designed the On Timer from a musician's point-of-view, so that the end-product is a reliable and quality pedal, fit to travel to every practice, club, or stage. The On Timer will change the face of every musician's pedalboard and be as common as a tuner for musicians. "– Steve Cutler, ZÜE Engineering
Features:
12 Hour Clock - The top LED time display always shows the current time.
Countdown Timer - The bottom LED time display functions as a countdown Timer, which can be pre-programmed prior to a performance.
Finish Time - Finish time is the second countdown Timer that calculates a countdown based off a firm stop time. If a performance must end at 8 p.m. sharp, and the musician starts 'Finish Time' at 7:07 p.m., a 53 minute countdown clock starts.
Stopwatch - Stopwatch is a count-up Timer that can be used to time new songs, setlists, or for practicing.
Convenience - One single pedal shows you the current time of the day and one of three programmable Timers.
Warning Time - Warning Time is a programmable visual indicator to give performers a heads up that you are nearing the end.
Bright LED Displays – The On Timer features a pair of two-stage LEDs. The displays are bright so they can be clearly seen during daytime events, and can be dimmed for night events.
Rugged Design – The On Timer is housed in a powder coated diecast aluminum housing with industrial soft-touch footswitches.
For more information:
ZÜE Engineering