Kora Jünger and Frank Deimel: Deimel Guitarworks

Deimel Firestar Special Artist Berlin model.
Kora and Frank of Deimel Guitarworks probably traveled the shortest distance to the show, as their shop is located in Berlin. Frank's business dates back to 1998, well before he teamed up with his wife in 2007. Deimel's colorful finishes and classic designs showcase the pair's love for vintage guitars, and one of the instruments they exhibited featured an electronic circuit that's especially noteworthy—even in a hall full of artisans. Though based on their Firestar model, this one-of-a-kind Special Artist Edition was built to pay homage to Berlin. The guitar features a semi-hollow red alder body with a glued-on maple top, a Mastery Bridge and Offset Vibrato, custom Sperzel tuners, and a paint job that incorporates elements from the Berlin skyline.

Deimel Firestar model.
Here's where things get wild: Via a toggle switch, the guitar's Deimel JM and J pickups are routed either through a standard volume and tone circuit, or through an active stereo circuit that automatically pans between the bridge and neck pickups. Deimel calls this circuit the Pickup LesLee; once it's activated, the player can control the panning speed using a dedicated onboard knob. The speed can be very slow, very fast, or anything in between. Because the circuit is stereo, it's possible to route the signal through two amps or send it to two mixer channels with different signal chains onstage or in the studio.
Michael Spalt: Spalt Guitars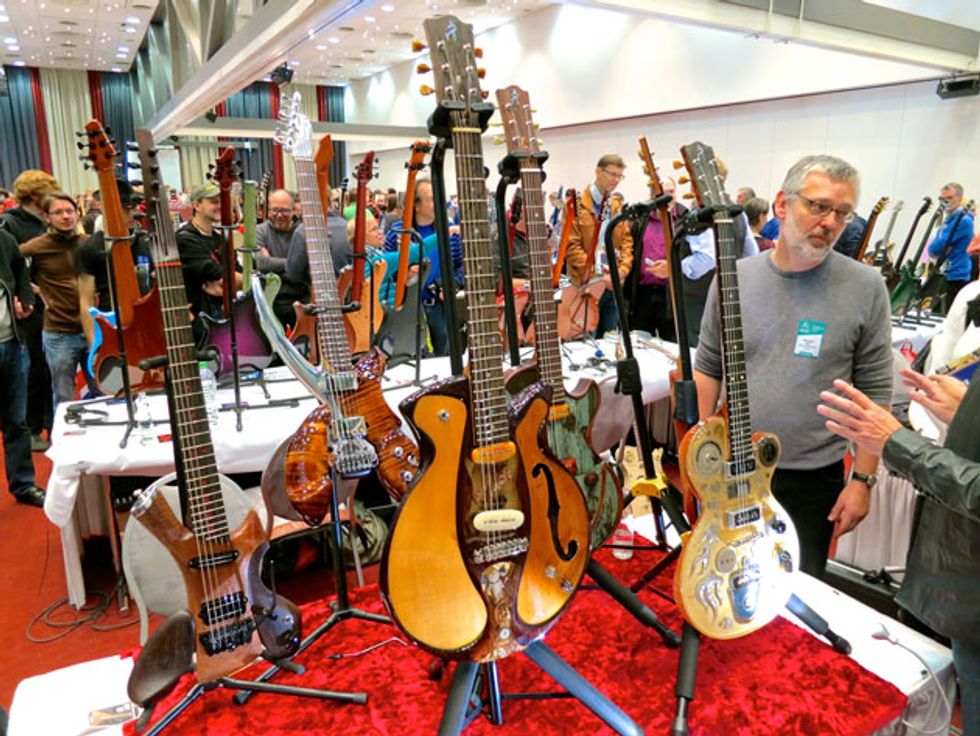 Michael Spalt talks to a visitor at his Holy Grail Guitar booth.
Michael Spalt is well known for his skeleton-like, body-neck constructions and other unique and artistic "inlay" work, where he encases objects in resin. He and his wife Tania are also a driving force behind the Holy Grail Guitar Show. When they returned to Austria after living in the U.S. for 25 years, they were impressed by the willingness of European luthiers to cooperate with each other. To capitalize on this spirit of exchange, the two helped form the European Builders Group.
Uwe Schölch: Tonfuchs

Tonfuchs Booty model
Uwe Schölch has 10 years of professional building experience, and though his designs look more familiar than most of the handmade instruments at the Holy Grail, there's a singular story behind each Tonfuchs creation. The Bulldog is Schölch's most prominent model, and his new Moto Cult is inspired by an Italian motorbike company.

Tonfuchs Bulldog Ducati.
This one-off guitar comes in the original Rosso Anniversario color, and includes white racing stripes and an original fuel cap behind the bridge. He plans to build 10 unique instruments with classic elements that relate to motorcycling history. Next will be a Zündapp Combinette 50, and, in case you were wondering, Schölch is eager to point out there won't be a Harley model.