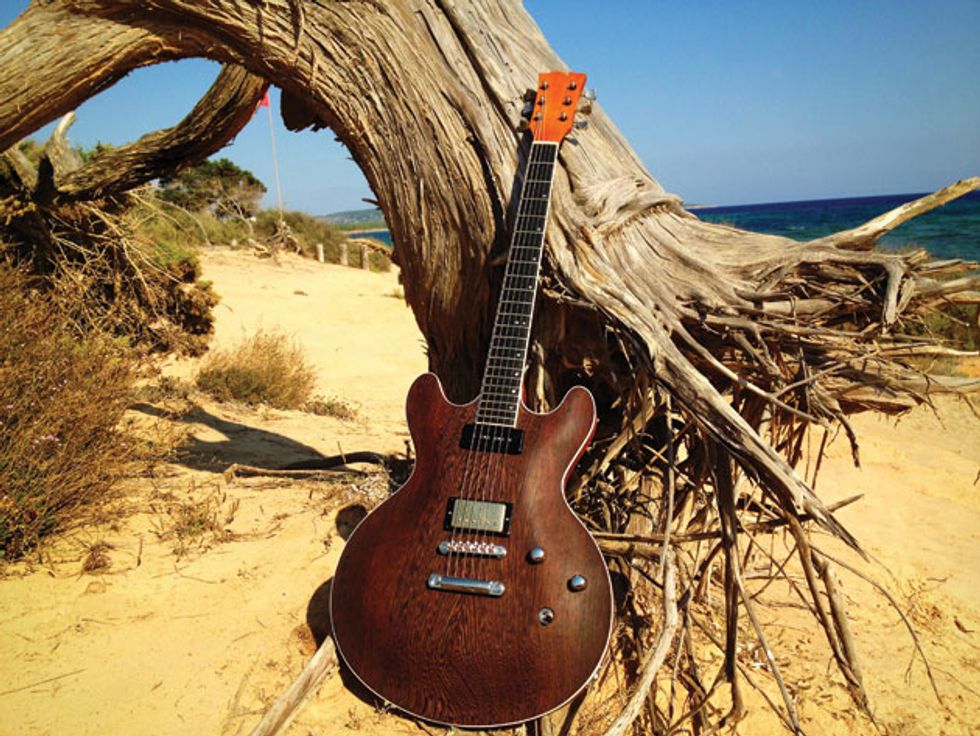 "To start with blocks of wood and then build an instrument that you write songs with is such a cool feeling," says Scott Middleton about this guitar he built at Formentera Guitar School.
Do you play the same solos every time or do you improvise?
Of course, you're going to ad lib stuff live. A lot of solos are recorded in a spontaneous way. But I'm spending more time mapping out solos. I'm becoming more prepared.
You've had a lot of guitars over the years. Have you found the one yet?
I've been playing Nik Huber guitars. About four years ago when we were doing Dead Set on Living, I was looking for a new guitar. Every time we make a new record, I want to get a new guitar. A new instrument inspires me. When I have writer's block, I put a new instrument in my hands, and it's like magic—songs just want to come out of it. I ended up buying one of Nik's guitars, one called the Krautster. It looks almost like a Les Paul Jr., with a single humbucker. That guitar made Dead Set on Living. It's a classically styled guitar but with modern features, really well built, really good wood and attention to detail. It feels like somebody made it, as opposed to it just coming off a factory line. Since then I've become good friends with Nik and his crew. They've made me two guitars. I have a green one called the Orca. We were playing the main stage at the Reading Festival in England for the first time [in 2012], and they gave it to me as a gift. I played it that day. They knew what I liked, and Nik was already building my favorite guitar.
That led to a discussion at the Montreal Guitar show. Nik was part of the expo, and I drove up to hang out and talk about guitars. He got into being a luthier after taking a course on Formentera, a tiny island off the coast of Spain. He hooked me up with a contact, and Clemens Huber, Nik's right-hand man (they aren't related) and I booked a trip. We went there last summer and took the guitar-building course together. So I made my own guitar. I have a B.B. King Lucille that I love, but it's not great for playing live. I wanted to build a guitar that could have that style, but also nail the heavy, tight stuff. I spent a month in Spain building that guitar, and the guitar ended up writing half the songs on the new album.
"After you make a mistake, the next thing you play is going to be naturally inspired. You'll play something weird. That's how you catch something special."

Is that your main ax now?
It's one of them. My flight case can't fit the guitar I made, so I just bring Nik's guitars to Europe.
Did you make everything on your guitar?
I didn't build the hardware, but I wound the pickups. When I save up some money to buy tools, I want to set up a shop and start building and selling guitars, because I had such a great time doing it. I was expecting to make a guitar that I would hate, but when I plugged it in, I thought, "This is crazy—it sounds so good, and I love it." To start with blocks of wood and then build an instrument that you write songs with is such a cool feeling.
Do you have a name for your future company?
Scoebcity Shred Sticks! [Laughs]. We'll see if that sticks. My guitar was one of the main guitars on the album—that and my white Nik Huber Krautster. Just before the album was recorded, Ryan "Fluff" Bruce sent me his signature pickup, the Beard Comber, made by a company called Fastback Guitars. I put it in my Krautster because I just wanted something different—three of my Huber guitars have the same pickup. Ross heard that guitar and was like, "Holy shit—that's the best sound ever!" Nik just built me a new guitar based on his Twangmeister model, with a Tele-style body and a carved top. The whole neck is rosewood. The fingerboard is rosewood, too, and the body is solid mahogany. I plugged it in and I was just grinning huge. I think this is going to be the one. We call it Das Grüne Omen—the Green Omen.
YouTube It
Hear Scott Middleton's blistering riffs in "Satellites" from Cancer Bats latest album,
Searching for Zero.
There are a ridiculous number of metal sub-genres. What is Cancer Bats?
It's so funny with our band. We play for some people, and they say, "You're my favorite punk band." And we're like, "We're a punk band?" Then we tour with a punk band, and it's, "You are the coolest metal band I've heard in a long time." That's awesome—we'll take that! I don't really care. We have this ridiculous name, Cancer Bats, because when Liam suggested we start a band called Cancer Bats I thought, "I don't care about the meaning behind that—it just sounds like a badass heavy rock band." You know it's not going to be something wimpy.