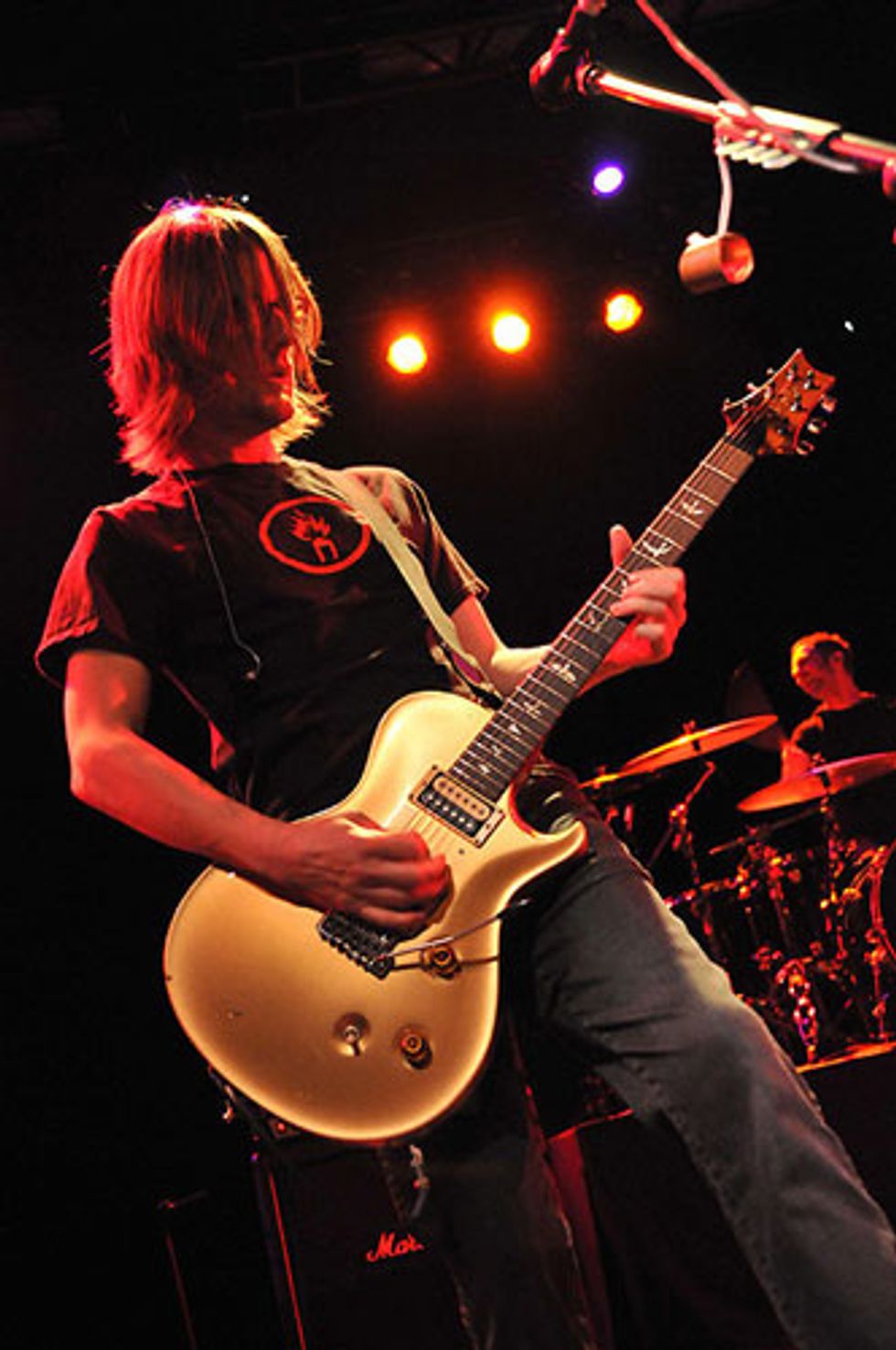 Whether performing with Porcupine Tree or one of his own tours, Steven Wilson's main axe is a PRS Custom 22.
Photo by Frank White
Steven Wilson's new release Hand. Cannot. Erase. draws inspiration from the story of Joyce Carol Vincent, a woman found dead in her London flat, undiscovered for nearly three years. But the album doesn't merely retell this ghastly tale. "I didn't want to just write a story about a woman who dies in her apartment—that would be a bit depressing," says Wilson. "But I liked the idea of writing a story about isolation in the city and how technology affects our sense of isolation in the 21st century."
Hand. Cannot. Erase. is the fourth solo project for the busy Wilson, who also fronts the iconic prog-rock band Porcupine Tree and performs with or produces artists ranging from Yoko Ono to Opeth. The new album reunites the all-star lineup that brought Wilson's epic musical visions to life on 2013's The Raven That Refused to Sing (And Other Stories): guitar phenom Guthrie Govan, drum god Marco Minnemann, onetime Miles Davis keyboardist Adam Holzman, and bassist Nick Beggs. Another facet of the project is the blog handcannoterase.com, which features cryptic entries from the point of view of Wilson's isolated protagonist.
Wilson insists he's no fan of shred guitar, yet no one embodies modern-day shred more than Govan. We queried both master musicians about their unlikely collaboration.
Steven Wilson: Two-Sided Stories
What fascinated you about the Joyce Carol Vincent story?
Steven Wilson: The story is extraordinary enough in itself, but when I found out more background, it became even more extraordinary. This was not a lonely old lady—she was a young, attractive woman with friends and family. I created a character that gave me the opportunity to explore the subject of 21st-century isolation. What it means to be living in the heart of the city, and how easy it is to become invisible in that context.
Did you have the storyline in place from the beginning?
No. Things edged each other on gradually. I wrote a few phrases and had a couple of titles, and then I wrote a bit more lyrics, and then a bit more music. It's easy to write pages and pages of prose and lyrics, and then try to shoehorn them into music. But I like to feel that the mood of the music is affected by the lyrics, and the lyrics are affected by the music. I don't really have a master plan. All I know is that you have all these jigsaw puzzle pieces, and you have to put them together in a way that makes sense. I don't think it's any different from what a novelist goes through, or someone who creates a movie. Never underestimate the amount of work that goes into creating a great film script or a novel!
Other themes come into play as the record progresses.
Yes. Things like relationships and nostalgia for childhood. A lot of it is also autobiographical. The album has some joyful elements too. It's the story of someone's whole life, so it goes through all of the contours that we go through in our lives.
The handcannoterase.com site seems to be ongoing. When does it end?
Who can say? I can't say.
Are you posting the blog entries yourself?
The character is putting the entries up.
Is everything already mapped out, or is the story unfolding in real time?
I have a story in mind, but the story can surprise me. The story is still evolving even as the album is finished.
"You have all these jigsaw puzzle pieces, and you have to put them together in a way that makes sense. I don't think it's any different from what a novelist goes through, or someone who creates a movie." —Steven Wilson

What does the album title mean?
I'm not going to tell you what the title means, but I'll tell you <em>why</em> I'm not going to tell you: When you give an album a title, you're almost telling the listener what the album is about. I could have very easily called it The Loneliness of Living in the City, because it is about that. But of course, it's also about other things: nostalgia, childhood, family, the internet, the city, modern life, paranoia, confusion, technology. So the answer to the conundrum is to pick a title with a sense of mystery that allows the audience to interpret it for themselves.
You brought back the lineup from The Raven That Refused to Sing. Did you write with them in mind, or independently of a specific lineup?
A bit of both, because there's no guarantee I can get the musicians I would like to get. Guthrie, Marco, Adam, and Nick are very much in demand as players. But I'm aware of what they're capable of, and that if I'm writing for musicians of that caliber, I can write stuff that I myself could never play. When I'm in a band, I'm writing guitar parts for myself, and I have to be able to play them. When I work with a player like Guthrie, there are no limitations. He can play anything.
Did you give him direction?
His solos are his solos, and they are improvised. To be honest, the usual direction I give to Guthrie is, "Can you play slower?" I don't really like shredding, and he knows that I don't. His natural inclination is to play quite fast.
Steven Wilson's Gear

Guitars
PRS Custom 22
Babicz acoustic
Ovation Elite acoustic (Nashville tuning)
Custom Alumisonic 1100
Spector Coda 5-string bass
Amps
Bad Cat Lynx 50 head with Bad Cat 4x12 cabinet
Effects
Electro-Harmonix Micro POG
Diamond Vibrato
Moog MF Trem
J. Rockett 10 Ton Hammer distortion
Analog Man Prince of Tone
Dinosaural Opticompressor
TC Electronic PolyTune
Strymon BigSky Reverb
Strymon TimeLine Delay
Option 5 Destination Rotation Single
TheGigRig G2 bank switch
TC Electronic Ditto Looper
Source Audio Programmable EQ
Boss FV-500H volume pedal
Dunlop Cry Baby Wah
Strings and Picks
D'Addario strings, .010–.048 (.010–.054 for dropped-D tuning)
D'Addario custom picks
Someone who isn't aware of the broader scope of Guthrie's abilities might ask why you chose him if you're not a shred fan.
Because when he plays slowly, he's incredible. He can play slow or fast and blow you away. The speed he plays is irrelevant—what is important is the creativity and the character of the way he plays. I had him do stuff on this record that he probably wouldn't normally do, but he instantly picked it up and did it incredibly.
I imagine this project isn't so much a democracy as you hiring the best possible band to bring your musical vision to life. Yeah, pretty much. That's been the great gift of my solo career: being able to work with these incredible musicians and put myself in more of a director role. I don't even have to play on these songs, because I have these incredible musicians. In a way, that was what I always wanted to be. I grew up listening to people like Frank Zappa and imagining myself in the auteur role, being able to hire incredible musicians and come up with material for them to play. I'm very fortunate to get myself into that position.
I saw a video of you once playing a chord shape that you couldn't describe in technical terms. How do you communicate those types of harmonic structures to the musicians? I imagine they're used to working with scores or charts.
I show them. Guthrie will say, "Ah, you're playing E minor diminished nine," and I'm like, "Whatever." [Laughs.] I do demos that are quite advanced. They flesh out the whole arrangement so the musicians know what they're supposed to do.They give the exact structure. These are things I toil over for weeks on end: The correct structure. The right way for the story to unfold. The right way for the music to take you on the right kind of musical journey.
Did you track the parts live?
I tried to do as much as possible the old-fashioned way, with four or five musicians looking at each other across the room.
Let's talk gear. I know you've used your PRS guitars for over a decade, but you recently unveiled a new pedalboard on your Facebook page.
I just moved to a new GigRig board, which is all pedals—I've gotten rid of any multi-effects. Daniel [Steinhardt, GigRig's founder] put together a whole new pedalboard for me, and I haven't even taken it on tour yet. You'll have to forgive me, because I can't remember everything in there, but I know I've got a Strymon reverb and a Strymon delay, with the presets being switched by MIDI triggers. Basically, I said to Daniel, "Get me the best of everything—the best delay, the best reverb, the best distortion," and he put it together for me.
Your music tends to be dark, though your personality doesn't seem especially so. Why do you gravitate toward darker moods in your music? I think you've answered your own question. Making music that's a little bit melancholic is a way to exorcise that part of my personality so I can be a happier person. We all have a dark side and a positive side, and everyone finds their own way to deal with the darker energy. For some people it might be playing squash or football, or whatever. For some people it's making music. There's no question that music and writing are cathartic for me. In a way, to see the full me, you need to meet me as a person and see me in connection with the music I make and the work I create because they are very much the two sides of my psyche.