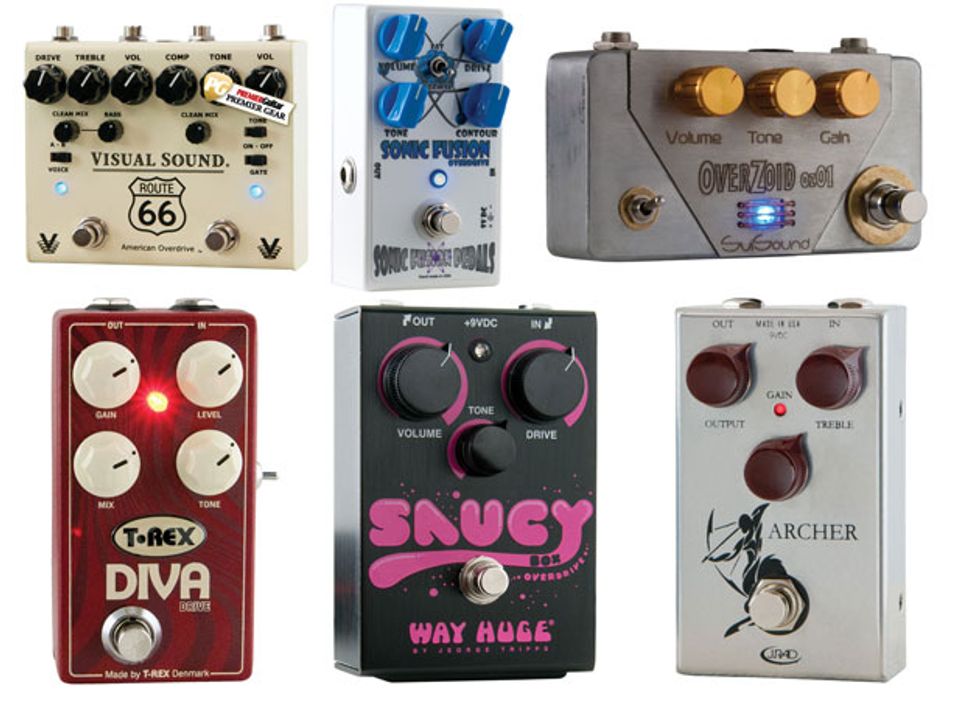 Click on the pedal you want to read more about.

To some players, overdrive is the most essential effect of all—a low-to-mid gain kick in the pants that can add pep to leads, juice up your jangle, and add that just-right dose of grit and crunch to power chords. Given their intrinsic utility, it's little surprise that there area lot of overdrives out there. So when it came to compile a sampler of new overdrives shouldering their way into the marketplace, we decided to explore the relative diversity of the overdrive ecosystem, rather than focus on a single type.
While such classics as the Ibanez TS series and the Klon Centaur remain benchmarks, milestones, and inspiration for many builders (the Archer in our roundup is a spot-on Klon klone), it's fascinating to see the ways designers have manipulated those circuits to deliver fresh sounding and sometimes more dynamic evolutions of those ancestral forms.
The pedals profiled here are a varied bunch. But whether you're looking for a range of clean boost and distortion timbres, or a specific gain and EQ profile that will make your guitar and amp sound their sweetest, at least one of these pedals can take you there. —Charles Saufley
Click through to read each review or pick the pedal you want to learn more about below:
Visual Sound Route 66 V3
Way Huge Saucy Box
T-Rex Diva
J. Rockett Audio Archer
SviSound OverZoid od01
Sonic Fusion Overdrive