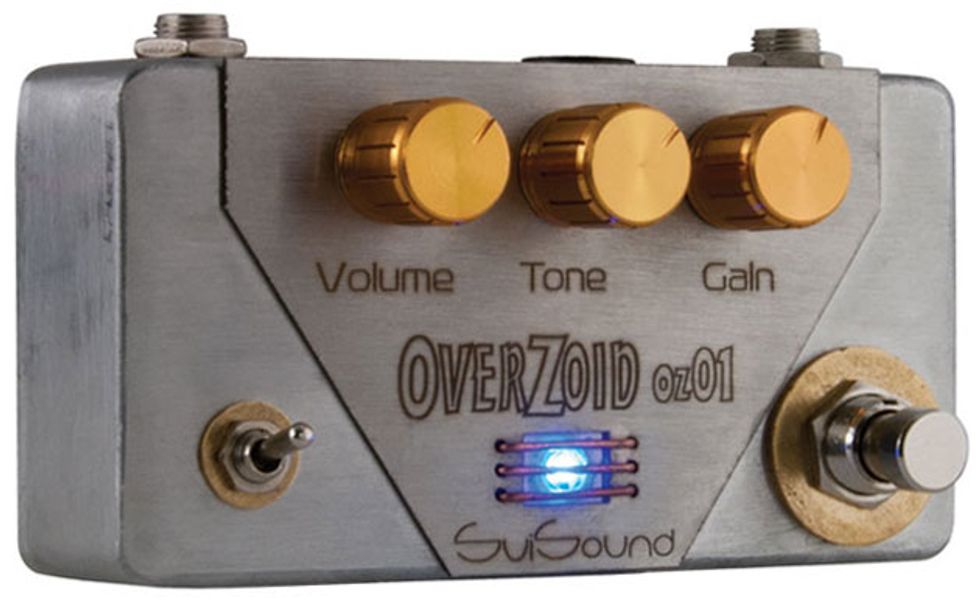 The explosive growth of the stompbox business doesn't always translate into originality—especially where overdrive is concerned. However, the Overdrive oz01, from the workshop of Bulgarian manufacturer SviSound, is unique both in terms of looks and its killer combination of transparent and driven tones.
Ratings
Pros:
Transparent, hi-fi overdrive sounds in a unique enclosure. Small footprint. Affordable.
Cons:
Handmade enclosure shows a few quality control issues. Cannot use a battery.
Tones:


Ease of Use:


Build:


Value:


Street:
$165
SviSound Overdrive OverZoid oz01
svisound.com
Svi-Fi
It's easy to see the care that went into the oz01. The pedal's artfully designed enclosure bristles with playful details and tactile delights. The LED that peeks out from behind copper staples, the gold knobs, and the labeling all communicate a Jules Verne sci-fi aesthetic. And the thoughtful design touches make the pedal feel a little more custom and upmarket. The only real potential design drawback is the lateral orientation of the pedal's controls along the box's length, which may fit some pedalboards less well.
Sonic Thermal Detonator
OverZoid oz01 is a powerful overdrive. At super-low gain levels, it adds a very natural-sounding bite. Even higher gain levels don't add too much extra color to your amp output. In fact, the OverZoid tends to have a very high-fidelity feel, and at times seems to work like a magnifying glass for your guitar-and-amp tone.
The OverZoid has an individual voice too. Unlike a lot of classic overdrives that boost midrange without much finesse, it provides a very musical low end that adds drive and beefs things up without making them sound flabby. These low-end capabilities are enhanced with a bass boost switch—which lends extra heaviness when single coils or a bright amplifier are in the mix. It's hard not to be struck by how dynamic the pedal feels in the bass-heavy application. Part of that is the very effective tone knob, which works exceptionally well with the bass boost. You can dial in a lot of presence and sparkle without creating a traffic jam of mids and lows. And the way the two controls seem to work interactively and independently of each other is one of the OverZoid's real strengths.
The Verdict
Relatively transparent, hi-fi overdrives are a joy to work with—especially when they have the range to add a unique color or two on top of it. Given all that sonic range and style, the OverZoid oz01 a true standout.—David Von Bader
Watch the Review Demo: