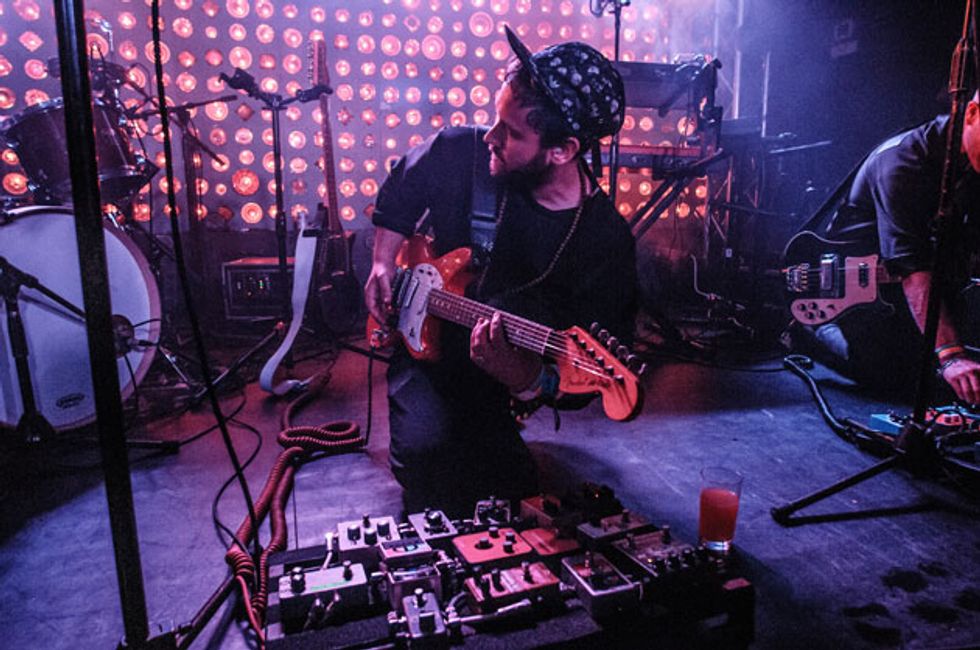 Unknown Mortal Orchestra guitarist Ruban Nielson likes to keep the kids guessing, so he includes a few mysterious handmade pedals on his board. Photo by Annie Atlasman.
In 2010, ex-Mint Chicks guitarist Ruban Nielson posted new music online under the moniker "Unknown Mortal Orchestra." He didn't know what to expect. After years fronting the somewhat-punk Mint Chicks, Nielson, a New Zealand native, relocated to Portland, Oregon, and worked nine-to-five. Music making was something he did at night after work as a hobby.
That changed fast.
Nielson's oozy, swirling, psychedelic-fuzz-meets-subtle-yet-infectious-grooves were well received by an alternative music world hungry for, well, alternatives. He assembled a band, signed a record deal, and hit the road. Five years and three records later, Nielson alternates between months of solitude—holed up in his basement tinkering, tweaking, recording, looping, and arranging—and playing sold-out shows across several continents.
Unknown Mortal Orchestra's music is built around Nielson's idiosyncratic yet formidable guitar playing. Armed with a Fender Jag-Stang, a Rogue Electric Sitar Guitar, and an ever-evolving collection of boutique and personally handmade effects, he conjures up diverse, otherworldly tones and employs an unorthodox fingerstyle approach. "The music I was playing was more arpeggiated and less about straightforward block chords," he says. "It just made sense to drop the pick altogether."
UMO tours as a quartet. In addition to Nielson on guitar and vocals, it features Jacob Portrait on bass, Riley Geare on drums, and Quincy McCrary on keys. But don't expect to see a strict recreation of the album in concert: Nielson considers the studio and stage to be different animals. "Once we understand what makes the songs tick, then we go pretty nuts," he offers. "Some songs we completely open up. I like the idea of not knowing exactly what we're going to play onstage."
Nielson spoke with PG on the phone from Minneapolis about UMO's new album, Multi-Love, some of his earliest influences, why he rebuilds his pedals, his high-end lo-fi recording methods, and other adventures in the kingdom of guitar.
When did you start playing the guitar?
My dad was into drugs in my childhood and then he got sober. One of the steps [to sobriety] is to make amends to the people you love. One of the things he did was get me a guitar. I was in college already—in art school—and music turned into my hobby.
"I sit around in my basement tweaking it plugged in—on the breadboard—and changing out different components and adjusting the trim until I get everything just exactly how I want it."

I read that your father is a musician. Did you have music around the house? Where did you learn about theory and harmony?
I still don't really know much about theory and harmony. I know enough to write my songs—that's about it. But my dad was a composition major and he explains to me what I'm doing in my own songs half the time [laughs].
That's interesting because your music is more complex than your typical rock song—you have more advanced chords and interesting chord motion going on.
I didn't start playing guitar until after I left high school, but my dad exposed me to a lot—like Miles Davis, Coltrane, and fusion. I grew up around Steely Dan and all that stuff. I feel that my ear was more developed than my ability to write music. I don't necessarily know what the voicings are called that I'm using a lot of the time, but I'm hearing them that way in my head. Sometimes it just takes me a while to figure out what it is that I'm hearing.
I hear a lot of '80s R&B in your songs—Fine Young Cannibals, Terence Trent D'Arby, Prince. Do you listen to any of that?
Yeah, sure. Terence Trent D'Arby is someone I listen to. Prince, of course—I'm pretty obsessed with Prince. Michael Jackson was a big influence on the last record—Off the Wall was pretty important. I was a little kid in the '80s and a lot of that stuff seeps into my subconscious. When I was a kid my dad put a big Chaka Khan poster on the wall, so I was growing up around that kind of music—Sheila E., the Time, DeBarge.
I also hear a huge Beatles influence on Multi-Love, especially your song "Stage or Screen."
I've gotten to a point with the Beatles where I've read every single book and listened to the albums so many times that I have to take a break from them for a little while. A lot of songs I write start off sounding like the Beatles and then I move them somewhere else. On this album, "Stage or Screen" is the most obvious Beatles-sounding song.
While recording Multi-Love I was more influenced by Bowie's sonic stuff from the '70s—that whole period between Young Americans and Scary Monsters—the [Tony] Visconti era. Sonically I was thinking along those lines, but I also wanted to use a little bit of digital outboard gear, like digital delays and pitch shifters.
Do you own any of that gear?
I wanted to get an Eventide Harmonizer I found on eBay, but I couldn't win it. So I found this Lexicon processor—it's not a digital delay, it's more like a multi-effects unit—and I use that a lot on the record. I like the sound of it and it was the next best thing I could get to an Eventide Harmonizer. It was cool to use something I'd never really heard of before that could get similar effects.