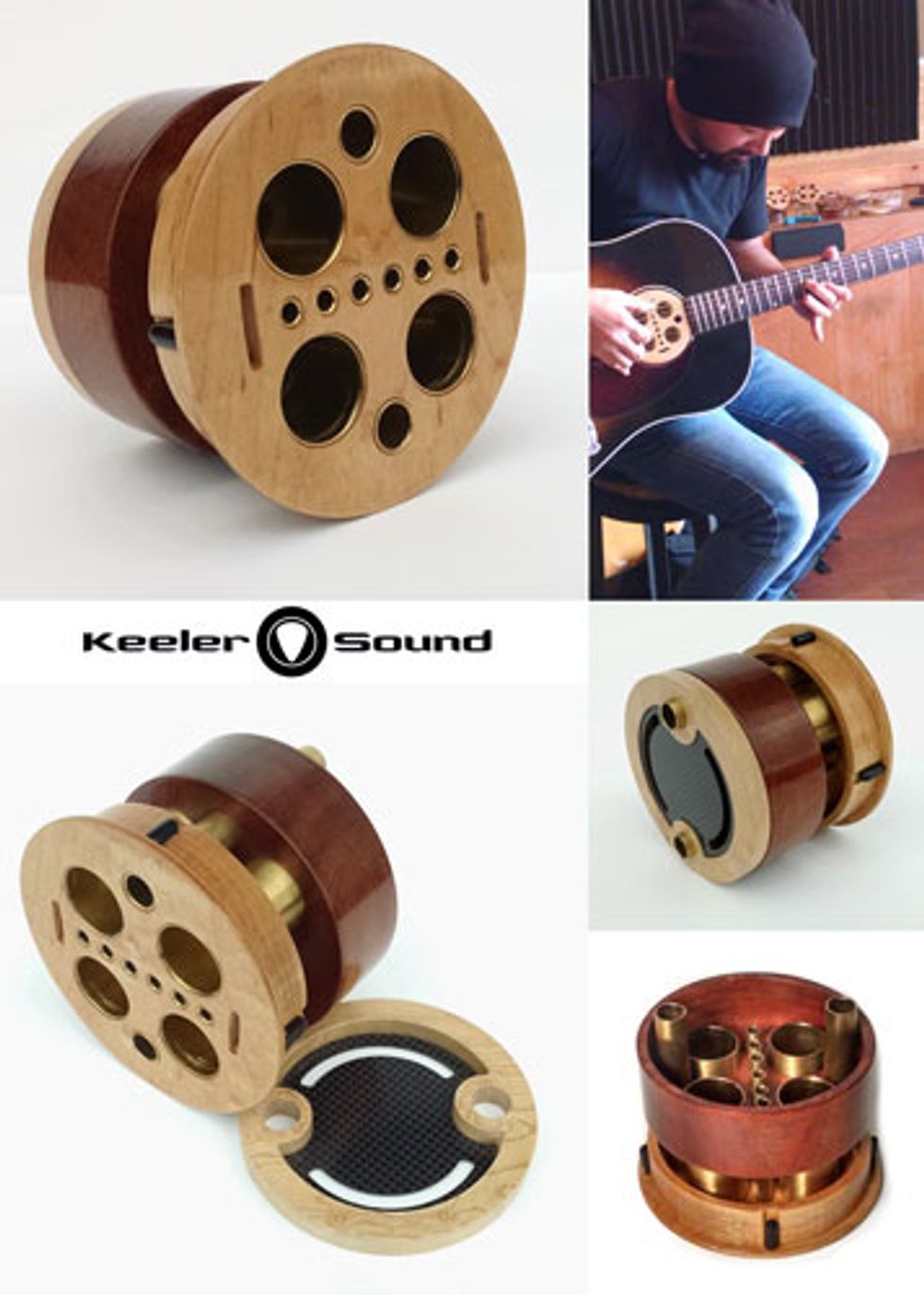 Los Angeles, CA (August 7, 2015) -- Keeler Sound is disrupting the music industry with a new line of Sound Processors - "The Performer Series" - to pre-process sound in both nylon and steel string acoustic guitars, eliminating the need for post-production.
Both "The Shorty" and "The Jumbo" sound processors combine the use of sound ports, brass chime pipes, intake and exhaust passages to eliminate and regulate unpleasant overtones and control feedback prior to transduction. A diaphragm unit and optional sound collector are used to enhance, accelerate, scavenge and multiply the harmonic structure of the sound wave, resulting in perfectly balanced tone. The processors can be used with or without a diaphragm and the diaphragms are available in various materials and styles – wood, carbon fiber, slotted and non-slotted.
Keeler Sound designer and engineer Rick Keeler says use of the diaphragm serves several purposes: to inject the properties from the diaphragm material into the sound wave, altering the sensitivity, equalization and compression stature. Another purpose is to capture the sound waves and reproduce them as an exact duplicate of the original, which can be amplified and transformed into acoustic or electric energy. Game Changer: Use of the Keeler Sound Processor changes the sound wave and timbre of the acoustic instrument, giving the musician flexibility to transform the overall tone and harmonics of the guitar.
Features:
Handcrafted from solid tone woods and high quality brass
Carbon fiber options
Brilliantly engineered to optimize sound quality and control feedback
Enhance tight bass focus and 100k bass roll off
Creates a smooth and dynamic high end register
Easy installation requires no tools
Modular design allows for customizable tone creation
Manufactured and assembled in California, USA
The Jumbo Keeler Sound Processor retails at $299 each; the Shorty Keeler Sound Processor retail price is $249.
Watch the company's video demo:

For more information:
Keeler Sound