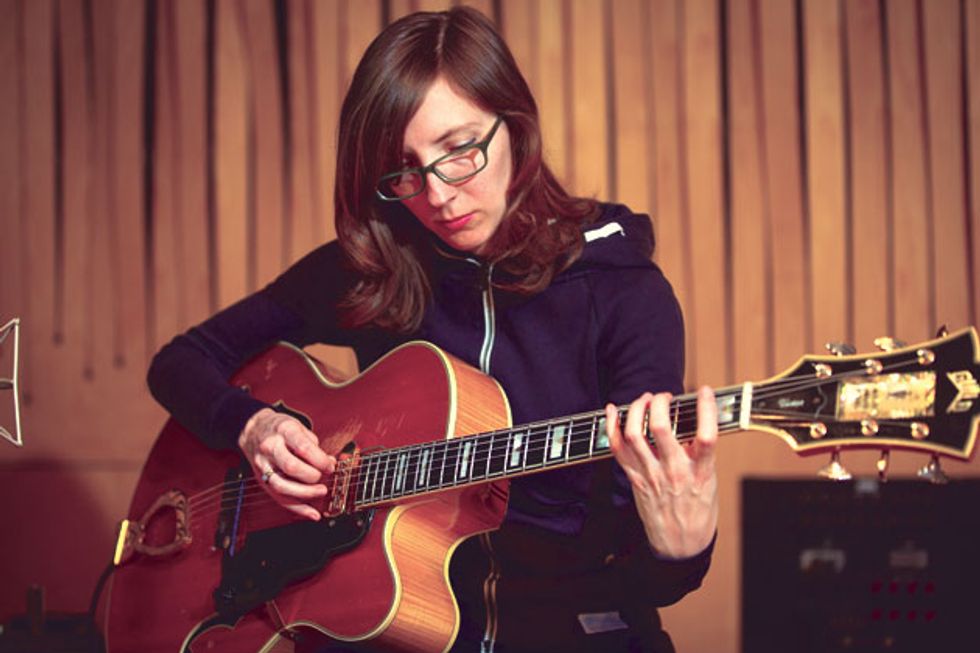 Restless adventurer Mary Halvorson's favorite instrument for the last 15 years is a 1970 Guild Artist Award archtop, which she loves for both its acoustic liveliness and how it responds to distortion. Photo by Kelly Jensen
Several years ago New York guitarist Mary Halvorson felt a schism in her playing. She'd developed an approach to playing jazz standards, and an entirely different set of strategies for free improvisation. This displeased her.
But one day after playing three sets of standards at a restaurant gig, Halvorson headed to an improvisation gig with jazz's harmonic/melodic language still in her head and used those materials outside of their usual confines to uncanny effect.
Halvorson takes a similar approach on her latest album, Meltframe—her first solo-guitar effort, and a project that required three years of introspective study. Aside from the Duke Ellington piece "Solitude," she interprets music outside the standard repertoire: pieces by Annette Peacock, Chris Lightcap, Roscoe Mitchell, and other improvising composers, all of it written between the 1960s and the recent past.
Halvorson, 35, has long been a fixture in new-music circles. She entered that world via studies with iconoclastic multi-instrumentalist/composer Anthony Braxton when she was a Wesleyan University student in the late '90s. Based in Brooklyn since 2002, she's lent her singular voice to the ensembles of bandleaders like Tim Berne, Taylor Ho Bynum, Myra Melford, and Jason Moran, and she's worked with prominent guitarists like Marc Ribot, Bill Frisell, and Joe Morris.
In the beginning I found that I wasn't leaving any space, almost like a nervous talker … I had to work on pacing and letting the music breathe.

A strong bandleader and composer in her own right, Halvorson leads a long-running trio with bassist John Hébert and the drummer Ches Smith. The trio also serves as the core of larger ensembles, often with unusual instrumentation—such as an octet with pedal-steel guitar. She also plays chamber-jazz duets with violist Jessica Pavone and avant-rock with the group People.
Halvorson spoke to us recently about the challenges of assembling a solo-guitar set, the joys of pairing distortion and delay effects with a traditional jazz box, and the lessons learned from her teachers and collaborators.
How did you get into jazz—were you always a fan, or did that develop with experience?
No. I played Suzuki [method] violin from about second grade to seventh grade, but I didn't like it much and wasn't great at it. At that time I was getting more into rock music—Jimi Hendrix, the Allman Brothers, things like that—so it made more sense to switch to guitar around seventh or eighth grade. I started with rock music, teaching myself out of tablature books. Eventually I found a teacher, Issi Rozen, who happened to be a jazz guitarist, so it was more by chance than anything that I started learning jazz.
You grew up in Boston, a city known for its music schools. Did you study at Berklee or the New England Conservatory?
I didn't go to college at either school, but NEC had a preparatory program for high-school kids, and Berklee had a summer program I used to do, as well. Boston was a cool place to be for those reasons. After high school I went to Wesleyan University, where I got more serious about music. I studied with Joe Morris on guitar, and Anthony Braxton as a kind of all-round inspiration.
What was that like?
With both Joe and with Anthony, there was a lot of emphasis on exploring, taking risks, and finding your own voice. The point really got hammered into my head. With Anthony, it was inspiring to get a glimpse into his expansive musical world. He's created a completely unique world while having great respect for all types of music. That was really important to me: being open-minded about all styles.
How did you find your own voice? Did you consciously synthesize those influences, or did it happen naturally?
It was both. I would listen to their music and see that they both had a strong thing that was truly theirs. But when I started studying with Joe, he would never play guitar in the lessons—he didn't want me to copy what he was doing [laughs]. He would play upright bass instead, and we would do a lot of improvising together. It was like, "You're studying with me, but that doesn't mean you're here to learn all the things I'm playing." He encouraged me to explore on my own.
Meltframe is your first solo album. How did it come about?
Over the years, people have often asked me, "When are you going to do a solo record?" But until recently I didn't really have a strong concept for solo guitar, and I didn't want to make an album just for the sake of doing one. I didn't want to do an all-improvised album, and I had no inspiration to compose for solo guitar. A lot of the composing I've done has been for larger projects—that's where my compositional brain has been for a while.
How did you select material?
I'm not a "tunes" player, but I practice a lot of standards for technique and to expand my knowledge of harmony. So arranging standards for solo guitar seemed natural. But pretty quickly I expanded beyond standards to any pieces that I like—compositions by friends, or things a little outside the standard repertoire, like the Roscoe Mitchell or Annette Peacock tunes I included. I gradually expanded that repertoire until I was ready to do some gigs with the tunes and record them.
What links the pieces?
The originals are so vastly different in style, so I guess the link is that they're all songs I loved at some point and spent a lot of time listening to. Like "Cascades" by Oliver Nelson: In high school I used to listen to The Blues and the Abstract Truth [which includes "Cascades"] all the time. There are also songs that got stuck in my head that I found myself going back to again and again. A few I listened to all the time in college, like Annette Peacock's "Blood," which I transcribed from a Marilyn Crispell record—a cover of a cover. Then there's more recent work, like the Chris Lightcap piece "Platform."
YouTube It
Before hitting the studio to record Meltframe, Mary Halvorson tests her solo set on a live audience while opening for Melvins' Buzz Osborne in Baltimore.
Did you encounter any challenges?
There was a ton of challenges. It's funny—everyone who's ever played solo guitar talks about how difficult it is, so I was kind of prepared for it. It's a really different mentality. If you're having a bad day playing with a band, there's a bit less pressure—if you're not playing great, someone else might play something amazing, which can inspire you to take it up a bit. But when you're playing solo, it's just you. It's a little nerve-racking.
How did you solve the problem?
I would record myself and then listen back. In the beginning I found that I wasn't leaving any space, almost like a nervous talker. It felt like I was talking to someone but not saying anything—just anxiously blathering. I had to work on pacing and letting the music breathe, which took quite a while. The other challenge was to make each piece sound different, because it's just solo guitar—just one sound. I tried to create diversity and have the pieces fall in as broad a range of techniques and arrangements as I could, so it wouldn't feel like everything was in the same style with the same approach.
Your sound is so lively. Was the guitar body miked as well as the amp?
Yes. I always put a mic on the strings, because my guitar has a really nice acoustic quality, and I blend that with a mic on the amp—a Princeton Reverb. And we usually use a room mic on everything.
Did you use the Guild Artist Award hollowbody you've played live for years?
Yes. I found it in 2000 at a shop in New Jersey. At that time I was studying with a guitar teacher named Tony Lombardozzi at Wesleyan. He told me about that particular model, and then I managed to find one, though vintage ones don't pop up that often. I checked it out and really loved it. The guitar has a 17" body, a freakishly large headstock, and a loud, strong acoustic tone. I like having that acoustic quality, even though I play electric. It's a well-made, beautiful instrument that sounds great, and I've been playing it for 15 years now.