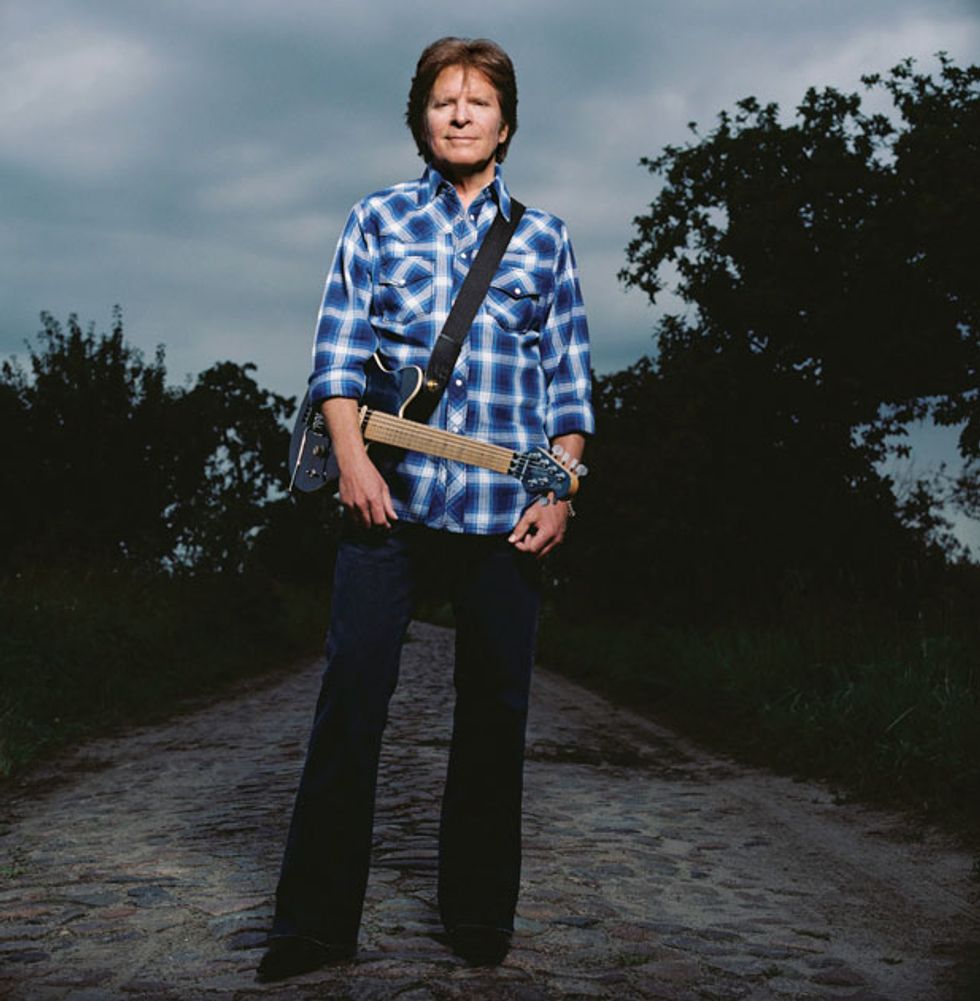 Photo by Nela Koenig
From the runaway success of Creedence Clearwater Revival to his transcendent 1985 solo album, Centerfield,and beyond, life has been a long, strange trip for John Fogerty. But as he recounts in his new tell-all memoir, Fortunate Son: My Life, My Music, even during the dark days he always found clarity in music, family, and of course his gift for coaxing memorable riffs from a guitar.
If there's one thing Fogerty loves almost as much as singing and playing music, it's the thrill of discovering a great song. Even today, he describes hearing Dale Hawkins' "Susie Q" on the radio with the same wonder and elation he felt back in 1957, when he was a 12-year-old kid banging out the rhythm on the dash of his mother's car in the San Francisco suburb of El Cerrito.
"That's why I call 'Susie Q' a 'dashboard banger,'" Fogerty says. "Back in those times, a car's dashboard was made out of metal, so it made a hell of a racket when you beat on it. And 'Susie Q' just drove me into a frenzy. I couldn't even believe how primitive and tribal it was. I was just gone."
He didn't know it then, but the song's infectious riff and skillet-hot solo were played by a young Telecaster whiz named James Burton, who would go on to back Ricky Nelson on a string of rock 'n' roll hits, including "Be Bop Baby," "Hello Mary Lou," "Stood Up," and "Waitin' in School." With his confident hybrid-picked style and tube-warmed rockabilly sound, Burton exerted a profound influence on everyone from Keith Richards to George Harrison to Joe Walsh.
It's a weird thing that your brain does—especially when you're younger: You don't realize you're doing it, but you close doors and you tell yourself, "I won't be able to do that."

A little more than a decade after first hearing "Susie Q," Fogerty would channel his youthful excitement into a funky, quasi-psychedelic "swamp rock" arrangement of the song. Creedence Clearwater Revival's eight-and-a-half-minute version of "Suzie Q" (that's right, spelled with a z) became a hit at San Francisco's freeform underground rock station KMPX, eventually breaking the band into the Top 40 nationwide. With Fogerty out front—usually on his Rickenbacker 325—his brother Tom on rhythm guitar, Stu Cook on bass, and Doug Clifford on drums, Creedence played no-frills rock with a bare-knuckled conviction that was utterly unique in the Bay Area's hallucinogen-fueled late-'60s scene. Now-classic albums like Bayou Country (with the anthemic standard "Proud Mary"), Green River,and Willy and the Poor Boys brought them instant adulation around the world—a party that, by 1972, ended just as abruptly in a blaze of recrimination and acrimony.
All this and plenty more makes it into Fogerty's new memoir from Little, Brown and Company. The unvarnished and sometimes bittersweet autobiography often reads as much like a confessional as it does a celebration of a dyed-in-the-wool rock 'n' roller's life on the move. He details the breakup of Creedence, the long, arduous legal battle with Fantasy Records head Saul Zaentz over the rights to his own songs (and significant sums in record royalties), and how the fight nearly finished him before the mid-'80s sessions for Centerfield—widely considered his quintessential "comeback" album. But Fortunate Son also reveals the heart of a working-class romantic—one whose love for his wife Julie, whom he credits with saving him from an emotional meltdown, is inexorably intertwined with his devotion to music, and especially his lifelong fascination with guitar players.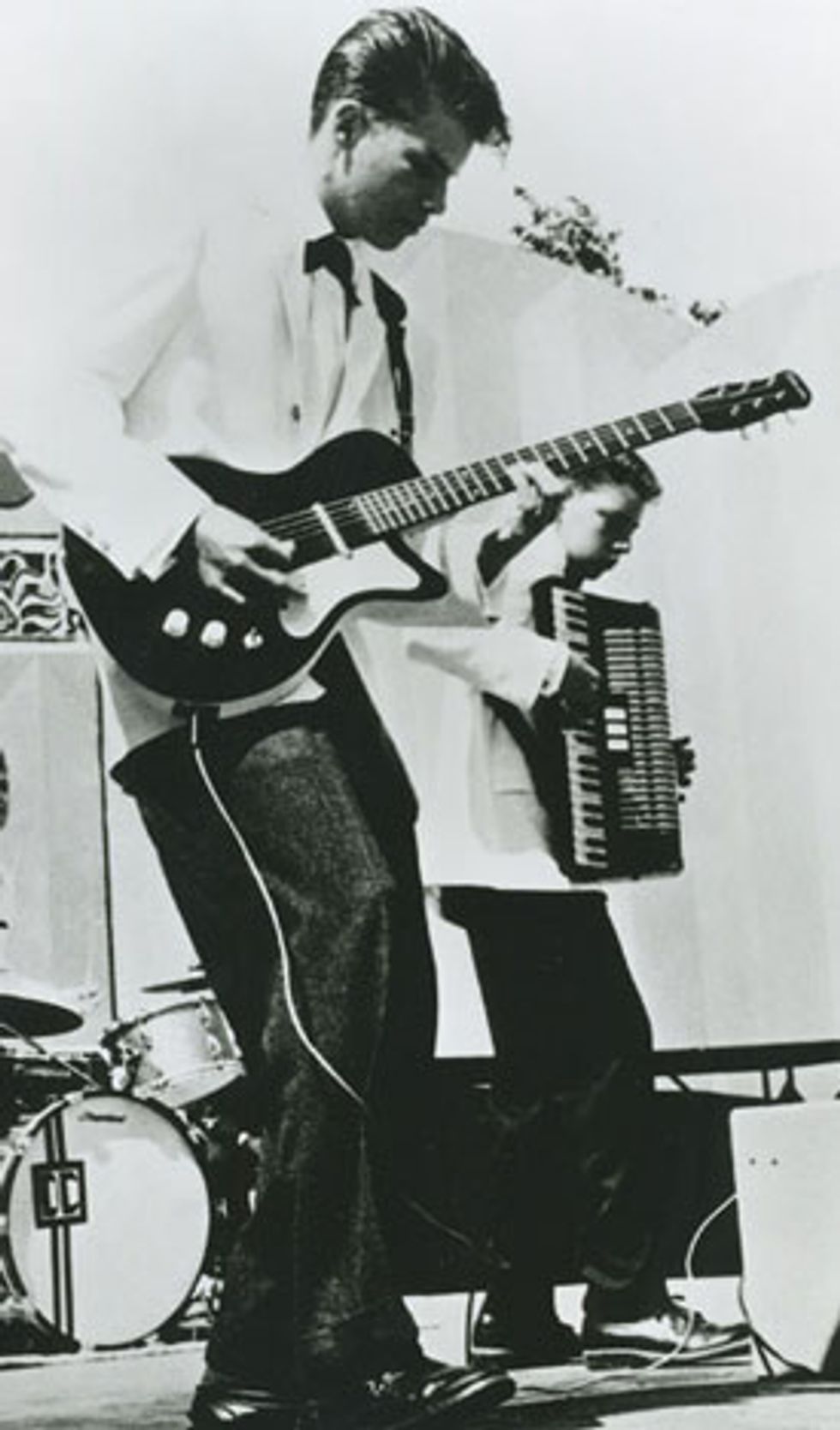 At the tender age of 14, a dapper Fogerty rips on his Silvertone at the county fair.
"That's the wonderful thing with music, you know?" Fogerty says. "I've done my fair share of tracking down records. And it's more than fascinating, because you're like an archaeologist—there's the reward when you discover some great stuff by Hank Williams, or you go back into the '30s and find some great blues that you didn't know about. It's just such a thrill. I'm sure my wife worried that I was going too much in that direction for the book, but that's certainly a big part of me."
Having logged more than 50 years on the guitar, starting with a Stella acoustic and then a single-pickup Danelectro Silvertone (the first electric for countless young players in the late '50s), Fogerty has never given up his passion to get better—or to explore new gear. He still owns a few vintage axes from his Creedence days, but he's also become a bit of a shredder on his Music Man Axis and a recently acquired Ibanez RG920.
"My technical ability was deeply rooted in rock 'n' roll and blues, and a little bit of country," says Fogerty of "Green River" and other Creedence nuggets, "almost in the sense that I didn't wanna get too good—because then I wouldn't sound 'rock 'n' roll,' you know? I mean, to me now, that's a fallacy, because as I got older I just wanted to improve. I wanted to get really good. But before Eddie Van Halen, that wasn't necessarily considered an admirable trait. Right around 1970, when [jazz-fusion virtuoso] John McLaughlin came along, it was like 'He's too far out there—there's too many notes [laughs].' The weird thing is, at the very same time, I loved [bluegrass innovator] Bill Monroe—who was an incredible player. He played all kinds of notes and used all his fingers, but somehow in that music it was okay in my book. To me, it was more important to be emotional—to say it in a simplistic way, just hitting one string a certain way, like Albert King or B.B. King, or any of the Kings, because it was all about the tone and the rhythm of it. That's what I was after."
That tone is undeniable in Fogerty's early work with Creedence. You can hear it in the low vibrato rumble of "The Midnight Special," which Fogerty played on a Les Paul Custom tuned down a whole step to standard D and plugged into a Fender Vibrolux. ("To me, that was the holy grail. When I heard that sound I just went, 'That's it!' And it's still it."). On "Green River," a Burton-flavored, hybrid-picked twang comes through on the song's opening riff and in the solo, with the Rickenbacker ringing out through a 100-watt Kustom K200A-4 amplifier, which Fogerty almost always had with him onstage.
Many years later, that tone is still being chased by budding young axe-slingers, but Fogerty insists that then, as now, the best thing about his Creedence hits is their succinctness and simplicity. "I like to think my approach to writing on the guitar was more mystical, like Booker T. & the M.G.'s," he says. "It was simple, but it was right. So if you played that part when you were playing that song, you sounded just like the record, you know? I thought that was the real secret to what Creedence was doing: A kid could sit down and listen to 'Proud Mary,' and if you learned that opening riff, you just about had the whole song."