Soultool Customized Guitars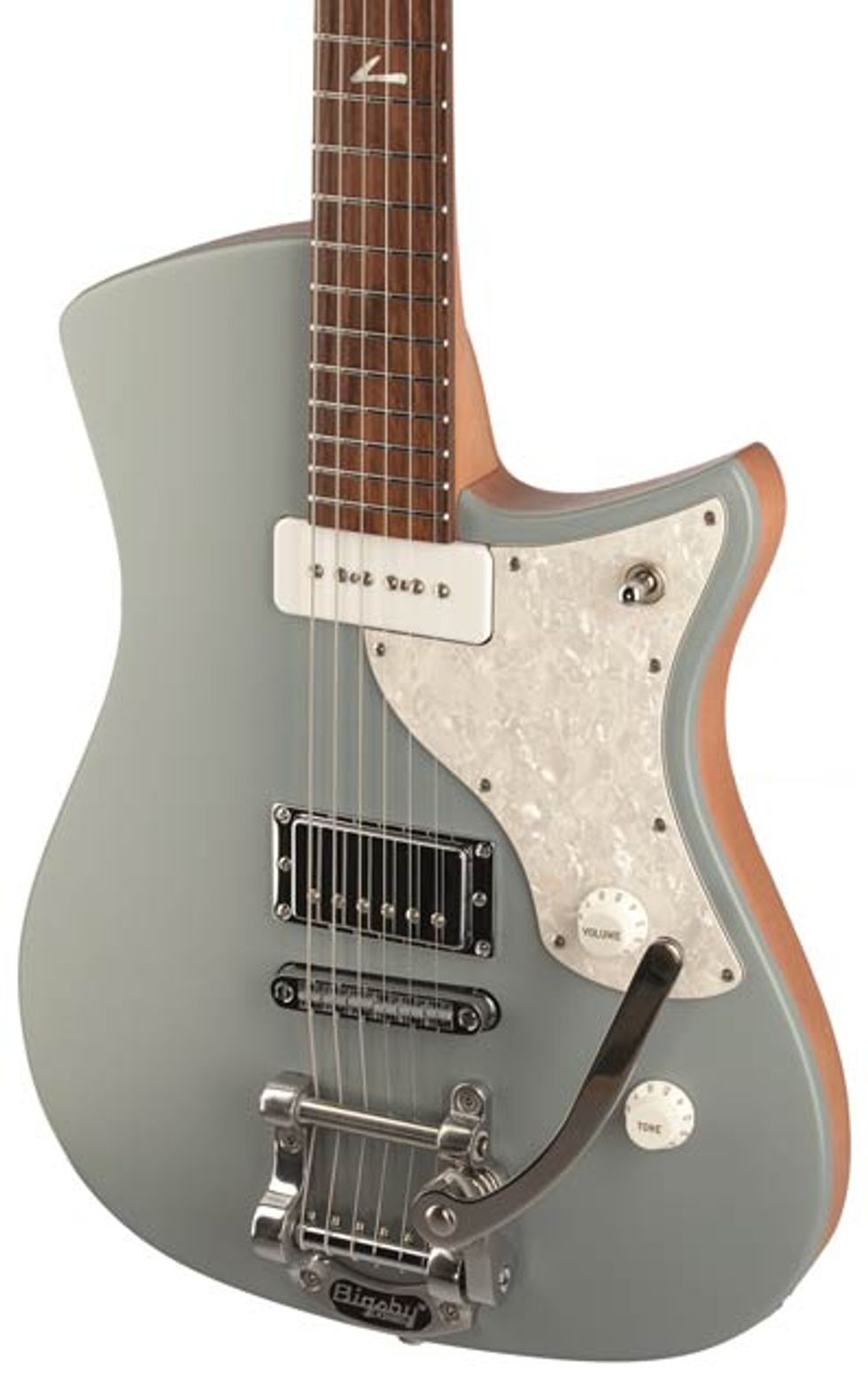 Founded by Egon Rauscher in 1998 and located close to Zurich, Switzerland, Soultool is known for minimalistic designs and clean lines. Rauscher's outfit offers just a few basic shapes. In fact, the shape of the Laguz model resembles another famous single-cut, but it boasts such modern twists as a deeper cutaway and better access to higher frets. Apropos frets: Besides the mid-hard steel variant used on all models, another feature is called 2-Zone fretting. Here, frets one to seven are slightly higher than the following upper frets. The advantage should be an optimal setup with an almost straight neck.
Soultool limits their models to just a few woods—mahogany, korina, or cedar for body and neck, and a pau ferro or optional ebony fretboard—combined with one Good Tone and one Häeussel pickup. The Junior Custom in "squirrel grey" sports a rather uncharacteristic addition: a Bigsby instead of their standard ABM wraparound bridge. A customer at last year's Holy Grail show asked if Egon could do a guitar with a Gibson scale, a bridge humbucker, and a Bigsby. Obviously Egon could and did, but it's unknown if the customer returned this year to check his aided creation.
soultool.com
Zeal Guitars

Zeal is the two-man operation of Bastian Kanbach and Oliver Reich. They had two variations of their Hydra model on display in Berlin. Hydra was Zeal's first creation after forming in 2010, and the model has been diversified into two versions, a "male" and "female," as they call it. The two versions are the black Obscura, which has 24 frets and a 25.5" scale length, and the white Custom model with 22 frets and a 24.75" scale length. It's easy to guess which is which, as the Obscura has a powerful output, designed for progressive sounds and the Custom was built to yield a "more cultivated tone."
Designed with simplicity in mind and Zeal's creed of, "It's a good design when you can't take any more of it away," the guitars sport a single DiMarzio PAF on the Obscura and a Bare Knuckle Abraxas on the white Custom. Apart from these gender-based interpretations, both feature a special finish, something the duo experiments with often. Zeal finishes include golden brass, polished steel, and even rust. The Hydra shown here is a non-metal PUR base coat with an atomized spray of nitro on top of it, which forms a smooth and satin-like finish.
zeal-guitars.com
And Many More ...
One of the main trends at the show was the use of local woods, rather than tropical varieties. The European Commission-funded Leonardo Guitar Research Project gave a lecture and showed two nearly identical guitars, one made from tropical woods and one from local alternatives, aiming to prove minimal or non-existent tonal differences.
Fanned frets were another trend surfacing in new builds on the scene for 2015. Now that the Novax patent has expired, many luthiers are exploring the multi-scale concept to maintain the tension in the lower register of their extended range guitars.
The inaugural 2014 Holy Grail show turned out to be a successful direct-sales opportunity, and many luthiers were surprised at how many customers showed up to buy straight from the booth. Also many exhibitors were shocked by the extraordinary artisan efforts of their colleagues, and this led to stiffer competition for this year's show. And next year's mix of builders will be entirely fresh, keeping with the Holy Grail stipulation that exhibitors cannot display more than two years in a row. Hopefully in 2016 these new builders will once again deliver what everybody wants to see: beautiful, handmade guitars.
holygrailguitarshow.com