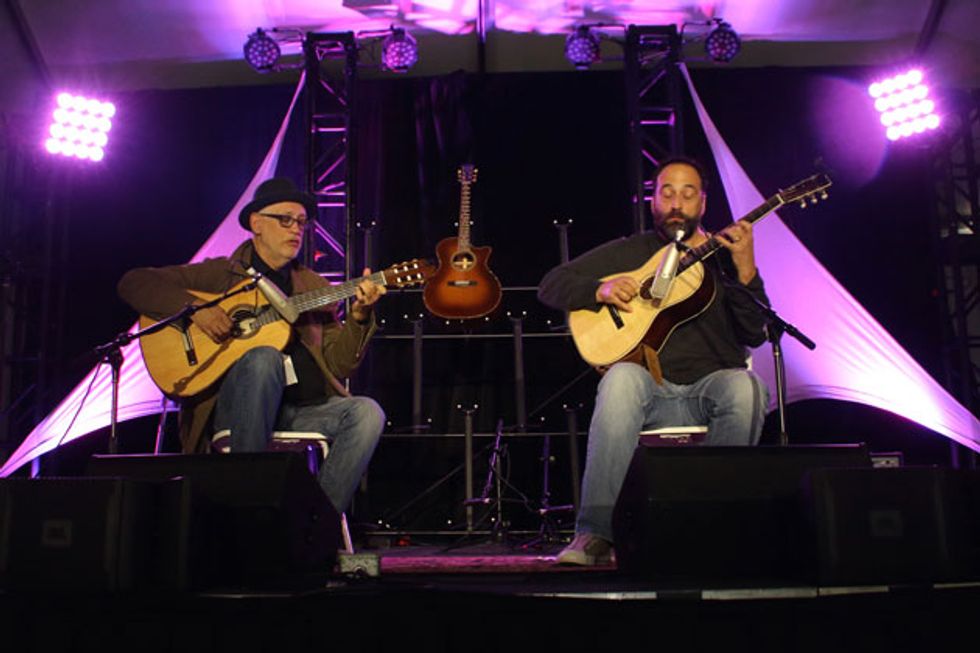 The duo's ultra-spontaneous approach and deep rapport paid off in the studio, where it took a mere three hours to record the entire Artifact album in, says Skye, "just one long take." Photo by Dan Gabel
One evening last August, I drove through the glittering streets of Los Angeles to check out the acoustic guitar duo of Mark Goldenberg and Eric Skye at Genghis Cohen, a Szechuan restaurant and live-music venue in West Hollywood. I found the pair ensconced in the restaurant's cozy music room, presenting their quietly thrilling brand of jazz-oriented fingerstyle guitar to a rapt and intimate audience.
The guitarists were celebrating the release of their debut album, Artifact. Their playing corresponded neatly to their appearance. Goldenberg, 63, looking like a cool professor with his spectacles and Chuck Taylor All Stars, exhibited compositionally minded restraint while drawing from a vast palette of harmonic colors. Fourteen years Goldenberg's junior, Skye—whose brawny physique is emphasized by a sleeve of tattoos—worked in a comparatively more athletic mode. They played together telepathically, calling to mind the great duo records guitarist Jim Hall and pianist Bill Evans made in the 1960s.
Meanwhile, a sketchy-looking dude in a sleeveless t-shirt was making his presence increasingly known as he kept walking into and out of the room, presumably getting refills on the gin and tonic that never left his hand, and getting louder with each re-entrance. The dude began encroaching on the music with a series of incoherent vocalizations, and each time Goldenberg responded unflappably with some well-timed one-liners. He later told me, "I attract hecklers. I think it's the aftershave."
It's Goldenberg's adaptability and good humor that have made him a top-shelf sideman. He's played both electric and acoustic guitar for many greats, including Jackson Brown, Linda Ronstadt, Bonnie Raitt, and even William Shatner. He's a skilled songwriter as well. His work has been recorded by Ronstadt, Chicago, and Olivia Newton-John. And he's a brilliant solo guitarist, as heard on his self-titled 2005 album.
"The biggest part of what we do involves two friends who haven't seen each other in a while, having a conversation. We don't practice."—Eric Skye

Skye, equally adroit in any situation, has long been a fixture in the fingerstyle world. His solo output, like A Different Kind of Blue—a reimagining of Miles Davis' 1959 game-changing Kind of Blue—is a revelation, and his trio work, as heard on Slow Moving Dog, reveals Skye to be a generous bandleader and a deep listener.
A couple of months after their gig, I spoke via conference call to the duo: Goldenberg at home in Los Angeles and Skye in Portland, Oregon. As we talked about their methodologies—and, of course, their gear—the easy camaraderie so evident in their playing was reflected in their witty banter.
It sounds like you've been playing together for years. When and how did you meet?
Skye: We met at the Healdsburg Guitar Festival [in Santa Rosa, California] in 2008, when we were put on the same bill. We played a tune together, kind of impromptu, and it just felt great. A few months later I had a couple of gigs in Arizona and called up Mark and said, "Hey, wanna come and meet me and do these gigs together?" And we just hit it off, musically and otherwise.
Are there any challenges in having a long-distance duo?
Goldenberg: I don't really see us having any challenges. If we lived in the same town we'd probably play together a lot more and we'd have band meetings and arguments [laughs]. Long distance works out pretty well. We play together enough that we have a really great time and we're constantly surprising each other with the stuff that we've been playing on our own. It doesn't get stale this way.
Skye: I agree. The biggest part of what we do involves two friends who haven't seen each other in a while, having a conversation. We don't practice. If we have a gig together, we go into separate rooms, just to warm up. We don't want to work anything out, so that what we do is really spontaneous. Maybe if we lived in the same town we'd start working things out, but I'm not that kind of player. I don't want to sit and worry about planning endings and who goes first. Like a good conversation, I'd rather just listen to what Mark's been up to and respond. It's the back and forth that's basically what our act is. No one's out there singing or looking good in spandex.
How often do you get to play together, and what happens when you meet up?
Skye: Maybe three or four times a year. There are big chunks of time when we don't play together, like when Mark went out on the road with Hugh Laurie for a year-and-a-half. Most of the time we go out to lunch and catch up personally and leave most of the music stuff for the stage. But there are times when one of us has made up a new tune or thought of a cover, and we've talked about the names of the chords or whatever, to make sure they mean the same thing to each other. We might occasionally run through new things at sound check, but it's best not to leave the fight in the gym.
What sorts of things, musical or otherwise, do you talk about at lunch?
Goldenberg: What's on the menu, string gauges, politics, whether or not we should have dessert…
In your duo, do you split the compositional duties equally?
Goldenberg: Basically, we do. For the album we did eight songs and each brought four, some that we had played in the past and a couple new things, too. Many of the songs were ones we each do in our solo repertoire, so we modified them. Actually, we didn't even really modify them, but played them as duets and they kind of modified themselves.
Mark, can you talk more about how a composition has modified itself?
Goldenberg: I wrote this simple tune called "The Soft Shell," originally for a trio that I was recording for a music library. It worked out pretty good as a trio tune, and one day I just decided to do it as a solo because it was easy to improvise on—not extremely challenging in terms of the harmony or the melody. Then, I faxed a lead sheet of it to Eric, and that's basically as far as we go in terms of working out tunes. That's not to say that we don't have set structures. When we get together and play, it usually works out that the composer of the tune plays the melody. But after that, all bets are off.
Skye: After that, it's just about listening carefully or looking for raised eyebrows, that kind of thing.
Goldenberg: Sweating—looking for the other guy sweating [laughs].
It sounds like there's a minimum of preplanning and arranging in your duo, and lots of nonverbal communication.
Goldenberg: What we do is so unconscious. It's really like Eric said—a conversation. Sometimes a conversation, especially at my house, is everyone talking loudly at the same time. Sometimes the conversation is one person essentially talking to himself or herself and another person going, "Uh-huh, uh-huh." We do all of that in our duo together. It's completely organic in that we don't really need to discuss game plans.
Early on, we knew that we played well together, because we were both good listeners. So we're not always playing all the time. And when we are both playing, we are unconsciously taking opposition. It's kind of a jazz form—we do play a head, and we never play anything the same way twice, or, as we like to say, we never play anything the same way once [laughs]. It's pretty free form, but we do have some sort of structure, and it's held together with string and chewing gum.
Skye: I make only a few conscious decisions in advance. On a few of the tunes on the record, I used a capo, knowing that Mark wouldn't—that kind of bakes some different voicings into the cake. But we never think about things like, "You go high, I'll go low." You just have to trust that you're going to hear that stuff and respond to it.