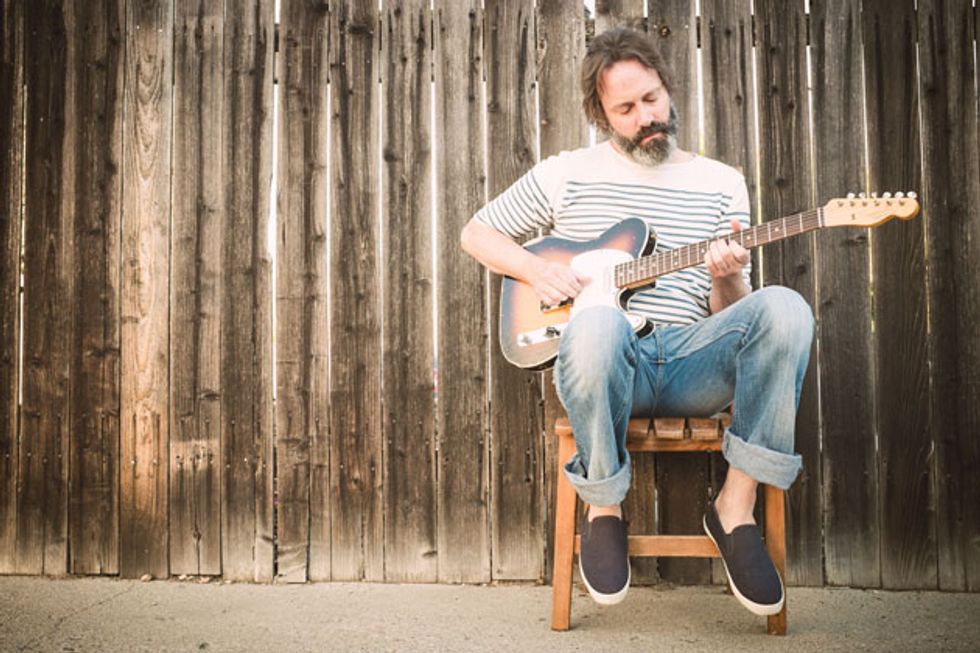 As a 35-year Grateful Dead fan who has played with Phil Lesh and Bob Weir, Neal Casal was prepared for the task of recording Interludes for the Dead. This Fender Custom Shop '62 Telecaster reissue is one of his favorite stage guitars.
I was fortunate to be able to attend both of the Grateful Dead's Fare Thee Well shows in Santa Clara, California, in June, and, like thousands of other Deadheads, I became intrigued by the music that played over the P.A. before the band took the stage and to accompany the intermission video highlights of the Dead's long, strange trip. "It's definitely not the Dead," I thought, "but there's something Deadish about it"—the long, slowly evolving jams, the weaving interplay between musicians, the psychedelic flourishes, the shimmering guitar tones. At other times early Pink Floyd came to mind. Could it be one of the band members' side projects? Maybe a jam band I don't know about?
It wasn't until a few days later that I found out the music was the brainchild of guitarist Neal Casal, who is a current member of both the Chris Robinson Brotherhood and Hard Working Americans, a former member of Ryan Adams & the Cardinals, and a prolific singer-songwriter in his own right. He was asked by Justin Kreutzmann, a filmmaker and son of Grateful Dead drummer Bill Kreutzmann, to compose some music to accompany the video component he was putting together for the intermissions of the Dead's historic farewell run.
It was an honor to be sure, but a pretty intimidating proposition for any musician, let alone one who has been a serious Dead fan for 35 years. Never mind that Casal would have very little time to put the music together, or that the video was still being edited so he would have to create his soundtrack blind, or that Kreutzmann hoped to have enough music that it would never repeat during the five-show run—in other words, five-plus hours.
So with no time to (pardon the expression) fret, Casal set to work, bringing in his CRB bandmate Adam MacDougall on keys, bassist Dan Horne (Beachwood Sparks, Jonathan Wilson), and drummer Mark Levy (the Congress). Somehow, over the course of a mere two days at JP Hesser's Castaway 7 Studios in Ventura, California, the four musicians managed to record all of the preshow and intermission music for the Fare Thee Well run. Not the five hours Kreutzmann requested, but nearly four hours—a pretty stunning achievement in such a short time.
Even with all the attention focused on the four surviving core members of the Dead during their final shows together, the soundtrack created by Casal and his friends, a group now known as Circles Around the Sun, managed to generate a significant buzz online. So Rhino Records decided to give the music a proper release: a two-CD set titled Interludes for the Dead. Furthermore, the music is included in the 12-CD/7-DVD box set of the Dead's entire Fare Thee Well run.
Casal spoke with Premier Guitar on a couple of occasions: once from his home in Ventura and once from Denver the morning after CRB's New Year's Eve show at Cervantes' Masterpiece. He talked about his early influences, the evolution of the Interludes project, sharing the stage with Phil Lesh and Bob Weir, and how playing Jerry Garcia's Wolf guitar changed his life.
How did you first get into guitar?
I started playing when I was 12. I grew up in New Jersey, and this was the dawn of the '80s, as Atari games were just sweeping the nation. My dad asked me what I wanted for Christmas. I really was at a loss, and in a move to fit in with the other kids, just said, "Well, I want Atari."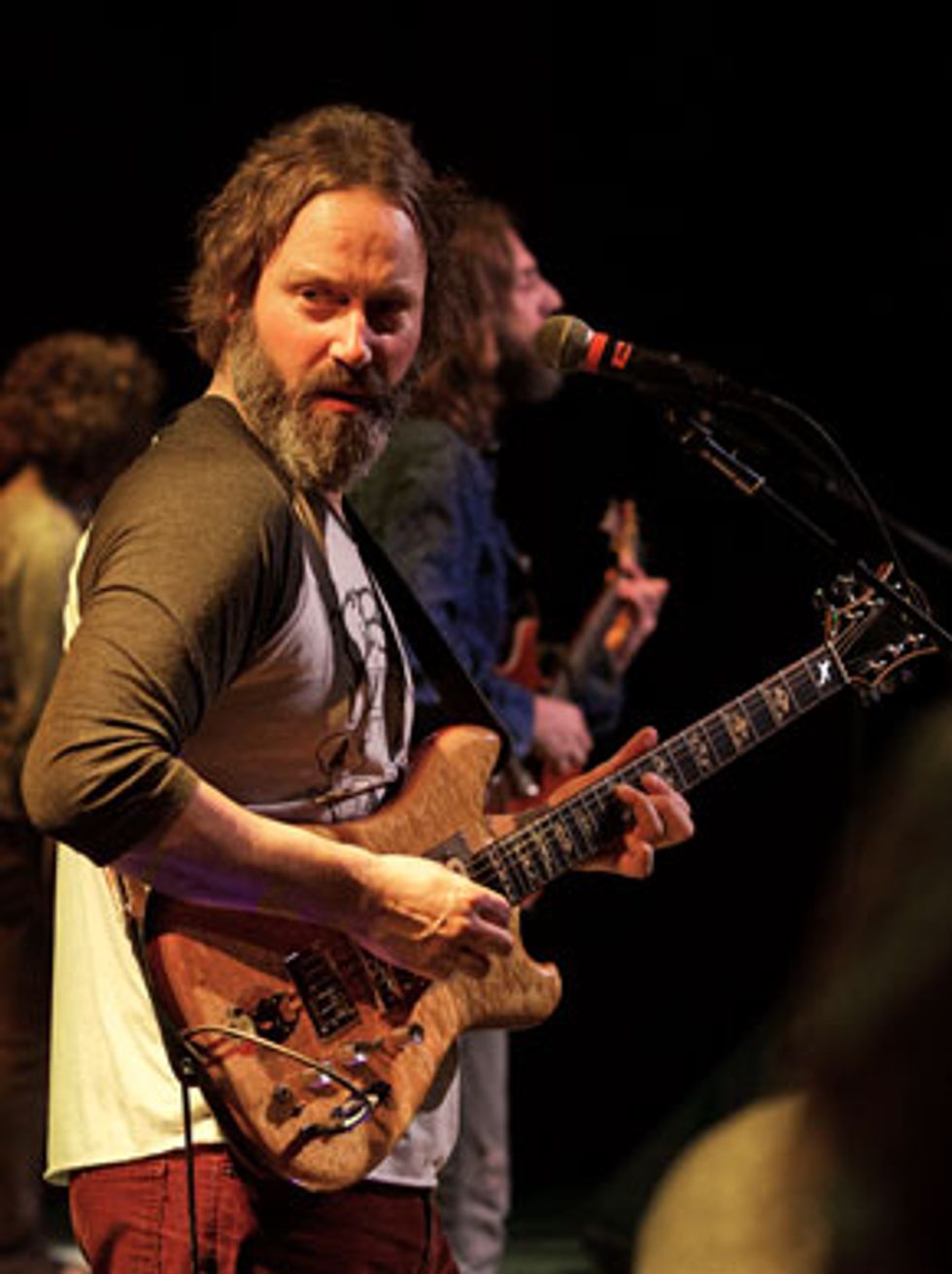 Neal Casal put his own singer/songwriter career aside in the early 2000s to become a master at supporting other vocalists. He's played with Ryan Adams and is a member of the Chris Robinson Brotherhood and Hard
Working Americans.
My dad was a cool guy, and he said, "I cannot get you that Atari, because you're going to be interested in it for a couple of months and it'll gather dust in the closet. You gotta do better than that."
He named all these things he saw me interested in, and when he said, "Play an instrument," my eyes lit up. It had never dawned on me that I could actually do this. So he bought me my first guitar and I never looked back.
Do you remember what it was?
It was a black Ovation Applause, with the plastic back.
Who are some of your musical influences?
It all started with the Rolling Stones. My brother handed me a copy of Exile on Main St. that same Christmas, and they were the first band I was obsessed with. Shortly after my first guitar lesson, I started playing along with "Sweet Virginia" and that was it. My fate was set.
Keith, and Mick Taylor in particular—he's a huge influence on my playing. And Ron Wood means a lot to me as a guitar player. I find his influence cropping up in my playing a lot. And the Grateful Dead. Both Jerry and Bob were huge for me. Also Ry Cooder, though you won't necessarily hear it. All the English folk people are huge for me as well: John Renbourn, Bert Jansch, Davey Graham. Robbie Basho, who was an American guy, is really huge for me, just in the way I conceptualize guitar.
Also David Lindley. And Jackson Browne, believe it or not, is an influence on my acoustic playing. On his first four records he had a particular way of strumming the guitar, to articulate and animate a song. And all the John Mayall guitar players: Peter Green, Clapton for sure, and Mick Taylor. That holy trinity of English blues guitar players.
You mentioned Cooder and Lindley. Do you play a lot of slide?
I do play a lot of slide. [The late blues guitarist] Robert Nighthawk may be my biggest slide influence. When I heard him, I could tell where Mick Taylor got that beautiful slow vibrato.
I was just checking out your 2012 album, Sweeten the Distance. I really like it.
All through the '90s, up until the time I started playing with Ryan Adams in 2005, I made solo records. That was my focus for a long time. I was hell-bent on learning to become a songwriter, a guitar player, how to make records, how to craft songs, how to record, how to play with other musicians, seeking out the best musicians I could find—world-class musicians—to get me out of my local-boy mentality and raise the bar.
In the early '90s, there was a guy named Jim Scott, an engineer/producer—if you look up his discography it's rather staggering—and he was a mentor to me. He produced my first record and my third record. I also worked as a guitar player for him. And George Drakoulias. He produced the Jayhawks records. These were people in California who were mentors. And I met Ryan during those times, because Jim Scott produced the Whiskeytown record Strangers Almanac.
Are you a big Dead fan?
I grew up as a Deadhead. I had the records. I saw some Dead shows. At the Garden, Meadowlands, Giants Stadium, '80s, '90s. I saw some Jerry Garcia Band shows. But I never played the music. I was never in a Grateful Dead cover band. I never learned the songs because I was working on my own music.