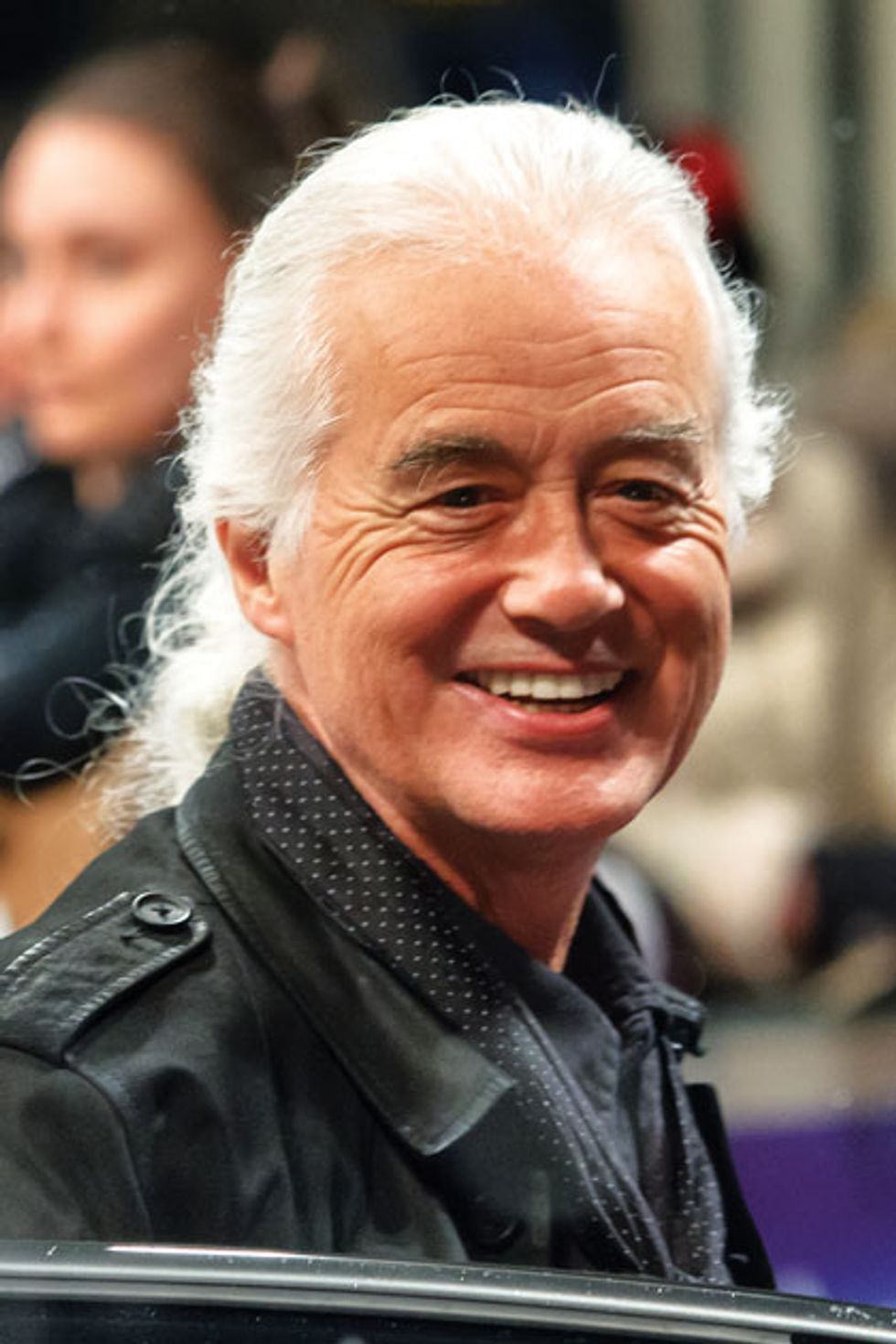 A few years ago Jimmy Page had the hair color of an Asian child—until he went snow white overnight. Photo by Avda / CC BY-SA 3.0
I was an hour into a clickbait wormhole when I lighted upon an iPhone selfie video from Bono thanking a church for helping refugees. Love Bono—love his singing, his songwriting, and his do-goodery, so it pains me to say his poignant message was slightly undermined by his bad hair dye. In the vid, Bono had the Irish reddish-brown on top, but there was a quarter-inch stripe of white around his skull. That meant three weeks between dye jobs.
I know this because, much like Holden Caulfield, gray hair has been slowly invading my head since high school. The gray was great for getting me into bars when I was underage. Now it's not so great because I work in a youth-driven industry where one must keep that silver fox shit on the down-low. Why? Because young people buy the majority of concert tickets and they would rather see youngish people performing. So graying musicians are forced to enlist Miss Clairol combined with good lighting and a smoky stage to fool a crowd.
The majority of my favorite music makers are more than a half-century old, yet few have gray hair. Prince was 57, looking like 28 up to the end. The average Eagle is 67—no-to-little gray in that camp with the exception of Don Henley's goatee. Paul McCartney is 73 and Ringo Starr is 75. Those mop-tops look like 1964. The Stones' median age is 72. Charlie's hair is white. Keith's is sometimes black, sometimes mixed, and he even went through a phase where he had trinkets and cloth woven into his coif. Mick and Ronnie are the same color as Black and Blue, '76.
A few years ago Jimmy Page, now a 72-year-old British grandfather, had the hair color of an Asian child until he went snow white overnight. Although he now looks a bit like the Quaker Oats guy, this was an improvement. Still, it's difficult for most aging musicians to do the same. Look at Page's fellow Yardbird, Jeff Beck. His hair seems as natural as Nigel Tufnel's. For Beck and his ilk, it's gotten to the point where the desired effect and the actual outcome are not even close, yet they stick to their shoe polish because performers have had a long history of hair obsession.
I work in a youth-driven industry where one must keep that silver fox shit on the down-low.
In the 1600s, when syphilis was all the rage in Europe, a patchy head meant you might have the pox. When 17-year-old syphilitic Louis XIV started losing his locks, he hired 48 wigmakers to conceal his dome. A few years later, his pox-laden cousin, Charles II, King of England, also wigged up. From then on, men in the public eye wouldn't dare show their heads without a gigantic beehive stuck on top.
Court musicians fell in line with the trend. No king wanted an STD-stricken band entertaining his guests. In time, the bigwigs eventually went au naturel. So why did musicians hang onto the flowing locks trend after the mainstream abandoned it?
In the '60s, when pop music became the coolest it had ever been, longhaired hippie types would be hard-pressed to get conventional jobs. Growing your hair was a way of telling the establishment that you play by your own freewheeling rules and weren't interested in their game. Long hair represents non-conformity, and non-conformity will always be part of the music shtick. Rock 'n' roll should make the establishment nervous.
Back in the '80s, nobody's hair was thicker or fingers quicker then Eddie Van Halen's. For most of the 2000s, Ed went with the highlights/dark brown combination, which had to be a hassle. How does an icon find a discreet yet competent hair salon while on tour between Dillon, Montana, and Sioux Falls, South Dakota? Maybe Van Halen looked at Jimmy Page and realized the fans have done the math and don't believe the no-gray story, so why keep up the charade? Or maybe they both realized they are rock gods. We will pay to see them no matter what happens to their heads.
I'm an anonymous/replaceable working-class musician. When it comes to hiring players, most will choose the youngish guy over the grayish guy, particularly in the TV world. So every month I spend around $3 on Revlon ColorSilk Dark Brown 30, then lock myself in a bathroom of a hotel for 30 minutes killing time while killing the gray. It's ridiculous, but my fear of not working makes me do it—though this could be changing. Currently, I'm playing mostly pedal steel on tour. Sitting behind this old, weirdo, cowboy instrument gives me more leeway in the looks department. Drop all maintenance, put on a Texas taco cowboy hat, and nobody notices. But when I get a call for a televised guitar gig, I'll have to show up looking like I have for the past 20 years and the ridiculous ruse starts again. That's one of the reasons why, after every show, I think to myself, "fooled them again."