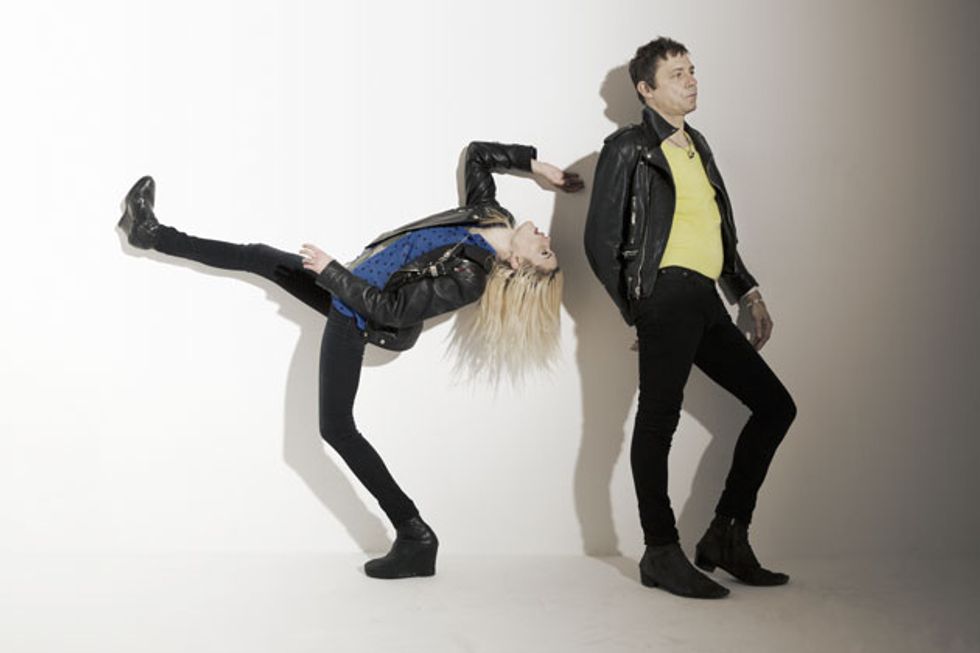 Jamie Hince and Alison Mosshart keep things interesting by writing from different countries: him based in London and her in Nashville, Tennessee. When the pair convenes to work on a new album, the writing sessions get intense.
Photo by Kenneth Cappello
Kicking back in the mood-lit, mod-plush lobby of the Bowery Hotel in New York City's East Village, Jamie Hince is still riding a wave of adrenaline from last night's sold-out show across the river in Brooklyn. "I've had such a nice time in New York," he raves. "Everyone came back up to the dressing room after the show, and it was my perfect little environment—all my friends there, and I'm just DJ'ing, and everyone was dancing. The whole room was packed and dancing to reggae, and it was so lovely. I met Lydia Lunch, and it was like, wow, my God!"
Alison Mosshart, sprawled a bit sleepily in the highback chair across from Hince, perks up at the mention of the genre-busting poet and singer, once dubbed "the angriest punk of the '70s" by the local paper of record. "She was rad," Mosshart exclaims reverently. "I met her on the stairs backstage and she was so … cool."
Given their rapid embrace by a plethora of scenes—fashion, art, tech-disruptive and indie underground—the Kills have made their own case for embodying a rather significant modicum of edgy cool themselves. But they're not making music just to be invited to all the hip parties—far from it. Starting in 2002 with their aggressively lo-fi Black Rooster EP, Hince and Mosshart (whose stage names are "Hotel" and "VV," respectively) threw down the gauntlet with a statement that bands like the White Stripes, Royal Trux, and the Velvet Underground had also hinted at, each in their own way: for every dark, abrasive, and menacing seam you can peel back to make a record, there's an equal and opposite source of warmth, light, and redemption waiting in the wings.
That duality is a phenomenon that Hince and Mosshart have coaxed and nurtured to the hilt in their own songwriting, and it's finally reaching an apex on Ash & Ice (Domino). Over the years, rock crits have insistently categorized their sound as "scuzz-rock," but most of that flies out the window with the sparse but precisely layered garage sound of "Doing It to Death," the hyped-up acid-techno blues of "Hard Habit to Break," the sidewinding trance-rock excursion of "Siberian Nights," or the louche grit-meets-gospel shimmer of "Hum for Your Buzz." Put simply, whether it's unvarnished punk or pure rock 'n' roll, you'll find plenty of influences swirling around in the mix on Ash & Ice, all of them pitched seamlessly into a light-and-dark battle for the soul of the band. It makes for a delicious and wild ride.
"We are kind of opposite in a lot of ways, but so perfectly opposite that it fits together," Hince explains, while Mosshart blushes and laughs softly. "I was thinking about this the other day, how Alison is so chaotic in her songwriting. She's so disciplined in her life, so regimented and routine, and I'm the opposite. In my creating, I've got to absolutely work it out, but my life has no discipline. So I think that's where I absorb all the chaos and the whirlwind in my life, and then try and compartmentalize it in songs. She does it the other way 'round. Her songwriting is where she goes bananas."
"I've always been a believer that your ideas are more important than your ability." —Jamie Hince

Mosshart also points out that their geographical separation—she's based in Nashville, Hince in London—leads to its own bit of drama when they eventually reunite to record a new album. "We do tend to write everywhere," she says. "Then I come with all these songs that I wrote on my Martin acoustics, and Jamie's just like, 'What the fuck am I gonna do with that?' Trying to go at it from the other side, you know, we're always starting at opposites, but there's this very interesting moment when stuff starts to click. You don't know when it's coming, but things just start to come together. For a long time, they don't feel like they're going to."
There's also an inevitable hiatus between albums; Mosshart fronts the Dead Weather with Jack White, and is molding a second career as an established painter, while Hince remixes other artists (most recently U.K. art-rockers the Big Pink), pursues photography, and is constantly retooling his studio sound. But this time out, shortly after winding down the tour for 2011's heatseeker hit Blood Pressures, they'd already started work on the new album when Hince slammed his left hand in a car door. Five surgeries later, he'd lost the use of his middle finger. It meant completely relearning how to play the guitar.
"I was never the most orthodox player in the first place, which sort of helped me," Hince says. And in fact, none of the guitars he favors—among them a '66 Gretsch Silver Duke, a Supro Ozark, and a vintage Gibson L-1 acoustic he insists is haunted (more on that later)—are fretted to be all that forgiving, but that didn't deter him from adjusting to his injury. "I've always been a believer that your ideas are more important than your ability. So in that way, although I've lost the use of a finger, it's just made me adapt my ideas rather than hinder my ability, if that makes any sense. I mean, my hand is fucking painful. Every now and again I'll pick something up, and I'll get a shooting pain down it, and if I rub it, I've got lumps and scar tissue—but now I'm just trying to make you feel sorry for me [laughs]. It's actually really easy playing guitar with a finger missing!"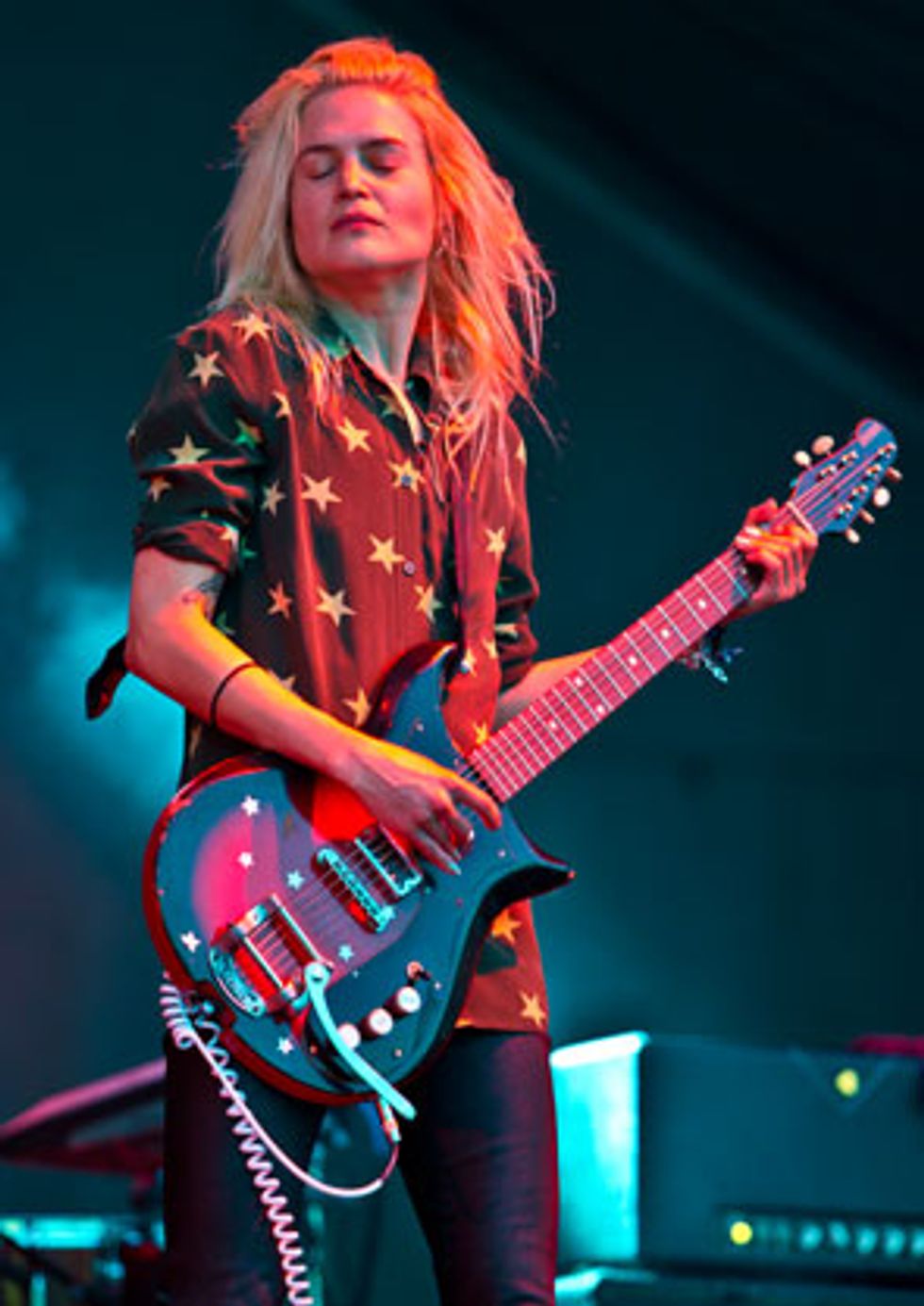 Alison Mosshart plays her 1967 Gretsch Corvette at Atlanta's 2016 Shaky Knees Festival in May 2016. Her No. 1 is outfitted with stars she applied when she dressed up for Halloween as the night sky and wanted her guitar to match. Photo by Chris Kies
Co-produced by Hince and John O'Mahony, Ash & Ice was recorded at a house in L.A. that was ingeniously outfitted with a mobile studio built by the band's longtime engineer and friend Bill Skibbe, and then mixed by Tom Elmhirst almost in its entirety at Electric Lady Studios in New York (three tracks were mixed by Tchad Blake in Wales). Hince and Mosshart are clearly energized by the results—a white-hot slab of groovy, bluesy rock that remakes the band in a fiery and exuberant new image, with a thick guitar sound that recalls such hard-rocking heroes as PJ Harvey, the Velvet Underground, the Nation of Ulysses, and many more. And with bassist/keyboardist Scott Paterson and drummer Jonny Scott rounding out their sound on the road, the Kills are barnstorming American cities with a live show that's blowing the roof off every room they play. Now that's chaos they can live with.
Once [engineer] Bill Skibbe had set up the mobile recording studio in L.A., did you jump right into making the album?
Alison Mosshart: Well, there was still some writing to do. We started out with what we always do—we made up a board, and there was just a ton of songs on it, like 30 or 40. These were the combination of all the things we'd been working on, but none of them were done. They were just these skeletons or lyrics or melodies, and we started going through them, because part of it is about getting rid of stuff so you can focus on what you're trying to finish. But we wrote a ton. I mean, we kept writing the whole time.
Jamie Hince: One of the hardest things is to get everyone to agree—everyone being me and Alison, and Bill to some extent—that there's an album there, and that it's ready. I'm always the bringer of bad news, because I never think it is. Part of it is my problem, of never being able to see that something is finished. But part of it is I want to just keep pushing the standard a bit. So it was a difficult way to start a record, because I think everyone was a bit deflated when they thought I was winding them up, being like, "We've got more writing to do." I mean, at least for Alison, it's like, "How much more writing? I've written a hundred songs!"
Mosshart: And if I'm lucky, I'll keep writing! You know what—I mean, we were still writing in Electric Lady. We got there and we were in this tiny little B studio for a week, just to write. We wrote "Black Tar" in a day there, and we wrote "Let It Drop" on the last day of recording. So the writing part never stops, really. Recording is easy.