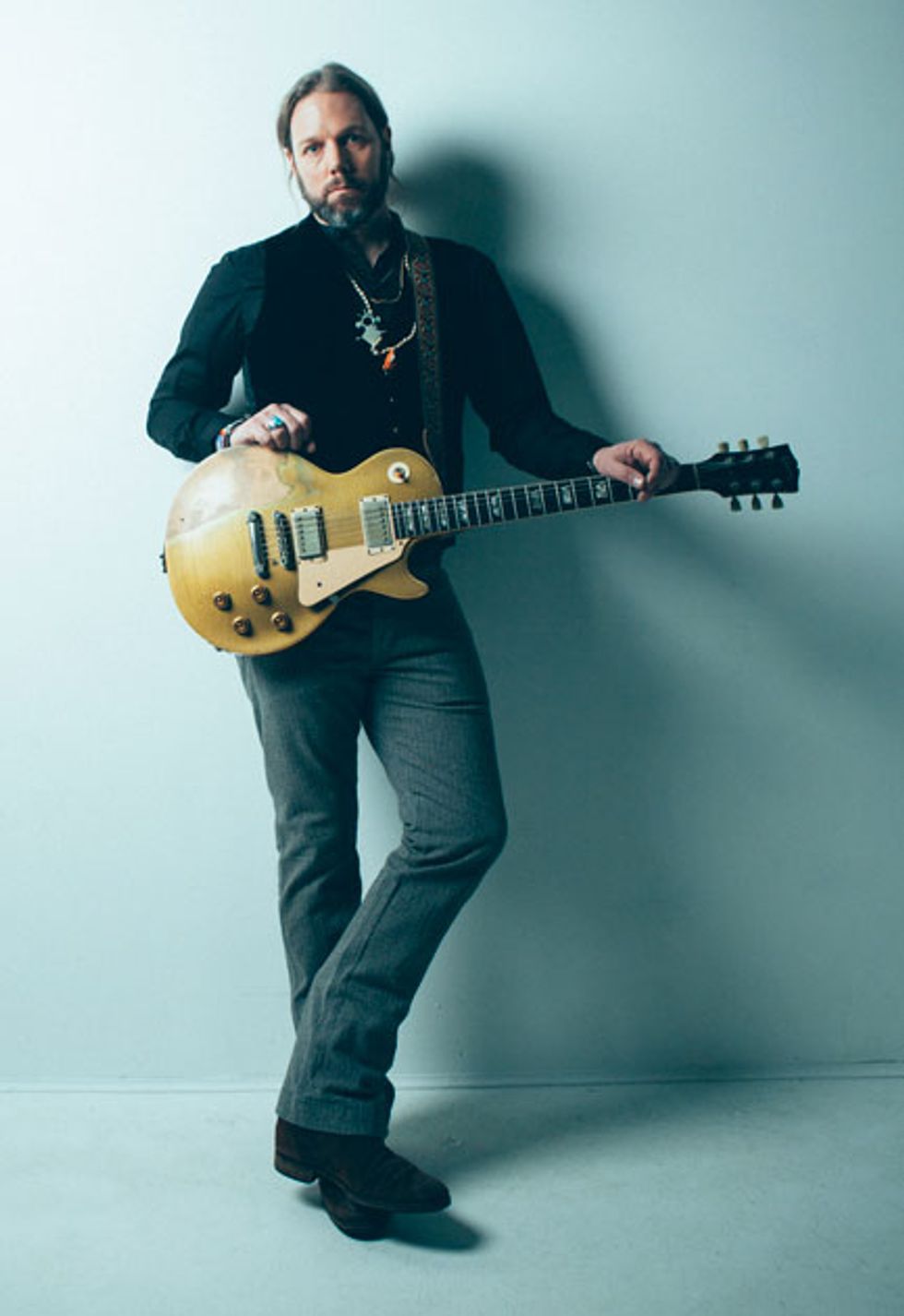 This 1969 Gibson Les Paul goldtop is one of Robinson's main guitars and played a major role in the making of his ninth solo recording. His other go-to is a 1963 Gibson ES-335 that was resurrected after being damaged by floodwaters from 2012's Hurricane Sandy. Photo by Alysse Gafkjen
"Music That Will Lift Me" has some particularly great acoustic and electric guitar textures. How did you record them?
A lot of the time we used a pair of Gefells on the acoustics, and on the electrics we used a mixture of Shure ribbon mics with a range of placement. We miked some up close and others far away, to really get a depth of different sounds. I'm really happy with the way all of the guitars sound on the album—very natural and organic.
Overall, what were you going for when you made the album?
I've done every album I've made for the last 25 or so years in a slightly different way. On my last record, The Ceaseless Sight, I wrote a few songs and song fragments, and I wanted to use the studio to finish them. I liked the way it turned out, so for this record I said I'm not going to finish anything—even more so than the previous record.
Rich Robinson's Gear

Guitars
• Echopark Ghetto Bird with Arcane P-90 pickups
• 1963 Gibson ES-335
• 1969 Gibson Les Paul goldtop
• Fender Custom Shop Telecaster
• Martin 0000-21 acoustic
• Zemaitis George Harrison models (two)
• 2010 Gretsch Black Falcon
Amps
• 1955 tweed Fender Vibrolux
• 1971 Marshall JMP with Matchless 4x12
• 1989 Marshall Silver Jubilee with Matchless 4x12
• Rich Robinson signature model Reason
• Vox AC30 Hand-Wired
Effects
• Fulltone Tube Tape Echo (three)
• Way Huge Red Llama
• Way Huge Swollen Pickle
• custom Red Rooster Booster
• Fender Vintage Reissue '63 Reverb tank
Strings and Picks
• Assorted D'Addario electric and acoustic sets (.010–.052) • Dunlop Tortex .73 mm

For Flux I decided to channel all the inspiration and energy you can get going on in the studio. I like to use the studio as a source of inspiration. When you go into a high-end place like [Woodstock, New York's] Applehead, with a certain past, you really have a finite amount of time available, and so there's an urgency to make decisions on the fly and to finalize everything as efficiently as possible. I really work well with that kind of pressure.
I love the fact that Flux is a very eclectic record. It draws from all of my different influences and it's kind of like a journey, which is what a good record should be. It was interesting to see where the music took me in the studio and where the album takes you when you listen to it from start to finish.
You mentioned pressure—how long did you have to make the album?
We only had two weeks to record, and we basically tracked one song per day. Sometimes I came into the studio with skeletal melodies, and some of the songs were more fleshed out, but, again, I opted to do most of the composing and arranging in the studio, to see what it would elicit from the music.
What are some examples of the skeletal ideas you fleshed out in the studio?
"Ides of Nowhere" and "Sleepwalker" were songs that evolved from these little ideas. They really came to life when the band and I were in the studio. They weren't anything like originally planned, and it was really exciting to experience that transformation with the band.
With "For to Give," I went into the studio with just the verse and the chorus and they really wanted to go somewhere. It's a pretty frenetic song, so I thought it would be a cool contrast to have a mellower intro with a cool melodic element. I used it for the bridge, too, because it breaks up the more active parts nicely.
The band sounds really tight on the album. Tell us about the players you worked with.
My drummer, Joe Magistro, and I have been playing together outside of the Black Crowes. Not only are we friends, but he really gets what I do. He has the uncanny ability to know what I'll play before it happens, and we land on the same plane constantly. It's really a gift to play with Joe.
Matt Slocum is a really talented keyboard player who's played with Susan Tedeschi, Jimmy Herring, and other killer musicians. He did a phenomenal job of just coming in and nailing the perfect parts to the songs.
Outside of your solo career, you've been playing with Bad Company lately. How did that come about?
When I was growing up you couldn't avoid Bad Company, and I always thought that [singer] Paul Rodgers would be really fun to work with. Obviously that wasn't something I could even think about doing when I was with the Crowes.
Fast forward to last year, when I went to the Experience Music Project in Seattle, where guys like Jerry Cantrell, Duff McKagan, and Kim Thayil were doing this tribute to Jimmy Page. Paul was there, too. [Editor's note: In the 1980s, Rodgers collaborated with Page in the short-lived supergroup the Firm.] He asked me to join him onstage for some Firm songs, and then, for this recent Bad Company tour, Mick Ralphs wasn't available, so they asked me to fill in for him and I jumped at the opportunity.
You've also been painting. Your work has also been seen on your album covers and you just had pieces on display in Morrison Hotel Gallery in NYC.
Yeah, it's great to have another creative outlet—one that balances out the musical outlet really nicely. I'm really fortunate to be able to have both, and I take painting as seriously as I do music.
How are painting and music different to you—and similar?
Painting is different from music because it's a more solitary activity that I have complete control over—it begins and ends with me. I tend to respond to the feel of the paint as textures develop when I'm working. With music, it's generally more collaborative, and less tangible—I react to the sonics all around me.
The Black Crowes are known to take a breather from time to time, but have you really disbanded this time?
It's true that we're done. Finished. It was finally time to call it a day, and I have no regrets—we had a great run.
YouTube It
With his gorgeously inlaid Zemaitis acoustic guitar built by master luthier George Lowden, Rich Robinson plays a solo version of the inspiring "Music That Will Lift Me," from his new solo album, Flux.