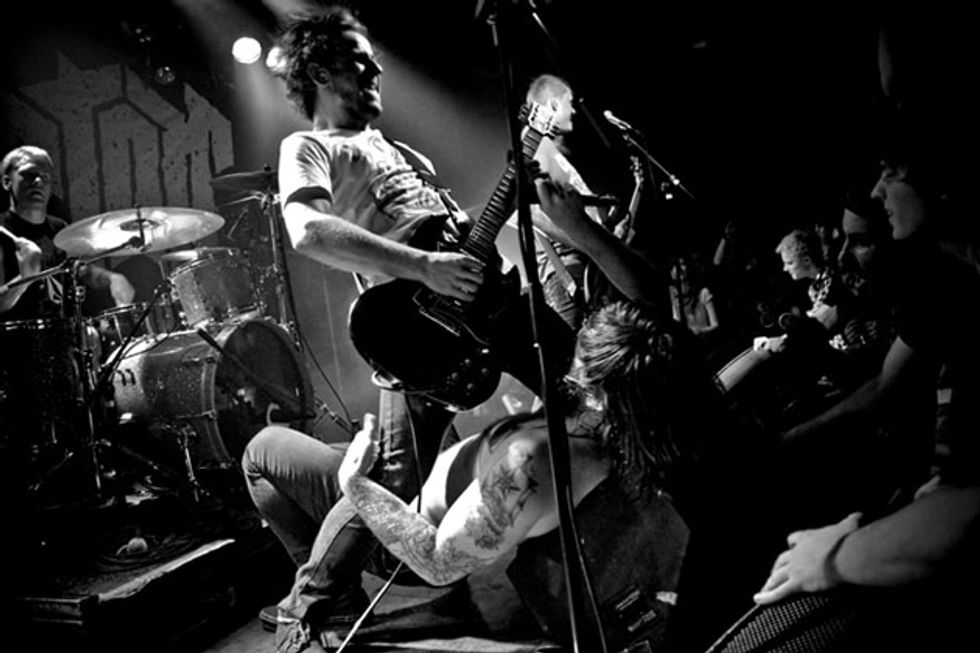 Maciek Ofstad, at left, with his Gibson SG Standard, and Vidar Landa control the chaos as singer Erlend Hjelvik lies down on the job during a Kvelertak concert. "When it's supposed to just go forward," says Ofstad, "we all blast the same thing and it sounds huge." Photo by Anita Lande
What do Michael Jackson, Tony Hawk, and the Eagles have in common? Believe it or not, these three seemingly disparate entities are linked within the musical DNA of Norway's Kvelertak.
In a world overrun with cookie-cutter knockoffs, Kvelertak is possibly the most authentically innovative rock band to come around in years. They were lumped into black metal when they first appeared almost a decade ago, but on their latest album, Nattesferd (Roadrunner), Kvelertak crafts a truly cohesive sound that may require adding yet another subgenre to the metal canon. The verdict is out on what that subgenre would be. But the band's ability to effortlessly combine death-metal blast beats with '80s hair-metal riffs on the album's opener, "Dendrofil for Yggdrasil," and blend growling, Cookie Monster vocals with fist-pumping, anthemic melodies on the first single, "1985," is breaking new ground and making the metal community prick up its ears.
They also buck convention by playing in standard tuning, which is unusual in this era of drop-tuned metal guitar, and frontman Erlend Hjelvik sings in his native tongue, demonstrating that impassioned music can most certainly transcend language barriers.
The band's three guitarists, Bjarte Lund Rolland, Maciek Ofstad, and Vidar Landa, balance brutally heavy riffs with instantly hummable harmonies reminiscent of icons like Thin Lizzy, Iron Maiden, and the aforementioned Eagles. But they're not overly derivative. "Heksebrann" features fingerpicking that could easily fit on a country track, and it's such moments of unexpected color that reveal the guitarists' breadth of musical knowledge. All three manage to complement one another stylistically and sonically, with a massive wall of guitar tones that is equal parts punk and power. Metal power, that is.
"You're going to suck for the first two or three years. Your band is going to be horrible, but then you start a new band and you're going to be awesome, so just keep on playing."–Maciek Ofstad

Kvelertak, which translates to "stranglehold" in English, formed in Stavanger, Norway, in 2007. The sextet released a demo called Westcoast Holocaust that same year, before being picked up by End Records for their eponymous debut, which was released in 2010. Meir, the follow-up, came out in 2013 on Roadrunner and was named Rolling Stone's No. 2 metal album of the year. They've also been playing live … a lot. So much so that with Nattesferd they set out to push their boundaries by recording live without a click track. The result is a refreshingly real album that captures the vibe of a band reveling in the moment, rather than some carefully orchestrated slice of perfection.
PG caught up with Rolland and Ofstad on a two-week break during a rigorous summer touring schedule. Rolland was at home in Norway; Ofstad was vacationing in Croatia. We talked about their crushing aesthetic, their gear, their influences, and making the roaring and beautiful Nattesferd.
Kvelertak's music seems to pull from many different sources. Who were some of your early influences?
Rolland: I was a late bloomer. I'm one of the only guys in the band that didn't really grow up with metal. As a kid, I was a big Michael Jackson fan. Then I moved on to Pink Floyd and from there to everywhere, including a lot of black metal—particularly Satyricon, Darkthrone, Stormcast, Burzum, Endstille. It's a mix of all kinds of music, really.
Ofstad: I started playing bass guitar when I was about 12, because I was playing skateboard video games and thought the music was awesome. I found a lot of music through Tony Hawk video games. There was one really bad game—I can't remember what it was called—but the Deftones were on it, and it was the scariest thing I'd ever heard.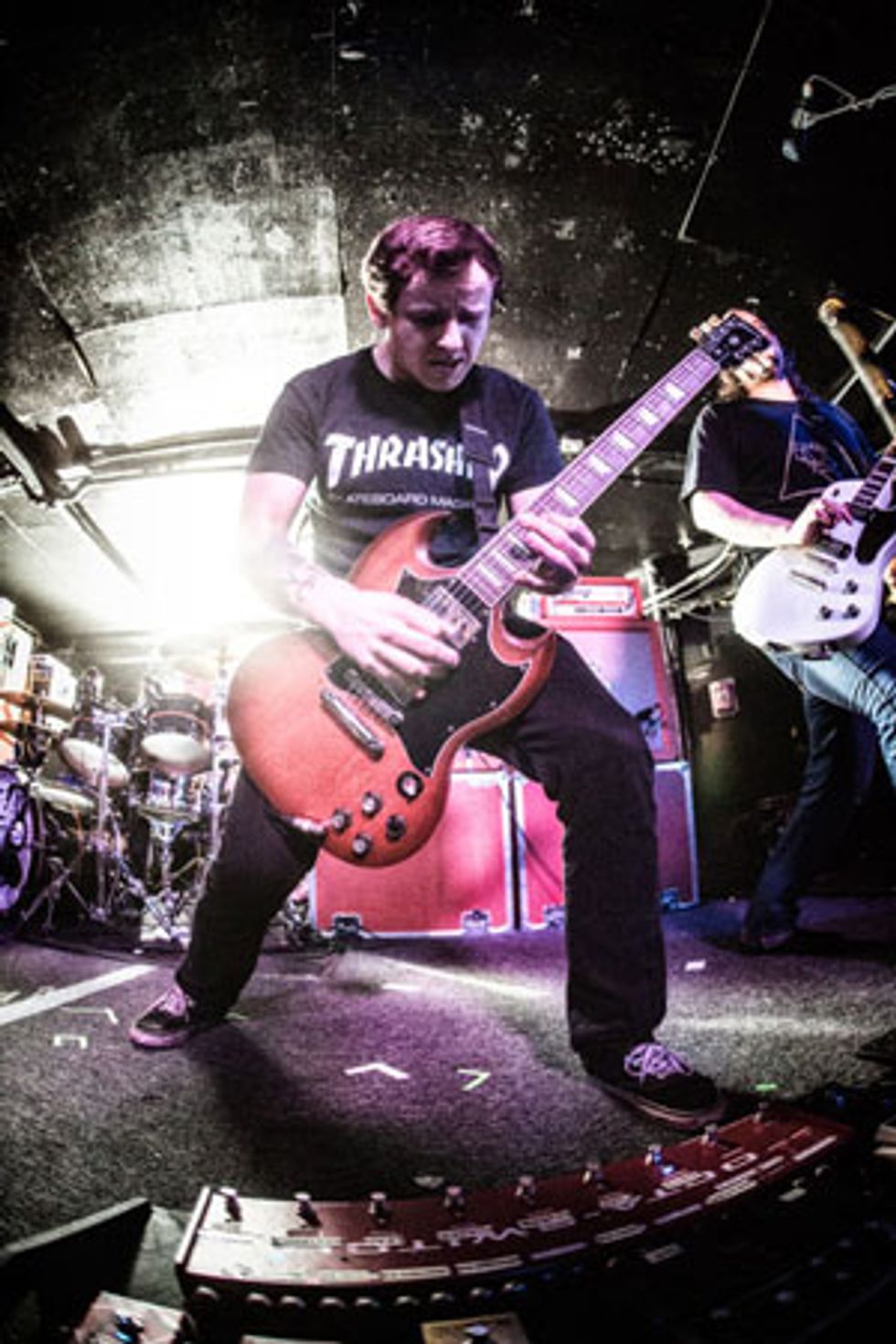 Maciek Ofstad lays it out: "We're just dudes that want to play rock 'n' roll, and we really love playing live shows, and that's what we've been doing. There hasn't been any plan except for writing songs that we like and want to play." Photo by Tim Bugbee/Tinnitus Photography
Were there any particular guitar players you modeled yourselves after or tried to emulate?
Ofstad: My mom is a violinist and I played violin when I was younger, but when I got into skateboarding and punk, I wanted to play guitar. I come from Sandnes, Norway, where there's a good hardcore scene, so I started going to shows when I was 13 or 14, and I just wanted to play that music.
When I got better on guitar, I started to get influenced by guitarists. Death was the first band that got me into wanting to play good. Chuck Schuldiner was a great guitar player and a very good songwriter. But I started out just wanting to play fast. I played in hardcore and punk bands. Every Sunday I would sit in my room and learn all of the songs that I loved. I just ate everything up.
With the triple-guitar attack, one can't help but detect a bit of Thin Lizzy—especially with the harmonies.
Rolland: Definitely, but that came later. When we got three guitarists we started experimenting more with fancy guitar licks. Iron Maiden, too, for that matter. And there's a lot of Southern rock influence, too, like the Eagles.
How did the three-guitar line-up come about?
Rolland: It was a matter of some line-up changes that eventually led to having one more guitar player in the band. We quickly realized it sounded way more massive live. We could do the two-way harmonies without losing the extra power from the rhythm guitar. It's a way to keep the momentum up and going. Even if you just have one guitar playing lead, you still have two guitars playing rhythm in the background, so you don't lose the power, which is one of the big benefits of having three guitars live.
Maciek, how did you join Kvelertak?
Ofstad: I'd been playing since I was 16 and did a bunch of tours in Europe. I was pretty much over the whole band thing when I saw that Kvelertak needed a guitar player. I knew Vidar and Marvin [Nygaard, bass]. They were in the same scene as me, and they played in a death metal band that was really cool called the Rape of Lucrece. Those guys were pretty gnarly.
I saw Kvelertak live and they were awesome, so I figured I would talk to Marvin and, if they needed me, it would be cool. At the time Kvelertak was just a local band that played a couple of shows per year. I joined and we've been touring ever since.
Did you have any reservations about playing in a three-guitar band?
Ofstad: Yeah, I thought about it. I'd never played in a band with three guitars and to arrange three guitars is complicated. But when it works, it works. It's a really cool songwriting process, fitting everyone into the song. And when it's supposed to just go forward we all blast the same thing and it sounds huge. Look at Maiden.
What separates the three of you stylistically?
Rolland: None of us are virtuosos. We all come from different backgrounds. I'm the one who sticks out the most, because I don't play with a pick. I also use single-coils, like P-90s. The other guys use humbuckers. Maciek is more of a lead guitarist and Vidar is more of a rhythm guitarist. I guess that's the biggest difference.