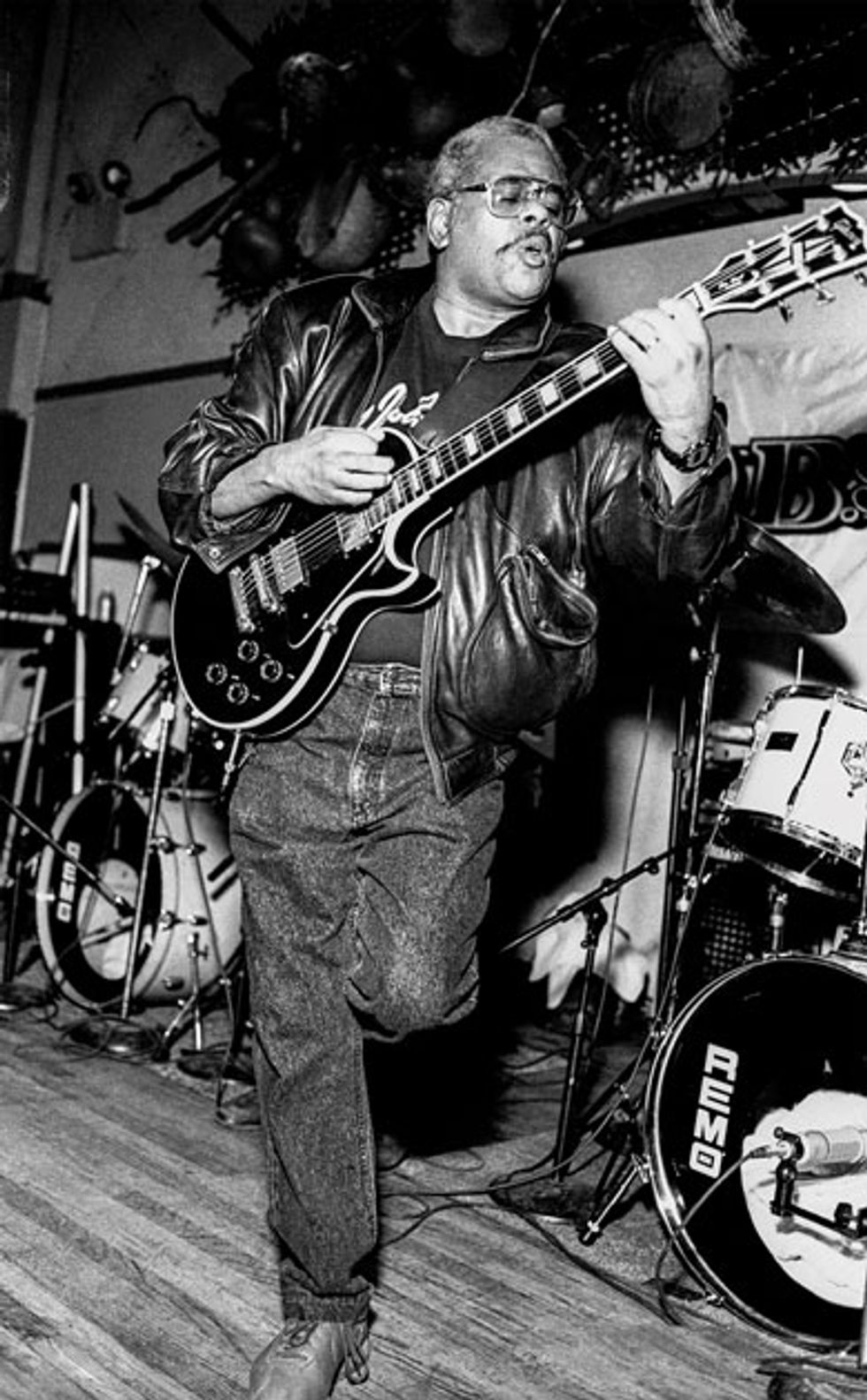 In mid-flight during a 1992 concert, Sharrock fused energy and intellect into a breathtaking dialog with his audience. Note his T-shirt, from a Last Exit performance at Johnny D's in Somerville, Massachusetts, on February 2, 1990, one of the band's three U.S. performances. Photo by Jack Vartoogian/FrontRowPhotos
Clearing the Room
Sharrock was recording and performing with reed player Byard Lancaster when he got a telegram—he was so broke that he didn't have a phone—asking him to call Herbie Mann.

Mann fused jazz and pop, and had been among the musicians who'd popularized the bossa nova in the States during the early '60s. He sold a lot of records across a spectrum of listeners. He also had broad tastes and was looking for a connection within his own music to the free jazz sounds that were exciting him. Soon, Sonny was getting the spotlight once at every Mann concert, and he was joined there by vocalist Linda Chambers, who he'd later marry, when she was also hired for Mann's group.
"I'd reached a point where I wanted to have some contrast in the band," Mann told me in 1988. His audience had not. "The reaction was often hate—total hate," Mann said.

Sharrock remembered a gig with Mann at a Florida jazz festival. "It was at a marina, and all these people came in yachts," he said. "In the middle of Herbie's set, Linda and I came out to do 'Black Woman'."

The song was the title track to Sharrock's debut album, the result of a deal Mann has brokered with the Atlantic Records subsidiary Vortex. "They all sailed away," the guitarist recalled, chuckling.
Decades and an upswing in his popularity didn't necessarily change all audiences. When he and Henry Kaiser took the stage to play duets at an Italian jazz festival in 1987, following the staid Modern Jazz Quartet, "the audience was like a tidal wave," Sharrock recounted. "We cleared the room instantly. My [second] wife, Nettie, cried, because she'd never seen anything like that before." He laughed, gently. "I said, 'C'mon, that's nothing! Do you want me to clear out the ushers, too?'"

Humor was another of Sharrock's trademarks. And his friends and bandmates loved him for his wicked one-liners and playful skewerings. "It was as if I was on a laughing-gas high," recalls Pheroan akLaff, one of the two drummers in Sharrock's juggernaut Seize the Rainbow band. "If we went on the road, there would be continuous Don Rickles-style jokes hurled about you from the moment of airport check in until we said goodbye. In fact, I don't ever remember him saying goodbye, unless it came in an insult. That was his way of expressing love."
His daughter Jasmyn also loved Sharrock for his playful spirit. Dad was by no means the disciplinarian among her parents. He encouraged her to dance as they listened to music together, and took her on frequent excursions into New York City. "The time he spent in Manhattan shaped him as a young man," she says. "He wanted me to experience the heartbeat of the city, and because of that I became a city rat as an adult and have never lived in the suburbs."
At our first meeting, I asked Sharrock how he felt about his decades of struggle. His reply: "I've been trying to sell out for years, but nobody's been buying."
"We cleared the room instantly. My wife, Nettie, cried, because she'd never seen anything like that before. I said, 'C'mon, that's nothing! Do you want me to clear out the ushers, too?'"—Sonny Sharrock

And despite Sharrock's avowal to "find a way for the terror and the beauty to live together in one song," there was also humor in his music. It was woven into the grinning, peppy melody of "Blind Willie," a sweet 'n' droney composition on his first album, and the chipper theme—and even the title—of his Seize the Rainbow tune "The Past Adventures of Zydeco Honey Cup." He also laughed and joked with his audiences—often with pointed wit. A video from a 1988 show at the original Knitting Factory, his New York home base in the '80s, features this song introduction: "This is dedicated to the South African government, the Israeli government, and those brothers that are gonna git yo' ass on the way home. It's called 'Stupid Fuck.'"

But he had nearly a decade of hurdles to clear before becoming a darling of the downtown Manhattan music scene. Driven to experiment with pop due to lagging record sales and gigging opportunities, he and Linda, an astoundingly potent vocalist who, like Sonny, worked in sheets of sound rather than conventional language, made the album Paradise. Sonny declared it a disaster, and the disc headed straight to the cutout bins. Today, Paradise is appreciated for its beauty and riskiness, but the guitarist considered the album on Atlantic's Atco subsidiary a self-betrayal of the creative aesthetic he'd forged.
"I worked hard to be me," he declared. "I like drums and I like Coltrane. People used to get mad at me because I'd get hired for a gig and I'd say, 'I ain't gonna play chords. That's guitar. I'm a horn player. I just play a fucked-up horn.' "

In 1978, he put down his "horn"—at least in public. He and Linda got divorced and he moved back to Ossining. "I worked with disturbed kids for a while, which was very demanding," he said. "Then I got a job as a chauffeur. Not a bad gig, but not what I'm supposed to do." He also remarried, to Jeanette Hill, and they had Jasmyn.

Thankfully, Bill Laswell knew what Sharrock was supposed to do. He'd fallen under Sharrock's spell in his early teens. "In high school, when we first heard him, it was on Herbie Mann records," Laswell says. "When Sonny's solo came on, we'd pick the needle up off the record to see what was wrong. It sounded like the guitar exploded." At age 15, Laswell hitchhiked from Michigan to the Newport Jazz Festival and saw Sharrock play with Mann. "He made a great impression on me," Laswell recalls.
The bassist/producer caught one of Sonny and Linda Sharrock's final gigs in a small club after moving to New York City in the late '70s. He also got Sharrock's number. In 1981, he used it, inviting Sharrock to come play in the punk clubs as a guest with his band Material. Sharrock also played on the group's debut album, Memory Serves—a gloriously fractured mix of rock, free improv, and funk grooves.

While his own star rose as a producer for Mick Jagger, Fela Kuti, Peter Gabriel, and others, Laswell dedicated himself to nurturing Sharrock's comeback, producing Guitar and Seize the Rainbow, and organizing Last Exit. And Sharrock, thus encouraged, assembled a quartet around the rhythm section of drummers akLaff and Abe Speller, and bassist Melvin Gibbs, who's gone on to play with the Rollins Band and currently co-leads the ambitious jazz group Harriet Tubman.
Seize the Rainbow was unprecedentedly hard-rocking jazz: less ornate and overtly virtuosic than the Mahavishnu Orchestra and other volcanic fusion outfits, while more rooted, basic, and expressive—at least until Sharrock took off on one of his slide solos that seemed destined for Pluto. Live and on album, he drove his guitar to unpredictable places, and yet, within the framework of a few carefully selected notes, could return to a song's core melody in seconds and with perfect, logical balance. It was breathtaking.