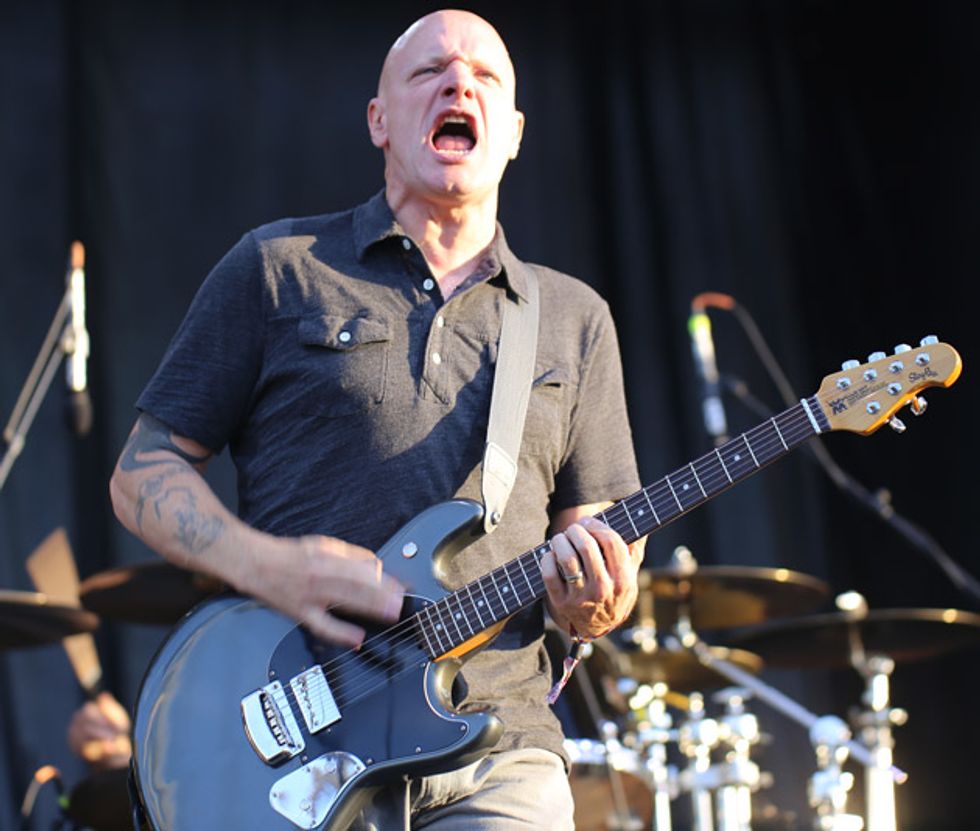 "The first player that made me really think about the possibilities behind the guitar was Jeff Beck," says Egerton. "A friend of my mother's who was a guitar player turned me on to Blow by Blow. From there I went on to John McLaughlin
and the Mahavishnu Orchestra." Photo by Chris Kies
Blistering guitar and a strong tempo—signatures of Stephen Egerton and the Descendents—propel this track from their new album, Hypercaffium Spazzinate. That's Egerton's Music Man Axis laying down the grind.
When the Descendents came together in 1978, the Southern California quartet reveled in their youthfulness. The band spited their parents and glorified coffee and fast food in quick songs merging punk and thrash with pop hooks.
Almost 40 years later, the group sticks to their musical winning formula, one to which all modern pop-punks, from Green Day to Blink 182, are indebted. The lyrics, though, have shifted to reflect the band's age. All the current members—singer Milo Aukerman, guitarist Stephen Egerton, bassist Karl Alvarez, and drummer Bill Stevenson—are in their early 50s. On Hypercaffium Spazzinate, the Descendents' first album in 12 years, the group laments such concerns as the health consequences of a fast-food diet and the administration of ADHD medicine to their children.
Egerton, who has been with the Descendents since 1987, remains an energetic and limber musician in middle age. His rhythmically cohesive bursts of sound give the group's songs a consistent urgency, and his ear for nonstandard triadic chord progressions and catchy countermelodies adds an extra layer of musicality to the proceedings. And he's known to unleash a tastefully melodic guitar solo from time to time.
Egerton brings a similar approach to his work with All, an offshoot of the Descendents, and with FLAG, the current incarnation of the classic hardcore band Black Flag. His talents as a multi-instrumentalist are in full display on his 2010 solo debut, The Seven Degrees of Stephen Egerton, a collaboration with 16 different singers. Egerton also runs a recording studio at his Tulsa, Oklahoma, home base, where his day job involves engineering, mixing, and mastering music.
"We're stoked that people still care and that we're able to do it. And that we've survived."

On a break from a studio session, Egerton phoned us to talk about some of his secret influences, how studying classical guitar made him a better punk musician, and the streamlined rigs he uses in the service of his deceptively simple style.
Let's start by talking about gear. What guitars and amps do you play?
I've been playing Music Man guitars now for coming up on 20 years. I think I got my first one in 1997. I call her Old Gray—she's a gray Axis and that's what I used on this last record. For amps I used a Blackstar HT 100. That's what I've been using for the last three or four years. It's been a good amp for me and I've been really happy with it.
Recently I got a new Music Man guitar called the StingRay. It's sort of a recreation of the guitar that Leo Fender launched Music Man with before Ernie Ball bought the company. I've had this guitar for two months now, and it's maybe my favorite guitar I've ever had. There's a little something special about it sonically. I wish I'd had it when we recorded the album, although maybe it would have only made a subtle difference.
I also play in FLAG—a bunch of members of Black Flag crossing over the many years that they were a band. In that band, in keeping with their original sonic ethos, I play a Dan Armstrong. It's a pretty modified guitar—not an old one but a reissue. I actually played an original Dan Armstrong for many years before I got my Music Man, but it got stolen and I didn't have one for many years. When FLAG plays—we sort of have intermittent bursts of playing—the newer Armstrong is the guitar I always use.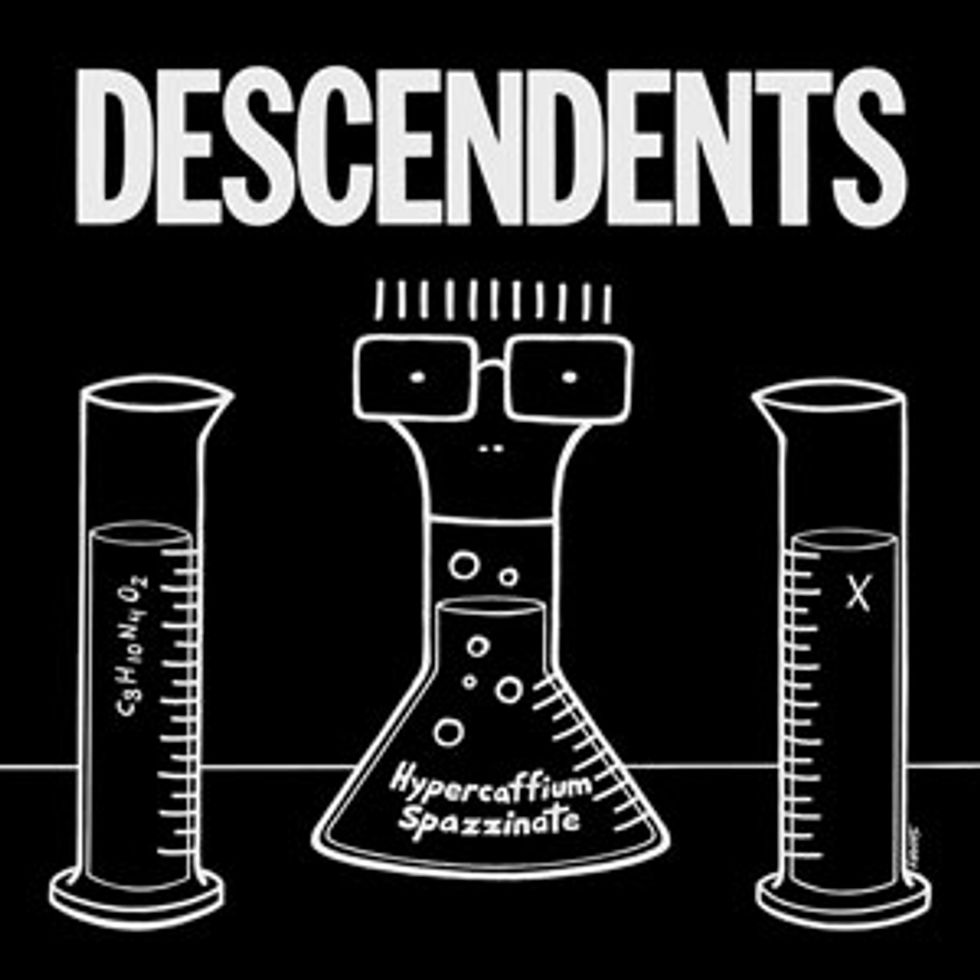 Factoid: The Descendents' guitarist Stephen Egerton and drummer Bill Stevenson produced the band's new album.
Your sound is pretty straightforward—do you use any effects at all?
I tend not to use effects or even knobs on my guitars. I use a lot of gain and tend to play louder in FLAG, so I do have a kill switch on the guitar. Lately I've been interested in getting into effects, and I do keep a few around. I do a little television music, like reality shows, all rock-based, and for some of the stuff where there are no words, I explore music that's a little different than what I'm normally associated with. I have a few oddball effects: a couple of reissue Ampeg pedals and a Danelectro spring reverb pedal that I really like. But again, with the Descendents and FLAG, I use no effects or even volume knobs.
How and why did you do away with knobs?
Years ago I just wired the pickup straight to the jack. It was really a practical matter, because I tend to play harder than I probably should and there was the issue of me slamming my hand into the volume knob or pickup selector switch when I played, and those electronics tended to rust out on me, so it was helpful to have them removed.
Why do you use the kill switch?
The Dan Armstrong has that kill switch because in FLAG there's more feedback happening and I use the switch to quiet things down here and there. If you listen to the old Black Flag records, the way they sometimes edited the songs is that they started with a blast of feedback, kind of spliced into the songs. I sometimes use the kill switch to recreate that effect.
Tell us a little about your musical history.
Music for me starts with the Beatles. When I was a kid they absolutely grabbed me. At age 5 I decided that's what I wanted to do, but I didn't start playing guitar till I was 9, when my mom showed me some basic open chords. The first music I learned to play was basic: Chuck Berry and '60s pop and rock, simple country music like John Prine. When I was a kid I used to play those songs for change in the shopping mall near my house. I wanted to be just like the Beatles, and that's how my career got started.
The first player that made me really think about the possibilities behind the guitar was Jeff Beck. A friend of my mother's who was a guitar player turned me on to Blow by Blow. That record sparked my interest in fusion music, and from there I went on to John McLaughlin and the Mahavishnu Orchestra, which is still one of my very favorite things to listen to.
Somebody gave me a Frank Zappa record when I was 11, and that led to punk rock, which was really big around that time. Also, we had a lot of jazz records around my house when I was growing up, and I got into Wes Montgomery and players like that. I missed metal and went straight to fusion and jazz and punk.
How did you get into punk?
When I heard the first Sex Pistols record, which kind of blew my world apart. Punk was something that made sense to a person entering their teenage years. That kind of screw-you thing made good sense to me.