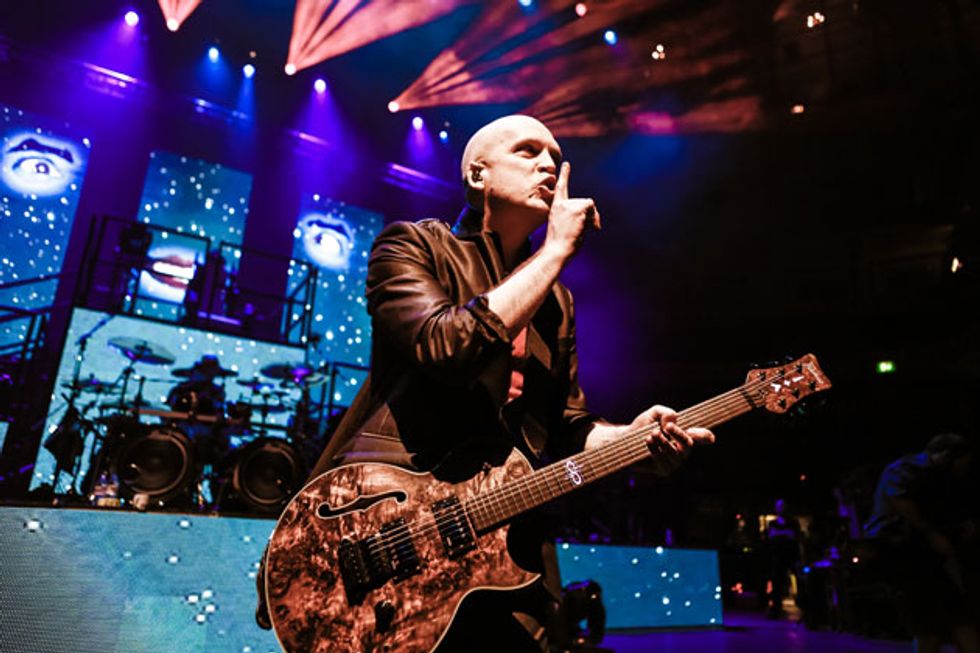 Devin Townsend was just 19 when he was called upon to lay vocals for Steve Vai's Sex and Religion. They've reunited on Vai's latest album, Modern Primitive, on the track "The Lost Chord." Photo by Christie Goodwin
Charupakorn: Have the advances in technology changed your music writing and recording process?
Townsend: It's two things, right? On one hand, it gives you limitless options, but if you're hardwired to want to get things perfect all the time, that could lead to being a liability. I have five guitars that are in different tunings and they all have the EverTune bridge on there so they're always in tune. I've got a heavy patch, a clean patch, a dirty patch, one vocal mic that goes into one chain. I've got maybe three or four delays, and a big massive Pro Tools screen with a ton of power. It's all plugged in and ready to go. Like, I never, ever second guess it. So as a result of that, I power through things. If someone said to me, "Here's a bunch more options," all that really does is confuse the objective, at least for me, and I think you can get lost in it.
Vai: That makes a lot of sense and I've seen that happen to myself because I'm always getting gear, and I'm interested in trying out things. It can belabor the point. Technology is going to continue to evolve, and the way we make the music—the way we mix it, the way we deliver it, the way we purchase it, the way we listen to it, the way we consume it—it's all going to continue to change. The one thing that doesn't change, the thing you'll always need, is an artist or creator to have some kind of inspiration.
"I was apprehensive, at first, only because 20-some odd years in, it carries a lot more weight. The whole experience with Steve was something that started my foray into all of this, so I didn't want
to take it lightly." —Devin Townsend

Townsend: A vision.
Vai: Yeah, a vision. And in some respects I do limit myself from exploring too much technology because it is a black hole. Of course, somehow I get by with whatever stuff I'm using when it's there. As far as anything different this time, with the guitars I always try to take a different approach with the solos each time, where I say, "Okay, what are you going to do now?
You've got to come up with something you've never done that has some cool value in it." Usually that's all phrasing, because I've done the fast guy thing and now I'm focused more on phrasing. That's what this record has. From a guitar player's point of view, there's a lot of nice depth to it.
I'd like to now comment on your record, Devin. I've followed your career and there's always this very interesting metamorphosis that's taking place in your whole creative output, and there's great variety, too.
Devin Townsend's Gear
Guitars
Framus signature Stormbender
Framus T-style
(Both guitars have Fishman Devon Townshend Signature "Transcendence" pickups and EverTune bridges.)

Amps
Fractal Audio Axe-Fx
Mesa/Boogie Dual Rectifier
Kemper Profiler

Effects
Fractal Audio MFC-101
GigRig G2 switcher
Sonic Research strobe tuner
Source Audio Nemesis Delay
MXR Echoplex Delay
Solid Gold FX Stutter-lite tremolo
Strymon TimeLine
Red Panda Particle delay/pitch shifter
MXR Reverb
Greer Lightspeed Organic Overdrive
Seymour Duncan Vise Grip Compressor
JHS AT (Andy Timmons) Signature Channel Drive
ZVEX Fat Fuzz Factory
EarthQuaker Devices Dunes overdrive
Teese wah

Strings and Picks
D'Addario (.010–.052)
Planet Waves, Evidence, and Providence cables
Line 6 Relay G70 wireless
Dunlop custom pick based on .73 mm Tortex
Planet Waves bass straps
Dunlop Straploks

Within the variety, there's still the thread of your voice. Whether you're doing an ambient record or
a quasi-country record, there's an effervescence to it, of melody and your production sound. It all beautifully wraps. One of the things I noticed most is your music, for you, is so deeply rooted with
your personal transformation through life. For instance, the way you opened it with "Truth."
[Editor's note: "Truth" is a remake of a track from Townsend's 1998 release,
Infinity
.]
For me that song, perhaps more than any song in your catalog, just explodes. It's so interesting that you revisited it, re-recorded it so that you can come to terms
with where you're at now and what that song means to you now, and then pave the way for the rest of the record with your new perspective on who you are and how you're moving forward. The music is almost like a consequence of your inner reflecting.
Townsend: One-hundred percent. Thank you, I appreciate that.
Vai: It's penetrating, Devin. What you're doing, many of your fans are really getting—especially how you relate it to your personal growth. Some of it's so interesting to me because there are parallels with the way I perceive myself grow. One of them
is in "Truth"—how it's a spiritual awakening for you. That a surrendering to the ignorance of the mind reveals the truth. Just even saying that, which is what you had written, there's so much wisdom in that, and I feel that in the song.

Townsend: The reason "Truth" and "Transcendence" are on there, and the conversation about spirituality or religion, is because I had to take a year off from touring.
Being a lower, mid-tier prog metal act is a dubious profession when everybody's on salary [laughs], and I got presented with the opportunity to write a book. My first thought was, "Man, I'm in my mid 40s. What am I going to write about?" It's not going to be like Mötley Crüe, snortin' ants off whatever. In the process of going through it, and the work of starting with a ghostwriter and then ending up writing it all by myself, it became very clear that by objectively seeing your past, to make it of any value for a reader, it has to be less about pontificating and more about "this is where it's at." And you start seeing patterns emerge, or at least I did, and when these patterns consistently pointed to something that I was not satisfied with, you're either stuck in that situation of continuing it for the sake of feeling sorry for yourself as some sort of creative outlet, which is pretty gross, or sort of incorporating: "If these patterns have resulted in X, and X is something that I no longer want to participate in, what can we do in order to change it?"
Charupakorn: Can we expect more collaboration in the future?
Townsend: Yeah. I think we're starting today.
Vai: There's always that possibility and I would love more than anything to work with Devin on stuff, and we have, sort of, through the years. We've kicked around the idea of doing something a little more formal. So at this point, we kind of threw it into the universe and if it happens, it would be fantastic.
Townsend:
I agree.
YouTube It
Watch a flashback of Steve Vai and Devin Townsend from the Sex and Religion era. Even within the restrained setting of The Tonight Show studio, Vai and Townsend bring their A-game for this performance of "Still My Bleeding Heart."
---
---