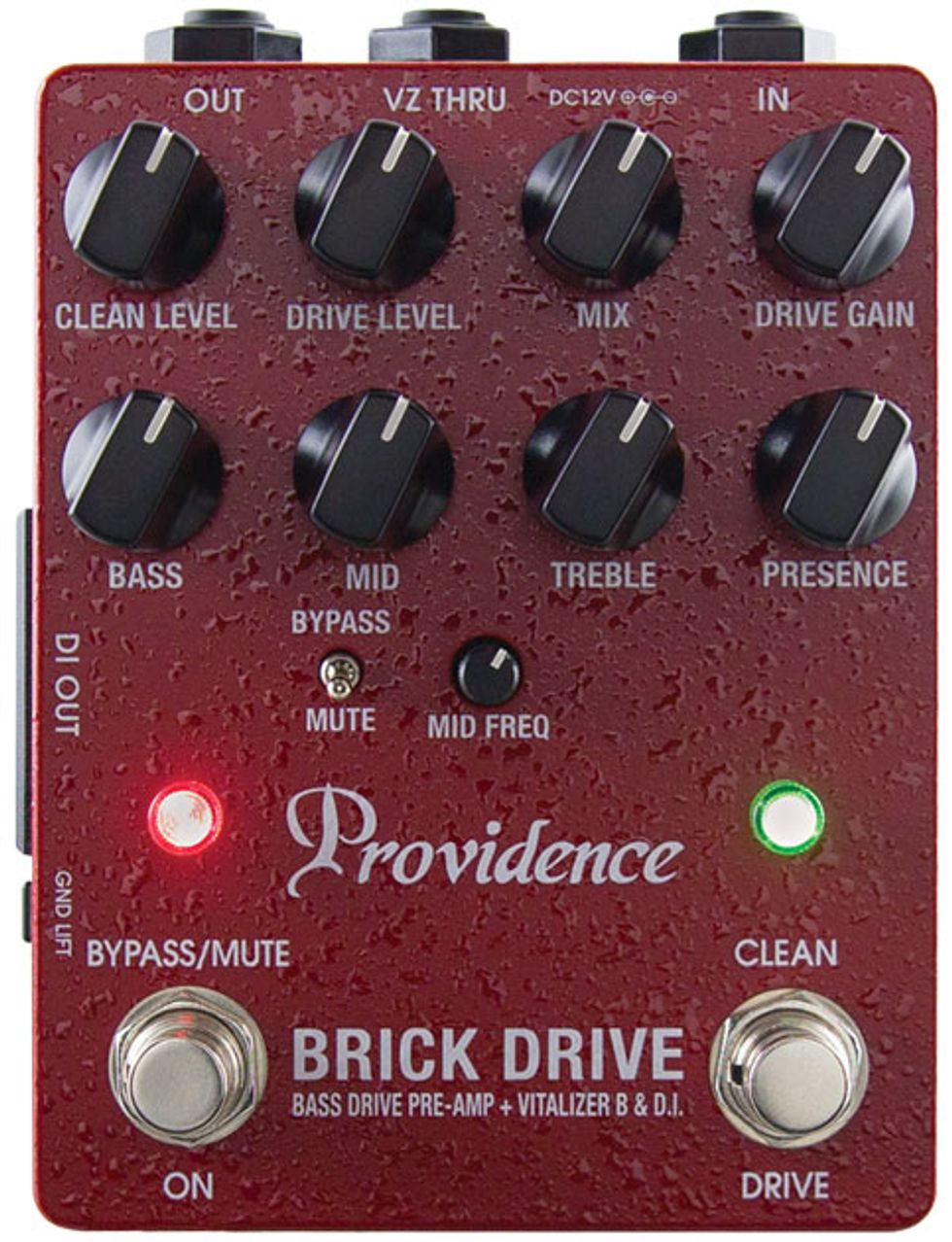 Providence Brick Drive BDI-1
---
Recorded using Gallien-Krueger 400RB head, Ampeg 8x10 cabinet, and PreSonus AudioBox iTwo interface.
Clip 1 - Pedal engaged 11 seconds in: clean level 1 o'clock, drive level noon, mix 1 o'clock, drive gain 4 o'clock, bass 1 o'clock, mid 11 o'clock, treble noon, presence 1 o'clock, mid-freq 10 o'clock.
Clip 2 - Clean tone, no drive: clean level-1 o'clock, bass 11 o'clock, mid 10 o'clock, treble 11 o'clock, presence 9 o'clock, mid-freq 10 o'clock.
---
The dual-channel Brick Drive BDI-1 from Providence takes a refreshingly straightforward approach to tone crafting. Though it has a lot of controls and connection options onboard, it doesn't hide anything within complicated secondary functions. And under the hood, both clean and overdriven tones benefit from the company's proprietary Vitalizer B circuitry that's optimized for bass guitar.

Thick as a Brick
The BDI-1's clean channel and overdrive channel each sport individual volume dials and can be blended using the mix knob when in drive mode. The two channels share the EQ section, which includes a presence control for ultra-high frequencies and a mid-freq dial for adjusting the midrange's center frequency. Next to the mid-freq control is a switch that assigns bypass or muting duties to the left-side footswitch.
I was treated to a terrifically warm tone with a thick and rounded midrange, complimented by smooth highs and soft lows.

In addition to standard 1/4" input and output jacks, there's a 1/4" direct output jack—labeled "VZ Thru"—that's fed from the pedal's Vitalizer B circuit for direct patching with an additional amp or another device, such as a tuner. There's a balanced XLR output with switchable ground-lifting for sending the effected signal straight to a mixer or recording interface. Power is supplied using the included 12V adapter, which is boosted internally to 21V to increase the dynamics and headroom of the circuit.

Providential Sound
With my P bass feeding the input of the BDI-1 and a Gallien-Krueger 400RB pumping the signal to the Ampeg 8x10, I dived into the pedal's clean channel with its volume set at 11 o'clock and the EQ and presence controls set to noon. I was treated to a terrifically warm tone with a thick and rounded midrange complimented by smooth highs and soft lows.
Ratings
Pros:
Highly responsive and tweakable midrange. Versatile, with smart mixing options. Low learning curve.
Cons:
Bass control is most effective at higher ranges. Channels share the EQ section.
Tones:


Ease of Use:


Build/Design:


Value:


Street:
$259
Providence Brick Drive BDI-1
providence-ltd.com
Turning the EQ's mid frequency dial yielded a wide range of usable tones that rarely resulted in an annoying honk or shrill spike, and both the treble and presence controls managed to maintain a smooth sheen over the highs—even when I pushed them to their highest ranges. I did, however, have a little trouble dialing in a thicker low end for harder rock tones, since the majority of the bass control's effectiveness seemed to lie at 2 o'clock and beyond. Compared to the other EQ controls, its taper didn't feel like it was spread as evenly.

The pedal's drive channel might be a touch limited by sharing an EQ with the clean, but Providence certainly had the right idea by providing so much control over its presence in the mix. Having separate channel volumes and a dedicated mix control made it easy work to dial up a gut-wrenching overdrive while keeping the clean signal low enough to be barely noticeable—but still present enough to add more punch and clarity to the lows and midrange. (My personal sweet spot was setting the clean tone to take up about a third of the mix.) That said, some players might not even bother fiddling with mixing in the clean signal at all, since the BDI-1's overdrive is so full, dynamic, and clear when used on its own.

Like the clean channel, the drive is highly dependent on where the mid controls are set, which my mid-leaning P agreed with easily when dialing up some Geezer Butler-inspired bark. The channel really started screaming when I pushed the gain up past 2 o'clock, which resulted in a fluid and aggressive grind similar to bi-amping a JCM800 with an SVT.

The Verdict
The Providence Brick Drive BDI-1 should be on the radar for any bassist who gravitates toward tones with a big and bold midrange—especially if those tones are of the filthier variety. The amount of control over the pedal's low end could use a little tweaking, but the overall degree of ease involved when dialing in tones can't be overstated. I spent less time toe tapping and more time getting lost in exploring the sounds it has to offer. Simply said, the BDI-1 is a solid pedal that does what it says it does without making things harder than they have to be.