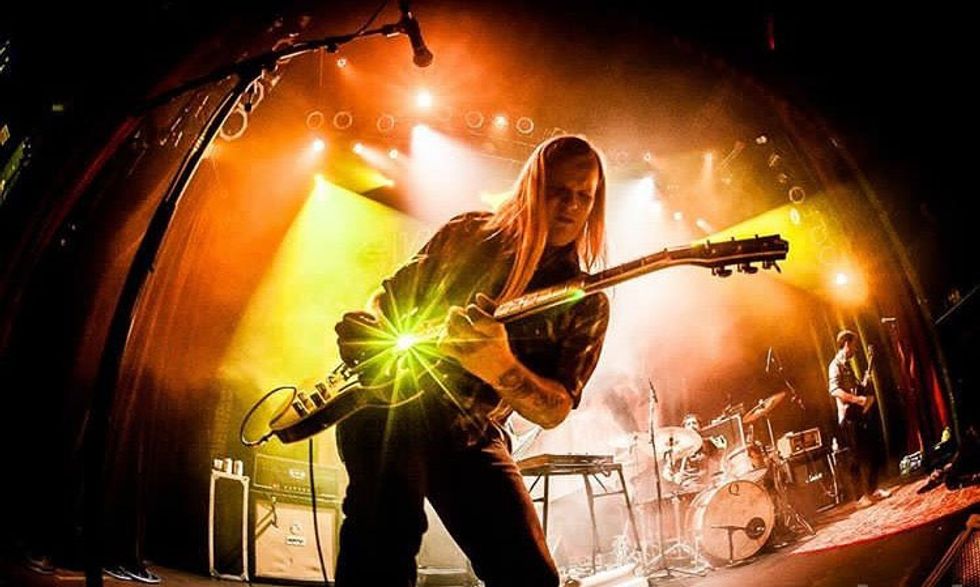 Among the Sword guitarist Kyle Shutt's missions for his Doom Side of the Moon album and band was making a more sinister version of the Pink Floyd classic.
When it comes to covering classic material, few albums would seem as daunting as Pink Floyd's The Dark Side of the Moon. Since Dark Side dropped in 1973, its songs, lyrics, arrangements, and production have stood among rock's signature achievements. All music can be reinterpreted, but when the recording is as familiar as the songs themselves, you've got two choices: redo the original—ah, really?—or create a new interpretation in your own style.
That was the challenge facing Kyle Shutt, longtime guitarist and co-songwriter in the Austin-based metal band the Sword, when he decided to tackle Pink Floyd's most iconic album. The result, Doom Side of the Moon, manages to find a balance between Dark Side's familiar mileposts and Shutt's well-honed, toothy style.
After enlisting bandmates Bryan Richie (bass) and Santiago "Jimmy" Vela III (drums), he filled out the lineup with saxophonist Jason Frey, keyboardist Joe Cornetti, and singer Alex Marrero and set to work. "I knew I wasn't gonna make this album better than the original—it's one of the best albums ever recorded," Shutt explained when we caught up with him this summer. "I wanted to approach it with reverence, but also make it fun."

Fun, but not irreverent. From the opening of "Speak to Me" to the coda of "Eclipse," Shutt and company power Floyd's magnum opus with the high-torque engine that's carried the Sword for a decade and a half, taking Dark Side into new territory without losing the album's essence.
What made you decide to do a metal version of The Dark Side of the Moon?
I had a bunch of songs written that obviously weren't Sword songs. It's like a totally different style. Although for us, [the Sword's 2015 album] High Country was continuing in the direction we've always been in, but some people thought it was a sharp left turn. After that, me coming out with my country-punk Replacements-sounding solo album might not be received that well. I was joking with a friend: "A solo album—no one's gonna want to hear that. We should just do Pink Floyd!" The title came from everything being called "doom" these days. And if you wanna get real nerdy about it, doom is a very specific sub-genre of an already underground kind of music, so it was just like a joke: "We should make a Pink Floyd cover band called Doom Side of the Moon! Everyone will fuckin' love it! And right when I said that, I flashed, and I thought, "That's a good idea!"
"Gilmour's a tough one. His playing sounds effortless. It doesn't necessarily look that impressive, but when you really break it down, that guy can emote more on a single note than most people can in a whole song."
I started hunting around on the internet and the only versions of The Dark Side of the Moon are serious departures from the original. I love the Dub Side of the Moon by Easy Star All-Stars. There are others—I won't name names, but they're pretty terrible. But I was like, "Why don't I do a fuckin' nasty version of this album—treat it super abrasive and get real heavy metal with it?" As deep as the subject matter is lyrically, a lot of [Floyd's] music is powerful but not necessarily evil—to my ears anyway. I wanted to make a more sinister version.
The Dark Side of the Moon's production is as famous as the songs themselves. How did you capture that vibe without copying it?
When you make an album, you have a whole list of categories—guitar, vocal, drums—and you check each one off as you go along. I wanted to make sure there was a noise category. I took the noisemaking as seriously as the guitars and vocals. I didn't wanna be just like, "Oh, I'll do that, too." [Beavis and Butt-Head laugh.] There was a metal shop next to the studio and this dude was in there all day long just banging away with different machines. There was all this crazy noise coming from there. So I was like, "Hey man, can we record all that?" A lot of the sounds on the album are his machines that I just looped over and over.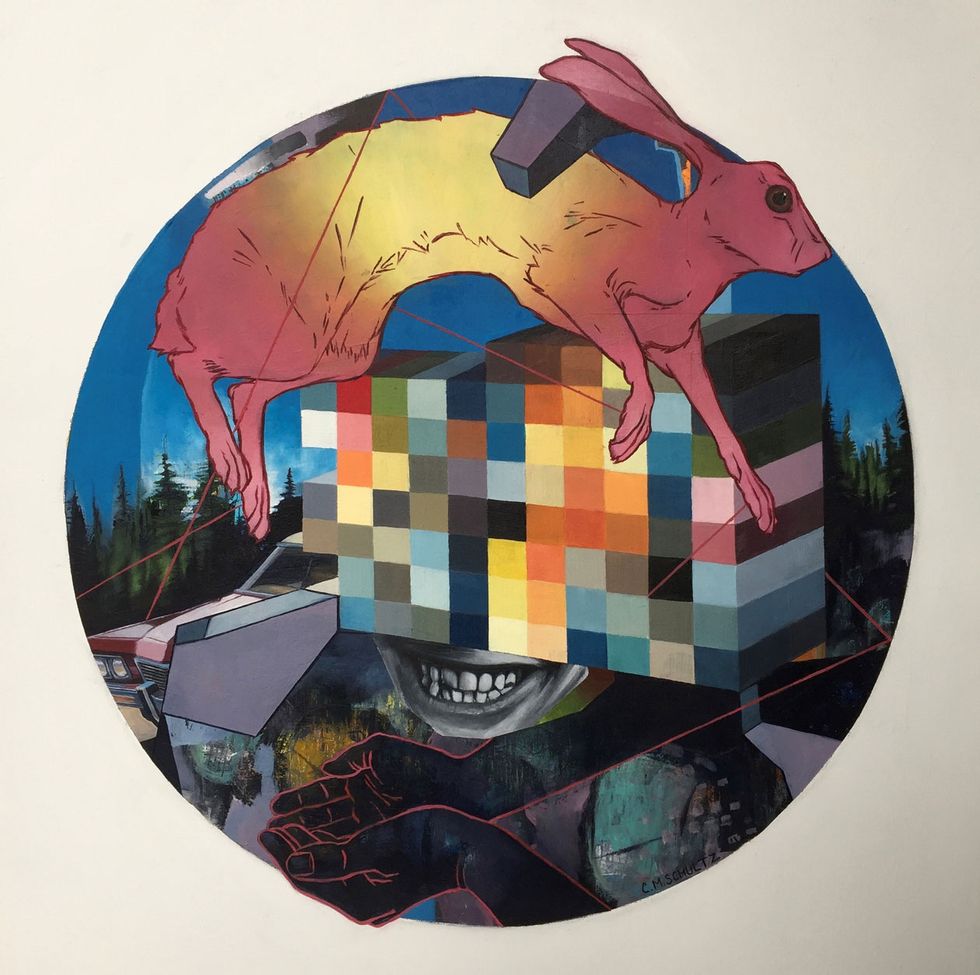 Doom Side of the Moon covers The Dark Side of the Moon cut-by-cut, in order, but spikes it up with gnarly guitar tones and metal-inspired arrangements.
How did you pick the players?
Brian and Jimmy were a shoo-in: We jam together anyway. That's how we work on Sword songs. Joe Cornetti is a local [Austin, Texas] keyboard player. He's kind of unknown but he's one of the best in town. I needed a sax player, but didn't know if anyone could bring the kind of attitude I wanted. Our engineer, Stuart Sikes, suggested Jason Frey. He was a complete stranger but we really struck up an awesome friendship. That was one of many signs that told me I was on the right path. I'm a firm believer in that kind of thing.
I was expecting more aggressive vocals, but the singing is as melodic here as on the original.
That's Alex Marrero, the singer from Brown Sabbath. I knew he would have some trepidation about being in a different cover project, but I was like, "Dude, trust me, this is gonna be awesome! I'm gonna throw a laser show!"
Did you learn all the songs before you got with the rest of the band?
I was going to take a week to learn the whole album note for note before I started messing with it. I did it all in a day-and-a-half. I was shocked by how simple it is.
---
---