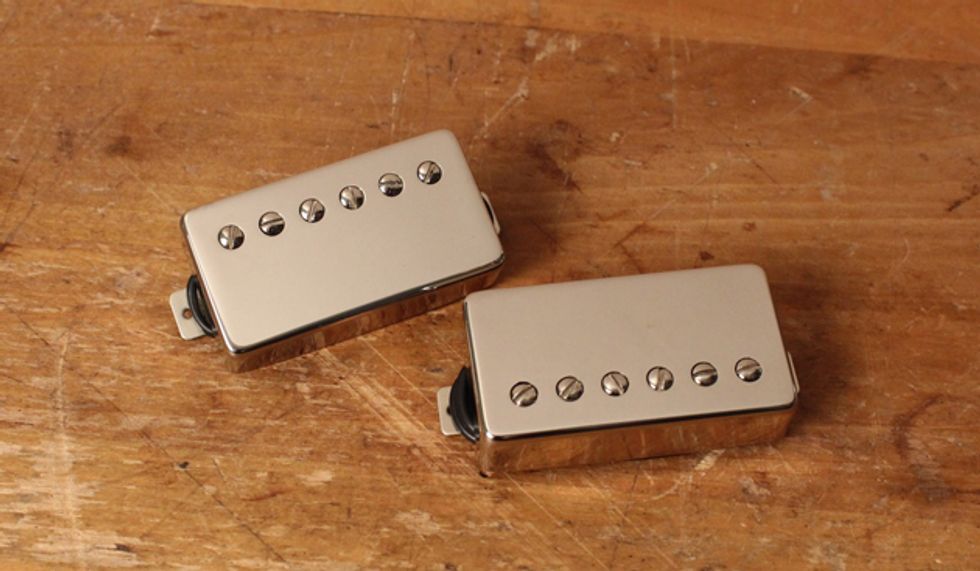 Poulsbo, WA (February 8, 2018) -- World renowned guitar and pickup manufacturer Tom "TV" Jones is excited to announce the launch of the TV Jones Starwood Humbucker. After decades of dominating the Filter'tron market, this is the first time the 25-year-old company has made a PAF-style humbucker for full-scale stock production.
"Over the last 40 years I have played many classic guitars with PAF humbuckers and some were very special. These guitars left a heavy impression on me...there are many fine companies that have carbon copied the original PAF Humbucker, but I have found there is much more to it than that. I invite you to experience this feeling with the TV Jones Starwood Humbucker," said Jones.
The Starwood Humbucker is built somewhat like a traditional PAF-style humbucker but utilizes some unique properties to create distinct characteristics like proprietary sized steel pole screws, slugs, and magnet keepers.
"I find it important to offer musical pickups rather than just creating 'vintage, period correct' ones. The Starwood Humbuckers are an embodiment of my favorite PAF characteristics. Articulation, clarity, and punchiness," said Jones.
The TV Jones Starwood Humbucker will be available in Chrome, Nickel, and Gold with aged/relic options. It will also be available without a cover in Zebra (black & cream), and Double Black. As with every other TV Jones pickup, the Starwood Humbuckers are handcrafted in the USA.
Technical Specifications
Bridge DCR: 8.3k
Bridge Inductance: 5.06 @ 1k Hz
Neck DCR: 7.0k
Neck Inductance: 3.69h @ 1k Hz
Price: ​$140 each with No Cover (Zebra or Double Black) +$10 Chrome/Nickel cover | +$5 for Gold cover | +$10 for Relic/Aged | +5 for 4-con wire
For more information:
TV Jones