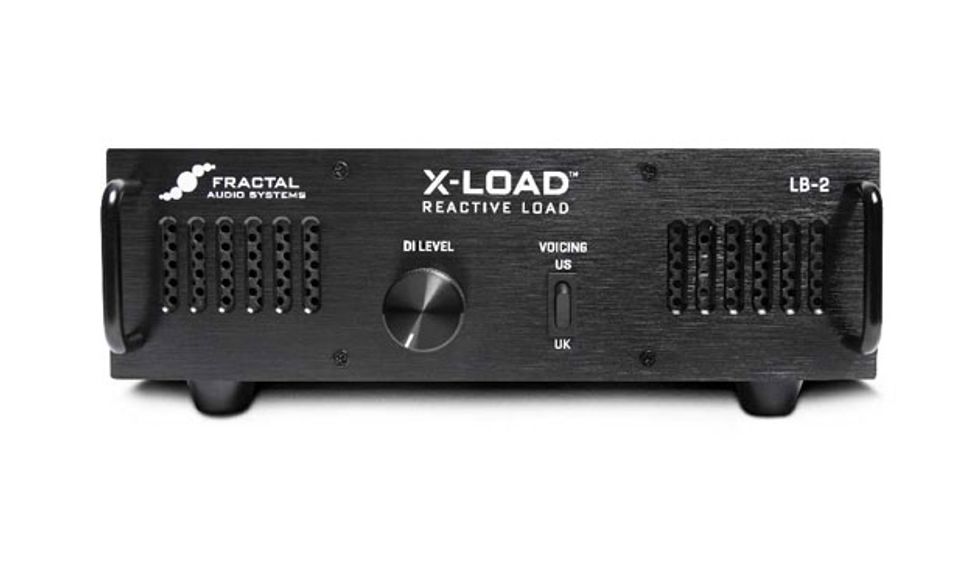 Plaistow, NH (March 2, 2018) -- Fractal Audio Systems is pleased to announce the X-Load LB-2 Reactive Load Box. Designed for the discerning guitarist the LB-2 is a high-quality reactive load for use with guitar amplifiers up to 100 watts. Fractal President/CEO said about the new product, "The X-Load LB-2 represents my take on the perfect speaker impedance emulator. I've tried many products and none have really matched the impedance curve of a classic guitar speaker. So, I decided to design one that does."
Fractal Audio is best known for its hugely successful line of digital guitar processors, including the Axe-Fx, AX8, and FX8, but like the company's recent EV series of volume/expression pedals, the X-Load LB-2 represents Fractal Audio in the world of totally analog products. Like other load boxes, the X-Load LB-2 converts the high-power speaker output of a tube amp into a line-level DI signal for processing and/or recording. Unlike other load boxes, the LB-2 uses Fractal Audio's proprietary technology to simulate the complex and dynamic way that a real guitar speaker interacts with an amp. Dynamic Impedance Technology responds to power levels while you play, resulting in unprecedented realism that other reactive load devices cannot match.
Output capabilities are versatile and many classic workflows are supported. The signal path begins with an 8-Ohm amp input which accepts up to 100 watts of power. For outputs, the LB-2 provides both balanced XLR and unbalanced 1/4" line-level jacks, plus a speaker thru for connecting an external speaker cabinet while using the DI outs. This allows natural feedback and sustain. The unit's DI output can then be run into a wide range of sophisticated speaker tone simulations like those in the Fractal Audio Axe-Fx, AX8, Cab-Lab plugin, or 3rd-party products.
The front panel of the LB-2 provides a DI Level knob and a Voicing switch which enables different responses-as if your amp were connected to your choice of iconic US or UK speakers. The unit is built with Fractal Audio's signature high quality standards, and ready for years of reliable use, whether in the studio or on stage.
The X-LOAD LB-2 Reactive Load Box is priced at $399.99 and available now from Fractal Audio Systems online store at https://shop.fractalaudio.com or through the network of international dealers listed on the Fractal Audio web site.
For more information:
Fractal Audio Systems