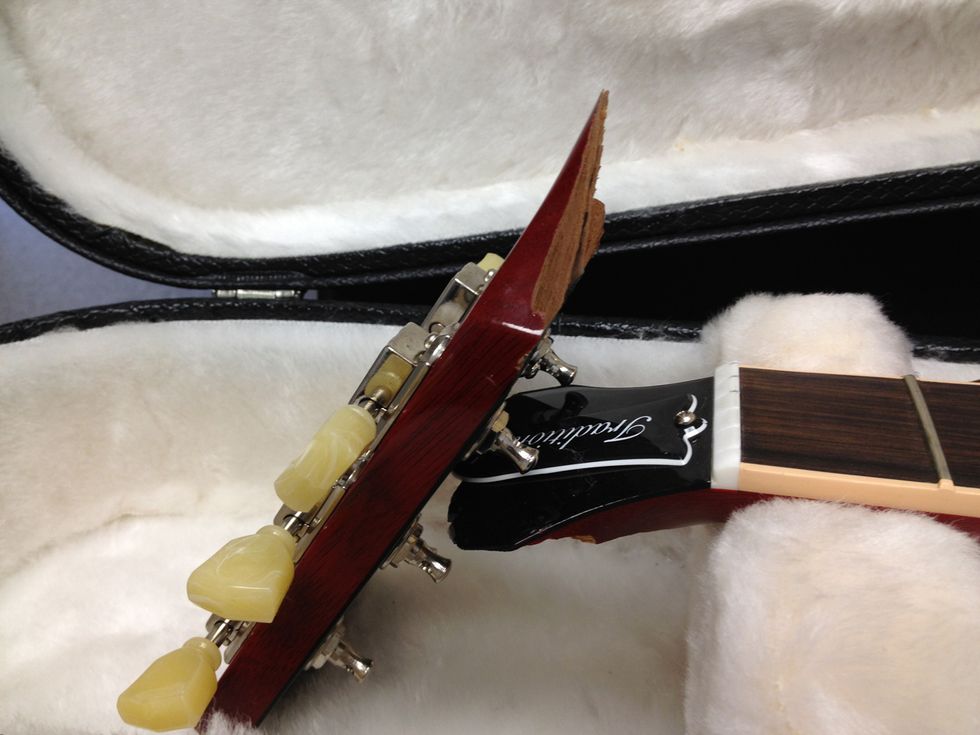 Oh oh! Even in a hardshell case, your beloved axe can suffer extreme damage if it's treated carelessly.
Keeping It Close
Given these stories, it's no surprise that so many guitarists prefer to carry their guitars with them. Parker continues to bring his guitar as a carry-on in a gig bag, preferring to play the odds that he'll be able to keep his instrument with him under his own watch. "It's much more comforting to have it with me and not have to worry about it," he says. "Ninety-eight percent of the time it fits on the plane and there's no reason for them to not let you carry it."
After too many close calls with his guitar being lost or damaged, Hufnagel switched from using a gig bag to a flight case, but is still persistent about bringing his guitar as a carry-on, since his case is form-fitting and still able to fit in overhead bins—a strategy he recommends. "If it's shaped for your guitar so it isn't any larger than it needs to be, at least if you have to check it, it's hopefully not going to get broken and they are easier to fit in the overhead." Peace of mind goes a long way for Hufnagel, and he's willing to go the distance to bring his guitar onto the flight. "I never voluntarily check it unless they give me a big stink. Even if they put a gate checking tag on, I'll still walk right past and get right on the plane with it. There's never a problem. The flight attendants are always super helpful. It's normally just the baggage claim people that aren't."
Here in the U.S., the Federal Aviation Administration understands that musicians want to carry their instruments onboard and in 2015 created guidelines for all airlines that says instruments must be allowed onboard if there is space in the overhead bins. The U.S. Department of Transportation has even created a website featuring information about this rule, as well as tips and resources to help musicians traveling with their instruments.
The rule states: "An air carrier providing air transportation shall permit a passenger to carry a violin, guitar, or other musical instrument in the aircraft cabin, without charging the passenger a fee in addition to any standard fee that carrier may require for comparable carry-on baggage, if (A) the instrument can be stowed safely in a suitable baggage compartment in the aircraft cabin or under a passenger seat, in accordance with the requirements for carriage of carry-on baggage or cargo established by the Administrator; and (B) there is space for such stowage at the time the passenger boards the aircraft."
The guitarists PG spoke with were unanimous in their agreement that the FAA rule has improved the experience of flying with a guitar within the U.S. However, since the rule specifies that there must be room on the flight for the guitar, it is very important that guitarists show up to the gate as early as possible. Some airlines will allow passengers to pay for advance boarding, which can essentially guarantee there will be room, but on others, guitarists just have to find their way to the front of the line.
International Plans
Outside of the U.S., musicians still have to navigate airline policies that can be difficult and confusing to understand, and are often simply unclear. There are no international rules in place to regulate the way airlines handle instruments, so guitarists often risk the safety of their guitars as they travel.
Mary Halvorson, who tours heavily in Europe, reflected on this confusion and ambiguity: "Even within the same airline, one employee could tell you 'yes' and one could tell you 'no.' One person could really try to help you and another person could try and make you not get on the flight. They can be nice if they want to."
"Let's get down to what really happens: I put it on the plane and I say a little prayer and I just hope for the best because you never, ever, ever, ever know what is going to happen." —Kaki King
In addition to this confusion, there is also the reality that sometimes guitars just don't fit. Often, when traveling on short flights using small planes, the overhead bins are simply not large enough for a guitar and there might not be a closet available. In those cases, there is no argument to be made and a guitar must be checked.
Halvorson tired of putting her guitar at risk in a gig bag and recently commissioned a custom guitar. Her new instrument, built by luthier Flip Scipio, features a neck that is quickly removable and packs up into a case that is the size and shape of regular luggage. "I saw a lot of bass players traveling with neck-off basses and I thought, 'Why can't I do that with a guitar?' Some guitars do it, but it's not nearly as common as basses. Since I have it in this custom-built hardshell suitcase, I just check it as a regular bag." For Halvorson, this has helped her make sure her guitar is safely packed, and she believes it also avoids loss. "I feel like often when instruments get lost, it's because you've had to check it as oversized and people get confused."
Stress Relief
In addition to increasing her instrument's security, Halvorson's new system has improved her travel experience. "It's been great," she says. "I've taken it on probably a hundred flights. I love the guitar and I love playing it, and my stress levels have been reduced with this new system."
While she has many strategies of her own to offer, Kaki King realizes that luck is a big part of the game. "Let's get down to what really happens: I put it on the plane and I say a little prayer and I just hope for the best because you never, ever, ever, ever know what is going to happen," she says.
Despite her past troubles, King strongly advocates that taking measures to maintain a positive attitude and stave off travel anxiety is the best strategy guitarists can take. "I think anxiety reduction is just as important as potential damage reduction," she offers. "The anxiety around flying is so much worse than the reality of flying with an instrument. Ninety-nine percent of instruments don't get destroyed. [Airlines are] used to it. They're not complete nincompoops the entire time. So I would just say, try to have a little less fear around it. I've been traveling 15 years and I've only had one guitar get lost on the day of the show. Nothing ever gets lost; it just takes a while to find it. It's misplaced. Or they know where it is and it's just not where you are. So, it's not like it's going to be gone forever."
Given that every guitarist PG spoke with had bad flight stories to share, there are obviously improvements that can be made. Parker believes they need to happen on a fundamental level. "They should just respect the fact that instruments are fragile and, for professional musicians, it's their livelihood. Musicians should have priority taking their instruments on planes."
Davies echoes that thought. "It's not just lumber bloody wood. These are crafted guitars and each one is different. They're very personal things. I don't think they understand what's at stake for musicians. Working musicians can't always afford to go business class or first class or buy their own air flight. You've got to cut 'em some slack. We're not talking about huge pieces of equipment. These guitars fit quite snugly in the overhead."
Halvorson hopes that airlines would continue to work toward a clear set of guidelines to make this process easier. "For me, it would be much better if there was just a clear policy across the board for all airlines, all flights," she observes. "Even if the policy was 'no,' the worst part is not knowing and the anxiety of what might happen. It could be improved by any kind of clear information. It would at least be definitive, one way or the other."