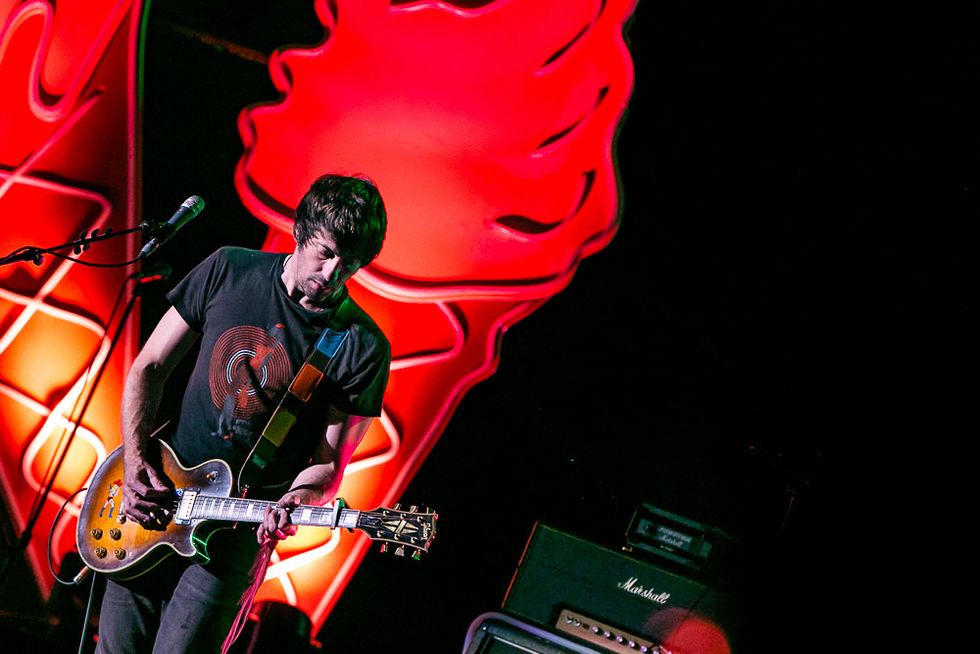 Coxon's '80 Les Paul Custom dates back to Blur's earliest LPs. So do his 100-watt Marshall 1959SLP Super Leads. Here he's got the Gibson capoed up at the Hollywood Bowl for "There's No Other Way," the band's first U.K. smash.
Photo by Debi Del Grande
At the apex of Blur's mid-'90s superstardom, a casual listener could be forgiven for failing to hear Graham Coxon's guitar brilliance. Songs from Parklife and The Great Escape—records that virtually defined the cultural earthquake called Britpop—were so overflowing with hooks, brass, bubbling synths, radical song-to-song stylistic shifts, and Damon Albarn's characters writ in boldface that Coxon's fretwork could seem relegated to the sidelines.
But for those who listened deeper and looked beyond the mania surrounding Blur at the time, Coxon's hit-and-run shards of chord deconstruction, Fripp-fired leads, and impeccable sense of rhythm and timing were nuggets of pure musical treasure.
Like '60s British players who assimilated American blues and international influences to brew their own pot of gumbo, Coxon wed his love for unbridled American iconoclasts like Sonic Youth, Dinosaur Jr., and Yo La Tengo to a foundation built on the Smiths and U.K. indie, Canterbury prog, free jazz, krautrock, the Kinks, the Fall, and My Bloody Valentine. And his ability to channel those divergent influences via a vivid musical imagination and raw, instinctive virtuosity made Coxon a potent, protean, and artful guitarist in a British scene that could be pathologically regressive.
To fans who stayed on or joined anew for the post-Britpop LPs Blur and 13, or caught the band live, Coxon's skills became profoundly apparent. His restless sense of experimentalism blossomed and thrived on Blur and 13, as Albarn warmed to Coxon's American indie fascinations and the band embraced shared affections for dub, electronica, African pop, hip-hop, and folk. Blur's live shows, meanwhile, revealed that Coxon could move from Gilmour-scale grandeur to hardcore punk thuggery and unhinged sound sculpture—sometimes in a single song.
"A lot of that freedom in the playing comes from art school. The guitar is my favorite paintbrush."
Like Nirvana a few years before them, Blur brought indie aesthetics and ideals to the masses, often with uncomfortable and unintended consequences. Yet for all the discord Blur's success stoked within the band (and among boyhood friends Coxon and Albarn, in particular), it led to fruitful creative tensions. Indeed, the sound of Coxon bursting at the seams—alternatingly weaving chaos, squall, and filigreed beauty around Albarn's pop ideas—became the backbone of much of Blur's most vital and enduring work.
By 2003, the white-hot energy that drove Blur consumed them. Coxon became a prolific solo artist, turning out eight superb albums (on which he typically played every instrument and part) that traded in lo-fi art punk, dynamite power pop, and fleet-fingered acoustic Albion folk. Albarn, meanwhile, took the post-modern fusion concepts hatched on 13 and ran as the multimedia phenomenon Gorillaz.
A 2009 reconciliation between Coxon and Albarn found Blur risen from the ashes. But as any viewing of that year's shows at Glastonbury or Hyde Park reveals, the reunion was hardly casual opportunism. Coxon was on fire. So were Albarn and the rest of the band. And the momentum born from the reunion carried through a 2012 London Olympics-closing show at Hyde Park and 2015's The Magic Whip—an album Coxon shepherded to completion using jams from a spontaneous but incomplete 2013 Hong Kong recording session.
More recently Coxon retreated to his attic studio to concoct the soundtrack to the Netflix series The End of the F***ing World. And while the inherent constraints of a soundtrack meant that Coxon couldn't always indulge his most spontaneous and radical urges, it is full of unexpected, genre-hopping turns that attest to his wildly eclectic influences, multi-instrumental virtuosity, and voracious love of music and visual art. There may be flashier guitarists, or more conventionally masterful ones. But few players in pop history can match the resourcefulness, imagination, and irreverent vision of Graham Coxon.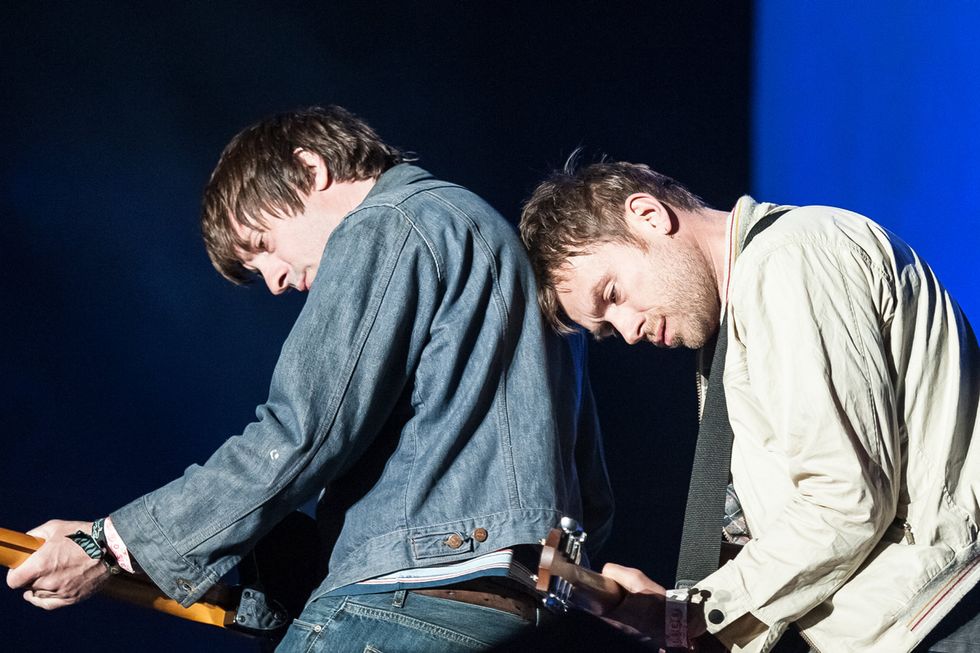 Coxon and Damon Albarn began playing together as schoolboys in Essex, England. The telepathy, brotherly affection, and creative tension between them is a cornerstone of Blur's most vital and enduring work. Photo by Lindsay Best
Impressively for a soundtrack that has so many textures, you scored The End of the F***ing World music by yourself in your home studio. How did you approach the prospect of a blank slate every day?
Well, it's so much easier these days to record in your spare room. I've got a house now where I knocked everything out in the attic, and I've just been collecting things over the years. I started out buying Logic and got a little Focusrite two-input desktop interface. I learned Logic and did a song for a movie called The Riot Club with that setup. Before then I'd never worked with digital audio workstations, I just demoed things in other ways. But I watched a bunch of YouTube, figured out whose advice I should be listening to, and just got a couple of key pieces of gear.
Now I have quite a few channels to work with. I have some odd consoles—a strange old Glensound BBC console, an old Trident Fleximix, a few BAE 1073 Neve-style things, some nice API lunchbox EQs, and a lovely Chandler germanium compressor. So I just got a few bits that I can really do stuff with, and it's surprising how easy it is to make voices and guitars sound the way they should sound working in the attic. I can't really do drums too loud, so there's a combination of drums and heavily tweaked Logic drums on the soundtrack. But it's pretty amazing what you can achieve in your spare room, just out of bed. You can play when the inspiration is there and come up with fairly interesting stuff when you're half asleep. I love it.
---
---