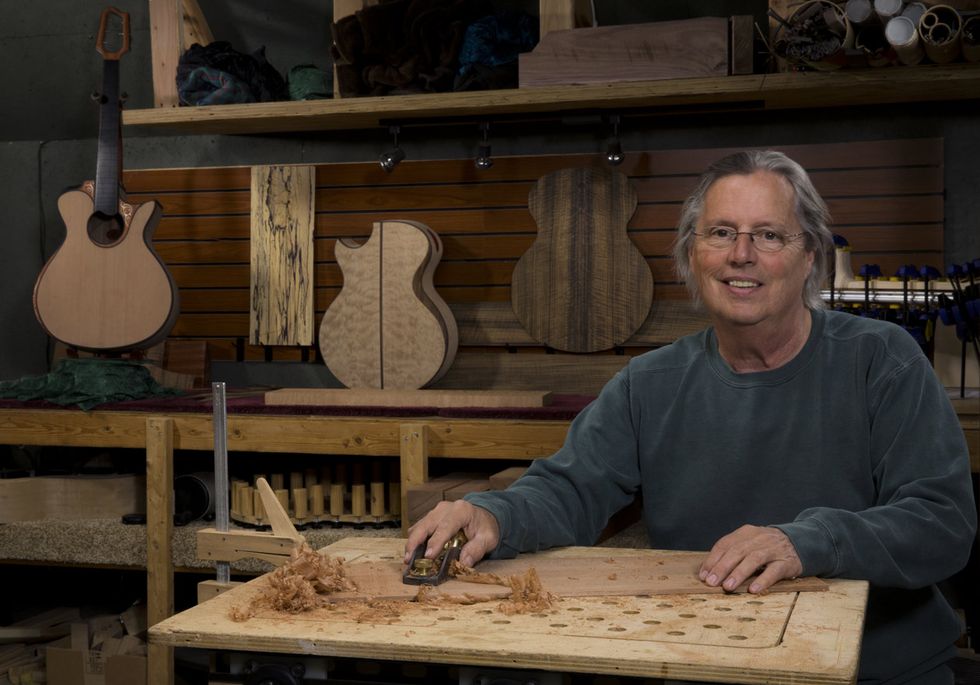 "I'm not anti-science—I will certainly use that to inform me," says luthier Mark Hatcher, "but the best guitars are made by artists. They're not made by engineers."
---
Hatcher Guitars | Peterborough, New Hampshire
---
New Hampshire builder Mark Hatcher relocated to the Granite State about five years ago from New Jersey. "New Hampshire is about the same size as New Jersey," he says. "But it has eight million less people in it. That held a certain attraction." One benefit was joining New England's guitar-building community. "New Hampshire has the Guild of New Hampshire Woodworkers and included in that is the Granite State Luthiers Guild. I am the leader of that. There are about 56 builders in our guild. Our members range from people learning to build a guitar to people who have been doing it since the '70s. This whole guild idea is a real New England thing and they didn't have that in New Jersey. We have a lot less people here, but a lot more resources. It's a big help and it's great to be with
your
people."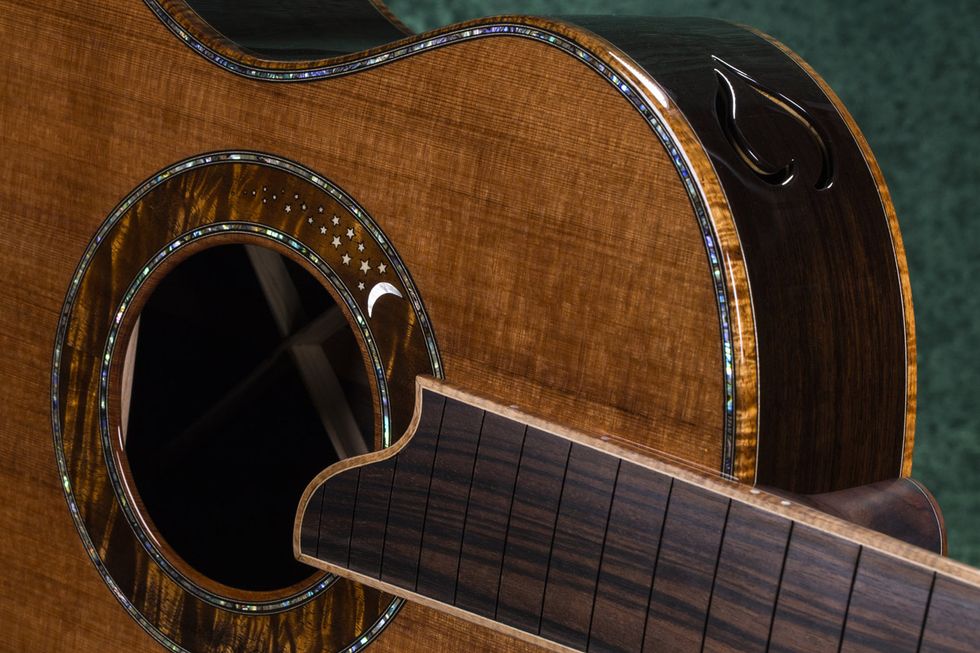 Hatcher calls this his lullaby guitar because he made it special for a dad in Seattle who wanted to sing lullabies to his preschool daughters. "I used my pillow headstock and it was my snuggest parlor guitar that he could sit with. I did moon and stars on the rosette and a little heart-shaped soundport. The whole thing was built around putting these kids to bed."
Hatcher was a woodworker—his business was building strip-built sea kayaks—before he started making guitars. "It just occurred to me that maybe I should try a guitar," he says about his initial inspiration. "I took two years making my first guitar out of the Cumpiano book [Guitarmaking: Tradition and Technology by William Cumpiano and Jonathan Natelson]. It didn't come out great, but I was hooked." His next steps were classes with Frank Finocchio, a former process engineer with Martin, and voicing lessons with West Coast builder Ervin Somogyi.
"This whole guild idea is a real New England thing and they didn't have that in New Jersey. We have a lot less people here, but a lot more resources. It's a big help and it's great to be with your people." —Mark Hatcher
But the thing that put Hatcher on the map was photography. "In a previous life, I had run a camera shop," he says. "I take better pictures than other builders do and that gave me a big leg up to get started. I posted build threads on Acoustic Guitar Forum and within a couple of months I had a two-year waiting list. That forum has really been the biggest part of my business. I've had other builders say, 'You're spending too much time with the camera. While I'm building guitars, you're taking pictures.' But I say that the camera to me is just another tool in the shop. Like every tool, you've got to master it. The camera is the one tool that keeps the other tools busy."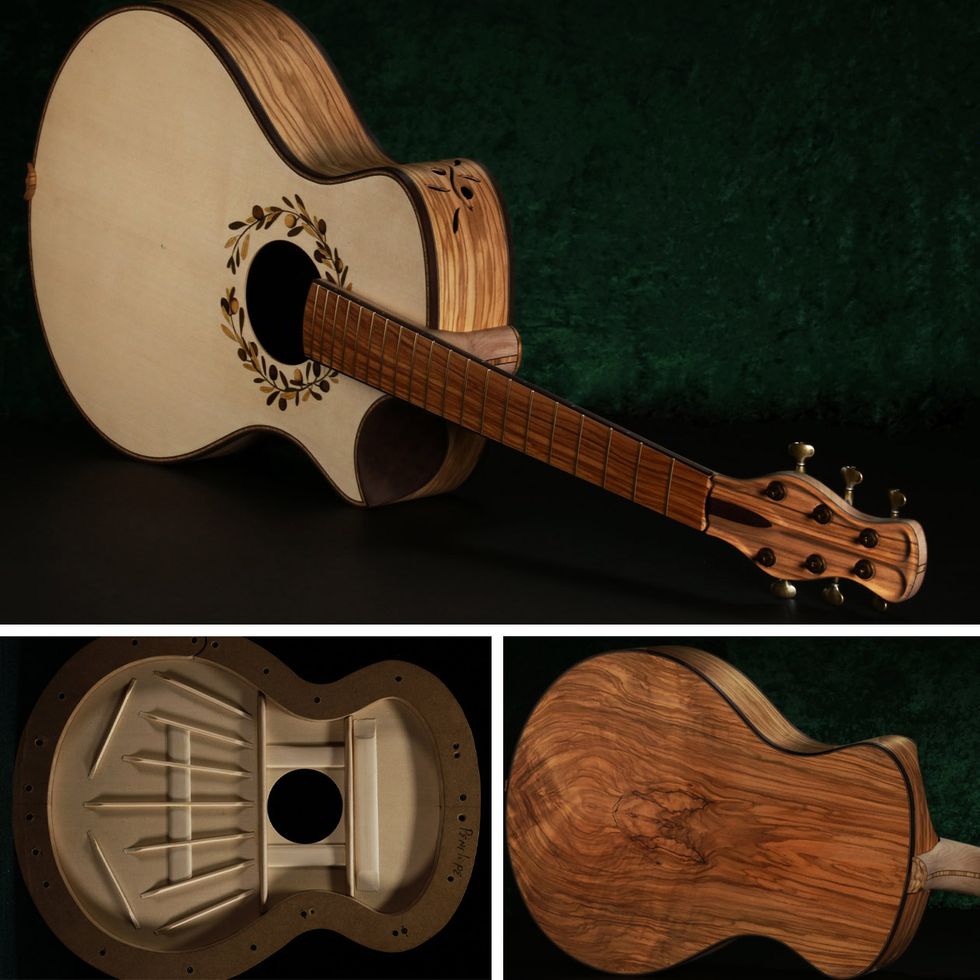 This guitar, Penelope, is an Italian olivewood guitar from Mark Hatcher's Unlimited Series. "Its design is inspired by Venetian architectural decoration," he says.
Hatcher's instruments take about four months to build. He starts a new one each month and averages about 12 guitars a year. He has five basic models, but those are just points of departure. "My philosophy of building is that I'm much more into the idea of a guitar as an art form, not an engineering form," he says. "I'm not anti-science—I will certainly use that to inform me—but the best guitars are made by artists. They're not made by engineers."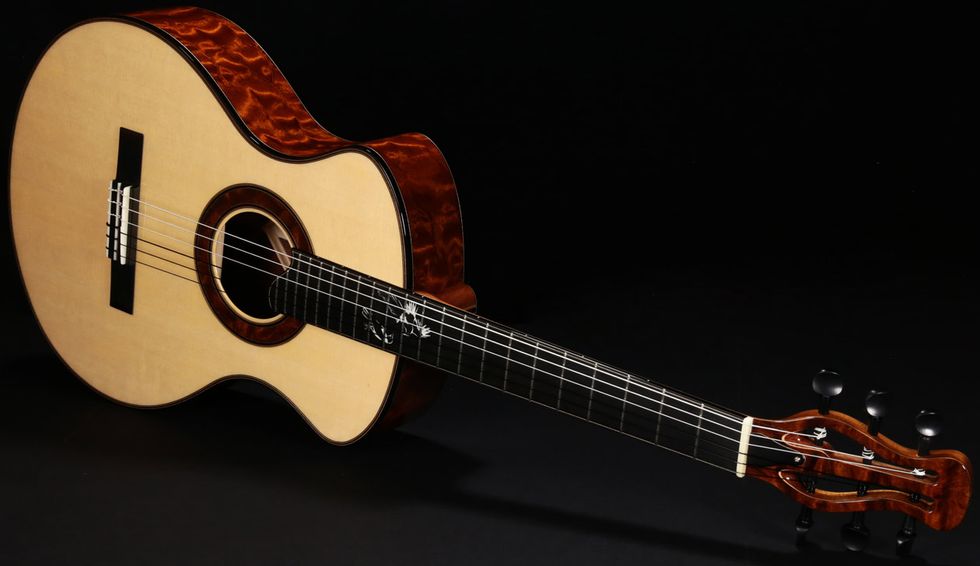 This is a memorial guitar built on the theme of the poem "One for Sorrow." It's called the Magpie and features
"The Tree" mahogany.
That artistic aesthetic informs his guitars' looks as well. "I spend a lot of time trying to tell a story with the guitar," he says. "A recent guitar I made was for a fellow in Seattle. He has two preschool daughters and he wanted a guitar to sing lullabies to them. We made a lullaby guitar and the whole thing was built around that. I used my pillow headstock and it was my snuggest parlor guitar that he could sit with. I did moon and stars on the rosette and a little heart-shaped soundport. The whole thing was built around putting these kids to bed. When it was done, they sent me a picture of the whole family to show me how happy they were with their new guitar. To me, that's great, that's as good as it gets."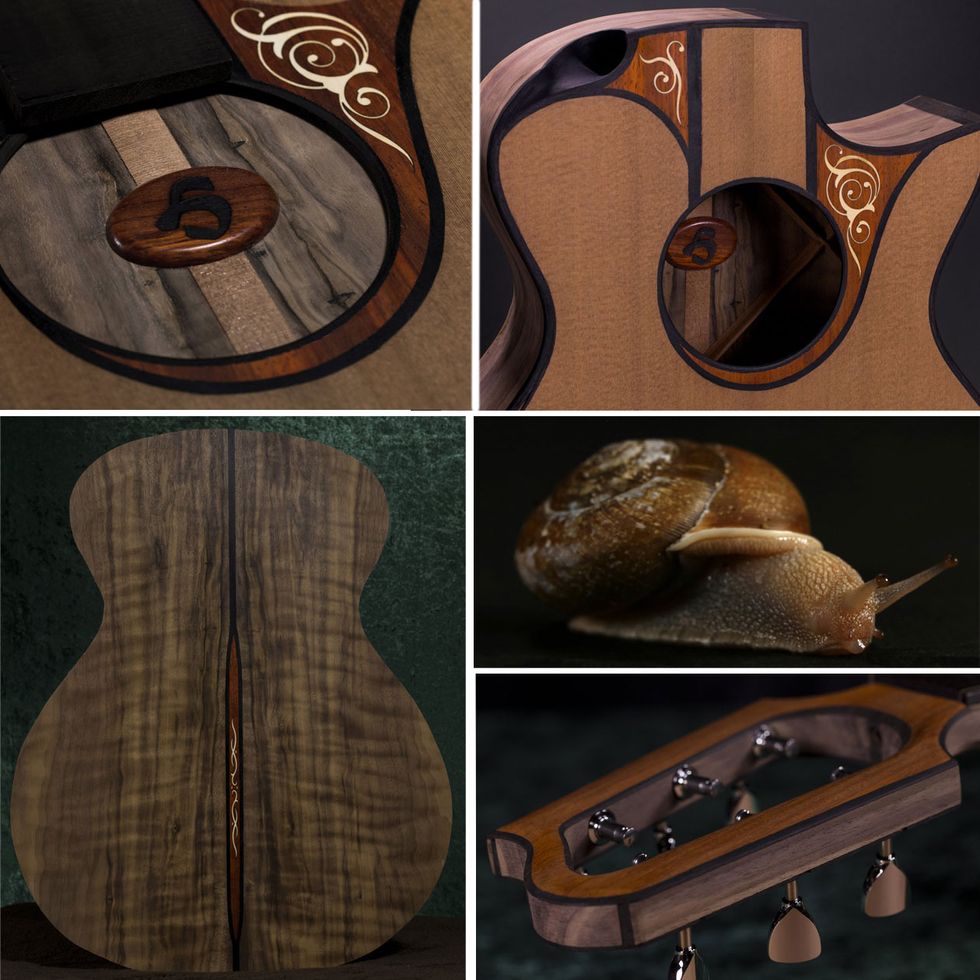 Hatcher is currently working on his next Unlimited Series Greta model. "It's inspired by a snail I met on the way into the shop one morning," he says. "It's a new design with a unique throated soundport system."
Hatcher also takes an organic approach to design evolution, which explains his resistance to templates and CNC (computer numerical control). "I really try to do everything not just by hand, but also without jigs," he says. "I find that once you make a jig or a CNC program, whatever it is you are making is now dead. It won't evolve and it won't change. But if you make them in your open hand, as years go by, without trying, they get better and better."