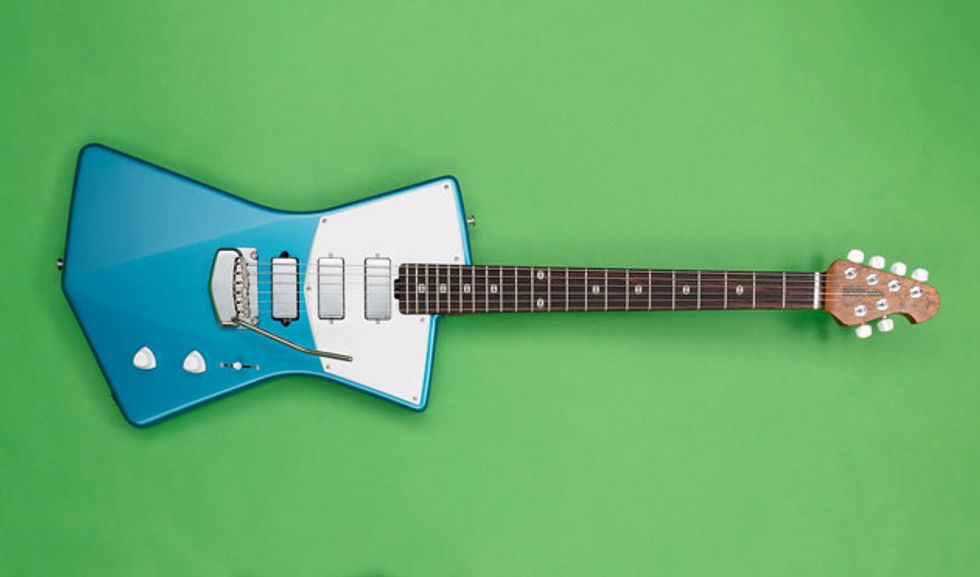 Los Angeles, CA (June 14, 2018) -- Grammy award-winning artist St. Vincent and Ernie Ball Music Man, premier manufacturer of musical instruments, have announced additions to their critically acclaimed line of St. Vincent Signature Guitars. The guitar was envisioned and designed by St. Vincent (Annie Clark) in collaboration with Ernie Ball CEO Sterling Ball and the award-winning engineering team at Ernie Ball Music Man.
New for 2018, the St. Vincent Signature Guitars now feature premium roasted maple necks with rosewood, ebony or maple fretboards and two pick up configurations, including three Dimarzio mini-humbuckers or the all-new custom-designed Ernie Ball Music Man dual humbucking pickups. Both feature a 5-way pickup selector for a unique offering of tonal options. Available in St. Vincent Blue (a color hand-mixed by Clark), Tobacco Burst, Polaris White and Stealth Black. New colors for 2018 include Charcoal Sparkle, Blue Dawn and Sea Breeze. American-made Ernie Ball Music Man models start at $2,199.00. Additionally, the Sterling By Music Man export model is available in St. Vincent Blue or Stealth Black from $599.99.
Ernie Ball Music Man is celebrating the 2018 St. Vincent Signature Guitar with the release of "Disruption By Design," a special short film that features never-before-seen footage from St. Vincent's recent Coachella rehearsal sessions, scenes shot at her private home studio, and sees her sharing the process behind the creation of the world of St Vincent, her new tour visuals, as well as the guitar she created to craft her latest album, Masseduction. Click HERE to watch.
Since its initial release, the innovatively designed guitar continues to draw rave reviews from critics and fans worldwide.
In a recent Rolling Stone cover story, fellow Grammy winner Jack White revealed that he added a St. Vincent Signature Model to his arsenal of guitars and used that guitar during his appearance on Saturday Night Live this past April.
In an interview with Vice News Tonight on HBO, Clark discussed the design process. "After the initial drawings and a lot of talk about pickups and wood and color and ergonomics, pretty much every week there would be a new prototype for me to check out," she said. "So we kept making adjustments and making sure that the balance felt right and that it was as comfortable to play sitting as it was standing up. It's a great player guitar. It's the only thing I play now."
Watch the company's video demo:

For more information:
Ernie Ball Music Man