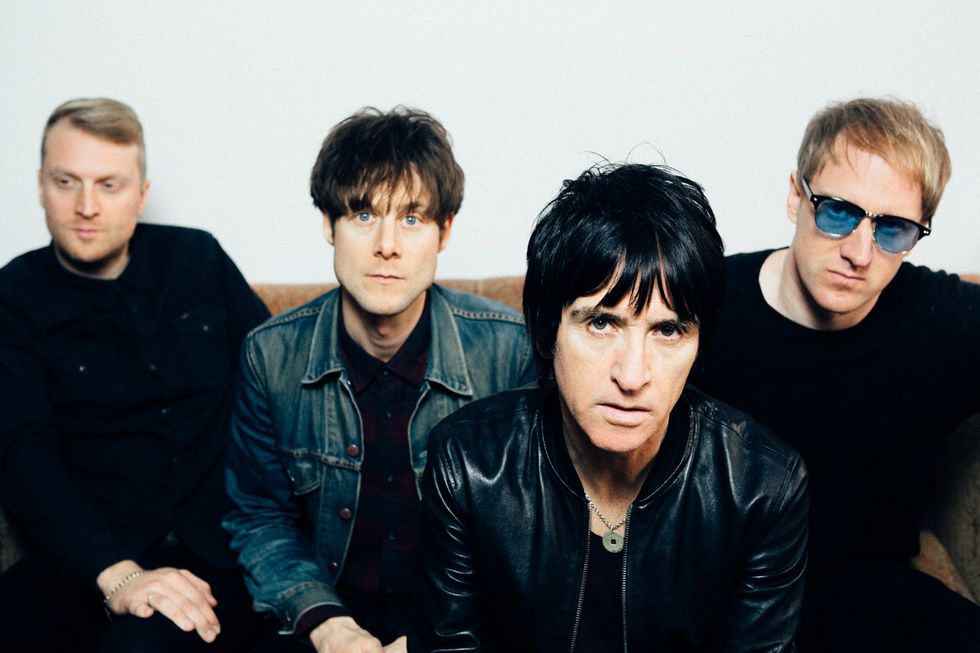 Johnny Marr's band includes, from left to right: Jack Mitchell (drums), Iwan Gronow (bass), Johnny Marr (guitar/vocals), and James Doviak (guitar). Photo by Niall Lea
Make no mistake. Johnny Marr is one of the defining guitarists of the 1980s. A true master of melody and economy, the former Smiths guitarist's stylish and understated—though never uninspired—playing has earned him a top spot on the short list of the most influential and singular musicians of his generation. However, there's far more to Marr's oeuvre than just the contributions he made as the key sonic architect of those cultishly beloved Smiths records.
Over the 31 years since the Smiths' demise, the Mancunian guitar hero's immediately recognizable playing has popped up in seemingly infinite and varied places, including substantial appearances on albums by the Talking Heads and Oasis, a tour with the Pretenders, and long-term stints as a member of English post-punk mavericks the The and American indie-rockers Modest Mouse. In recent years, Marr has even found himself scoring major Hollywood films like Inception and The Amazing Spider-Man 2 alongside industry titan Hans Zimmer. Amid all of it, the ever-restless Marr has somehow found the time to continue the process of redefining himself as a solo artist, and has just released his third solo LP, Call the Comet.
On the new album, Marr appears a confident and charismatic frontman and songwriter. He's never been one to deny his muse a trip to unexpected territory, and the album draws from a wide swath of the many facets that have developed within Marr's musical world over the years, ranging from the jangling melodic pop he's best known for to glam-rock barnstormers, electronic groovers, and a litany of other styles. Despite the eclectic nature of its songs, Call the Comet is a remarkably cohesive record that's brilliantly laced together by the man's incomparable pop sensibilities. His love affair with the guitar remains the true life force of the album. So much so that Call the Comet could serve well as a manifesto of sorts for Marr's guitar work. Rendered with chiming 12 strings, capo-choked altered tunings, and his hallmark ability to pen impossibly catchy guitar hooks, Call the Comet was tracked using many of the iconic vintage instruments fans will recognize from throughout Marr's career, including quite a few purchased directly from the Who's late bassist and avid guitar collector, John Entwistle.
PG was graciously granted an opportunity to pick the mind of the disarmingly friendly icon during a break while on tour. The passion Marr still harbors for the instrument is downright palpable, and the ensuing chat found us deep in the details of his fantastic new album, and yielded pearls of wisdom on everything from the man's general guitar philosophy, approach to collaboration, his late-career love affair with the Fender Jaguar, and yes—the Smiths.
Having lived so many different lives as a guitarist and songwriter, you remain not only wildly prolific, but focused on creating new things rather than subsiding on your legacy. Could you pinpoint what keeps you so inspired as a guitarist after all these years?
The thing that keeps me excited about it is the thing that always excited me about it! Some of that is mysterious and I'm not entirely able to analyze it, which I'm happy about and like that I can't really figure it out. I've just always honored my enthusiasm and love for the guitar and I've never let myself get a jaded attitude or really lost my original love for the thing that it does.
"I've remembered how much I like Les Paul as a guitarist, and if you listen to his sparser stuff, like his version of 'I'm Forever Blowing Bubbles,' it's really futuristic in the realest sense."
There are some things I can analyze objectively about the guitar—one of which is that I think it's an incredible machine for making pop and rock music on. That was something I identified as a teenager and that's never really left me. I know that guitars do a thing that literally only guitars can do—harmonically, sonically, etc. On a record, I like killer Moog sounds and interesting synth sounds or what a good piano can do, and really all the aspects of certain kinds of records, but I go out of my way to try and put some parts down and really make them work on the guitar, like, it's my duty, really.
It's been very interesting to see how well your playing style works in different contexts over the years. How would you say your identity as a player has evolved—especially with the varied projects you've taken on?
Thank you for saying so. If my identity has changed, it's only changed to the outside world. In my own mind, I've never had any restrictions as to what I could or would do. I've always wanted to explore everything on the guitar, perhaps with the exception of certain very particular styles. For example, growing up when I did, blues-rock was already kind of done, so that was something I went out of my way to avoid. The same with stuff like shredding. I'm not judgmental about anything, to each their own, but it can be good to know what you don't want to do. But really everything else was fair game. Like back in the old days, I couldn't wait to turn the tape around backwards and do reverse guitar stuff on Smiths records. Any technique that served the kind of music that I wanted to make was always fair game.
I think, and hope, variation has come into people's idea of me now, which is to say I'm not only about "This Charming Man" or jangling away on a Rickenbacker.
Johnny Marr says his third solo album, Call the Comet, is "mostly concerned with the idea of an alternative society." It was recorded with Marr's band at the Crazy Face Factory in his hometown of Manchester, England.
Your style is immediately recognizable. Do you have any advice for players looking to forge an identity in an age where it both feels like it's all been done, yet new tech and the number of possibilities it presents can be overwhelming?
The amount of possibilities is an interesting point to raise, because in today's culture, there really is option fatigue. The digital revolution across all the arts has made it so simple now to go down any road, and we all know how easy it is to pull down the plug-in and you've immediately gone from having a '60s keyboard sound to a full orchestra, and that can often mess with the identity and direction of music. It's not always the best thing to be able to have literally everything at your fingertips.
I come from a school of thinking where it's very important for a musician to have their own style—regardless of whether they were famous or not. It was part of learning and developing as a player to have your own thing. Sure, you have to learn from your heroes and different sources, but it was almost a given that your endgame was to try and be as much of an individual as possible. I do believe that if it's on someone's agenda to have their own sound and style, that awareness and intention is really important and will carry you through. I think it's terribly important to at least want to have your own individual style.
That said, you do have to learn from somebody and it's great to be inspired. I was inspired by all kinds of different players and records. The organ on Mott the Hoople's All the Young Dudes was a really big thing for me harmonically. Some of the backing vocals on the T. Rex records, too. I've done things like put a slide guitar through a wah-wah and harmonized it purely to get the same effect as Mark Volman and Howard Kaylan [aka Flo & Eddie] who sang on Marc Bolan's records. They had this very feline backing vocal sound that you hear on things like "Get It On" and "Metal Guru," and I've often done that on tracks. I think whatever you're influenced by is fine as long as you're passionate about it and you have the intention of being unique.
---
---