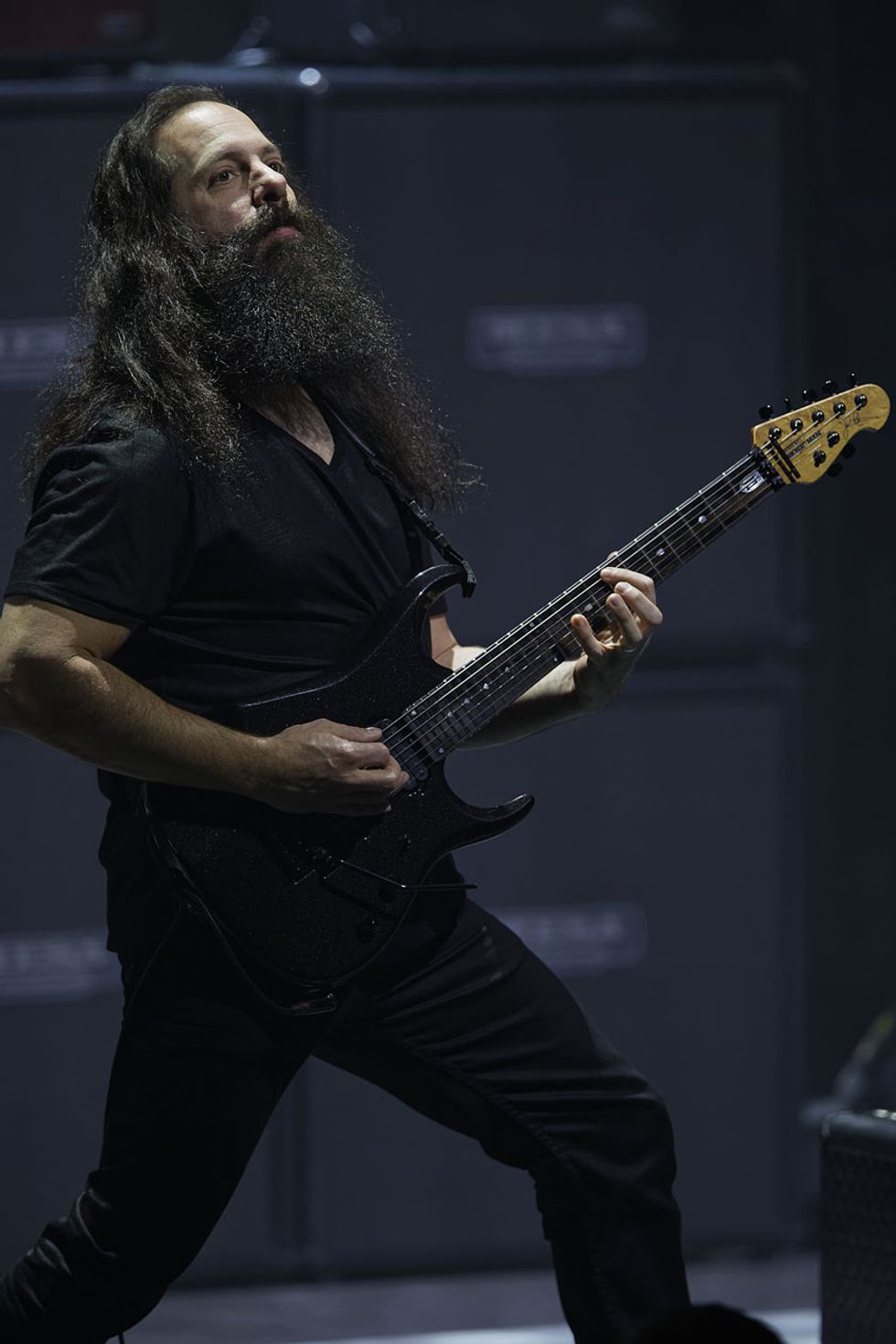 "Maybe it's this prog-metal technical presentation," says John Petrucci of Dream Theater's music, "but within that are all of the elements of songwriting we really pay close attention to. Without that, you really don't have anything. Just a bunch of notes." Photo by Ken Settle
Dream Theater is known for its relationships with instrument manufacturers. So is it safe to assume that the album was tracked with your Music Man signature guitars and Mesa Boogie JP-2C amps?
Petrucci: Yes. This whole record was my Mesa/Boogie signature. It's a dream come true for me. The Mark IIC+ was the holy grail Boogie that came out in the '80s. It's on Master of Puppets and everything. Then, finally, I convinced them to do a reissue and we made it into my signature head. So not only is it a bona fide reissue, but we modernized it as well. So, it does everything it could possibly need to do.
My guitars on the record are mostly the Majesty plugged straight into my JP-2C. And that's it. If I plugged my guitar into that amp, cranked it, and we looked at each other, like, "Holy shit, that tone is unbelievable," then it's the engineer's job to capture it. Put a mic on it and make it sound like that coming out of the monitors. And for the first time, we added a little bit of room mic.
You said you that you mostly used the Majesty. Were there any other guitars that you leaned on for specific parts?
Petrucci: Yeah. There's the Majesty 6-string and 7-string on the album. And for two songs— "Paralyzed" and the one ballad on the album, "Out of Reach," it's the baritone tuned to Bb.
"The song is the most important thing, at the end of the day. If the song isn't there—the meaning, the message, the melody, the drive, and the passion—if that's weak, there's no hiding it." —John Petrucci
In the past, you've relied on a 1x12 cabinet for a super-tight sound in the studio. Was that the approach you took on this album?
Petrucci: For this one, we all brought all of our live touring gear. I had my two Boogie Recto 4x12s cranking. Ask John, it was really loud. [Laughs.] We literally said, "All right, just mike this." That's the sound.
And then I use my signature Dunlop wah. I'm biased, but the best one they've ever made is my JP95. And obviously, I've had the relationship with TC Electronic for a long time and I used my signature Dreamscape pedal. Another cool thing we used a lot is TC's 2290-DT plug-in with the desktop controller. The 2290 was always a staple in all of my rigs, all my big refrigerator racks. And the plug-ins really sound true and authentic. So we ended up getting Ben Grosse one, and he used it on the mix. Whenever you hear a chorus and a guitar, that's what it is.

Guitars
Ernie Ball Music Man Majesty
Ernie Ball Music Man Majesty 7-string
Ernie Ball Music Man Majesty Baritone BFR
Taylor V-Class acoustic
Custom Gypsy-jazz acoustic
Amps
Mesa/Boogie JP-2C 60/100-watt head
Mesa/Boogie Rectifier 4x12 with Celestion Vintage 30s
Effects
Dunlop JP95 Cry Baby wah
TC Electronic Dreamscape multi-effects pedal
TC Electronic TC2290-DT desktop-controlled plug-in
Strings and Picks
Dunlop Flow 2 mm
Ernie Ball RPS Slinky .010–.046 (6-string)
Ernie Ball RPS Slinky .010–.056 (7-string)

Acoustic guitar plays an unheralded role in Dream Theater, yet it has always been an important part of your sound. What acoustics do you track with?
Petrucci: I played a new Taylor acoustic they sent me with their new V-bracing system. And for the first time, on "Fall into the Light," there's an acoustic break that I doubled with a Gypsy-jazz guitar made by a German luthier.
Progressive rock, and especially progressive metal, rarely finds its way into the mainstream, yet it remains a vibrant scene. Why do you think that is?
Petrucci: That's funny because it wasn't always like that. When we started, the only band we'd get compared to was Rush. But fast forward, now there is a prog-metal scene. It's adventurous. It's fun. It's challenging. There's this sense of pushing yourself. And it's a bit rebellious, as well. There's a little bit of pride about being able to play a certain way and come up with wacky stuff that makes people smile and pull up their seats.
You listen to Animals as Leaders, and it's like, "What the hell is he doing there?" And with my nephew, Jake [Bowen], and his band Periphery, it's developing into a scene with a lot of different offshoots. Who knows how far it can go? People are just taking it in all different directions and there are no rules or limitations.
"Progressive" also serves as a great description of the Dream Theater legacy. Every album and every tour has been another step forward. So what's left for Dream Theater to accomplish?
Myung: Well, I think the greatest thing about music is that it's infinite. We're all older now, and I think we're at a point where the best stuff is yet to be written. It's like the years of experience adds to the ability to create something more powerful. I think you enter a zone where it's possible to write and do some of the best stuff that you've ever done. It's a gift. It doesn't feel exhausted in any way. I think the best is yet to come.
With everything you've accomplished, you guys are still looking up.
Petrucci: Yeah! It makes us smile every day. We love it.
Petrucci and Myung demonstrate their fretboard virtuosity while recording Distance Over Time's lead-off single, "Untethered Angel."
---