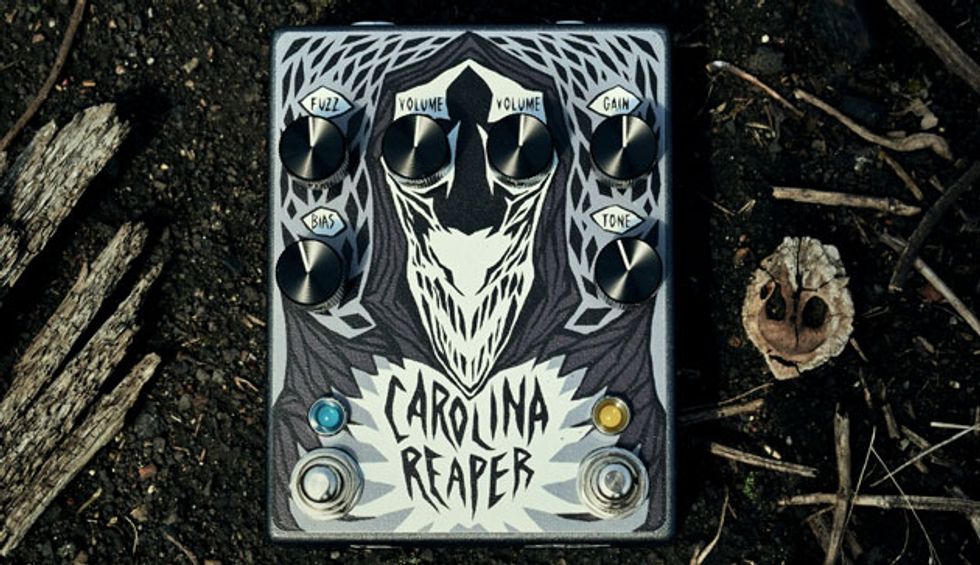 Charlotte, NC (April 25, 2019) -- Adding to an acclaimed lineup of guitar effects, Haunted Labs has unveiled the new Carolina Reaper overdrive / fuzz. The new dual-function pedal is the latest device from Haunted Labs and the spawn of a diabolical collaboration with Cusack Music.
The Carolina Reaper brandishes two separate-but-complementary weapons. The right side of the pedal features a high-gain overdrive circuit that will leave your guitar screaming. The left side hosts a scalding high-gain silicon fuzz. Each circuit can be used independently, or they can be used together with the overdrive feeding into the fuzz. If you dare to use both the overdrive and the fuzz together, you'll fling open a portal to intergalactic doom. Self-incineration has never been so easy…or so much fun.
The pedal also includes an internal bias trimmer -- a cool hidden feature that allows users to adjust the silicon fuzz circuit to their liking. It's a particularly useful way to fine-tune the fuzz voicing to accommodate the player's guitars, pickups and amps, since these elements vary and can have a dramatic impact on the fuzz circuit's response.
The Carolina Reaper is true bypass, offers soft-touch switching, and provides independent controls for each circuit - all in a durable enclosure. Every Carolina Reaper unit is completely designed in the USA, using the highest quality parts available.
Specifications:
Six knobs: Volume, Bias, and Fuzz (Left side) Volume, Gain, and Tone (Right side)
Internal Bias Trimmer for fine-tuning silicon fuzz circuit
Engineered and manufactured in the USA
Manufactured with the highest quality components
Dimensions are 4.58" L x 3.58" W x 1.95" H
Current draw is ~30mA
9V standard DC operation (power supply not included) – no battery compartment
True bypass soft-touch switching
The Carolina Reaper is priced at $229 and can be purchased directly from the Haunted Labs online store via hauntedlabs.com.
For more information:
Haunted Labs
---