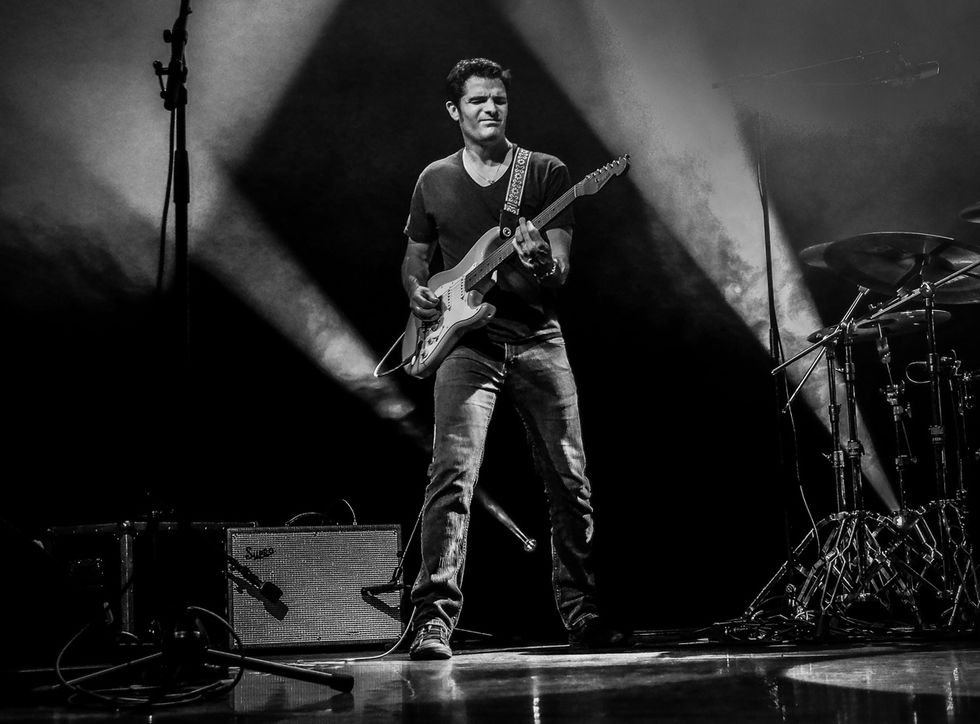 Not much can compare to the feeling of digging in with a group of well-traveled musical colleagues. Lettieri is shown here with his longtime working trio of drummer Jason Thomas and bassist Wes Stephenson. Photo by Sunshine N. Riddle
It's virtually impossible to make a living in 2019 as just a guitarist. You need to be a composer, audio engineer, videographer, tour manager, educator, and more to put a dent in guitardom.
"In high school the idea of being a professional musician means you're a rock star or something," says Mark Lettieri. "Because of the naivety of youth, you don't really know about all these other things that you can do or different ways to make a living doing it."
But today, Lettieri has learned them all. In the past year, he has hopped between recordings and tours with Snarky Puppy, crafted his riff-showcasing "Baritone Funk" videos (on Instagram and YouTube), done sessions for everyone from Kirk Franklin to Erykah Badu, played Radio City Music Hall with Dave Chapelle, cut an EP with Vulfpeck spin-off the Fearless Flyers, and led his own trio on international tours. Each one of these situations calls for Lettieri to adopt a different approach and mindset.
There's a whole middle class within the music business that Lettieri didn't begin to explore until after college. At Texas Christian University, he chose not to be a music major, but rather to head into the family business of public relations and advertising. "The music thing was a really important hobby at that point," he remembers. "It was a hobby that I was really passionate about, but the idea of doing it as a career wasn't my focus." After college, PR and advertising jobs were scarce, so Lettieri joined up with a locally based touring country band that lead him to a brief cameo in a Bud Light commercial.
Lettieri would hit the blues jams on Sunday nights in the Dallas-Fort Worth area and take any gig he could get—including one that found him performing a single song for a corporate retreat. A pharmaceutical company had re-written the lyrics of Kelly Clarkson's "Stronger" into an ode to synergy, meeting quotas, and corporate strategy. It was a very bizarre gig. "I showed up and got paid, like, $800 for one song. But the band was slamming," he says.
It wasn't until 2008 that he entered the Snarky Puppy ecosphere. The collective was centered around Denton, Texas, and, more specifically, the music department in the University of North Texas. Through a series of musician friends, Lettieri received a call from head Puppy, bassist Michael League. The band was working on Bring Us the Bright and League needed some seriously funky guitar. Lettieri was on an R&B gig when the call came, but headed over to the studio at midnight and played a couple of passes on "Strawman" and went home."A bit later, Michael called me for some gigs. I had to learn some really hard tunes in, like, three days for a Mardi Gras gig," says Lettieri.
Since then, Lettieri has become a member of the seemingly ever-growing Snarky Puppy circle, and trades off on gigs with other two guitarists: Chris McQueen and Bob Lanzetti. The Pups hit the road—hard—and especially this year, after the release of their latest album, Immigrance, which features Lettieri, McQueen, and Lanzetti throwing down at the same time. With 12 to 15 or more members, depending on the day, it can be hard to find a musical place within such a large and dynamic group. A testament to Snarky Puppy's composing and arranging is how well each member gets time to shine somewhere on every album. On Immigrance's "Chonks," a League composition, Lettieri rips through the mid-tempo stomp-groove with a rhythmic precision that extends throughout the arrangement.
Between Snarky Puppy gigs and sessions, Lettieri prepared two completely different solo albums for 2019. The first was Deep: The Baritone Sessions, which came out in March and was born of his newfound life as a baritone funk guru. In late 2016, Lettieri started to post brief videos of original funk riffs on a baritone guitar. They started as practice vids, played to either a '70s funk classic or an EDM-ish loop that Lettieri programed in Logic. Lettieri later realized he was actually doing a form of pre-production.
I need to get that music out because deep down inside there's a 13-year-old kid and that's what he wants to do.
Things of that Nature, set for release this fall, is Lettieri's fourth full-length album as a leader and is easily his most progressive and melodic. If all you know of his playing is super-hip funk with deep shred influences, then you're in luck, because it will give you exactly what you want and more. The album features his longtime trio of Jason "JT" Thomas on drums and Wes Stephenson on bass, along with cameos by fellow Snarky Pups Shaun Martin, Bobby Sparks, Justin Stanton, and Bob Reynolds. Before a recent trio tour of Europe, PG caught up with Lettieri to discuss his early days in the Dallas R&B scene, his approach to composition, and learning from David Crosby.
You grew up in the Bay Area. What initially inspired you to play guitar? Did you grow up in a musical household?
My dad plays a little bit of guitar just as a hobby. He had an acoustic guitar in the house that he would play every now and then, and I'd just mess around on it. Obviously, I didn't know what I was doing. I was around 12. It's just one of those adolescent things where you're at the age where you discover music for yourself and with your friends. Thankfully, my parents had really great taste in music, so I grew up with great music around the house: everything from Aretha Franklin and Stevie Wonder to the Eagles and Jackson Browne and the Byrds. But you know, when you're 12 and you're hanging out with your buddies, you just want to go listen to the alternative rock station.
At what point did you get friends together and start to play?
It happened almost immediately. The first time I ever played a gig was in my backyard for a family member's birthday party. My friend and I were both learning guitar at the same time and ended up with the same guitar teacher, Alison White, who taught us how to read tab. She had a recital for all her students, and the two of us played an instrumental version of Everclear's "Heartspark Dollarsign."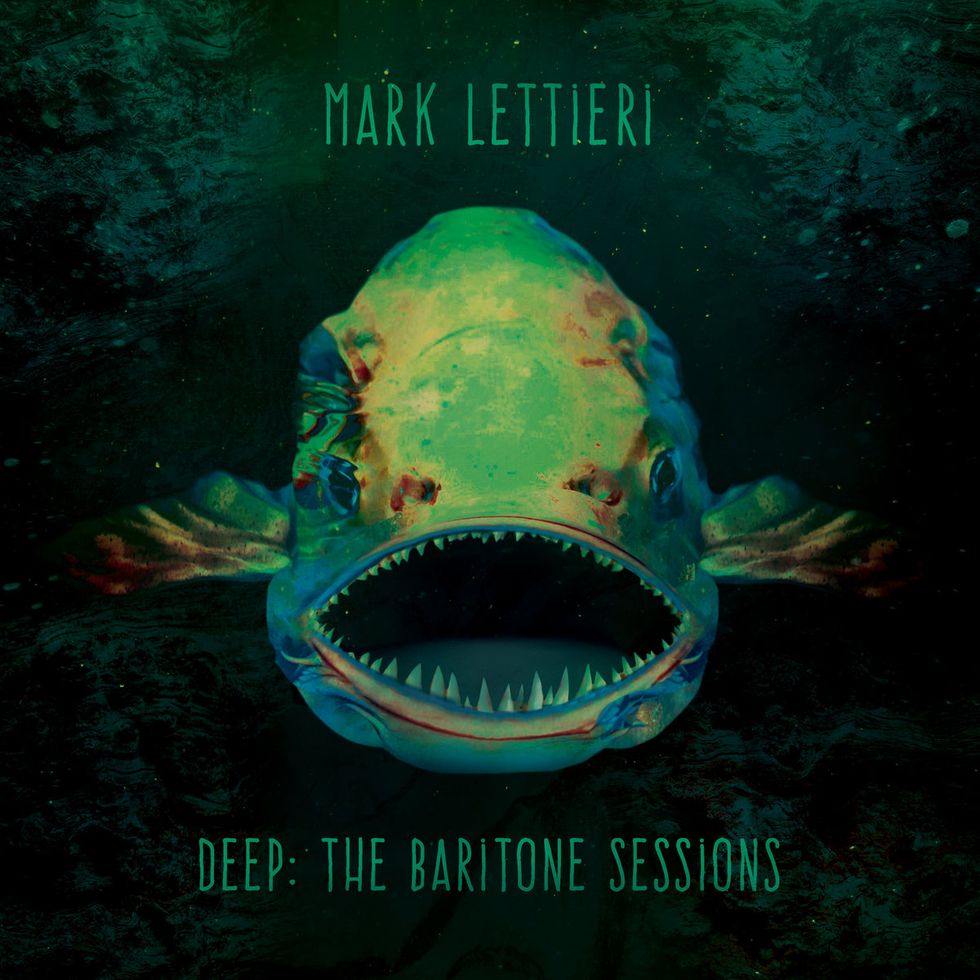 TIDBIT: Not a single tube amp was used for the guitar tones on Deep. All of Lettieri's sounds came from a Kemper profiling amplifier and a batch of Michael Britt's profiles.
When did you veer off and start to play music that wasn't on the radio?
My friends and I were learning songs and jamming, and we are always playing stuff like Hendrix and Stevie Ray Vaughan. Everyone got into Joe Satriani, since he was a local guy. The biggest guitar experience of my life was seeing him on Halloween night in San Jose in '98. We would play the Third Eye Blind stuff, because we knew girls at parties would like it. You can't necessarily just play Joe Satriani's "House Full of Bullets" at a high school backyard party.
Many musicians view the transition from high school to college as a way to get really serious about music. Was that the case for you?
I was a different breed of musician, in that I was pretty academic, but athletics were also important for me in college. I wanted a degree that was interesting and useful, which in my case was advertising and public relations. That's what my parents did. They were both PR people. The music thing was a really important hobby at that point. It was a hobby that I was really passionate about, but the idea of doing it as a career wasn't my focus. I was there to study and do sports and find a band and play on the weekends.
Your college band was well before you joined Snarky Puppy, right?
Yes. It wasn't a jam band, but we jammed. It was sort of like a funk-rock-pop thing. We brought in our own tunes and we were, to my ears, one of the only power trios that was really grooving. The drummer was a friend from the TCU gospel choir, so he had a little bit of that sound.
Was that the point where your funk-rock influences came out in earnest?
Yeah. By the end of high school, I had started listening to Stevie Wonder and George Clinton and Steely Dan. I remember my friend got a Brothers Johnson album and we'd freak out over it. Of course, there's guitar involved in all that, but the focus is the groove, and the chord progressions were different than what I was hearing in Megadeth.
When did you first get into baritone guitar?
I think the first time I played one was on a recording with this band that I continued to be a part of outside of college. We were just recording a tune that was a rock ballad thing, and the engineer was like, "You want to try a baritone guitar?" I didn't know what that was. He brought it out and I got a feel for it and I played this very basic thing. And I thought, "well, that was neat" and then completely forgot about it. I used one on a few Snarky Puppy songs, but it was still just a chordal, textural thing. The idea to use it as a groove instrument was something that I just discovered. The light bulb went off and I thought "Why am I not playing funk on that?"
Let me back up. In the summer of 2015, I wrote this tune called "Jefe" on baritone and I thought it might work for Snarky Puppy. It was a groove thing on a baritone guitar, and there was something about it that was really satisfying to me. I love bass. I love bass players. I love bass playing. But I love funky guitar and groove guitar playing, so it's kind of a happy medium. Then I started doing those silly internet videos.
---
---