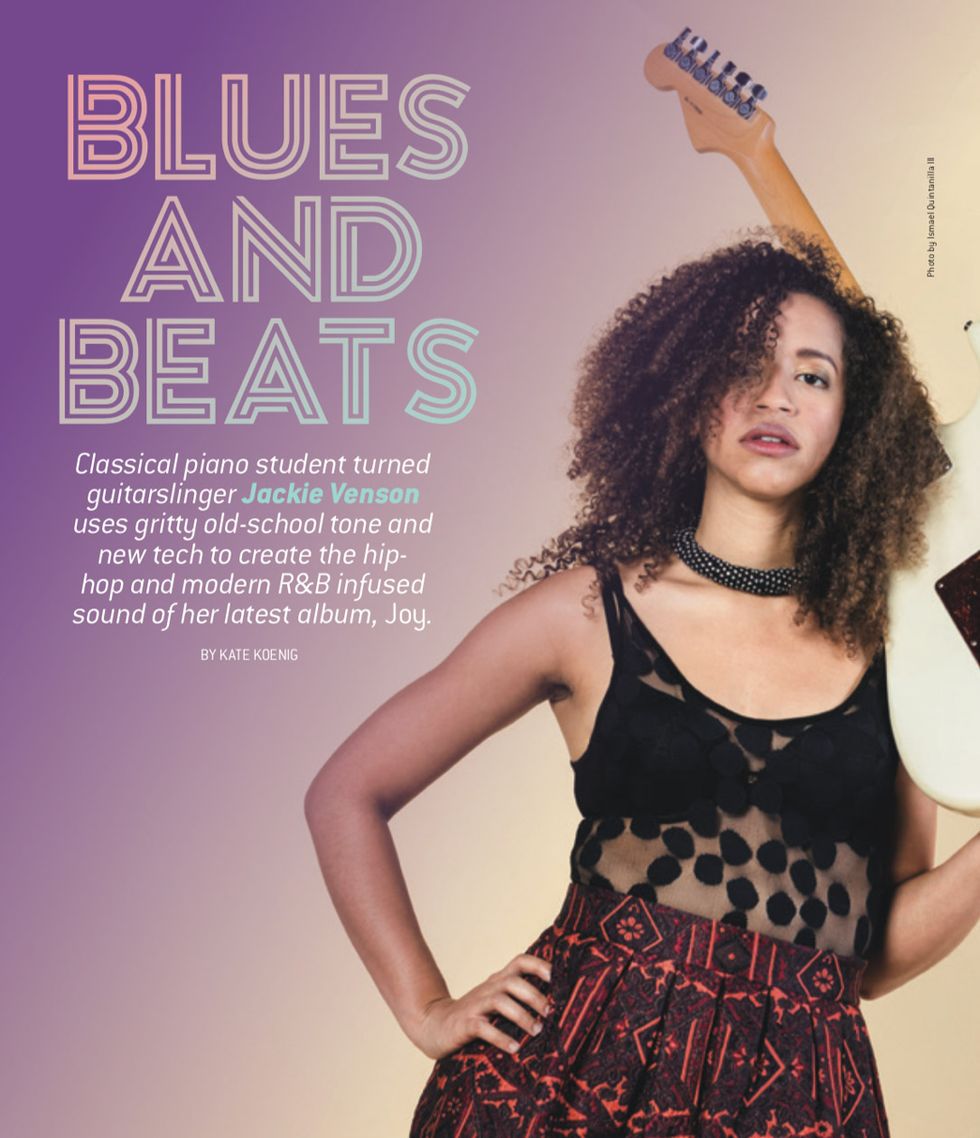 Although Jackie Venson's first instrument was the piano, she's an adept guitarist with a gnarly blues tone and a distinctive and modern penchant for wedding pentatonic lines with beats and other electronic flourishes.
Photo is by Ismael Quintanilla III
Austin's Jackie Venson fuses electric Hendrix-meets-Prince blues guitar and a panoply of synthesized voices and vibes, eagerly and fluidly passing through genres to never quite call one home. Genre-bending is à la mode today, but when orchestrated with her kind of finesse, it's really the artist that becomes the genre. That's even more impressive given that Venson, who is 29, only started playing guitar less than 10 years ago.
She was studying classical piano at Berklee College of Music in Boston when her passion for that instrument changed "literally overnight," Venson says. "I was really sad and I was angry, like it was somebody else's fault. And then I realized that it was just going to happen anyway. It just happened in a really hard way." Three years into playing guitar, she released her debut studio album, 2014's The Light in Me, but by then she was already blowing critics away with her snarling tone, fluid playing, and free-ranging ideas. Venson says those skills are simply a product of her lifelong devotion to her own musical education.
With her new album Joy, which was released on April 5 and follows a live album and an EP, Venson has set a new personal benchmark. Joy captures her evolved approach, modernizing the spirit of the blues while carving out its own hip-hop, R&B, and electro-pop-dappled space. She often matches her vocal line to the guitar—which is more common in jazz and stands out in Venson's more rock-oriented context. Overall, her sound is as big and bold as her personality. In discussing the twists and turns of her life, she comments, "That's the kind of person I am: If I don't care about something, I will not do it. 'Cause I'm going to die one day, you know? I'm not going to do something I don't care about."
Her commitment to her music resonates throughout Joy, which boasts a prolific 20 tracks. She's the lead singer, songwriter, and guitarist on the recording, and Venson played synth parts and co-produced. At an early spot on the album, she includes a conversation with one of her producers, where he says, "You're in the studio aren't you? It's like you spend your whole life in there." She agrees—and that's not an understatement.
Joy was recorded over the past few years with four different producers and six engineers—as Venson found different artists who worked behind the board that she wanted to create music with. Read on to get a glimpse into her thoughts behind that process, hear about her guitar approach and influences, and become more familiar with her singular style and voice.
It was interesting to learn that you're a classical pianist turned blues guitarist. How did that happen?
It's pretty weird how you get started down a road and the road just leads you somewhere. I know it seems really obvious, but you really have no idea where it will lead you. Not even an inkling. I didn't know that that school was going to lead me to a completely different instrument. And I learned, around age 25, that you have some control, and you have some say, but you just got to put your seatbelt on and let it happen and try not to get thrown off the train. Because if you want to control everything, then you probably shouldn't start walking down that road in the first place.
"Lately I've been listening to Eric Gales, 'cause he's just the best guitar player in the world."
So, I knew I had a loose interest in guitar because I grew up in Austin, and guitar's everywhere in Austin. But I never really was interested in it because I played the piano and I loved the piano. But then I lost my passion for the piano at Berklee, while simultaneously maintaining my passion for music as a whole. I didn't want to quit music. I just didn't want to play the piano anymore. I figured the only natural solution would be to pick up a new instrument.
Joy is your second studio album. What inspired the title?
It was actually my manager's idea. We were getting lunch one day and just talking about a show I'd done recently, about how my fans always tell me at shows that I exude happiness when I play. That's when he was like, "Hey, you should call your next record Joy," and as soon as he said that, ideas exploded in my head. I took it from there.
What was the production process like?
I collaborate with producers, but I'm very much a part of it. They're never the only ones making decisions, and neither am I. We're a team. And the new record sounds better than anything I've ever released because I stopped self-producing. All of the projects before this record were produced by me. I ran the whole session, and I just had an engineer. For this project, I had the studio and the engineer, but then I'd have a separate person producing: helping me with the arrangements, maybe coming up with a better line for that guitar solo than the one that I had. Just two heads are better than one kind of stuff. I don't think anybody can do it themselves.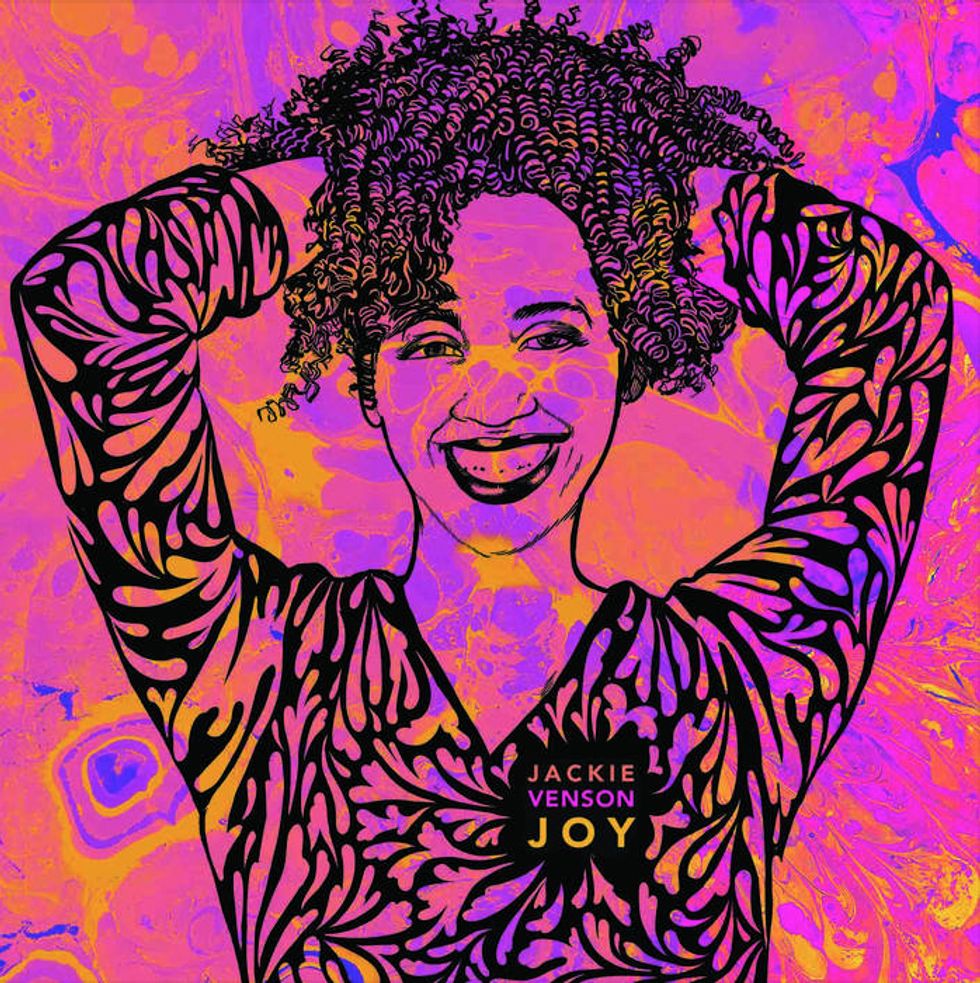 TIDBIT: Venson used a variety of producers and engineers on her new 20-song album, which was made over several years but sounds entirely consistent.
How do you go about finding the right producers to collaborate with?
Usually, the first thing that you do is listen to everything that they've done. If you like everything that they've done, you have to tell that anxiety-ridden control freak in your brain to shut up. Self-producing my stuff … it never really landed. And it's a hard reality to accept, but the sooner you accept it, the sooner you can move on to making great music that's timeless and is a meaningful addition to human culture. Right? And you just gotta be open to it and you gotta reference other music that's timeless. Listen to all the music that's been around forever—the music that you hear in grocery stores. And if somebody is out there who can take the music that's really hot and then compare it to your music and say, "This music has this and your music has that, and if you want it to sound like this, you're going to need this," you just gotta trust and have faith.
Who did you work with on this project?
I used a few different producers. A couple of the producers on the record are just really great players who I heard some of their demos and I thought they were really great. Then one of the producers is also the mixing engineer, Tim Palmer, and I worked with him just for mixes—not production at all. I thought his ear was so great. He would add stuff in mixing. He would add shakers to this section but he wouldn't say anything about it. He'd just slyly do it, and see if I noticed.
When you're partnering with people for the creative process, what makes you feel like the song is yours?
I usually write the song. I write the chords, the lyrics, and the melody. And I come up with a loose idea of how I'd like it to sound, and then maybe I'll throw together a demo of what I think it should be. Then that's where the conversation with the producer starts. And sometimes the producer would be like, "Don't you think this word would fit better than that word and still preserve the meaning of the sentence?" That's my compromise. I'm open to better ideas, like "Instead of putting a guitar solo there, maybe we should put a bridge there." But that means I have to go home and write the bridge, because I prefer to be the writer. However, in the future I can see myself being more open-minded with people. I just have to find somebody I'm compatible with. Because the writing process for me is really deeply personal. It's how I meditate.
---
---