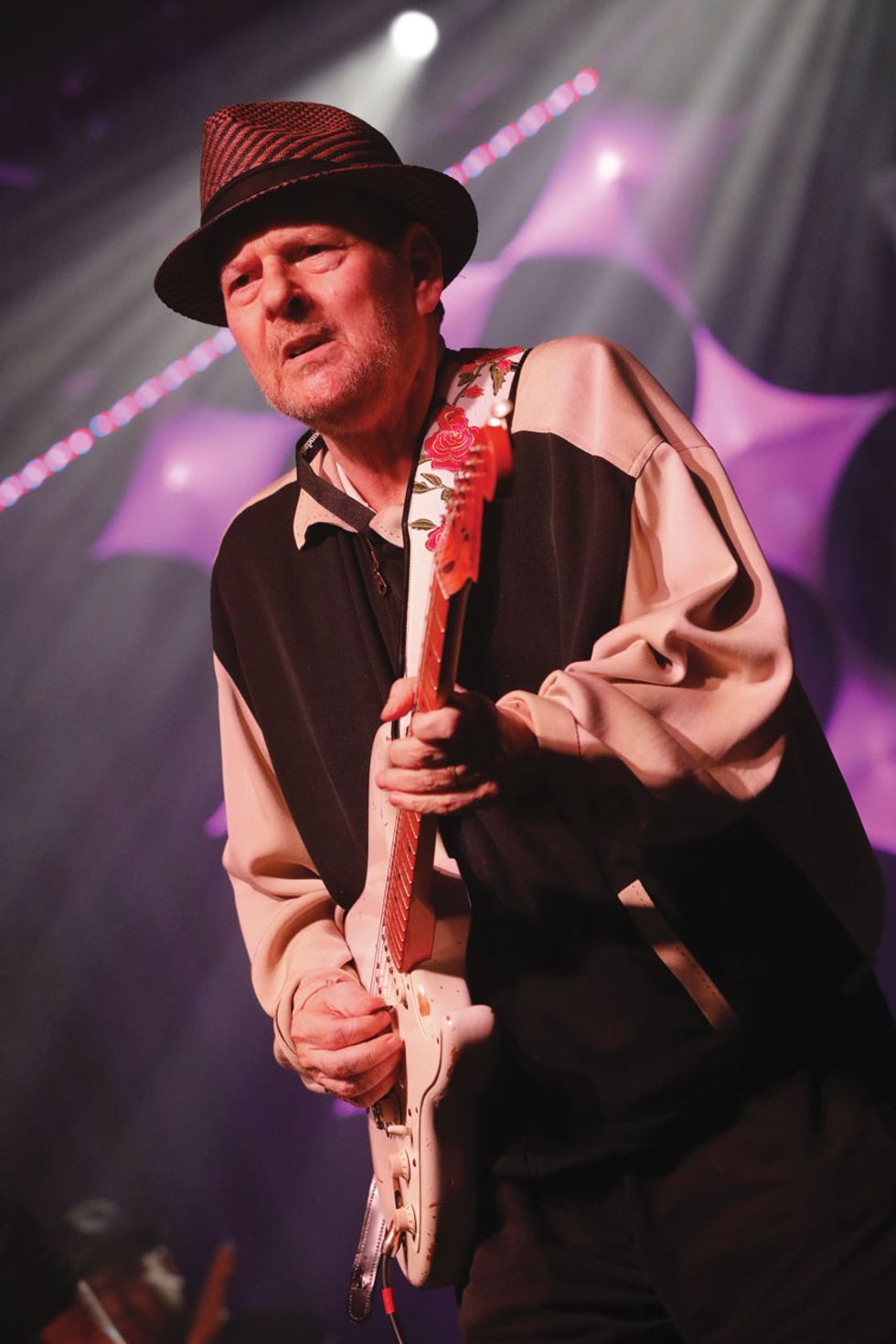 Ronnie Earl is a devotee of the Fender Stratocaster. Here, he plays one of his Custom Shop models onstage at the 2019 Blues Music Award in Memphis. Photo by Joseph A. Rosen
Ronnie Earl's Gear
We got the lowdown on Earl's stage and studio equipment from his road manager, Dave Clark. "Ronnie has three pre-CBS Fender Stratocasters: a '57 sunburst, a '59 blonde, and a '62 fiesta red named Mahalia—after Mahalia Jackson. They see the studio but are too valuable to take on the road. Onstage, he plays a couple of Fender Custom Shop reissue Strats with stock pickups. The necks have been reshaped to make them more comfortable for Ronnie, with the finish sanded down. They're set up with a slight amount of relief and a medium action. The tremolo springs are adjusted pretty tight, because Ronnie doesn't use the tremolo arm at all.
"In terms of acoustics, Ronnie has some guitars by Martin and Collings—a C10 and a Parlor 1 T. But give him even the least expensive Squier and he'll sound every bit as good. The tone is in his hands.
"I believe that tone comes from the fingers and the heart, and that's not something that you can find in pedals."
"There are no pedals. Ronnie plugs straight into a pre-CBS Fender Super Reverb. He's got three, and one is almost always with the tube-amp guy, in for maintenance or repair. The amps are pretty much stock, with the exception of Celestion G10 Vintage speakers, though one has Eminence Ragin Cajuns, which are his favorite. Ronnie plugs into the Vibrato channel and sets the Normal side on 0, with the volume at a minimum of 6, no matter how small the venue. He usually sets the treble at about 10, the middle at 8, and the bass at 5, with the bright switch off, as well as the reverb on 4.
"He prefers either Ernie Ball Super Slinky [.009–.042] or D'Addario EXL 120 [.009–.042] strings, and his picks are Fender 351 medium celluloid."
---
Ronnie Earl goes deep and soulful with his "Blues for Otis Rush" live from B.B. King's Blues Club in New York City in 2014, defining blues Strat tone and taste at a dictionary level. Rush is one of Earl's main influences, and both guitarists shared a long friendship.