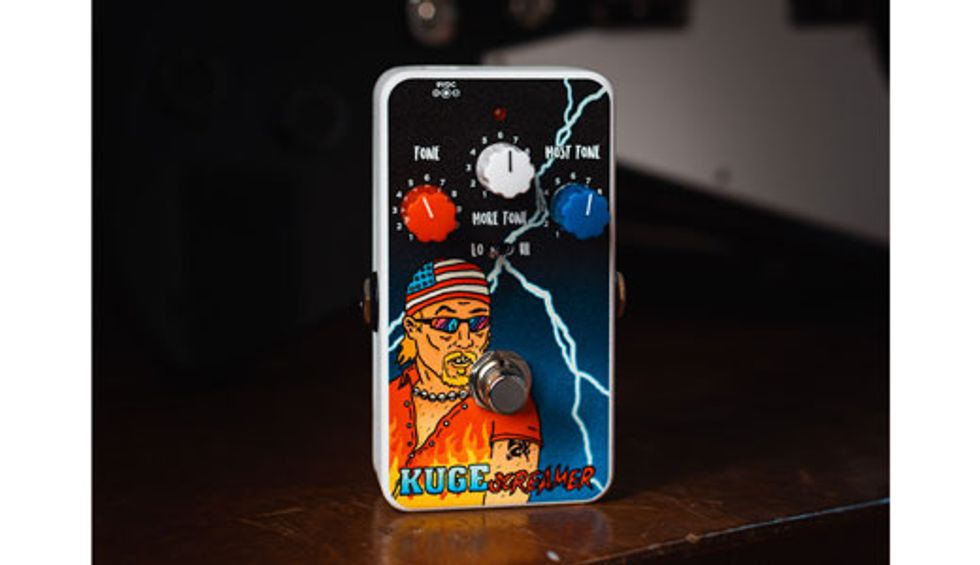 Chicago, IL (March 19, 2020) -- The Chicago Music Exchange releases its first pedal: the Kugescreamer. Created in conjunction with Rigs of Dad and Keeley Electronics, the Limited Edition CME Exclusive Kugescreamer overdrive features exclusive art by John Clark Bailey Jr. and a three-knob design that favors one thing and one thing only: tone.
As you'll see in the Rigs of Dad-written description and manual, the control set features not one, but three tone knobs: Tone, More Tone, and Most Tone. Tone controls the gain, while More Tone controls the actual tone, and Most Tone the volume. The Kugescreamer also features "Hi/Lo" switching for high- and low-gain operation.
The Limited Edition CME Exclusive Kugescreamer is available only at Chicago Music Exchange while supplies last for $149. A portion of the proceeds from every sale of the Limited Edition CME Exclusive Kugescreamer goes to Be Fido's Friend, a Chicago-based animal advocacy and rescue organization dedicated to ending the canine homeless population.
To purchase, call 1-773-525-7773, visit http://chicagomusicexchange.com, or stop by the Chicago Music Exchange showroom located at 3316 N. Lincoln Avenue, Chicago, IL 60657.
For more information:
Chicago Music Exchange