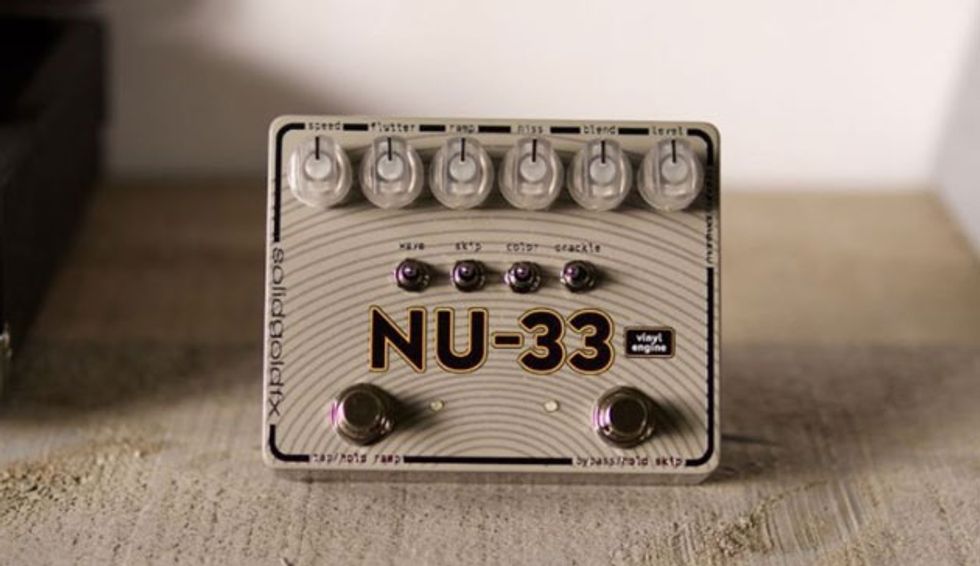 Pointe-Claire,QC (October 21, 2020) -- You're looking through your grandma's attic, dusting off boxes of memories and junk alike. You come across a box of LPs and 45s, some classics in there most definitely, along with some cheesy old country albums and Elvis wanna-be's. The one thing they all have in common of course is their sound, the sound of vinyl. The random crackles and pops of the worn out disk, the dust from thirty years sitting in a box making the songs gently hiss as they play. The nostalgia and fidelity graces your ears and the warmth fills your heart. You wonder, "why can't my guitar sound like this?" and the pressing question "who is Belvis Parsley?!" Well, you're in luck.....
While we can't help you with this Belvis Parsley person, we would like to introduce you to our new NU-33, a vinyl engine serving up chorus and vibrato effects flavored with colorful filters, noise generators and unique waveforms to add the perfect vintage, lo-fi textures to your sound. Add to this, the flexibility of tap tempo, an assignable expression input with CV capabilities, momentary speed ramping and skip functions, manual mode for doubling effects, level and blend controls and you're left with quite possibly the ultimate vinyl emulator with a 1/4" jack.
Finally available after countless delays from an unforgettable year we'd all love to forget, the NU-33 Vinyl Engine is priced at $250 and shipping to the US and Canada is free! You won't find one of these in grandma's attic so mash the button below and enter a new world of modulation...somewhere fresh and exciting yet oddly familiar, full of a wide variety of sounds, textures and inspiration.
For more information:
SolidGoldFX