The Automatics are essentially a blues band with a rock n' roll edge, able to move from jump blues to shuffles to cool Southern rock at any point in a set. The music largely centers on the guitar interplay between Ernie and Barry, resulting in a dynamic sound. When Ernie plays, his enjoyment of the music shines through with his raw Tele tone and bluesy note choice; Barry's guitar often stands in sharp contrast, with a more "uptown" feel and a deep, thick tone that never gives up its identity as a Stratocaster. This mixture has led Ernie and the Automatics to build a following in the Boston area – "We've got a little buzz going on," Ernie reveals.
Much like his foundation, forming a band was never Ernie's intention. The band initially originated from his burgeoning friendship with Sib. "Through some people, I met Sib Hashian, the original drummer from the band, Boston. I talked to him and helped him out with a play he was doing, and we quickly became friends," Ernie recalls. When Sib realized that Ernie played guitar, he kept after him to set up a jam, despite Ernie's reluctance. After some time, he finally acquiesced and agreed to meet Sib for a jam session.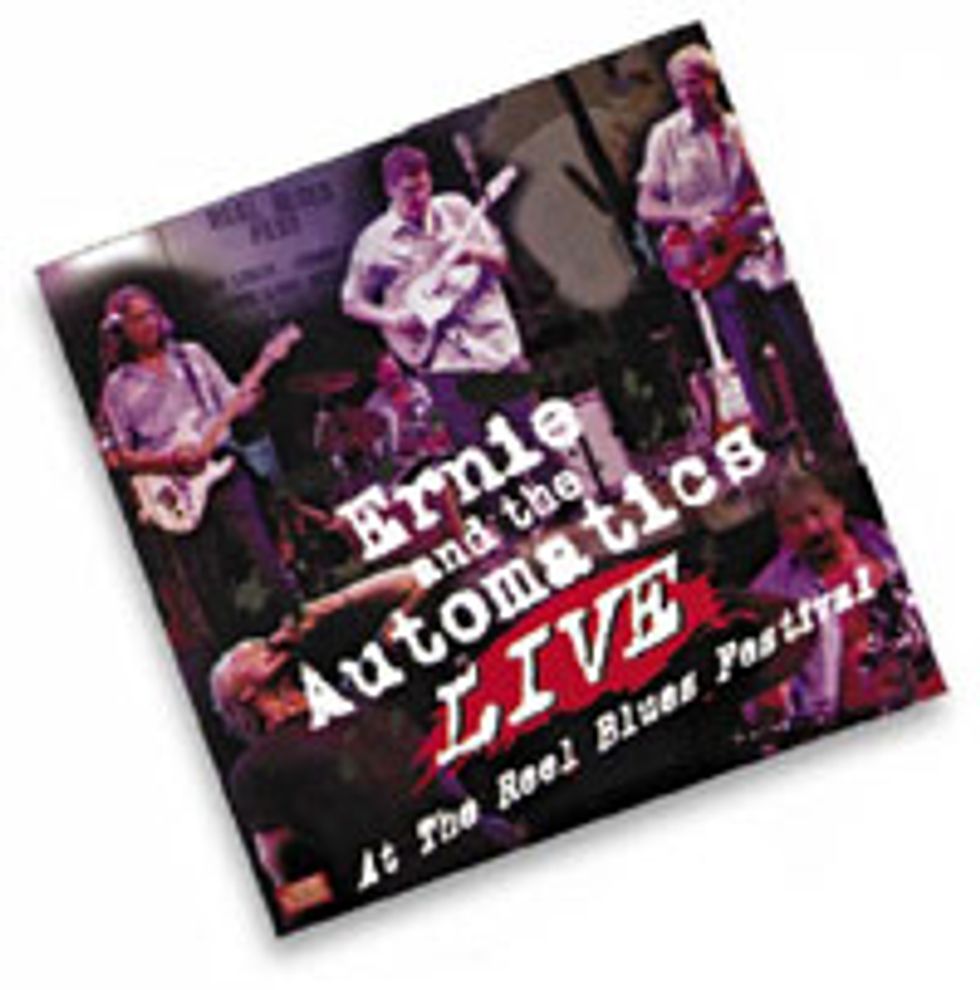 Ernie recounts the story:
"So I show up at this place, and discover that this is not just a place where you sit in – this is a $250 a ticket major fundraising event for the Doug Flutie Jr. Foundation for Autism. The place is packed, and I say to Sib, 'What did you get me into?' He told me not to worry about it, so I went to tune up with the band. The only person on stage that I knew was the sax player, from a couple of events around town. Realize that I hadn't played out in probably 15 years; at that point, I was beginning to get really nervous.
"The leader of the house band came over and asked me what I wanted to play. 'How about a blues,' I said, and we agreed on Mustang Sally, in the key of C. The plan was to come up for the third tune. I made Sib agree to come up with me, but halfway through the second tune, he took off for the bathroom. When the third song started, Sib still wasn't there, and the guitarist called me up. I told him I couldn't go up there, and when Sib returned, he asked me what I was doing just standing there. I told him we missed the tune, but before I know it, Barry Goudreau is standing on one side of me, with Sib on the other, and they're both urging me to go out on stage and play. Eventually Brad Delp [former lead singer for Boston] comes over as well, and says, 'Hey, Ernie, I heard you're sitting in. Its gonna be fun, right?' The band on stage ended without me joining them – but then they see half of Boston standing next to the stage, and start calling us all up. There was no way I was going up there, but the guys went onstage and played three killer Boston tunes. The crowd went crazy, because these guys hadn't played this stuff together in 30 years. When they struck the final note, the crowd went absolutely nuts, and the guys again turned to me and told me to get up there. I literally grabbed my guitar and ran. I ran! I was so nervous, I just took off and told them I had to get up early in the morning. So even though that was a nightmare, that's essentially how I met those guys."
These days, Ernie isn't so reluctant to hop on stage and jam. Though he left that first night with his pride slightly bruised, he also came away with the friendship of Sib and Barry, who would later become members of his band. The three began jamming together, adding Barry's RTZ bandmate Tim Archibald on bass – "When I was at Berklee, he was the hottest bass player around," Ernie notes. For vocals, Ernie again drew from Barry and Tim's RTZ experience, grabbing vocalist Brian Maes, who doubles on keyboards, to complete the group.
The band started off with a bang – opening for Los Lobos and guitar virtuoso Johnny A at the Reel Blues Festival in Cape Cod. "Our first gig was in front of 2,400 people with only four rehearsals!," Ernie recounts. The Reel Blues Festival proved to be a worthy and relevant first gig for Ernie and his band – it is an annual film and music festival held to raise money to help older musicians with various needs such as healthcare. In addition, the money raised is also used to help burgeoning independent filmmakers.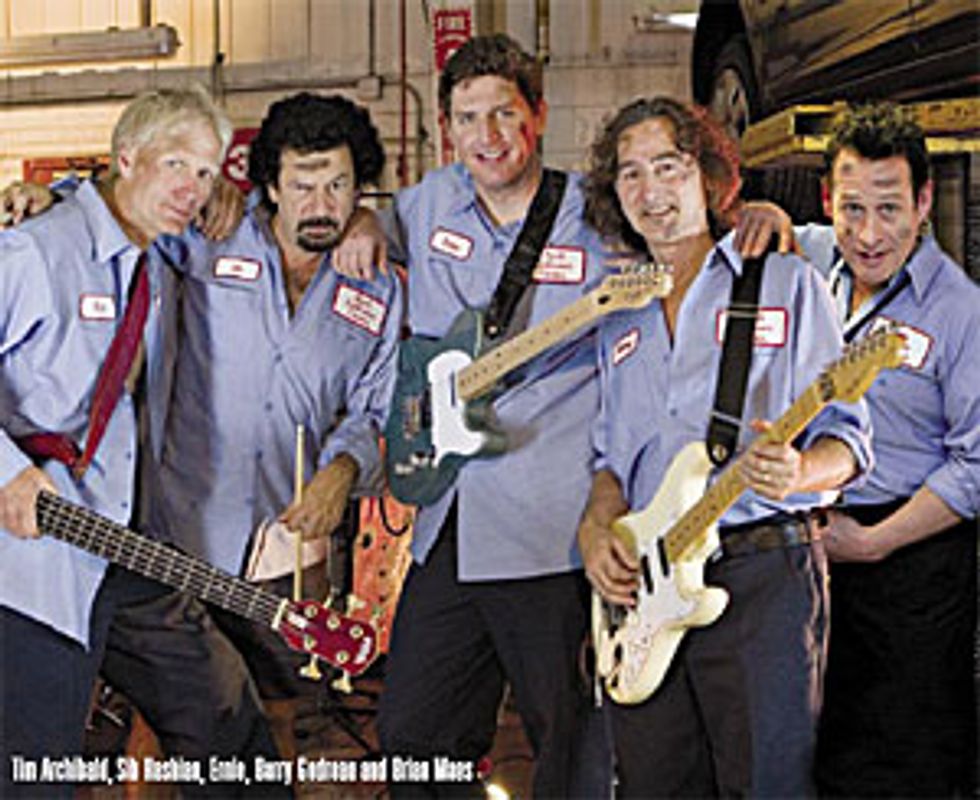 Since that first performance in August of 2006, Ernie and the Automatics have gone on to open for blues legend B.B. King and release a live CD and DVD of their performance at the Reel Blues Festival, along with an additional live CD entitled The Body Shop Sessions, and a live DVD, Sunday with Liz Walker. The group took to the studio in May to record a CD of original songs.
It is through these CDs and DVDs, along with other merchandise, such as t-shirts, that Ernie and the Automatics help support his philanthropic efforts. "All of the money from our merchandise, available through the band's website [ernieandtheautomatics. com] goes to Music Drives Us," Ernie explains. The band also uses their growing buzz in the Boston area to raise awareness through public service announcements and television appearances, meaning that Ernie Boch's various endeavors, both musically and financially, are helping share the joy of music.
Ernie Boch Jr. is a true anomaly in the musical community. Instead of being content with his accomplishments in the business world, Ernie has chosen to use his skills and resources to spread music education across the New England area, in addition to pursuing his own dream of performing the music he grew up with. If every region had an Ernie, and subsequently a foundation like Music Drives Us, there would be a whole lot more music to go around.
Interested in hearing Ernie and the Automatics this summer? You can catch up with the guys at the following venues:
June 30, 2007
Marblehead Festival of Arts
See Ernie and the Automatics at the 42nd Annual Marblehead Festival of Arts on Saturday, June 30 from 8 p.m. – 10:30 p.m., at Crocker Park, overlooking beautiful Marblehead Harbor, 11 Front Street, Marblehead, MA.
  
July 26, 2007
The Reel Blues Festival
Join Ernie and the Automatics as they return to the place of their successful debut, with guest James Montgomery, and a special appearance by Jim Belushi. They promise to get the crowd off their feet and begging for more. Their performance will be followed by the legendary guitarist and blues icon, Bo Diddley. The headliner for this summer evening will be the multi-platinum selling blues rocker, Kenny Wayne Shepherd.

Join Ernie at the Reel Blues Fest at the Cape Cod Melody Tent in Hyannis, MA on Thursday, July 26, 2007.

---

July 27, 2007
The Academy of Music
Ernie and the Automatics will open for Bo Diddley at the Academy of Music in Northhampton, MA on July 27 at 7:00 p.m. Call 413-584-9032 for tickets and time.
  
August 23, 2007
The Kowloon Concert Series
Thursday, August 23 will find Ernie and the Automatics opening up for legendary blues guitarist Johnny Winter. This night will be full of non-stop energy. Johnny's latest Grammy-nominated disc, I'm a Bluesman, figures to add to his Texas-sized reputation. Don't miss the show at the Kowloon Restaurant, Route 1 North in Saugus, MA.
---
musicdrivesus.com
ernieandtheautomatics.com