A Bluesy World: An Interview with Duke Robillard
He's worked with Bob Dylan and Arlen Roth, with Tom Waits and Ronnie Earl. And that's just a few. An interview with the East Coast bluesman who has been
He's worked with Bob Dylan and Arlen Roth, with Tom Waits and Ronnie Earl. And that's just a few. An interview with the East Coast bluesman who has been quietly dominating the scene for decades.

Often regarded as one of the most comprehensive and proficient blues guitarists today, Duke Robillard views genre boundaries as nothing more than commercial necessity. With a playing style that provides him with the ability to, in his words, "touch all the bases," Duke has had a passion for delving deeply into blues roots and its subgenres ever since his formative years as a founding member of the New England-based Roomful of Blues. He realized early on that a correlation existed between most pre-1980s American music – from blues, jazz and R&B to bluegrass, rock n' roll and country – and has enjoyed running the gamut of possibilities in blending these styles and techniques.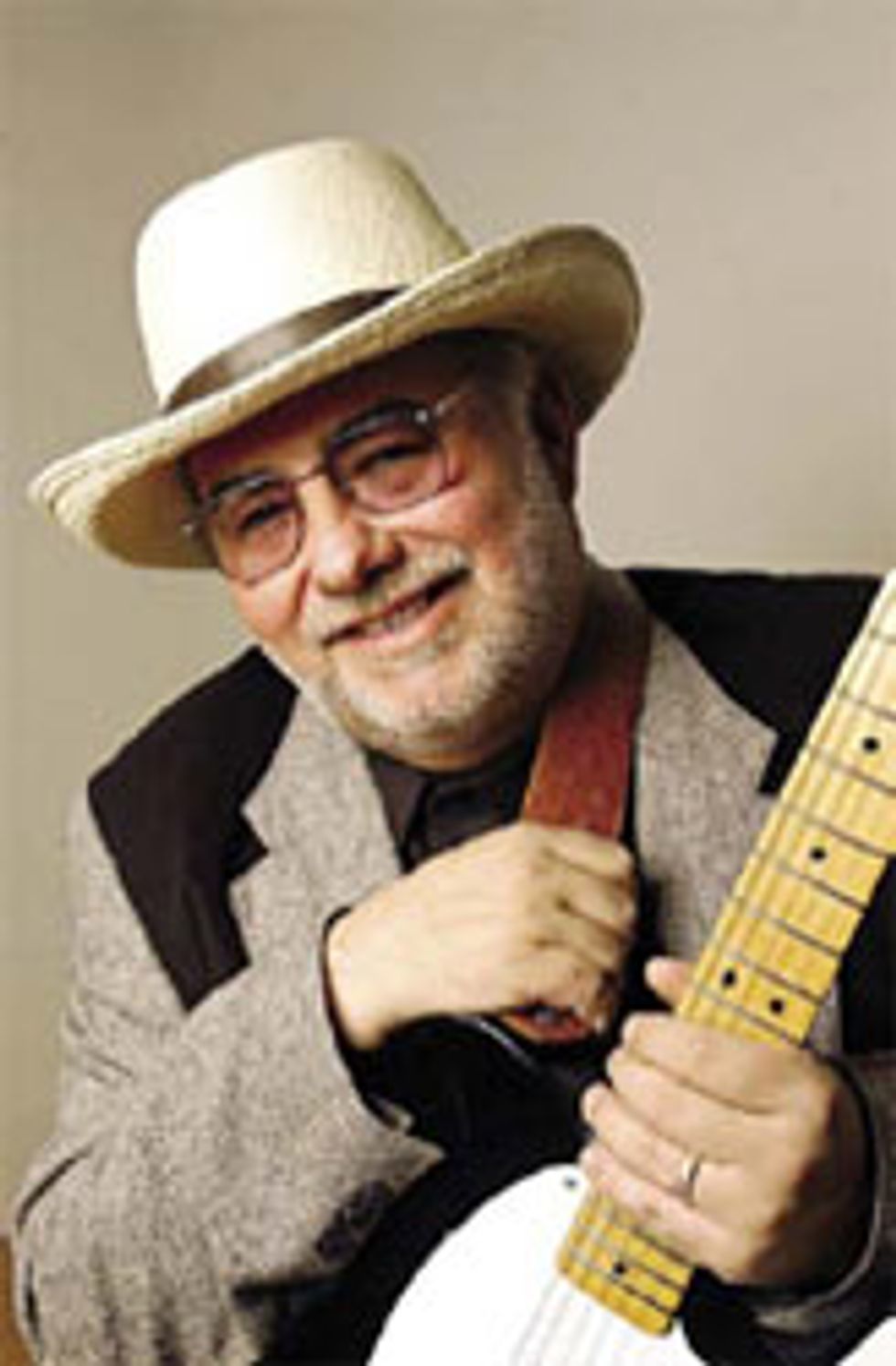 Duke's calling card has always been an energetic mixture of jump, swing and blues that stirs up dance floors, along with an amorously obsessive connection to the music of Texas bluesman T-Bone Walker. Though he often evokes styles of great players of the past, and frequently flows at intervals along a historic musical timeline, it's executed in a uniquely fashionable manner. No matter what type of music he's playing at any given time, the phrasing within his solo work is incredibly diverse and tasteful, with chordal arrangements moving in fluidly invigorating rhythms.
Though Duke has long been recognized for his work with Roomful of Blues and for his stint with The Fabulous Thunderbirds, these highlights were mere stepping stones in the five-decade career of Michael John Robillard. The Woonsocket, Rhode Island-born guitarist, vocalist, songwriter, bandleader, studio musician, and producer gained long-due recognition in the beginning of the new millennium. He won the W.C. Handy award for "Best Blues Guitarist" in both 2000 and 2001, earned a Grammy nomination for "Best Traditional Blues Album" in 2006 for Guitar Groove-A-Rama, and was nominated for the W.C. Handy "Best Instrumentalist" award in the field of guitar in 2006. In 2007, however, he won an award that's closest to his heart, the Pell Award for Artistic Excellence, given in his home state of Rhode Island. As if this recognition wasn't enough, B.B. King labeled him "one of the great players."
Duke Robillard has released about twenty solo albums since the mid '80s, all interesting and special in their own right. The latest release from the guitar virtuoso is a dual CD set entitled Duke Robillard's World Full of Blues. It's the ideal display of his progression as a mature performer and brilliant musician. It's also an appropriate title, mainly because of Duke's all-encompassing technique and vast knowledge of music in relation to the blues. The CD set is two hours of material, both lyrical and instrumental, and 23 superb interpretations of compositions by the likes of T-Bone Walker, Bob Dylan, Booker T. Jones, Bo Diddley, Tom Waits, Jimmy Reed, and of course Duke Robillard. For the love of the instrument and especially for fellow enthusiasts, the guitar used in each recording is cited in the jacket liner notes.
I had the recent pleasure to sit down with the Duke and discuss the many aspects of his
World Full of Blues
.
Your playing style incorporates blues, jazz, rock, pop, as well as numerous subgenres – probably more so than most other guitarists. Where in the musical spectrum do you find yourself?
Well, the blues is the root of everything I do. When I was very young, I was inspired by my brother's 45s, back in the '50s and early '60s. Chuck Berry was a big influence on me. I discovered that the flipsides of some of his records had these slow tunes, like "Deep Feeling" and "In the Wee, Wee Hours." I didn't know what they were, but they really moved me. They happened to be blues. I really grew to love this music that, for quite a few years, I didn't even know what it was.
At the same time, I heard country music – guys like Hank Williams. It was different, but I could see the similarities in the overall sound and chord progressions in relation to other music and to the blues. I even heard the correlation in some jazz. To me, all pre-1980s American music is based in the blues. Whether it is rock, heavy metal, blues, jazz, country, bluegrass or R&B, I hear the blues in everything. That's why I'm so diverse, as people say – because to me it's almost all the same.
The music of T-Bone Walker has been significant throughout your life, correct?
Of course – he's a giant influence on me. When I heard T-Bone it all came together, because he's all of the above. He's jazzy and bluesy at the same time. He had some sophisticated phrasing in double timing and stuff that only jazz players had done before him. So that became an instant influence on me; I took to it immediately like a fish to water.
Do genre boundaries in blues and jazz actually exist?
Well, there are boundaries within every type of music and that's pretty much because of business. The boundaries are commercial, rather than musical. I mean, there are musical boundaries, but the reason they're divided up so much is because of marketing.
How do you break through those?
You can blend and make your own sound out of anything. I mean, in today's world of incredible media you can experience everything, so why not? Whatever works is the way to go – there are things that you blend that don't work sometimes, and there are things that do work. For me, it's been fun to touch on all of the bases, mix up the stew, and put my own twist on things. It has been a great thing for me, and it has kept me very excited about music over the years.
Who has been the most influential guitarist on you, as a teacher and as a person?
The guitarists who have been the biggest influences on me are the ones I've never met. Most have died before I got a chance to meet them. Some of the biggest ones are T-Bone Walker, Charlie Christian, B.B. King, Freddie King and Gatemouth Brown, along with Guitar Slim, Johnny Guitar Watson, Lowell Fulsom, Tiny Grimes, Kenny Burrell and Herb Ellis. There are so many!
I was lucky to be able to play with Herb Ellis, make two albums with him and get to know him. He is a personal hero of mine because of it – he's a very nice, warm guy who made me feel like I was doing something. When I recorded with him I was extremely nervous. I was afraid I really wasn't at his level and that I shouldn't be recording with him. We went into the studio to cut two songs together and it ended up being two albums.
How gigantic is the honor to have been a founding member of Roomful of Blues? Easily New England's longest running premier blues band, Roomful is on a pedestal with the best predominantly- white blues bands of all time.
Well, you know, it's so far in my past. I'm proud of the group and the work I did with them, and I'm glad that they're still going. It was my beginning in a lot of ways, so it means a lot to me. It was my first band out of high school, so when I started that band I was really intent on creating the sounds that I loved. I wasn't concerned with commercial success. The fact that it has remained and done well for so long is a great thing.
I'm actually working on a CD now that is 80% material that I did in the early version of Roomful of Blues. It's kind of a tribute to my heroes back then. It is a jump blues album, which is something I wanted to explore. That's why I added the horns to Roomful of Blues, to explore the '40s jump blues sound. This CD is kind of going back to the beginning for me. It's kind of fun, but weird at the same time. I had Rich Lataille, the sax player from Roomful, play on quite a bit of it. It's just funny how, after all these years, we played the same way together as we did back then – it's like getting into a time capsule. [laughs]
What was it like to replace Jimmie Vaughan in the Fabulous Thunderbirds?
Jimmie and Kim [Wilson, vocals] and I were friends, all the guys really. Before they were really known, they came up to the New England area. We used to hire them to open for us at gigs because we wanted our crowd to hear them. We got to know them and jammed a lot together. There was a lot of musical friendship between the two bands. I knew them so well that it was a natural, easy progression to walk into that band. I respected Jimmie's playing a lot, you know. It was a fun period for me – I did miss doing my own thing, but I enjoyed it and I'm glad I did it.
You've earned quite a lot of recognition and awards over the years. W.C. Handy Awards, Best Blues Guitarist four times out of five. B.B. King has said that you're one of the great players.
The Houston Post
declared you "one of God's guitarists." The New York Times labeled you "a soloist of stunning force and originality." You were nominated for a Grammy for Best Traditional Blues Album for
Guitar Groove-A-Rama
in 2006 and received a Rhode Island Pell Award for Artistic Excellence in 2007. Has it been difficult to live up to such high standards and expectations on a regular basis?
You know, it's great to win all of these, and sometimes you wonder if you deserve all of this. Why is this all coming together in a close period? You wonder about all of these things, especially if you feel like me, as I'm developing kind of an arthritic physical handicap. I start thinking, Geez, when I was really going strong and I had all of the facility in the world, I never got these awards. Of course, everybody ponders things like that. Am I deserving of this? I think any artist has a tendency to second guess himself and reevaluate his talent, what he's doing with it. It's a serious thing, and I take it very seriously. But it certainly is a great thrill to be honored in all of these ways.
---
" Whatever works is the way to go – there are things that you blend that don't work sometimes, and there are things that do work. For me, it's been fun to touch on all of the bases, mix up the stew, and put my own twist on things. It has been a great thing for me, and it has kept me very excited about music over the years."
---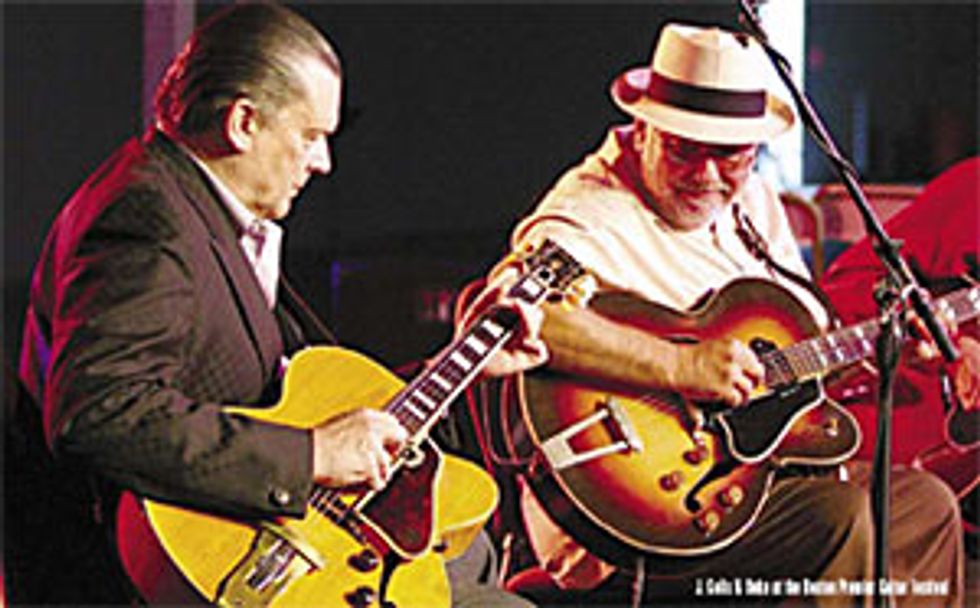 I'm quite fond of "Blues-A-Rama" from your 2006 release,
Guitar Groove-ARama
. It's amazing how you went through the different styles of these great guitarists and influences – I don't think many players could have pulled that off as well as you did. Did a lot of time and effort go into that, or did it just come naturally?
Well, it was kind of a one take thing. It's something that I've played a little bit over my career, on certain nights when I had my trio. I could easily take any direction because of the three-piece setup, without worrying about tripping up other musicians. It was something I'd do occasionally off the cuff.
I had Guitar Groove-A-Rama all recorded and I decided I was going to add another tune to it. So we went in to do it and in the second chorus I go from E for Muddy Waters down to Guitar Slim in F. I have to use a capo for that because it''s the only way to get that style. My biggest problem was putting the capo on and getting it right, so it wouldn''t fret out and sound weird or out of tune. [laughs] Then I had to take it off and continue the song. I had a few false starts, but I think I got it by the third time. Luckily, it was right in the beginning so if there was a problem I wasn''t like ten minutes into the song.
By the time we got to the third one I got the capo to stay on right and everything stayed in tune. That was the third try and the third take of it, so it was completely live, straight out in the studio.
How did you go about acquiring the tone needed to replicate each style?
Well, as they say, it''s all in the fingers. I played it all on one guitar, of course, a
Les Paul
. I had a Tubescreamer, so when I needed it more distorted I would have that tone. I also went between my fingers and a pick. I have a way of tucking the pick under my middle finger, and playing with my first finger and thumb. I played a lot of the styles with my fingers and some with a pick. Of course, I used different pickups for certain parts. Between all that, I was able to replicate all of the tones.
That''s pretty good.
It''s mostly in the fingers. The other things help to enhance it, to make it sound like the guys. But something I''ve always had a talent for and really enjoy is figuring out how my favorite guitar players got their sound, and how to make it sound like they did. Play with your fingers and snap the strings to make it sound like Johnny "Guitar" Watson. You play country blues, like Muddy Waters, with your fingers. To get different artists'' sounds, you do different things. That''s almost like a hobby of mine, in a way. What has kept me very excited about music is trying to get those tones, because tone is such a big part of it ­ the sound and the nuances of the sound. That''s why I like to produce, because I''m excited about the sounds of recordings. Everything I''ve listened to, which are millions of records over the years, are stored in my head. It''s kind of a library of sounds.
Let''s talk a bit about the new record,
Duke Robillard''s World Full Of Blues
. It''s a nice double set with a lot of good music, diverse in sound and tone. It''s really kind of a condensed sample of the broad musical personality of Duke Robillard, in my opinion. Obviously a guitar CD, I like how you list the guitars used on it, like the ES-335, the R8, the Gretsch and all. It''s an excellent album.
Thank you. I had a lot of fun making it. I''m very proud of it because it touches pretty much everything I do. It touches on all of the different elements of what my music is. I felt it was too much to get on one CD. I''ve been bugging my label for years to let me do a double CD and they finally agreed. I feel I''ve made a statement now. It''s pretty cohesive, too ­ it has a listenable flow. It was tricky to pick the music and sequence it so it didn''t sound like flipping through radio stations. [laughs]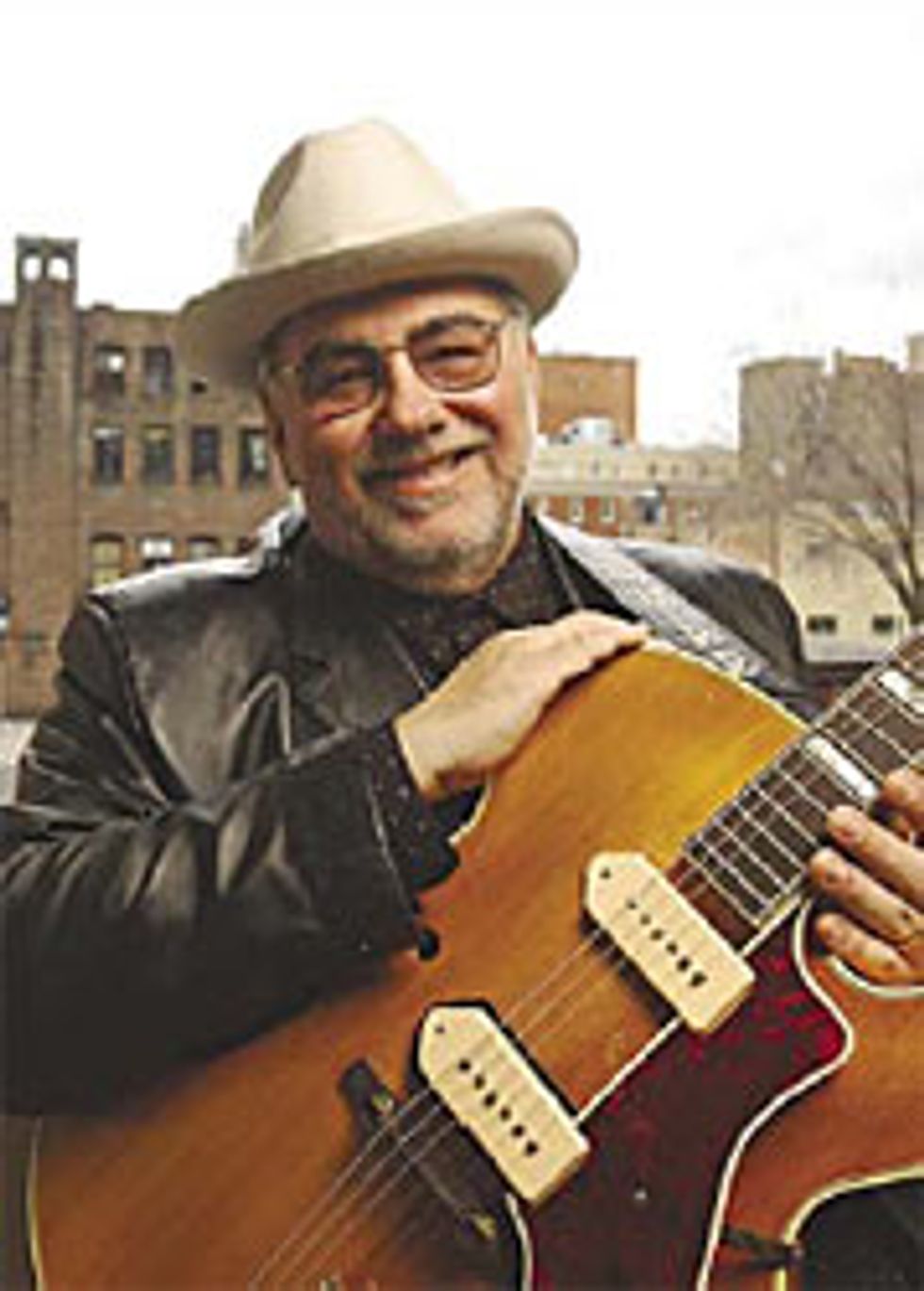 How do you go about choosing a certain guitar for a specific song? Does it depend more on style or tone?
You know, it''s such a personal thing. I could go onstage with a
Telecaster
, or I could go on with a big, fat guitar. People tell me that I sound like Duke no matter what. It really doesn''t matter what guitar you play; to me, it''s all part of this guitar obsession I have. With certain instruments, I can get closer to where I want to get. I experiment with that in the studio, but usually it''s not even an experiment. Generally speaking, I just pick what I think is going to feel and sound closest to what I''m trying to do. I get good results by doing that.
It''s just fun to play a bunch of instruments. I keep trading them ­ I trade them like baseball cards in a way. I hang on to a few that I really love, the older guitars, but I''m always trying new things, seeing what kind of sound I can get out of this or that.
In talking about the sounds you get out of guitars, you do an interesting and gritty cover of Dylan''s "Everything Is Broken" on the new album.
Oh, yeah.
I like the sound of the slide guitar you use on that one ­ the Galanti, I think it was.
It''s a Galanti, yeah. It''s a really cool instrument. Not exactly high tech, but it''s got a unique sound. It doesn¹t sound like anything else.
As you mention in the liner notes, the T-Bone Walker penned "Treat Me So Lowdown" segues nicely between a swing and funk groove. That is an interesting rhythm, and the lead guitar is enticing throughout. I believe it''s the Epiphone Zephyr Deluxe Regent.
Yes. The Zephyr Deluxe Regent is sitting here right next to me. That''s one of my favorite guitars. It''s really an incredible instrument.
Though you''ve been friends since the ''60s, supposedly you and Sugar Ray Norcia recorded together for the first time in the James Cotton instrumental "Slam Hammer."
Yeah, we played together quite a bit, but we never really recorded together until recently. I'm on quite a bit of his latest album as well, maybe half of it. But it's the first time we've recorded together. It's cool; it has been a lot of fun and he's such a great player and singer. You don't often hear him in a situation where he's just playing, backing someone up. I think he really shines on those cuts. He played great and I think they were only one or two takes.
I noticed that your old friend, Al Basile (of early Roomful of Blues fame), is on a couple of tunes on your new CD. The CD he released last year,
Groovin' in the Mood Room
, is very good. Your contributions to that were fantastic as well.
Thank you. He has a new one coming out soon. I think it's his best yet. He's becoming an excellent songwriter.
Yes, he is. The last song on the CD set, "Stretchin'," is really very nice. It's basically an improvisational jam.
I'm a big fan of that style – jazzy and bluesy organ combo stuff from Prestige Records of the '60s.I'm a big fan of that style – jazzy and bluesy organ combo stuff from Prestige Records of the '60s.
Do you get into much improvisation when playing live?
Sure. When you play any song a number of times you remember what it was you played. Naturally, you'll often go for what you remember as being the best of what you played before, but I always try to come up with something new. Some nights the solos are totally improvised and sometimes I'm relying on the best licks I've played before. You never know. That's the beauty of music – you never know what's going to happen.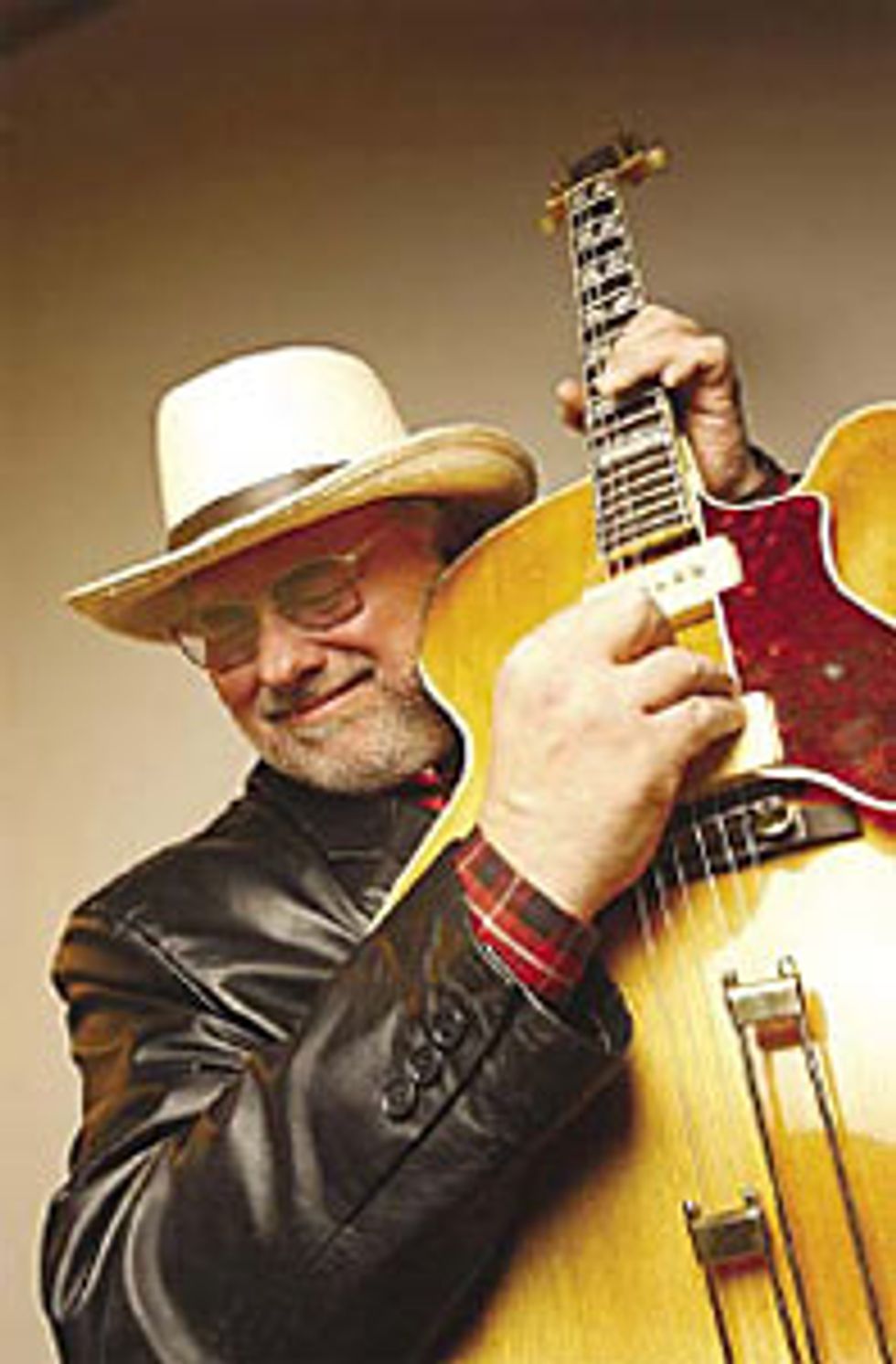 You used a '58 Les Paul reissue on the next song, "You're Killin' Me Baby," and it has an incredible tone. Where do you think the reissues and historics sit, in comparison to vintage instruments?
I take each instrument one at a time. I don't think you can say that every old
Stratocaster
or old Les Paul is a great guitar. I've owned some that weren't and I've owned some that were. To me, the age only matters when it's got an acoustic body. An arched or flattop guitar is when it matters most, because when the wood gets old it dries out and sounds better. It's true with solidbody guitars as well, but I'm very happy with the vintage reissues of all those instruments, whether they be Gibson, Epiphone, Fender, or Gretsch. They're all really nice and extremely well made. I hate to think where we'd be if they didn't start doing that because there's only so many of those original guitars – they've become too pricey for people to buy. I love the fact that I can buy a Les Paul with a big neck like a real '50s Les Paul. They make the pickups great now – those '57 classic pickups sound incredible. To me, they're just as good as the old ones, though I've never had a real '58 Les Paul because I'm not rich. [Laughs]
Except for a '58 Les Paul, I've had nearly every desirable vintage guitar. I've had '57 and '54 Stratocasters and a Broadcaster. I had an early goldtop Les Paul. I've had an L5 and a Super 400. I've had nearly every classic guitar and I don't think I paid over $500 for any of them. If I had all of those guitars now, I could retire with what they're worth. But I only own instruments when I play them. If I get an instrument and it sits unused in my guitar closet for too long then I just sell or trade it. They're there for me to play, not for me to collect. I get them playing as good as they can possibly play. I set them up. If they need refretting, I refret them. I put them out there in the hope of someone using them as a player's instrument and not as a collector's item.
Do you do the labor on the guitar yourself?
I do the setups but I don't do the fretwork or anything. I do some of the electronic work, depending on the guitar – I let someone else do archtops, because it's just too much of a pain to pull all of the stuff out of those little holes.
Let's talk more about your gear.
Well, as far as amps go, I have several amps that I like, but the ones I use mostly are either a Fender Deluxe Reverb reissue or a Louis Electric amp that was custom made for me. Louis [Rosano] calls it "The Duke." I don't know if he has another name for it for other people [or for retail purposes], but originally it was a 12" and a 10". I had him build me another cabinet that was smaller because I like them to be a little more compact. I have a 2x10 version of it now, and a 40-watt amplifier.
As for guitars, these days I use several Gibson models, and Epiphones are my guitars of choice. I do occasionally use a Strat or a Tele, but I've got an ES-355 Custom Shop guitar with a baritone switch. It's particularly beautiful and a beautiful sounding instrument. I'm also using a '57 Les Paul Goldtop Reissue, as well as an Epiphone John Lee Hooker Sheraton, which is an incredible guitar. I use my Zephyr Deluxe Regent quite a bit – an old 1949 model. I also have a Strat that I built myself out of Warmoth parts, and an Esquire. I also use a contemporary Les Paul Junior and an Explorer that sounds amazing. The Explorer is a great guitar – there's something about that massive piece of wood. Those are the guitars I use these days for recording and playing live.
I've also got a lot of cool archtop guitars. I've got a cool ES-350 from 1952, a 1946 Epiphone Emporer, a 1939 Epiphone Broadway, a 1944 Epiphone Blackstone and a 1938 Gibson L7. Epiphone and Gibson, to me, have always been the two top guitar makers, especially of archtops and flattops. I love flattop and hollowbody guitars in general. I use my Sheraton all the time, along with a modern Broadway.
Epiphone's Elitist Byrdland is also an incredible guitar; they are kind of like Gibson Custom Shop guitars. The Elitists are made in Japan, with beautiful high-end woods and incredible craftsmanship. These days, Epiphones are kind of like budget Gibsons in a sense, but they're really quality instruments. Sometimes people ask me if I ever change the pickups in new Epiphones, but I've never run into one in which the pickups don't sound great. I think they're made really well right from the beginning.
The main effect I use is a Seymour Duncan Pickup Booster, which is a great little preamp and gives you a clean boost. I like to run my amp low and use the Pickup Booster for a fatter tone. I also go back and forth between a Bad Monkey Distortion pedal, a Tube Screamer, a Boss Blues Driver and Boss Super Overdrive, but the Tonebone Radical Trimode is one that I really love. It's an actual tube pedal, and recording with it is amazing. It has two 12AX7s in it, and you can switch between two different settings to get different amounts of overdrive. You get phenomenal harmonic distortion with it.
I use D'Addario strings – depending on the guitar, I usually use the nickel wound variety. I use .10s on Les Pauls and Fender-style guitars, and .11s or .12s on archtops. I also use flatwounds on a lot of my older guitars, to get different sounds – usually the ones with floating pickups like D'Armond pickups.
Have you reached your goal as a guitarist, or is that a never-ending road?
Hopefully it's a never-ending road. I've pondered that question myself, in the sense that I'm getting older. I have pretty bad arthritis in my left shoulder which affects my playing to some extent – I'm not quite as fast as I used to be. But I think I'm continuing to get better, from all the music I've ingested and all the music I've played. I suppose this is something that most people experience, since it's rare to not have something slow you down as you age.
Now I'm getting noticed more than ever; I'm getting all of these awards, but at the same time it's getting harder to sing, and I'm slower than I used to be. Still, when I listen to my recent recordings, I think I'm better on them than when I had more facility and my voice was in better shape. But that's like with anybody; I think Louis Armstrong always sounded great, right up to the end. He couldn't quite hit the same high notes that he did when he was young, but I see him as a good role model for what I want to achieve in my life, which is lasting musical maturity. I just want to continue to mature and use what I have left of my talent until the end.
Exclusive: Two Tracks from Duke's newest release, Duke Robillard's World Full of Blues!
Stretchin'
Flash is Required to hear this track
You're Killin' Me Baby
Flash is Required to hear this track
ROBILLARD Gearbox
When Duke plays the blues, here's what he uses:
---
Guitars
Gibson Custom Shop
ES-335 w/ baritone switch
Les Paul '57 Goldtop Reissue
Les Paul Junior
Gibson Explorer
Epiphone
John Lee Hooker Sheraton
Epiphone Sheraton
1949 Epiphone
Zephyr Deluxe Regent
Custom-built Strat
Fender Esquire

Amps
Fender Deluxe Reverb Reissue
Louis Electric
Custom Amp

Effects
Seymour Duncan
Pickup Booster
Digitech Bad Monkey
Ibanez Tube Screamer
Tonebone Radical Trimode
Boss Blues Driver
Boss Super Overdrive
Boss Chromatic Tuner

Accessories
D'Addario strings

---
Duke Robillard
dukerobillard.com
stonyplainrecords.com