Eagles of Death Metal's Jesse Hughes: Special Forces Ringmaster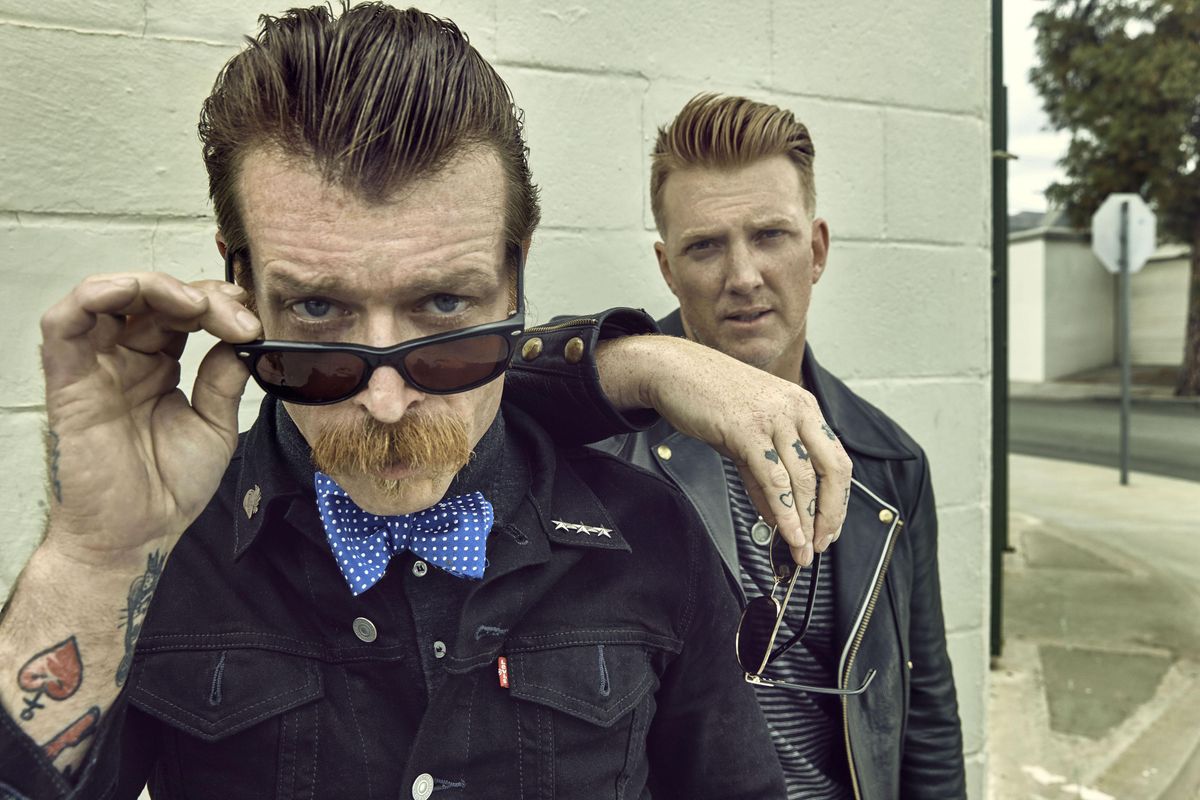 Photo by Chapman Baehler
On musical wizards vs. magicians, the deceptive art of creating a sonic spectacle, and the greasy grooves laid down with best friend Josh Homme on Zipper Down.
Plenty of bands have been thrown together solely to get girls. Others for fame and fortune. But Eagles of Death Metal formed as more of a joke or dare.
Granted, guitarist/vocalist Jesse Hughes did play guitar alongside his longtime best friend Josh Homme on the Queens of the Stone Age frontman's 1998 Desert Sessions compilation Volumes 3 & 4. But he confides, "I just did it to hang out with my friend and make music—I never had any intention, belief, delusion, vision, or pretense about becoming a rock 'n' roll musician." When the sessions were over, Hughes moved on with family life, working nine to five as a journalist, speechwriter, and even an ordained deacon. But then the bottom fell out.
"Around 2003, I was going through the ugliest divorce and custody battle you could imagine," he recalls. "The only thing on my mind was to show love to my son, so I started entertaining him with really basic songs. Josh came over one day to check up on me, and he overheard 'I Only Want You' [later on EODM's 2004 debut, Peace, Love, Death Metal]. He asked me if I could do more songs like that. I laughed and sneered, 'I could write an album in a week.'" A few days later, Hughes delivered and Eagles of Death Metal was born.
"My earliest, fondest memories in life are centered around
music and women."

The two friends—who've known each other since elementary school ("We instantly hit it off," laughs Hughes, "I think because we were the only two gingers in the desert")—play all the instruments, though over the course of four studio albums they've also welcomed friends like QOTSA collaborators Troy Van Leeuwen, Alain Johannes, Dave Catching, and drummer Joey Castillo both in the studio and on the road. Eleven years later—after a ripping debut and two albums full of greasy perv-rock with hypnotic grooves and the occasional vulnerable ballad—Hughes and Homme are back with Zipper Down, their most versatile record to date.
"I've always wanted to do a more complex demonstration of a deeper emotion and prove my understanding of proper songwriting structure," says Hughes of his musical evolution. "With any band, you come out and you're raw and powerful at first, but then you begin to understand dynamics and how sometimes less is more. That said, we concocted Eagles of Death Metal to be like a rock 'n' roll combination of the Special Forces and Ringling Bros. and Barnum & Bailey Circus."
So just how versatile—how "Ringling Bros."—is Zipper Down? Well, for starters, there's an eerie, buzzy, slapback-treated cover of Duran Duran's melancholy 1982 synth ballad "Save a Prayer." But we'll let ringleader Hughes elucidate further. When we caught up with him before the band's U.S. tour, he talked about everything from how Parliament-Funkadelic and flamboyant fitness ambassador Richard Simmons sparked his swagger, to why he'd rather be a wizard than a magician, and why he chose not to use big amps in the studio and eschews pedals onstage.
Guitarist/frontman Jesse Hughes basks in the glory of the afternoon crowd at Riot Fest 2015 in Chicago's Douglas Park. Photo by Chris Kies
What is the creative process between you and Josh?
I typically write every lyric and riff in Eagles of Death Metal. I'll then record shitty little demos. Josh described it like this: I brought in a bunch of toys in a box, dumped them on the table, and asked him what we should play with first. He'll contend that his role is to keep the character and vibe of my original thoughts in tact, but he'd be lying. I mean, in my opinion, he's one of the best musicians out there right now, and it'd be a disservice to me and the fans if I didn't borrow a little of his awesomeness for our material.
Since he primarily plays drums in this band, do you have to really push him to contribute guitar parts and vocal melodies?
He defers—almost to a fault—to me and my guitar playing. Side bands don't make you money. They don't give you fame. And I wouldn't be talking to you today if it wasn't for Josh allowing me to do my own thing under the Eagles of Death Metal name. No one else in their right mind would sign up to be a marquee duo with me and let me take all the glory. When it comes to guitar, he'll encourage me to figure out the part and do it myself—it's like he has a chip on his shoulder over my guitar-playing abilities. It's beautiful [laughs].
Does he give you specific advice or push you in certain directions?
Oh god, no. Josh is not that type of dude. But what I will do is show him how I learn and absorb his subtle teachings and suggestions. When we go on tour after a few months off, I get all excited to show him how I can play slide a certain way or use hammer-ons more efficiently. I'm a goal-orientated person, and I've found that it's more fulfilling and holistic to achieve goals for others rather than just doing it to make yourself look better.
I'm completely comfortable with what I'm good at—my trick is to play stupid-simple solos that sound rad enough that you forget that I'm only playing a few notes and just hanging on for the ride. The greatest thing I can tell anyone that works with someone that is clearly superior and more talented than they are is to make yourself available to their direction. Your ego might take a hit, but your songs, music, or whatever you're doing in life will be better because of it.
So did Josh contribute any guitar parts on Zipper Down?
Well, I wish it was a lot more, but he plays these really tricky solo runs that go through the bridge in "Skin Tight Boogie" that are fucking mind blowing. And his slide intro to "I Love You All the Time" is something we wouldn't have done on previous albums because most of our previous slide playing is faster, abrasive. This is more melodic, soulful, and emotive—it's just like Gerry Rafferty's "Right Down the Line."
Check out the Rig Rundown we did with the band:


Eagles of Death Metal frontman Jesse Hughes rocks the Riot Fest 2015 crowd in Chicago's Douglas Park with his
custom Maton MS500. Photo by Chris Kies
Is there a method to your madness when you guys build songs?
I'm a hillbilly and I don't like to think too much, so I follow the James Brown school of thought: Treat everything like a drum so it connects in a manner like a Lego. It's much more cohesive—and tighter, say, than tinker toys [laughs]. We pan the rhythm guitars into both channels along with the drums so that they're together. Bass is treated like an isolated lead instrument so it can truly be heard and felt. And of course, lead guitar is completely separate so it sits on top of the mix.
The key to what we do—even if it appears simple and haphazard—is that, when I write the songs, I write them complete. When Josh hears them for the first time they need to stand on their own. We don't like forcing ourselves to write, fix, or finish a song. When a song is deemed worthy, we need to focus all of our attention on properly arranging, layering, and mixing everything so it doesn't come off as sloppy or improv.
Elaborate on what you mean by "treat everything like a drum."
When you play everything like a drum, the parts will change. If you listen to a Black Sabbath song, you'll hear Bill Ward slam on his kit [mimics drum-fill from "Iron Man"]. You can mimic that with a pick slide or moving power chords up and down the neck. You just translate the parts from the basis of the rhythm provided by drums. The more you can tap into that feel and flow of a drummer, the better your music and instrumentation will sound and feel. And that means the ladies will move [laughs].
"When Josh and I make records we have a rule—we don't use technology to cheat."

Let's talk about some of the new songs. "The Deuce" seems to demonstrate that whole drum-playing mentality. It's got a highly danceable rhythm and cool dual-guitar solo.
That's the only song on the record that I produced and I played everything on except drums, which Josh played. I think two guitarists playing the same thing sounds better than a single guy playing it twice, but Josh actually left the studio that day. So I recorded everything on top of his drum tracks and did two scratch guitar tracks for that solo so he could show up and work his big-fingered magic. When he said there was nothing he could add to it, it was one of the biggest compliments of my career.
The cover of Duran Duran's "Save a Prayer" is a surprise.
I'm a believer that there is nothing new under the sun. All forms of art are derived or covering something that came before. I enjoy picking songs or artists that you wouldn't expect to provide an element of surprise and to challenge myself. I also like to reveal and honor things. I think Duran Duran is one of the coolest bands of my lifetime, so why not celebrate them and have some fun? My only other requirement for covers is that every part and nuance from the original is represented somehow, even if it's with different instruments or tones. This song is the only one I've ever released—with Eagles or solo—that I only used a single vocal take. Josh challenged me to go with one lone vocal take. Listening back, I'm happy he insisted.
Your music is typically so grooving and infectious. What do you attribute that to?
I love women and I think they look best when they're dancing, man. The trick is to play music that is equally tough and danceable, so the guys will crank it and the women will bust loose at shows. That's all I'm after—good ol' rock 'n' roll.
Jesse Hughes' Gear
Guitars
Custom Maton MS500
Custom Maton MS T-Byrd baritone
Yamaha AES1500
Fender Blacktop Baritone Telecaster
Teisco Del Rey
Amps
Gorilla GG-10 (studio)
Zinky Smokey (studio)
Orange Rockerverb 50 MKIII (live)
Orange Dual Dark 50 (live)
Effects
Mosrite Fuzzrite (studio)
Original orange Roger Mayer Axis Fuzz (studio)
Strings and Picks
Ernie Ball Slinkys (.010–.052)
Dunlop .73 mm picks
But also, there's a collection of random circumstances that have shaped my musical proclivities—like being raised by my mother. She's the greatest example of a woman, and because of her I admire and look up to them all. When I write music or perform live, I want to celebrate their beauty and strength and help them have fun. Another thing was that she really enjoyed doing the Richard Simmons workout videotapes with her hot friends, and I'd hide so I could sneak a peek at them moving and shaking [laughs]. On top of that, my mom was really into disco and funk. To entertain me, she'd put on Parliament-Funkadelic records and let me stand on her feet while we danced around the room. My earliest, fondest memories in life are centered around music and women.
Do you have a favorite song on Zipper Down?
I really dig "Skin Tight Boogie" because the talk box—which can normally be super cheesy—sounds badass, and my girl does a great '80s-era-Blondie-style rap in the middle of it. And I can't get over "The Deuce," because it's probably my best guitar solo ever.
What did you use for the huge, gnarly bass tone on "Skin Tight Boogie"?
About 10 years ago a friend of mine took me to this sketchy-as-hell place where a guy had clearly come into possession of a lot of stolen goods, and he had an original Mosrite Fuzzrite and an original orange Roger Mayer Axis Fuzz that had previously belonged to Jake E. Lee and was at one time used by Hendrix. I did my homework on that pedal and had it verified. It's the real deal, baby, and I'll be buried with that pedal [laughs].
Also, when you hear fuzz tones on any of the records we do, we're playing direct through the pedals—because we don't use amps. And when we do use an amp for the other tones, it's either a Gorilla GG-10 combo or a Zinky Smokey mini Amp. Big sound doesn't require big amps.

"A good song in my opinion is a hypnotic rhythm—things don't get too technical," says Hughes. "It's basically a sex manual—in, out, in, out, and the basic cadence in which to do it." Photo by Chris Kies
What do you dig about your Maton guitars?
Maton make the finest guitars, in my opinion. They aren't that well known in the States, because the company is based in Melbourne, Australia. They have a single master luthier that sits in the middle of their factory handcrafting these beautiful instruments. I like that they use indigenous woods like silkwood and blackwood that are similar to mahogany and maple. The hot-rodded handwound Mastersound pickups in my MS500—it's basically a stock MS500 with lightning bolts instead of f-holes—are fantastic because I don't use pedals live. So when they're paired with my Orange heads, they get right to the edge of distortion without losing any clarity or heft. Another thing I really like about these guitars is that the fretboard doesn't add much weight and its rather thin, so I can grab it like a man with my little hillbilly fingers [laughs].
Another Maton I really adore is this new custom, one-off baritone based on their MS T-Byrd. They sent me it when they caught wind that I recorded some parts with a Fender Blacktop Baritone Telecaster on Zipper Down. It has some really magnificent pickups that are modeled after my old "Special Kay" bass, and they have that old tone but without all the unwanted microphonics and issues.
"Big sound doesn't require big amps."

Did you use any other guitars on Zipper Down?
On "The Reverend" I used my big-bodied Yamaha AES1500 semi-hollow because of its midrange snarl, and the first guitar I ever owned—a Teisco Del Rey that I got at a pawnshop for $60.
Why are all your songs in open G?
Well, if it's good enough for Keith [Richards], it's good enough for me, man! [Laughs.] It's not entirely like Keith, since he only uses five strings and we always use the full six. I just double the top two strings in G, so it's G–G–D–G–B–D.
What about the baritone? That's tuned to match the open G, but it has a lot of Bs and sharps. It's basically two keys lower than my double-open-G tuning.
YouTube It
Josh Homme (on drums) and Jesse Hughes create a greasy groove on this take of "I Like to Move in the Night" at this year's Pinkpop festival in Landgraaf, Netherlands. Dave Catching is on lead guitar, and Matt McJunkins is on bass.
Musically, what's next on tap for you? I'd really like to an honest-to-god gospel album like Elvis did. I'd like to explore my hillbilly, old-school country roots, since I'm originally from South Carolina.
As an artist, are you more satisfied onstage or in the studio?
I take the stage and I'm possessed—I love it! The studio is where you can show if you're a magician or a wizard. When Josh and I make records we have a rule—we don't use technology to cheat. We didn't cut or scrap [edit] any parts together, so everything you hear is a full take.
What's the difference between a magician and a wizard, and which one are you?

A magician is a scammer that can go around and pull off a few sleight-of-hand tricks, but he is a master of nothing. A wizard has powers—true, absolute control of their power. I'd be a wizard, man—and not like Gandalf. I'd be a badass cross of Sherlock Holmes and Harry Houdini played by Antonio Banderas.
Watch our Rig Rundown with Jesse and the rest of EODM: