The Multitudes of Madison Cunningham
Photo by Claire Marie Vogel
The breakout songwriter-guitarist revels in her truest self on Revealer, staying playful and curious through experimental tunings, a rubber-bridge guitar, and other tone toys, while keeping the essence of the song paramount—a treasured approach she gleaned from the influence of Joni Mitchell.
For Madison Cunningham, the greater good of the song always comes first. But while the song itself is always king for the Los Angeles-based singer/songwriter/guitarist, her tunes are rendered with striking features that can't help but draw the ear deeper. Whether you're snared by her poetry, her beautiful voice, her wonderful sense of melody and composition, or her dexterous and often unexpected guitar playing, Cunningham's songs tend to contain multitudes. She is the rare breed of artist who pens earworms with the kind of depth and intrigue that musos go crazy for. It's a magic trick that's earned her comparisons to the legendary Joni Mitchell (who Cunningham cites as a key influence), and it's also earned her four Grammy nominations and plenty of famous fans as a songwriter's songwriter.
---
With her highly anticipated third album, Revealer, Cunningham set out to discover who she truly is as an artist and songwriter beneath the layers she built up after a few turbulent years in the music business. The resulting collection of songs conveys a sense of honesty and authenticity that feels rare in the era of social media. Revealer cohesively blends sounds pulled from indie-rock living with chamber-pop arrangements, and Cunningham's folk-songwriting fundamentals are supercharged with killer guitar ideas. And while those refreshing riffs form the foundation of many of Revealer's songs, she contextualizes the guitar's place in her world and on Revealer in her own words.
Madison Cunningham - Hospital (Live Performance)
"This record was me trying to get back to my interest again," she explains. "I went through such a weird, barren creative time before it that I was like, 'God, what do I actually enjoy playing or writing?' My whole journey as a guitar player, from the moment I started playing to now, has been trying to find my voice and my home in it. It's such a versatile instrument and it's been established by so many incredible innovators. I'm always trying to find a new way into it that feels like me. My sense of who I am is always changing, so there was certainly a lot of energy spent trying to figure out where the guitar belonged on this record, as opposed to the last one, where I felt a little more sure about where I was going. On this one, I was kind of happily lost in trying to figure it out."
Cunningham admits that navigating the uncertainties made it a difficult record to make at times. However, the process yielded some incredibly cool guitar moments, including the album's opening track, "All I've Ever Known," a song that, Cunningham says, "feels very true to the way I view harmony and rhythm, overall." The song opens with a playful, melodic hammer-on lick that recalls the late Jeff Buckley's best work—a lick that Cunningham stumbled over at soundcheck during a dark period of a long tour and haunted her until she returned home.
"If someone's only take-away from my music is, 'Sick guitar tone, bro,' I would be bummed. That compliment is always just slightly offensive to me, because it means you didn't get anything from the song and the guitar stole the show."
"That song and 'Anywhere' reflect back the things that I love most in songwriting," she shares. "We were in the middle-of-nowhere Ohio, and it was literally nine below. We were cold and grumpy, and we were warming up onstage. I was just at the point where I'd toured so much that year that I was so tired of hearing the songs we were going to play that night, and that riff came out of nowhere. I just found it at soundcheck, and it made all sorts of sense in certain parts of the fretboard. My band and I jammed on it at soundcheck, and I have this voice memo of it that I took home with me. The first week that we were off tour, I just sat in my house and finished it. It all came out at once."
Another standout guitar moment on Revealer is the fuzzy, snaky, baritone-esque guitar line that underpins the single "Hospital." The riff opens the song and dances with Cunningham's soaring vocal line and a lovely string part. It's an idea that really shows off Cunningham's knack for penning intriguing and fun guitar parts that don't overshadow a song's spirit; it's simply a colorful character within the song. Cunningham describes the origins of "Hospital" as "a test to see if I could just write a simpler song with fewer chords and to not make it about the guitar." And the composition came about in a different order than usual. "The song itself did come first and then I figured out what the guitar needed to be after the basics were written," she says. "Usually for me, it's the reverse."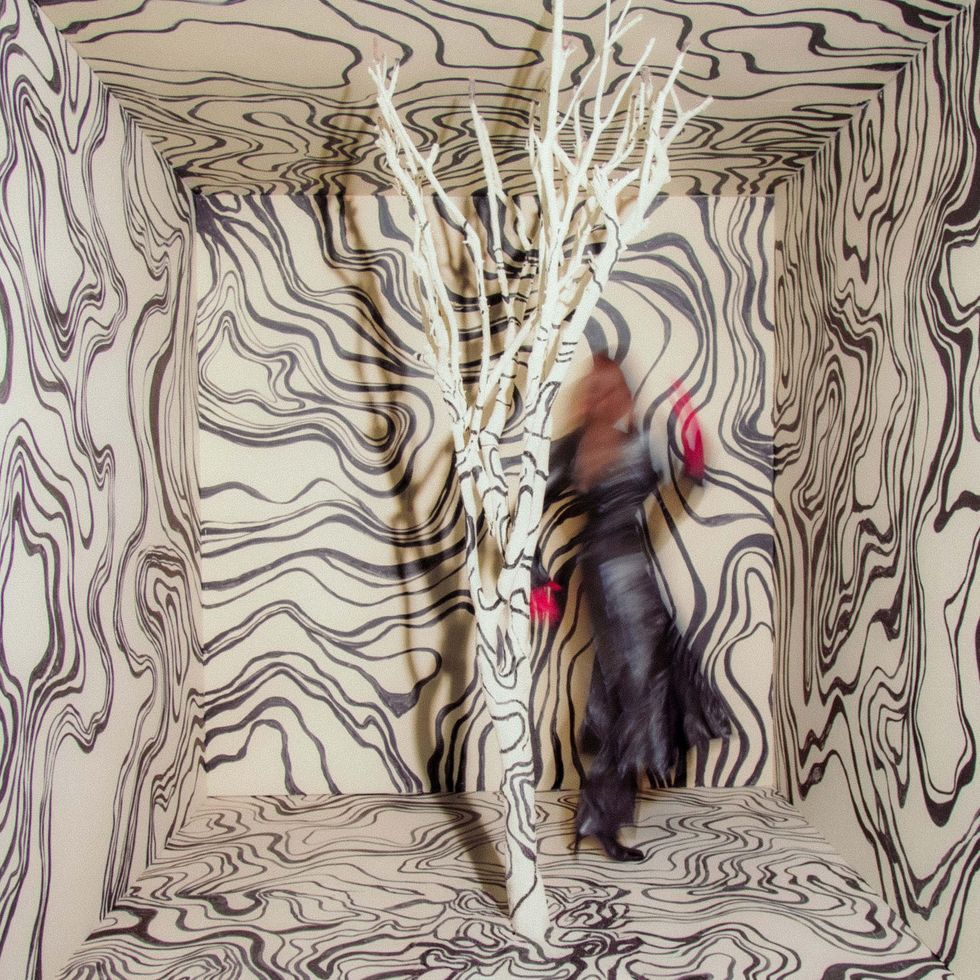 Writing her Grammy-nominated third album, Revealer, was an adventure in self-discovery for Madison Cunningham. Her creative team included producers Tyler Chester, Mike Elizondo, and Tucker Martine.
"Hospital" also provides a shining example of Cunningham's clever approach to shaping unique tones. The guitar part on the song might sound like a baritone, but it's actually a standard-scale guitar in standard tuning, pitch-shifted down to B standard with the help of a DigiTech Whammy pedal. Low tunings are a signature part of Cunningham's sound. She typically tunes her favorite Fender Jazzmaster down to C standard, but the "wacky tone and sound" the Whammy's pitch-shifter gave the riff won out over a guitar actually tuned down to B. "I found if I just tuned a guitar down to B, the weird thing I liked about the sound was gone," she explains. "I use that pedal live, too, but since my Jazzmaster is tuned to C standard live, I don't have to drop it as much with the Whammy."
Revealer's B-side boasts some of Cunningham's most adventurous playing, including the off-kilter, Eastern-sounding stabs that lace up "Collider Particles," and a proggy, finger-twister of a riff that punctuates "Your Hate Could Power a Train." She wrote the pair of tunes in the studio with co-producer Mike Elizondo. "It was like I opened up the toy chest for a minute when we wrote them," Cunningham shares. "There was so much of this record where I felt depressed and sad while making it, that these songs were some real bursts of joy for me. It felt like those songs on their own, without a body-of-work like the album, don't necessarily represent the whole of me, but they represent an important part of me. I wanted a playful, curious element to be really an important element of the B-side of the record, and they gave me exactly that."
Madison Cunningham's Gear
Madison Cunningham plays the Sinclair, in Cambridge, Massachusetts, in October 2022. Her Jazzmaster is a made-in-Mexico '60s reissue that she bought right off the wall at Guitar Center.
Photo by Tim Bugbee
Guitars
MIM Fender Jazzmaster reissue
1960s Silvertone acoustic with Old Style Guitar Shop rubber bridge
Amps (typically recorded in stereo pairs):
1967 Fender Princeton Reverb (modified to black-panel spec)
Early '60s Magnatone 670 Stereo
Mid-'60s Gibson Falcon
Effects
JHS Emperor

DigiTech Whammy
Maestro G-1 Rhythm N Sound Processor (vibrato on "Sunshine Over the Counter")
JHS Artificial Blonde Madison Cunningham Signature Vibrato
Strings & Picks
D'Addario Flatwound (.013–.056)
Dunlop Max-Grip 1.14 mm
For the Eastern-flavored guitar part on "Collider Particles," Cunningham's "toy chest" included one of the increasingly famous rubber-bridge guitars luthier Reuben Cox crafts at L.A.'s Old Style Guitar Shop, which was paired with a JHS pedal for a glitching effect. It's an example of Cunningham and Revealer's production team's (which included longtime foil Tyler Chester, as well as Mike Elizondo and Tucker Martine) shrewd ability to include heavily effected sounds without allowing them to consume the track.
"I went through such a weird, barren creative time before it that I was like, 'God, what do I actually enjoy playing or writing?'"
"The rubber bridge thing has been a distinctly Los Angeles sound, and the gospel of them is traveling, and it's becoming a more universally used and sought-after sound," says Cunningham. "They started to pop up around me and immediately sounded like an effect I liked and something I wanted to use. So, Tyler [Chester] lent me his during the pandemic and I just never gave it back. The rubber bridge is responsible for finishing a lot of the songs: "Who Are You Now" and "Anywhere" and "All I've Ever Known" … all those songs were kind of a result of that guitar. I couldn't speak more highly about it, and now that it's becoming a sound that people are using, I'm trying to find new ways to make it sound like something else, not just a rubber bridge. I still want to get the 'what is that?' effect, because I think that's its original intent, to make people tilt their heads a little bit and go, 'What the heck is happening with this?' It's the kind of guitar that has so much room to explore within it."
Cunningham borrowed this 1960s Silvertone acoustic with an Old Style Guitar Shop rubber bridge from her producer, Tyler Chester, and never gave it back. She wrote several Revealer tracks on this guitar
Photo by Noah Torralba
Though Cunningham found the rubber bridge to be the perfect tool to finish much of the album's songs, her trusty Jazzmaster did most of the heavy lifting. The guitar is a bone-stock made-in-Mexico '60s reissue that Cunningham plucked off the wall at Guitar Center, bonded with immediately, and never looked back. "I never made the conscious decision to be like, 'I'm a Jazzmaster girl now!' That particular guitar was the first one I ever played, and it was just immediately comfortable for me, and very versatile," Cunningham says of the sunburst offset. "And it immediately held all the deep tunings that I'm always tuning my guitars to. It was like, 'This is the sound that I hear in my dreams.' It became a staple for the last six years and I'm pretty married to this one because it's got my imprint now. It feels like home."
Another homebase for Cunningham, and font of inspiration, is Joni Mitchell, who returned to the stage this year for the first time in decades at the 2022 Newport Folk Festival. Cunningham reflects on the Canadian icon's gifts and influence on her own path as an artist.
"It immediately held all the deep tunings that I'm always tuning my guitars to. It was like, 'This is the sound that I hear in my dreams,'" says Cunningham of her Jazzmaster."
Photo by Tim Bugbee
"Joni's playfulness is her strength. She wasn't ever in the business of showing off before she was in the business of moving people, and those were firm priorities in her writing and performing. Those priorities stuck with me, and I'm very conscious as a guitar player to toe that line. There are moments to step out with it and to let it shine, but for me it's all about the song. Hearing her records early on left a huge mark on me, especially as a guitar player. I played in open tunings and understood guitar, and I knew the nuance and the complexities of what she was actually doing and that no one could replicate that—she invented her own tunings! But all of that was supporting this theme and propping up the main point of the song, and it's so powerful to be able to have her voice, her writing, and her guitar playing work together like they do. All three of those elements are always working so clearly for the same thing in her music. That is the most beautiful combination. I constantly strive for that, and I'm haunted by that way of thinking. If someone's only takeaway from my music is, 'Sick guitar tone, bro,' I would be bummed. That compliment is always just slightly offensive to me, because it means you didn't get anything from the song and the guitar stole the show. There are moments for big guitars, of course—balance is the key—but my priorities are the song first and everything else second.
"My whole journey as a guitar player, from the moment I started playing to now, has been trying to find my voice and my home in it."
"Making Revealer was an undeniably cathartic process for Cunningham, but it was also a learning experience. As one who is dedicated to her own songcraft, but a reverent student of songwriting in general, she's had time to analyze things now that the dust in Revealer's wake has settled a bit. When asked if she has any advice for fellow songwriters, Cunningham's clarity comes through in her answer:
"Don't let your curiosity for the process die out because it is a process. I had to remember during this record that you need to have a lack of preciousness, and that's not a lack of thoughtfulness, but it's preciousness. You need to be able to break the song down again if it needs it, but you have to be led by the nose of your curiosity, and that has to inspire your bravery to go back in again and build a song up all over again if it isn't quite there. And don't let the business side of everything weigh you down, because in the end, none of that really matters. Putting the process and what it takes to build a good song before any other decision is the most important thing to me now."
YouTube It