Interview: Bill Frisell - Off the Deep End
Frisell divulges the inner workings of this album, clues us in as to how he manages to juggle so many intense projects simultaneously, and tells us about the 16-second delay that got away.
For many of us, 6:50 a.m. on a Monday morning would probably be the last choice of times to schedule an interview. But for Grammy-winning guitarist and composer Bill Frisell, this criminally early time was his only opening in the midst of a whirlwind tour, so we jumped at the opportunity to chat while he was waiting to board a plane at Los Angeles International Airport.
As one of the most sought-after guitarists in a wide variety of styles, demand spreads him so thin he literally doesn't have a second to spare. To give an idea, in a five-week span around the time of our interview, he debuted and conducted a score based on Allen Ginsberg's Kaddish (commissioned by and performed at the Park Avenue Armory in New York City), then flew out to Oregon the next day to lead three group projects—a quartet performing the music of Jimmy Bryant and Speedy West, a quintet performing the music of John Lennon, and his 858 Quartet, which is most often set up as a string quartet, but with guitar replacing one of the two violins. He performed a solo concert over a twoevening run at the Portland Jazz Festival, and then a few days later headed to Japan to do concerts with Vinicius Cantuária. He returned to the States to tour the West Coast with his Beautiful Dreamers group (headlining a night at the L.A. Philharmonic), and then jumped over to the East Coast with folk singer Sam Amidon, while hitting points in between as a guest with the Dale Bruning Trio and performing music he'd cowritten for the 2012 film The Great Flood. In just over a month's span, he'd taken on enough musical personalities to make Sybil the poster child for normalcy.
While Frisell is most often classified as a jazz guitarist, there's no question that he's infinitely more forward thinking than the many jazzers who focus on improvising over standards armed solely with a Gibson ES-175 and a Polytone amp. Sure, Frisell can fulfill his jazzbo duties by navigating the hardest of chord changes with the best of them, as he's done on "Moment's Notice" with none other than McCoy Tyner, and when tearing through John Coltrane's "26-2" with his 858 Quartet. But he unapologetically incorporates disparate influences like Americana, country, avant-garde, and contemporary classical into his music, and has no inhibitions about whipping out a looper, distortion pedal, or a sound freezer. In addition to working with a "who's who" of musicians across virtually all styles— Bonnie Raitt, Elvis Costello, John Zorn, Elvin Jones, and Ron Carter, among many others—he's scored films, including Finding Forrester and American Hollow, and had his music featured on several TV shows.
Frisell started out on the clarinet but picked up the guitar after being inspired by the pop music he'd heard on the radio. He attended Berklee College of Music during the '70s, which was a particularly fertile time in the school's history. During this decade, Mike Stern (who met his wife Leni through Frisell) and John Scofield were also students at Berklee, and Pat Metheny was on the faculty. By the '80s, all four guitarists were becoming jazz icons by ushering in the era of modern jazz guitar—reshaping the sound of jazz by breaking certain taboos that crippled the genre's continued viability in the changing musical landscape. They took a page from the Miles Davis playbook and incorporated influences like pop and rock, among other styles, and made it okay to use effects.
What notably differentiates Frisell from his jazz peers is that he's been exalted to royalty not based on virtuosic ability but, rather, on his pioneering sonic vision. Frisell's ethereal sound is instantly recognizable, and though you'll hear tons of musicians who are obviously influenced by him, you'll rarely hear them parroting his licks. Frisell's style is more about individuality, conception, and politely giving the middle finger to the stylistic rulebook.
One of Frisell's recent convention-defying ventures is Floratone, a collaborative ensemble project that takes a recorded improvisation and—with time and a lot of studio-generated revisions—morphs it into something unusual and unexpected. The sessions start with Frisell and drummer Matt Chamberlain just letting tape roll as they freely improvise. These master tapes are then put in the hands of producers Lee Townsend and Tucker Martine, who rummage through the files to dissect choice parts for compositional repurposing.
This studio reconstruction is somewhat reminiscent of Teo Macero's work on Miles Davis' In a Silent Way and Bitches Brew, two albums that had a profound impact on the budding guitarist. "Those records are gigantic inspirations," says Frisell. "For me, it was sort of like The Beatles, as far as being huge and basically changing my life." Floratone's self-titled debut was released several years ago and received critical acclaim. The collaborative recently released the follow-up, Floratone II, which also features appearances by industry legends Jon Brion and Mike Elizondo.
In this interview, Frisell divulges the inner workings of this album, clues us in as to how he manages to juggle so many intense projects simultaneously, and tells us about the 16-second delay that got away.
Floratone really blurs the line between improvisation and composition. Can you explain the band's unique writing process?
Of all the things I've done, Floratone is definitely the most studio-involved. Most of my own music is more of a documentation of a band or some composition that I write, and it sort of captures whatever happens in a particular couple of days. The germ or the seed of Floratone comes from this wide-open improvising with Matt Chamberlain and myself—it's a completely spontaneous thing. We'd go in the studio for a day or two, and put hours of stuff on tape, and then just leave Tucker Martine and Lee Townsend with this big mess of stuff. We give them the tapes and let them go wherever they want to, and it's wild to hear what comes back.
Did you edit the tapes before presenting the music to them?
They just take the whole thing. So much of the responsibility is up to Lee and Tucker to figure out a way to get it all into a manageable one hour of music. It's kind of a luxury. If it were my own record, then I would be sweating over every little second of it and worrying about this and that. Floratone II happened over an even longer period than Floratone.
This approach must involve an extremely high level of trust from all parties involved.
All of these people are super close-and-trusted friends I've worked with a lot. Lee, I've done about 30 albums with. I haven't done that many with Tucker, but we've known each other for around 25 years. Floratone is like a band, but for those guys, their instrument is the studio. This is a way to let them go full tilt into what they do. At the same time, I'm going full tilt into what Matt and I do.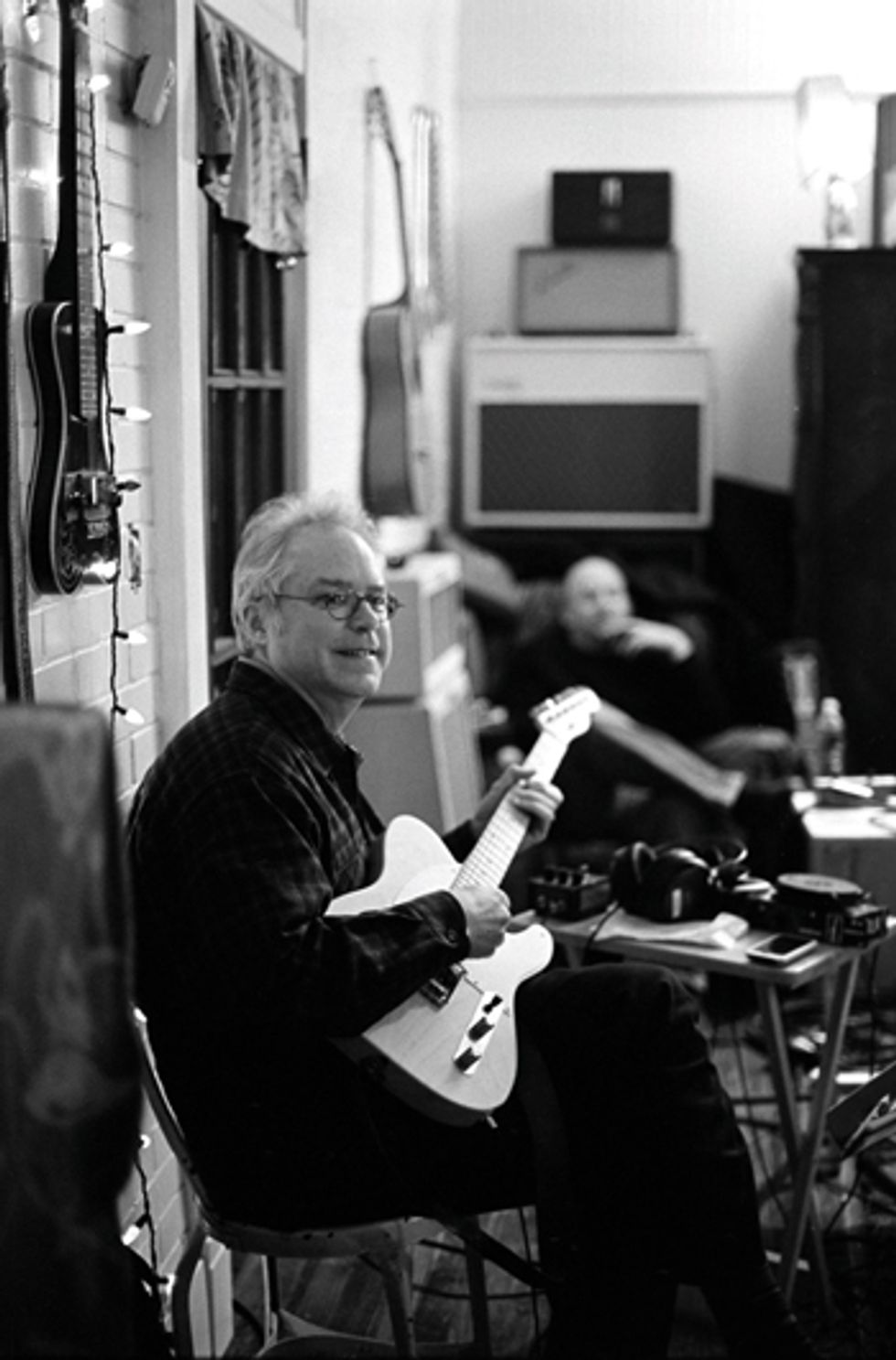 Did you try to steer the Floratone II sessions into a different direction than Floratone?
I didn't. Lee and Tucker were the ones that made those decisions about what was going to be on it, so much of the direction is really pointed by what they chose. I'm not sure; I guess I'd have to ask them if they actually consciously thought about trying to make it different.
Did you or Matt present any guidelines like tempo, key, or feel to each other before starting a jam?
There was no discussion at all, which was great. It was like, bam, and we just start playing. There was no stress or anything and it was really fun. Matt is like an idea machine—every second something amazing would come out of him.
You're also involved in the process again later, right? You compose string and horn parts to be layered, and you and Matt also add more guitars and drums.
It happens in all these layers. It starts with just improvising, then editing, and then we go back and start adding more guitars and drums. I wrote those string and horn parts and then they went to L.A. I wasn't there for that either. That was weird, too, because I think the last thing I did was write those melodies. After we recorded that, Matt put on some more drums and they did some more editing. They went to L.A. and Jon Brion put some stuff on and Mike Elizondo put bass on. And then they mixed the whole thing and I didn't hear it until it was completely finished. It was kind of far out.
It must be a trip to hear the final product.
I won't even remember what we played and then a couple months later we'll get together and they'll have this thing whittled down to an hour's worth of music. I think at one point, even a year went by without me hearing anything. It was like, "Wow, where did all that come from? I don't even remember playing it."
When you heard the final outcome, at any point, did you think to yourself, "That's not what I had in mind at all?"
No. I didn't have any preconceptions about what I wanted it to be. I just hoped that it would be cool. It was really fun and surprising when I would hear it after all that time.
So when you were improvising, you didn't have any specific harmonic frameworks in mind that you expected them to later work with?
No, not really. There are certain things that happen maybe a little bit later in the writing process where there are harmonies that were more intentional. But absolutely nothing was figured out beforehand. I didn't think, "Oh, I'm going to play this chord progression or that." There was really no thought.
Considering your jazz background, where mastery of harmony is a requisite, and the fact that you're still currently playing difficult, chord-changeintensive Coltrane tunes like "26-2" and "Moment's Notice," you probably can't un-know what you know. How are you able to let go of your harmonic awareness and just play freely?
I think that having played those kinds of tunes definitely has a huge impact on what my instincts are about—I'm not thinking that way but I know it. It's not a conscious thing. No matter how abstract I get or whether I'm thinking about chords or not, having had the experience of playing that kind of harmony definitely had an effect on me. That's why I keep playing that song "26-2," to get it to the point where it's so deeply ingrained that it feels the same as if I'm just completely spontaneously making stuff up.
This brings to mind Mike Stern. I played "Giant Steps" thousands and thousands and thousands of times, over and over again with him—just the two of us. We would practice that tune or "Moment's Notice." He definitely took it to an incredibly deep level of understanding. I did a lot of that stuff with him and it was an amazing time.
The multiple layers on the tracks are like a jigsaw puzzle and it's fun trying to figure out which part came first. For example, in "Parade," there's a short guitar solo. It starts off with the same two notes the ensemble plays earlier in a repeating two-note descending minor-third figure, just in a slower rhythm.
I'm not positive. I'm trying to remember. I played some guitar when we recorded the horns. But it also could have easily been something that was there in the track that I was reacting to when I wrote the horn part.
A Frisell fan might hear a track like "Do You Have It?," which on the surface just sounds like a layered groove, and not "get it" until he understands the compositional process behind it. I hope this doesn't come off the wrong way, but is an awareness of the compositional process integral to having an appreciation of some of the tracks on Floratone II? How would "Do You Have It?" hold up as a piece on its own compared to your other works, if you removed the compositional process from the equation?
Wow … only time will tell. I have no idea. I guess the hope is that in the end, it's just going to be music. It's more about the whole overall sound of the thing than solos. Hopefully you don't have to understand where it comes from. Hopefully it's going to be good to listen to.
You typically juggle a mind-boggling number of high-intensity projects simultaneously. How do you keep it all straight in your head?
The music itself is never a problem. It's all kind of swimming around in my head all the time almost simultaneously. So when I'm right there with the people I'm with, it's never a problem. If I'm really playing it's all coming from the same place. As soon as I'm in the music, the music takes over and everything is cool. Where I really get stressed out is just preparing for when I go out on these trips and I'm gonna have five different things that I know I have to deal with when I get to wherever I'm going. It's more about just remembering all I have to bring with me.
Jazz musicians tend to be pretty conservative and true innovation is often met with resistance. How did you find the courage to pursue your own voice in what could sometimes be a hostile climate?
I've been real stubborn about trying to do my own thing, but at the same time I realize it's kind of a fragile thing. We're all trying to find our own way. Every once in a while I guess I'd come up against some resistance or something, but I think I've been super lucky. Right at a crucial moment there's always someone there who encourages me rather than discourages me. I've been discouraged a few times, but more often somebody will say, "Yeah man, you sound great." Playing with somebody like Paul Motian was a huge thing for me as far as the confidence in doing my own thing. Really, it started with my parents, who were cool about me wanting to play music, or thinking back to when I was playing with Mike Stern all the time. If these people hadn't come along right at a particular moment, the story could be completely different.
Stern, Pat Metheny, and John Scofield also attended Berklee College of Music, and all four of you later became instrumental in moving jazz guitar forward. Were you all there at the same time?
Mike Stern wasn't even really in school anymore, but he was around town when he wasn't out with Blood, Sweat and Tears. Pat was no longer teaching at Berklee when I got there in the spring of '75, but he was still living in Cambridge and playing with Gary Burton along with Mick Goodrick. He did gigs at little places like Zircon and Poo's Pub with Bob Moses and Jaco Pastorius. Scofield had already left town just before I got there. I actually didn't meet him until I moved to New York in '79 or '80 but everybody was talking about him. There's a quartet record with him and Terumasa Hino, Tony Williams, and Ron Carter that's just incredible.
Another way that you've carved your own path is with your equipment. While the hollowbody is still the de facto jazz guitar, you've used an SG and even headless guitars at one point. Speaking of which, are you still using the Klein guitar?
No, I haven't used that for a long time. I sent it back to get repaired years ago and it went away from me for quite a long time, so during that time I started getting back to mostly Fender stuff. I've been playing Telecasters a lot—different versions of it—and most recently I've also been playing Stratocasters.
Mexican- or American-made Fenders?
A bunch of them. I had a Mexican-made Thinline Tele. I changed all the parts on it and everything.
What swaps did you make?
Oh man, I've definitely gone off the deep end. Getting into Telecasters you start thinking, "What does this pickup sound like and what does that pickup sound like?" I have Lollar, Don Mare, Lindy Fralin, and Seymour Duncan pickups—the Antiquity model. I also use a Tom [TV] Jones Filter'Tron pickup in the neck position of a Nash Tele-style guitar. What's kind of seductive is that it's all still this basic Telecaster and I can get comfortable with the scale, size, and shape of the guitar to where it feels at home, but from one to another—putting certain pickups in certain guitars—there are amazing differences.
Any other guitars?
I also have a few Tele-style guitars that are put together or modified by J.W. Black. He also recently made me a Strat-style guitar that is very similar to my original '63 Strat, which I played a lot, along with a Yanuziello guitar, on All We Are Saying. I also have a Rick Kelly Tele-style made out of pine from a piece of wood taken from Jim Jarmusch's old loft on the Bowery. It's got Lollar Charlie Christian pickups, and I used that one on a lot of things—Sign of Life, The Windmills of Your Mind. I Just got a Collings I35-LC, which is an incredible guitar.
Your use of effects also opened the floodgates for many jazz-based guitarists. First off, let's talk dirt pedals. Are you still using the Pro Co Rat?
Sometimes I'll use the Rat. Mostly though, it's an Ibanez Tube Screamer, and I also use a Fuzz-Stang pedal, which is made in Portland.
Bill Frisell's Gear
Guitars
Fender Telecasters, Fender Stratocasters, Fender Jaguar, Fender Jazzmaster, J.W. Black T-style and S-style guitars, Yanuziello, Rick Kelly T-style guitar, Collings I35-LC, Nash Tstyle, Gibson ES-125, Collings D1, Gibson LG-2, Andersen Concert Model flattop, Andersen Custom 17 archtop, Andersen Little Archie
Amps
Fender blackface Princeton, Gibson Explorer 1x10, Carr Sportsman, Jack Anderson
Effects
Line 6 DL4, TC Electronic Hall of Fame, Ibanez Tube Screamer, Pro Co Rat, Electro- Harmonix Freeze, WrightSounds Fuzz-Stang, Voodoo Lab Pedal Power 2
Strings, Picks, and Accessories
D'Addario .011s (sometimes .010s), Dunlop medium (green), George L's cables
What are you using now for that characteristic shimmery sound?
I use the Line 6 DL4 a lot. I also have a TC Electronic Hall of Fame reverb.
Does the Hall of Fame replace your Lexicon MPX 100 rackmount?
Yeah, it started making noise and stuff. This little thing is kind of amazing. I'm just carrying all my stuff around—I don't have roadies—so it's good if it's small.
Do you still have that Electro-Harmonix 16-second delay?
I wish. That's one of the most amazing pedals. I actually have two of them, but they don't work.
Have you tried the reissue that came out a few years ago?
It's totally not the same thing. A couple of months ago I was in a store in New York City and they had an original one in perfect condition. I started messing with it again— I hadn't used one for a long time—and it brought back memories like, "Oh man."
Did you buy it?
No, I just got scared. It was $1,300. So, I actually have to board the plane now.
Youtube It

A glimpse of Bill Frisell's 858 Quartet playing a wicked rendition of John Coltrane's brain-busting "26-2."

Frisell accompanies Elvis Costello on "If I Only had a Brain," a song popularized by The Wizard of Oz.

Frisell and jazz giant Jim Hall play a duo version of Frisell's hauntingly beautiful ballad "Throughout" at the 1995 Umbria Jazz Festival.