Nils Lofgren has enjoyed just about any musical experience imaginable, from Bruce Springsteen and Neil Young''s bands to his own solo work. We talk about his extraordinary career and gear.
| | |
| --- | --- |
| | For many writers, myself included, the hardest part of writing a feature story is the opening sentence. It can be even harder when trying to describe the career of a distinctively talented guitarist, singer, keyboardist, and songwriter like Nils Lofgren. Just what can you say about a guy who played with Neil Young at age seventeen, had success with his own band, followed that with a fruitful solo career, plus a twenty-five-year stint as a member of Bruce Springsteen's E Street Band, a composer for television and movies, and now, an online guitar teacher? What would be an appropriate phrase? How about "Truly remarkable." |
photo: Mark Hendrickson
Nils Lofgren, as they say, is the real deal: a forty year rock 'n' roll survivor, who has experienced one of the most noteworthy musical careers anyone could possibly hope for. The consummate rocker, Lofgren easily juggles multiple roles as a bandleader, solo artist, sideman, session player and music teacher. Born of Swedish and Sicilian parentage, Lofgren will turn 58 in June, and despite a recent double hip replacement, shows absolutely no signs of slowing down. In fact, he's raring to go, ready to resume his solo acoustic club gigs, and possibly an upcoming worldwide tour with Springsteen and company in 2009.
You seem to be most closely identified with Fender guitars. Why so?
When I first started playing guitar, I loved Jeff Beck, so I started with a Telecaster, and played that for two years. Then, I gravitated to Jimi Hendrix and the Strat. My favorite old Strats are the ones I've been playing for years, both '61s. I also have some reissue Strats. I'm a very physical, exuberant player, and Fenders really hold up to a beating. I've found that with a Fender, you can lose your finesse and not totally lose it on the instrument, if you can understand that. I like to lean into the guitar and use those five settings you can get out of a Strat. I like playing lots of different guitars, but I'll always reach for a Strat. It's the most beautiful electric guitar ever made.
Fender recently has supplied me with some Gretsches, including a couple of Black Falcons and Black Penguins that I use with Bruce. They're working out well.
I also like playing Jazzmasters onstage with Bruce. When I mix the Jazzmaster with Bruce's Telecasters or Broadcasters, and Steve Van Zandt's Strats, it sounds very sympathetic with their guitars. With the Jazzmasters, I use D'Addario 13–56 gauge strings, which are very heavy. That gauge doesn't "splat," if you know what I mean. With all the adrenaline pumping onstage, the Jazzmaster, with those strings and the thumb pick, work great.
I noticed you used a thumb pick exclusively.
I'm left-handed, and when I started to play guitar, I found a thumb pick in the case of my dad's guitar. After about eight or nine months, some of my guitar-playing friends told me I was doing it all wrong… I should use a flat pick, but it didn't work for me.
Any Gibsons or other electrics?
I have a real nice '52 Goldtop Les Paul that I played when I did the Trans Tour with Neil Young years ago. It was a nice combination with his "Old Black" Les Paul. I also have an Epiphone Les Paul I used when I did the tours with Ringo Starr & The All-Starr Band. Now, I just use those guitars in the studio.
How about amps?
Back in the old days, I used blackface Fender Super Reverbs with four 10" speakers. I eventually moved on to Hot Rod DeVilles for my electric gigs, then to Fender Vibro Kings with three 10" speakers. Lately with Bruce, I've been using two Twin Reverbs onstage to hold my low-end effects, and they're working out real well.
Why do you like Fenders amps?
When you turn a Fender up to about 7 or 8, you get a very comforting, warm saturation that I really like, without the fuzziness. It's very natural and doesn't take away the metal from the strings. With the thumb picks I use, they give me a very percussive sound that enhances the warmth. There's no harshness. I don't like amps that sound brittle or harsh.
Do you endorse any products?
My endorsements are limited. I have deals with Fender, D'Addario for strings, and Takamine acoustic guitars. All of those companies are very helpful, and none of them insist on exclusivity, which I appreciate.
How about effects?
On tour, I use a large rack of effects that's run by my tech, Roy Witte, who's been with me for about eight years. We have a POG, a Poly Octave Generator built by Electro- Harmonix; two Barber Burn Unit Overdrives; a Line 6 Delay, the green one with the backwards sounds; a couple of Boss Octave pedals and a Boss Delay. I really like having my effects at my feet, but it's been getting more and more complicated since the last tour with this big rack unit. Roy has programmed three or four rack pedals to kick in with one stage pedal setting.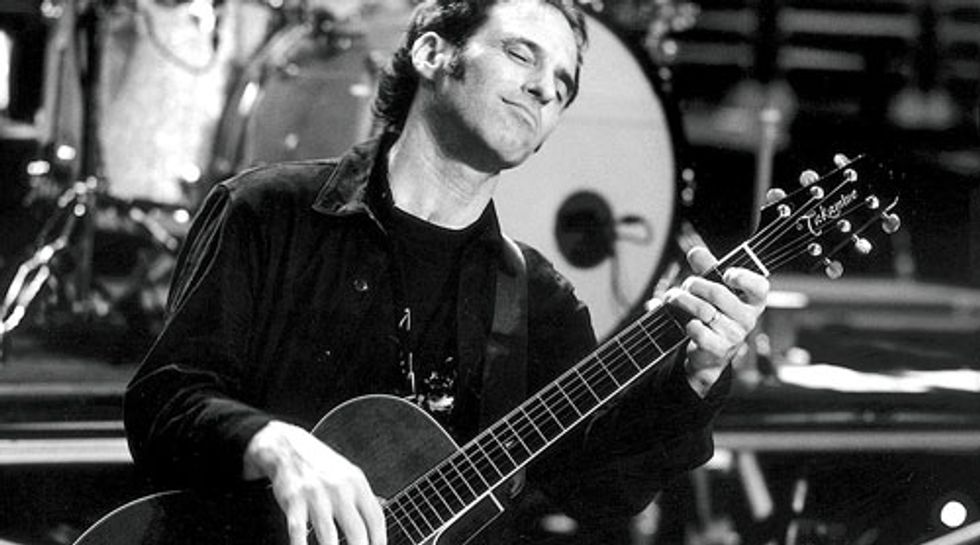 Photo: Danny Clinch                                                                                                                                     

Years ago, when I worked for the Guild Guitar Company in Elizabeth, NJ, you called one day looking for an old, extinct Guild effects box that we no longer made. What was that?
It was called the Rotoverb. It was a Leslie simulator that Guild used to sell back in the late sixties. I always liked them and was trying to find a couple more that I thought you guys might have lying around.
How do you integrate yourself into the sound of the E Street Band with both Bruce and Steven playing electric?
I've become the "swingman" in the band, by playing lap steel, pedal steel, Dobro and bottleneck guitar. With Bruce and Steven playing electric, and Patti (Scialfa, Bruce's wife) and Soozie (Tyrell, violin and acoustic guitar) playing acoustic, we don't always need five guitar players, so I started playing everything else. I have some beautiful Carter pedal steel guitars, and some terrific resonator guitars. A friend of mine sent me a couple of great old lap steels. He has a huge collection of them.
How did you get the Springsteen gig?
I followed Bruce on the same circuit of clubs, concert halls and recording studios over the years and we established a friendship. It was a great honor for me to join that band. I think that Bruce is the greatest bandleader in rock 'n' roll history. He's a pleasure to work with. He knows how to prepare you so you can go out and play with passion and commitment. The E Street gig is a highly improvisational thing, and Bruce lets you create freely in that environment.
What made you pick up a guitar in the first place? Was it seeing The Beatles on The Ed Sullivan Show?
Yes, it was.
I knew it. How did you progress from there?
I had ten years of classical piano and accordion training from the age of six, so I had a musical background, and never would have become a rock guitarist if it weren't for that training. I picked up an old acoustic guitar we had around the house, and my brother Tom, who was a member of Grin, taught me my first chords. It was The Beatles' songs, their arrangements, and the way they put their songs across that opened Pandora's box for me. I discovered blues, Tamla/ Motown, Stax/Volt R&B, British Invasion, folk, country, and so much more, listening to The Stones and Beatles.
Who were your guitar influences?
Well, Jeff Beck and Jimi Hendrix, of course. I followed the Jeff Beck Group throughout their US tour for the Truth album. I still think Jeff's the greatest living guitarist. I liked Roy Buchanan early on and got to know him. I also liked Eric Clapton, Keith Richards, Pete Townshend, Muddy Waters, and B.B. and Albert King. Grin did a gig once with Moby Grape, and their lead guitarist, Jerry Miller, was a monster player. He was using Marshall amps and a big, old Gibson hollowbody jazz guitar. I liked Stevie Ray Vaughan too. All those guitarists were the "soup" that helped me form my style.
Grin recorded several albums and had some success, and then you embarked on a solo career in the seventies. You've always managed to balance your solo career with that of a sideman. How do you do it?
When the E Street Band plays, I'm there, and when they're not, I do my solo thing. It's not hard. I have a great website that's managed for me, and complete freedom to do what I want, musically speaking. When I'm with Bruce, I'm not the leader, like I am with my own band. I like not being the leader for a change.
Your list of credits as a sideman is impressive. You seem like a classic overachiever.
I'm not an overachiever; I just love making music, love the live musical environment and putting out a passionate, emotional, positive, and spiritual performance for the audience. I think I'm a great team player. I love the experience of being in a band. I'm happy banging on a tambourine and singing harmonies if that's what's needed.
Photo: Mark Hendrickson
How did you get the gig with Ringo, and what was it like playing with an ex-Beatle?
I was invited to one of Ringo's birthday parties. He had a room set up as a studio and a place to jam. I didn't get to play until late at night, but afterwards, Ringo and I talked things over and remained friendly. He and his wife Barbara used to come to my gigs. In 1989, he asked me to become part of his All- Starr Band, and we did two tours together. Joe Walsh was in that band, too. It was one of the greatest band experiences I ever had.
Your new CD, The Loner: Nils Sings Neil, is a tribute to your friend, Neil Young. Can you tell us how you managed to hook up with him to record After The Gold Rush at age seventeen?
I went to see Neil and Crazy Horse four times at the Cellar Door club in Washington, DC, and they were incredible. I used to sneak into clubs and concerts, seek musicians out and ask their advice. Neil was very kind to me. He bought me a hamburger and a Coke, and we talked and started a friendship. Grin had decided to move to Los Angeles, and Neil gave me his number and told me to look him up when I got out there, so I did. One thing led to another, and I wound up recording with him and touring as part of his band.
And you used Neil's old Martin D-18 to record that CD, didn't you?
Yes. When After The Gold Rush was finished, Neil gave me the guitar as a gift for helping him out on the album, and also because I didn't own an acoustic guitar. It's my most treasured guitar.
How did your new CD come together and why did you list the late David Briggs as co-producer?
It was my manager, Anson Smith's idea. I sat at home and played and sang about thirty of Neil's songs for two weeks. About a dozen or so of them started to feel special, so they wound up on the CD. It was my manager's idea to use David's name. David was a brother and a mentor, and Neil's producer for years. David's way of recording Neil's vocals was to capture the real emotion in a live take. It didn't matter if it wasn't perfect, as long as it had the right feel. I felt like David's spirit was sitting on my shoulder when I recorded this disc. There was no overdubbing, no tricks.
You also played on the first Crazy Horse album. Tell us about that gig.
That was also a great experience and an honor for me. Danny Whitten (Crazy Horse's guitarist and songwriter) was going to join Grin, but he was too sick and not up to the job. (Writer's Note: Whitten died of a heroin overdose in November 1972. His song, "I Don't Want To Talk About It" was a hit for Rod Stewart).
Over the years, you've established yourself as an acoustic guitarist. Is that something you consciously developed?
My brother Tom and I decided to go out and do acoustic gigs in the early eighties, and it was very uncomfortable for us both at first, but we got better at it and it's grown from there. It's much more intimate, and I really enjoy playing solo acoustic.
What do you think about the state of the music industry at this moment?
I left the music industry fifteen years ago, Bob. I recorded what I think was one of my best albums, Wonderland in 1983, but I was dropped from the label before it was released. I couldn't get a record deal because the major labels thought I was a dinosaur. I went with Rykodisc, but started butting heads with them. For years, I tried to get control of my older recordings, but the labels either refused to rerelease them or sell them back to me, so most of my older stuff is out of print. I could have bootlegged them all and released them myself, but that would have been breaking the law. For the last fifteen years or so, I have been releasing my own CDs. I have complete freedom to do what I want. I'm content. I don't pay much attention to the music industry anymore.
You've started offering online guitar lessons. What was your motivation for that?
For many years, fans and people in general would tell me they tried to learn guitar and gave it up in frustration. I love to teach, so I decided to put together a beginner's guitar course that would offer things a novice could do that were fun and easy. It's developed from there. Guitarists can actually play along with me online.
What's coming up for you in 2009?
A few months ago in New York City, I had a bi-lateral hip replacement, the result of years of doing back flips off trampolines and jumping off drum risers. My hips were destroyed! I have a lot of physical therapy to go yet, and then I'll get back to some acoustic gigs in the spring. The E Street Band is playing the Super Bowl halftime show, and we have a new CD coming out January 27 called Working On A Dream. Hopefully, we'll tour after that.
Any parting advice for our readers?
If you find yourself challenged, frustrated and pushing yourself to learn to play, don't forget to enjoy the gift of music. It has to be fun, too. I find myself consciously separating myself from all the hard work simply to enjoy playing music, and I do it on a regular basis.
Nils' Gearbox
Guitars:
Two '61 Fenders Strats, various reissue Strats in wood finish
'56 Fender Jazzmaster, various reissue Jazzmasters
Two Gretsch Black Falcons
Two Gretsch Black Penguins
Six and twelve string Takamine acoustics
Carter Pedal steel guitars
Owens/Zeta Resonator Guitars & five vintage Lap Steel Guitars

Picks:
Herco or Golden Gate thumb picks

Amps:
Two Fender Twin Reverbs (with Bruce Springsteen)
Fender Hot Rod DeVille (solo gigs)

Effects:
Electro-Harmonix Poly Octave Generator (POG)
Two Barber Burn Unit Overdrives
Line 6 DL-4 Digital Delay
Boss DD-3 Delay Pedal
Two Boss OC-3 Octave Pedals

Strings:
D'Addario: 11–52 on Stratocasters; 13–56 on Jazzzmasters; Medium gauge on acoustics

Looking for more great gear for the guitar player in your life (yourself included!)? Check out this year's Holiday Gear Finds!
Flare is a dual-function pedal with a tube-like booster and a 1970s-style ring modulator effect that can be played separately or together.
Flare's ring modulator is based on the iconic tone of the original Dan Armstrong Green Ringer. This vintage classic was made famous by Frank Zappa who loved the unusual modulations created by generating a harmonic octave over notes. Messiah's version offers two control knobs: a "Sparkle" tone attenuator and output Level control. Its taupe-gold body, purple and green knobs and stick-figure rock 'n' roller holding up a flame convey an appropriately rockin'70s vibe.

​In a unique twist, Messiah's Flare pairs the ringer with a warm tube-style boost instead of a fuzz. Flare feeds the booster into the ringer for an extra punch, while preserving the Green Ringerspirit. The ringer side also turns any fuzz into an octafuzz, and it has the ability to quiet signal background noise fed through it.
The booster side features a single Boost knob to control the MOSFET circuit, making it very tube-amp-friendly with a warm, organic boost and gain of up to 32dB.
​The pedal is a distinct improvement over the 1970s pedal that inspired it. "Most ringer pedals don't track well," Tom Hejda, owner of Messiah Guitars. "The player can't rely on repeating the same effect even with the most consistently played notes. We carefully matched the components, so our ringer follows your every move, producing that slightly dirty octave you expect on demand."
Messiah developed this vintage octave pedal with flexible features so that people who love that messy, dirty Zappa-esque sound can get there with ease but there's also something for those who have not fallen in love with fuzz or the Green Ringer alone. Flare offers an array of sonic options while retaining simplicity in the controls.
Each Flair Pedal Includes:
3 control knobs: Boost, Sparkle, and Level
Two effects – Ring Modulator and Boost – can be used together or separately
Space-saving top side jacks
Durable, cast aluminum alloy 125B enclosure with fun artwork
Easy to see, illuminated True-bypass foot switch
Standard 9V pedal power input​
Flare Pedal Demo
Messiah Guitars pedals are designed with an explorative player in mind. Like their custom guitars and amplifiers, Messiah's pedals are hand-crafted in Los Angeles for a long life with guaranteed quality.
Flare retails for $199.00 and can be purchased directly at Messiah Guitars or you can hear it in person at Impulse Music Co. in Canyon Country, CA.
For more information, please visit messiahguitars.com.
This feathery little guy is a joy to play because of its incredibly quick response to your right hand - much faster and more expressive than your typical auto-wah pedal.
​If it looks like a duck, acts like a duck, and QUACKS like a duck, then it must be a duck. That's how we came up with the name for our new envelope filter. This feathery little guy is a joy to play because of its incredibly quick response to your right hand - much faster and more expressive than your typical auto-wah pedal. Trevor explains how this is possible in the launch video, as well as gives a demo on Le Canard's operation.
​The attack control determines how quickly the filter responds to the envelope, and the decay sets how quickly the filter releases afterward. The range controls which frequency spectrum the filter does its magic on. Add to this relay-based full-bypass switching with failsafe, and you've got one crazy little quacky beast. It is so expressive that you'll want to give up on your rocker-wah forever.
The MayFly Le Canard envelope filter features:
Super fast responding envelope follower. Touch it and it jumps!
Range control to dial in the character of the filter
Attack control to control how fast the filter moves on that first touch
Release control to control how slowly the filter slides back to baseline
Full bypass using relays with Fail SafeTM (automatically switches to bypass if the pedal loses power)
Cast aluminum enclosure with groovy artwork
MSRP $149 USD ($199 CAD)​
Introducing the MayFly Le Canard Envelope Filter
All MayFly pedals are hand-made in Canada.
For more information, please visit mayflyaudio.com.
Outlaw Effects introduces their next generation of NOMAD rechargeable battery-powered pedal boards.
Available in two sizes, NOMAD ISO is a compact, versatile tool that offers the convenience of a fully powered board plus the additional freedom of not having to plug into an outlet. NOMAD ISO is ideal for stages with limited outlet availability, quick changeovers, busking outdoors, temporary rehearsal locations, and more.
NOMAD ISO builds upon the legacy of the ultra-convenient and reliable NOMAD rechargeable pedalboard line originally launched in 2018. The brand new NOMAD ISO editions feature eight isolated outputs (1 x 9V DC, and 1 switchable 9V/12V DC) for even more versatility and clean, quiet power. With an integrated lithium-ion battery pack boasting 12800mAh capacity, NOMAD ISO can fuel a wide array of pedals, and will last over 10 hours* on a single charge.
Each NOMAD ISO pedal board includes adhesive hook & loop pedal-mounting tape, eight (8) standard DC connector cables, and one (1) reverse polarity DC cable, giving you everything you need to build your ultimate "off-the-grid" rig. A rugged, road-ready padded gig bag with shoulder strap is also included, to safely protect your gear while you're on the move.
NOMAD ISO S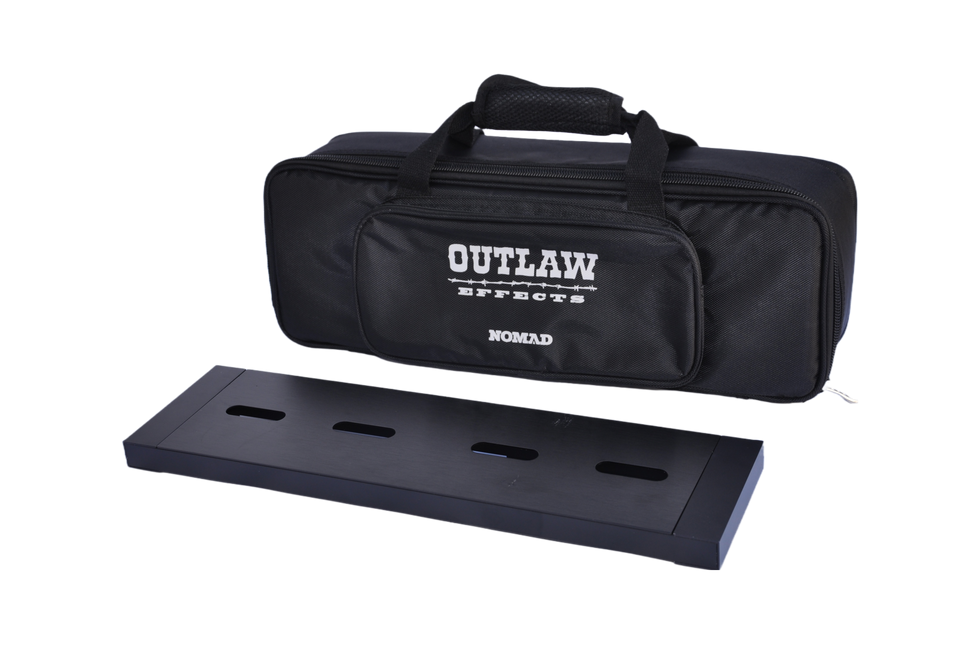 NOMAD ISO S: MSRP $309 / MAP: $249
Dimensions: 19 ¼" x 5 ¼"
NOMAD ISO M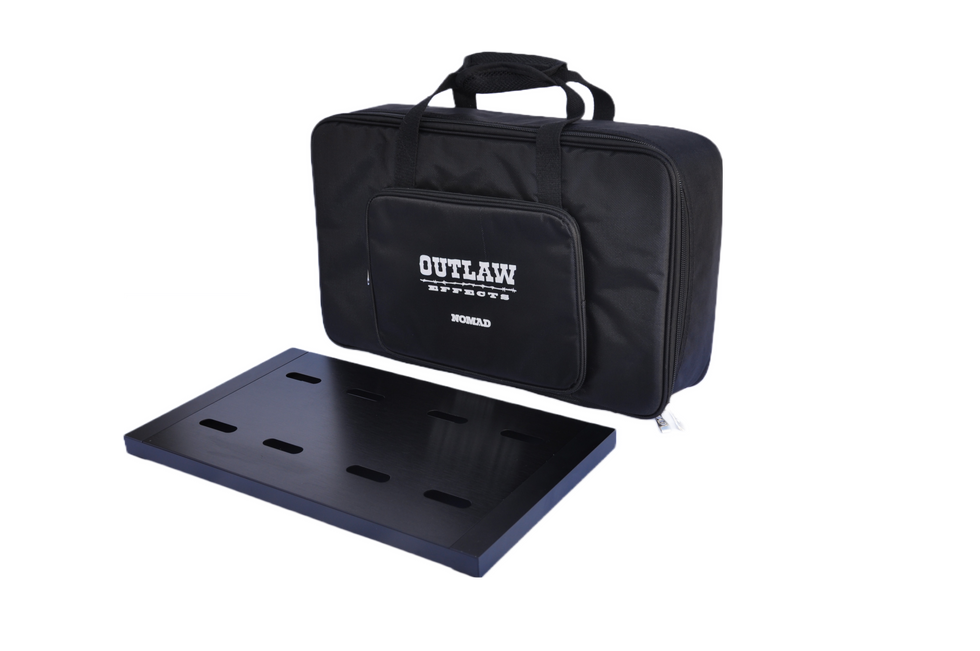 NOMAD ISO M: MSRP $349 / MAP $279
Dimensions: 19 ¼" x 11"
More info: https://www.outlawguitareffects.com.